This section holds our Forex Educational library: Our trading library consists of a collection of the most excellent educational articles written by our top market experts. It is primarily focused on those subscribers who aim at initiating or consolidating a professional trading career; that is, for people who take trading seriously. It is our mission to continually enrich our library over time, as well to cover all sorts of useful topics, from foundational to the most advanced ones. We have separate sections for Advanced Forex Education, beginners Forex Education, A daily Forex Topic and a Complete Forex Course.
Forex market is appealing to the traders. It operates 24/5, and it is the most liquidate financial market. It offers numerous trading opportunities to traders of all sorts. Since it
Introduction The foreign exchange market is, no doubt, the most popular market in the world. Though it is considered to be a very risky business, it can prove to be
Ichimoku Kinko Hyo Guide – A walk through a trade. I want to preface this guide with a screenshot of my account. [caption id="attachment_48804" align="aligncenter" width="1920"] Trade History[/caption] The
The speed is a characteristic of nature; in the same way, some markets tend to be faster than others. The problem arises when a market moves sharply. In this educational
The Three Principles – Timespan Principle In another correlation to Western analysis, Hosada's Ichimoku Kinko Hyo system has a timing component within the system. The numbering system used in Ichimoku
The Three Principles – Price Principle This will be the shortest article over the three principles, mainly because it is the same as many other Western styles of price projection.
A man named Hidenobu Sasaki brought Hosada's Ichimoku system and the three principles to contemporary times. He worked for Citigroup in Japan when he published his 1996 book, Ichimoku Studies.
Timing is an essential factor in trading. Price action traders take entry on signal candle's/bar's attributes and support/resistance breakout. Many traders ignore the timing factor. However, it is an important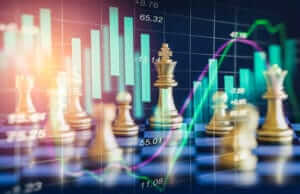 What is Fading? Fading involves placing trades against the trend to profit from a reversal. Using the concept of fading, a trader will short sell, expecting the momentum to fade
In our previous article, we have seen the mainstream chart types, out of which the candlestick charts are the most prevalent in the current markets. But traders devised other ways
Introduction In the previous lesson, we discussed how the forex market is structured. Now, it is time to take this topic a little deeper. In this article, let's understand the
The market moves in three ways upward, downward, and sideways. In today's lesson, we are going to demonstrate an example of a Rectangle breakout and an entry from a choppy