After our discussion about short-bodied candlestick in our article

Price Action traders crave for the breakout. Breakout is one of the most important components of price action trading. However, there is another equally important thing, which is breakout confirmation. Since the Forex market is very action-packed, it is often found that the price does not come up to the breakout level to confirm the breakout. It consolidates and produces a reversal candle to offer entry. The question is, does it always consolidate and offer an entry.

The Trendline is an excellent trading tool that the price action traders love using on their charts. Drawing trendline as accurate as it can get and adjustment with spikes are two factors that traders are to look after before using trendline. Another factor trendline traders often need to do is drawing multiple trendlines on the same chart. In this lesson, we are going to demonstrate an example of that.

A Breakout Brings More Momentum than any Other Trading Factor

The Double Bottom is a pattern, where the buyers eagerly wait to get a bullish reversal candle at. Typically, a Bullish Engulfing Candle, a Bullish Pin Bar,  a Bullish Truck
Introduction In our previous article, we addressed the concept of position sizing, drawdown, and techniques. Now we extend this discussion and look at other crucial aspects of position sizing, which
Introduction Calculating risk is one of the most important parts of Money Mangement. Many novice traders or traders with limited experience won't be aware of the amount of risk they
After our discussion about short-bodied candlestick in our article

In our previous article, we discussed how we could simplify the zigzag and flat pattern by the chartist figure known as a flag. In this educational article, we will see how triangles can be used in wave analysis.

This article is to be dedicated to single candlestick key figures. The majority of patterns are created by more than one candle, but some particular candlestick shapes are key figures to gauge the market sentiment and spot reversals.

The Financial markets are an exciting place for many people, attracted by dreams of infinite wealth. However, these markets are one of the most complicated environments on earth. The fact that millions of people exchange assets in financial markets makes them very difficult to predict, as each of the participants has its own vision, interests, and objectives.

Is it possible to simplify the wave analysis and compare it with classic chartist patterns? Identifying Elliott Wave patterns can seem confusing, especially if you are looking to differentiate between a flat or a zigzag pattern. In this educational article, we will look at some of Elliott's patterns and compare them to traditional chartist figures.

The H4-H1 combination is one of the best combinations to trade for intraday traders. The H4 chart is the most consistent intraday chart in the Forex market. The H1 chart integration with the H4 chart offers many reliable entries. However, it is often seen that the H4 chart doest its part, but the signal never comes on the H1 chart. In today's lesson, we are going to demonstrate an example of an H4-H1 chart combination, which is about to give us entry, but it ends up not producing a trading signal. Let us find out how the story goes.

Most traders are taught to use stop-losses based on critical levels. The basic idea is to spot invalidation levels based on previous low or high. The assumption is that by
An Engulfing candle is a strong bearish reversal candlestick. This makes traders look for trading opportunities. In today's lesson, we are going to demonstrate an example of how an Engulfing
Financial traders need to be very alert and patient to deal with the market. These two components are vital for a trader to be successful in trading. In today's lesson
The Ideal Ichimoku Strategy is the first strategy in my series over Ichimoku Kinko Hyo. There are two sides to a trade, and so there will be two different setups
Support and Resistance, also known as Supply and Demand, have long been used in the financial markets. The most characteristic feature of support/resistance is a level of support becomes resistance
What is Range trading? It is said that the market only trends for 30% of the time. So it becomes necessary to have a range trading strategy to take advantage
 Harmonic Pattern – Walkthrough [caption id="attachment_48985" align="aligncenter" width="3682"] Bearish Butterfly Pattern against 180-degree Square of 9 angle.[/caption] The chart above is the AUDJPY Forex pair on its 6-hour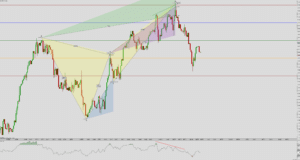 Harmonic Patterns – Start Here Harmonic Patterns are an advanced form of analysis and require more than a basic understanding of the technical analysis of financial markets. For those of
Ichimoku Guide – Start Here The Ichimoku Kinko Hyo system is a powerful, tested, and vetted trading system. This guide will lead you in the direction of the articles you
Ichimoku Kinko Hyo Guide – A walk through a trade. I want to preface this guide with a screenshot of my account. [caption id="attachment_48804" align="aligncenter" width="1920"] Trade History[/caption] The
Recently, we ended the series that presents the basic concepts of the Elliott Wave Theory. In this guideline, we disclose the contents developed. Fundamentals of Elliott Wave Theory. Divided into