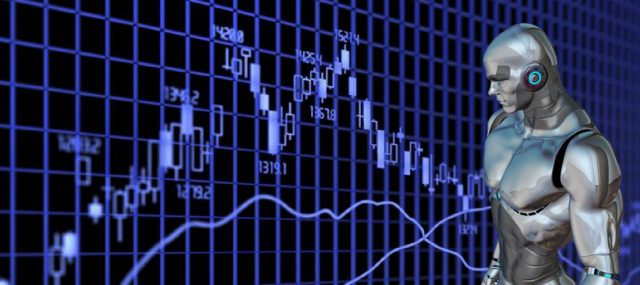 If you have always wanted a robot to clean your house or take your dog for a walk, you would understand how attractive a Forex robot is. These services do not clean windows or take care of your pets, what they offer is definitely something much better: a relatively non-interventional way of trading in forex and other financial markets.
Many people dream of finding the perfect trading system, which guarantees profits and requires minimal effort for users. When many Forex robot programmers are available, there are some important questions to be answered.
What Is A Trading Bot?
As the name implies, a trading robot – also known as Robot Forex goes beyond simply testing trading strategies to currently apply them in real-time to make real transactions with live market data. When the robot generates a buying or selling signal, the platform automatically places the transaction. These systems have often been used by institutional traders for a long time in all markets. During the last few times, trading robots have become quite popular with private traders, particularly because they do not require any programming experience to create, execute and optimize them in an automated forex system.
Assuming the robot is well designed, tested, and its performance monitored, robot-assisted trading has some obvious advantages:
-You never miss an opportunity: the robot can work 24/7.
-There are no emotions, pure discipline: a trading robot eliminates the emotions of forex trading as long as you are disciplined enough to let the system work even when you believe that the rules do not apply under certain circumstances.
So if you do:
-You create a set of clear and unambiguous rules that can be expressed in a programming code.
-You have the time and experience to translate these rules into a program and test it, or use a programmer to do it. So automated trading is the best way to execute a precise forex strategy.
How Does A Forex Robot Work?
Trading robots use algorithms and advanced software to automate trading decisions. Services range from giving you a trading signal to placing and handling the transaction for you automatically requiring minimal or no human intervention. If you have a forex strategy that is strictly mechanical and does not require a human decision process, you can program your robot forex to make transactions 24 hours a day.
The most popular robots for retail customers are programmed on the Metatrader 5 platform. These robots are run on MetaTrader as "expert advisors" (trading robots) and are the implementation of some trading rules in a code that Metatrader or other trading platforms can understand and execute. MQL5 (Metaquotes Language) is the integrated programming language designed to develop forex robots with the Metatrader 5 platform and requires advanced programming skills. But, there are several tools available that allow you to generate unscheduled forex robots, known as "EA Generator" or "Strategy Builder" (EA generators or strategy developers).
What Is the Cost?
Many companies create and sell trading robots, but be careful who you do business with if you are in the market to buy one. It is not unusual for brokers, traders, and different unregulated websites to appear overnight and start selling a "get rich right away" robot, including a money-back guarantee so that your money will disappear within 30 days or less. Most of the robots that are made to be bought are not successful, so please do your research beforehand if you are thinking about buying one. The best thing is to be cautious because there are a lot of risks on the learning curve or mining data in the offers that are for purchase. As mentioned above, the alternative is to use an ea forex generator, designed to help you create, test, and export unlimited robots for Metatrader 5, without writing codes.
A Forex robot is much cheaper than a human manager or an account to copy the movements. Most companies sell robot forex for a one-time fee or a monthly fee as well as an annual fee. Even so, any forex robot needs constant parameter optimization and may fail after a successful start. In other cases, customers have access to an EA generator and even an expert within the company dedicated to consultation and support.
Those conditions do not apply to most of us, so the way most of us should use this option is using retail forex trading. Many forex brokers offer a variety of trading systems as part of their offerings. There's nothing wrong with these, especially if you're allowed to check them for a while to see how they work.
Expert Advisors (trading robots) are generally designed to work in specific environments, typically for a trend or markets that tend to regress, but not both. Before choosing a forex robot, you must understand what kind of markets and conditions the robot is designed for. A legitimate vendor will give you clear and concise information on what kind of conditions the robot works in, its performance, the amount of time it has been in operation, the benefit you can expect as well as the maximum you can lose.
As with any business proposition, if the benefits of a robot forex sound too good to be true, the odds are that it will. If the benefits look very out of place and their price is very low, well, I hope they allow you to test it first with a small amount of risk, otherwise, continue your search.
Ideally, as far as possible, review as much time as the robot has been operating and understand market conditions during that period of time. For example, at a time of growth and rising interest rates, the trading robots they buy will work well as the riskier currencies are favored. However, during the crises, these robots will suffer.
Typically, the more benefits you get, the greater the chance of losing. If a salesman offers you big profits and losses, he's being honest. If the seller offers you high profits without a high risk of loss, you should be suspicious. There are many online trader forums dedicated to automatic trading; there are legitimate robot programmers and there are frauds, so consider yourself warned.
But, the main option is to build your own robot forex.
What is the Best Software for Robot Creation?
ROBO ADVISOR 007 is the only software to create robots online. With Robo Advisor 007 you can automate your forex strategy for Metatrader 5 in a comfortable and safe way. No need for you to know anything about advanced programming since the robot generator is smart enough to write the code for you. The source of the program is a very advanced algorithm that tests the strategy, similar to that of Metatrader, but much faster. The program is so fast that you can automatically create and test the strategies.
Robo Advisor 007 has several components:
The generator – The generator is in charge of creating and testing the systems automatically. The generator saves the most successful strategies in the collection. The moment a strategy is generated, it can be exported as a trading robot or send it to the editor for review and improvement.
The collection – when we are using the generator, the program stores successful strategies in a collection. You can search the strategies collected by a certain parameter and send it to the editor for export or review. You can also export the entire collection for further revalidation and use.
The editor- With the editor, you can create and edit strategies by modifying the indicators and parameters. When you edit a strategy, the program tests the historical data, displays the most important statistics, shows the balance sheet, and charts the curve of profits or losses. Since Robo Advisor tests are so fast you can improve your strategies while looking at the graphs. When you find a strategy you like you can export it as a forex robot.
Report- When a strategy is in the editor you can go to Report to see extensive information about test results in the historical data. The report page contains all statistical information, graphs, and the transaction log.
Exporting robots – You can export your robot forex to use in Metatrader. The exported robots use only standard MT5 indicators, which makes it very easy to use the robots in MT or upload your files to a VPS (virtual computer). You can confirm the operation of your robots with the software to test the strategies of Metatrader Strategy Tester with a demo account or data that are not known. If your tests are good, you can use your robot for real trading.
The idea or intention of Robo Advisor 007 is that software to create Forex robots with a good algorithm to test the strategies as well as an execution of the strategies in real time give you as a result a good benefit. Please be extremely careful when dealing with real money and always consider the risks.
How to Create a Robot with a Generator
With the powerful tools used by hedge funds or global investment managers and institutional traders, you can create forex robots with generators without any programming skills and without programming. You will see real results immediately and with just one click you can download the best robot for free and use it in Metatrader 5.
If you are a novice in the markets, you can generate strategies for forex, stocks, indices, raw materials, and cryptocurrencies with just a few clicks. You will see hundreds of strategies that are already tested and ready to be used. A robotic counselor (Robo-Advisor) gives you the possibility to use many strategies in a single account. This way, you can diversify risk and achieve more stable results.