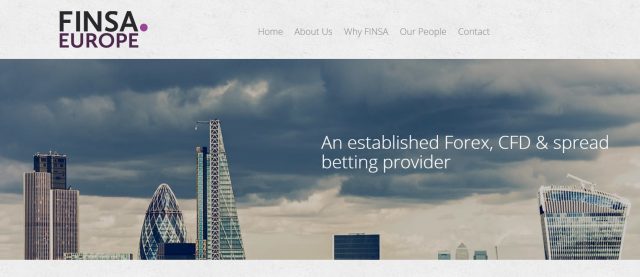 Founded in 2014, FINSA EUROPE offers its customers to trade in a wide range of financial assets: currency pairs, indices, commodities, UK shares, USA. UU. And Europe. The broker has two trading platforms, MT4 and Coretrader 2.
FINSA EUROPE is a trademark operated by Finsa Europe Ltd (Finsa), based in London. The company also operates the brands Financial Spreads and Pipindex. FINSA Europe Ltd is authorised and regulated by the Financial Conduct Authority (company number 073413, company reference number 525164). FINSA Pty Limited is regulated by the Australian Securities and Investments Commission (ACN 158 065 635, AFSL No. 422661).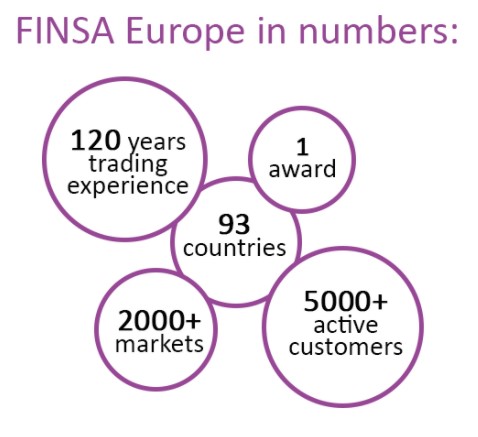 All FCA licensed brokerage houses are required to hold net tangible assets of at least EUR 730,000 and are required to comply with several rules and procedures, for example, to keep client money in segregated accounts, to send regular reports on transactions to the commission, etc.
Also, companies regulated by the FCA are included in the Financial Services Compensation Scheme (FSCS), which protects consumers up to £50,000 per person. Here you can find more FCA-regulated currency brokers.
ACCOUNT TYPES
With this broker, we have 2 types of accounts, called Spread Betting account and CFD account. Here we show you a summary of each of them.
Spread Betting account: Minimum deposit, 10 USD. Minimum trade size 0.01. Leverage available, up to 1: 175. Spreads, Fixed, 0.7 pips in EUR / USD. Trading platform, Core Trader 2.
CFD account: Minimum deposit, 10 USD. Minimum trade size 0.01. Leverage available, up to 1: 175. Spreads, variable from 0.7 pips in EUR / USD + 1.50 USD/ lot traded. Trading platform, MT4.
FINSA EUROPE is a UK-based Forex Broker offering foreign exchange trading services and various CFDs. From its 2 accounts, it should be mentioned that the Spread Betting account is only available with the Core Trader 2 trading platform, which is a broker's own internal platform, while the trading of the CFD account is only available on the popular MetaTrader 4 platform.
PLATFORMS
FINSA EUROPE offers the most popular and well-known currency trading platform, Metatrader 4, as well as its own patented Core Trader 2 platform. Coretrader 2 is the internal trading platform based on the application and the broker's web, which has most of the basic features that can offer other trading platforms, such as an advanced graphics package, an option to trade with 1 or 2 clicks, options to put Stop Loss and Take profit, etc. Unfortunately, the internal Core Spreads platform does not have the option to exchange trading signals, which are so popular lately.
Note that Core Spreads is compatible with the most used Metatrader 4, a professional software with all the necessary functions. Unlike FINSA EUROPE's internal platform, MT4 offers its customers the opportunity to automate their strategies through Expert Advisors (EA). The platforms of this broker are available in desktop versions for use on your computer, and mobile versions for use on smartphones and tablets.

LEVERAGE
With FINSA EUROPE, we have high leverage. This broker has a maximum leverage ratio of up to 1:175, which we consider a high leverage. Keep in mind that greater leverage involves a more significant risk of losses, which may even be higher than your initial deposit, and also of succulent profits. This is why the regulator FCA proposed a leverage limit of 1:30. The reason is to limit the operational risk of retail customers and protect them from the risks of very high leverage.
TRADE SIZES
This broker has the possibility to trade with a trade size of 0.01 lots (micro lots). This trade size is suitable for novice traders who start trading with small trade sizes, to have the risk-controlled.
TRADING COSTS
Apart from spreads (the difference between the purchase price and the selling price of a specific asset), this broker applies commissions to the trades that the trader makes. Commissions are USD 3 per lot traded.
To these costs must be added the night financing or swap, that is, any position held overnight, which will incur a maintenance cost (interest). This amount can be negative or positive depending on the instrument and the direction of the position, and its amount is fixed by the central banks of the base currency of the open position.
ASSETS
This broker offers a wide range of assets available to trade, including currency pairs (forex), indices, commodities, commodities, UK stocks, USA,  and EUROPE.
SPREADS
We are faced with good spreads and an acceptable commission. FINSA EUROPE offers fairly tight fixed spreads and no-fee operations on Spread Betting accounts (0.7 pips in EUR/USD), and also offers variable spreads from 0.7 pips in EUR/USD on the CFD account. The trade in the CFD account involves a small commission of 3 USD per standard lot (round trip) so that consequently the trade costs for the pair EUR / USD are finally 1.2 pips, which we consider to be a competitive price.
MINIMUM DEPOSIT
The initial minimum deposit with FINSA EUROPE is only 10 USD, so any trader can start trading with this broker with a minimal investment.
DEPOSIT METHODS & COSTS
The payment methods available to FINSA EUROPE customers are credit or debit cards (Visa and Mastercard), bank transfer, and Skrill e-wallet. Unfortunately, we have not been able to find out the possible costs for the deposits, if any, as brokers usually do not charge for the deposits. The expense you must count on is your bank's commission if you choose the bank transfer as a deposit method.
WITHDRAWAL METHODS & COSTS
The same methods may make withdrawals as for deposits. Keep in mind that the withdrawal method has to be the same as the deposit method used, for example, if you deposited by bank transfer, the withdrawal has to be by bank transfer as well. Unfortunately, we have not been able to inform ourselves of the costs associated with the withdrawals.
WITHDRAWAL PROCESSING & WAIT TIME
We do not have the information about the time it takes the broker to process a withdrawal or the waiting times required for the different methods. Usually, the broker processes withdrawals in the first 24 hours, and the average, standard, times are generally 24 hours for credit or debit cards, and Skrill, and between 2 and 5 days receive bank transfers.
BONUSES & PROMOTIONS
This broker offers different promotions: (These promotions have been in force recently, for more details and consult promotions today, we recommend contacting customer service).
– Welcome bonus with a value of up to 50% of the client's initial deposit margin (up to £2,500 or the equivalent in another currency) available only to new account holders at FINSA EUROPE.
– Recommend to a friend, according to which both the customer and the referred get 125 pounds sterling each.
– Loyalty scheme, available to all account holders in FINSA EUROPE trading, both with MT4 and with Core Trader 2, according to which customers can get refunds of up to 25% of the commissions paid.
EDUCATIONAL & TRADING TOOLS
We have not found on the broker's website any educational area or tools of interest to the trader.
CUSTOMER SERVICE
To contact FINSA EUROPE's customer service, we have 2 main ways of contact, telephone, and e-mail. You do not have a contact form or live chat. Here are the details:
FINSA Europe. 9 th Floor. 30 Crown Place. London, EC2A 4ES
Phone: +44 ( 0 ) 203 096 6750 
Email: enquiries@finsaeurope.com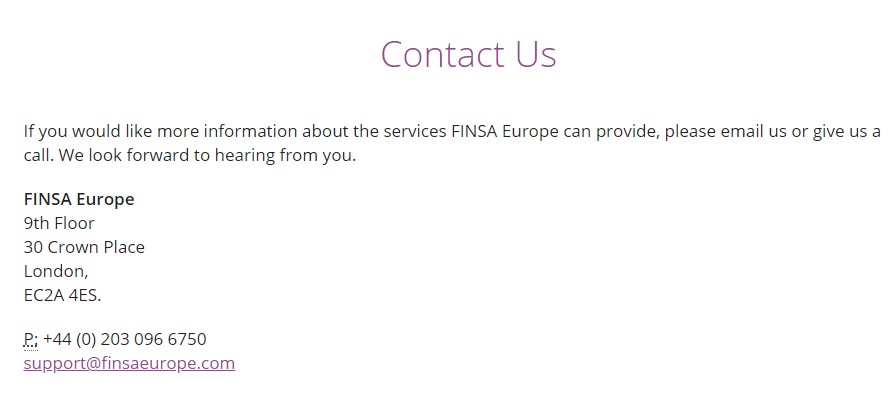 DEMO ACCOUNT
Fortunately, FINSA EUROPE provides demo accounts available to its customers on the two platforms discussed above.
COUNTRIES ACCEPTED
We have not found any restrictions on states or jurisdictions that cannot open an account with this broker. In any case, if you are interested in opening an account with FINSA EUROPE, we advise you to contact the customer service to check if you are a suitable customer or not, especially if you live outside the European Union.
CONCLUSION
FINSA EUROPE is an FCA-regulated Forex and CFDs broker that offers attractive trading conditions on its two trading platforms, MT4 and Core Trader 2. To summarize the above, here are the advantages and disadvantages concerning this broker:
Advantages:
The differentials are tight.

Trading fees are tight.

Choice of trading platforms, MT4 available.

Broker regulated before the FCA.

Possibility of high leverage ( 1: 175)

Tasty variety of assets available for trading.

Possibility of a demo account on any of its 2 available platforms.
Disadvantages:
There are no educational tools or useful tools (economic calendar).

No daily analyses or news are provided.

No advanced auto trading options

Limited methods of payment

There is no information about deposit and withdrawal costs.
**Note that most of the information recorded in this review comes from sources outside the FINSA EUROPE website itself because it does not contain any information. Please note that any data specified here may be outdated**