Point & Figure Charts
If the only chart style you have ever been familiar with is Japanese candlesticks or American bar charts, then no doubt Point & Figure charts will look very foreign. They have the appearance of random and new while also being very organized and very old looking. Point and Figure charts are the earliest known forms of technical charting that we know of, and many civilizations have generated some Point and Figure charts out necessity. Another concept that may be difficult to grasp if you are new to price action only chart styles is that Point and Figure charts are an intraday charting style, but is void of any time component. Live data is necessary when using Point and Figure charts. The fact that Point and Figure is an intraday chart style will confound most people who are familiar with charts that utilize the component of time, like Japanese candlesticks. Most of you who are learning about Point and Figure charts will assume that Point and Figure is a long term chart form. It is tough to create the mindset that time is not a factor in Point and Figure. But let's get to the chart.
Point & Figure Chart Basics – Box Size and Reversal Amount
Point & Figure charts are represented by a Box Size and a Reversal Amount. Boxes are represented as Xs and Os. The trader or analyst determines the Box Size. Depending on the market you are trading and the Reversal Amount, the Box Size will vary from one market and instrument to the next. I will provide a table with the box sizes I use in my trading at the end of this article. On a Point & Figure chart, Xs and Os represent price direction. Xs, often colored green, represent price moving up. Os, usually colored red, represent price moving down.
The trader or analyst also defines the Reversal Amount. Historically, Point & Figure charts were 1-box Reversal charts. Today, 3-box reversal charts are the most common. There is no limit on the number of boxes required for a reversal. I only use 3-box reversal charts – they perform exceptionally well in Forex markets. The Reversal Amount dictates how many boxes price needs to move to print a new column of Xs or Os. Let's look at the Box Size and Reversal Amount on the chart below.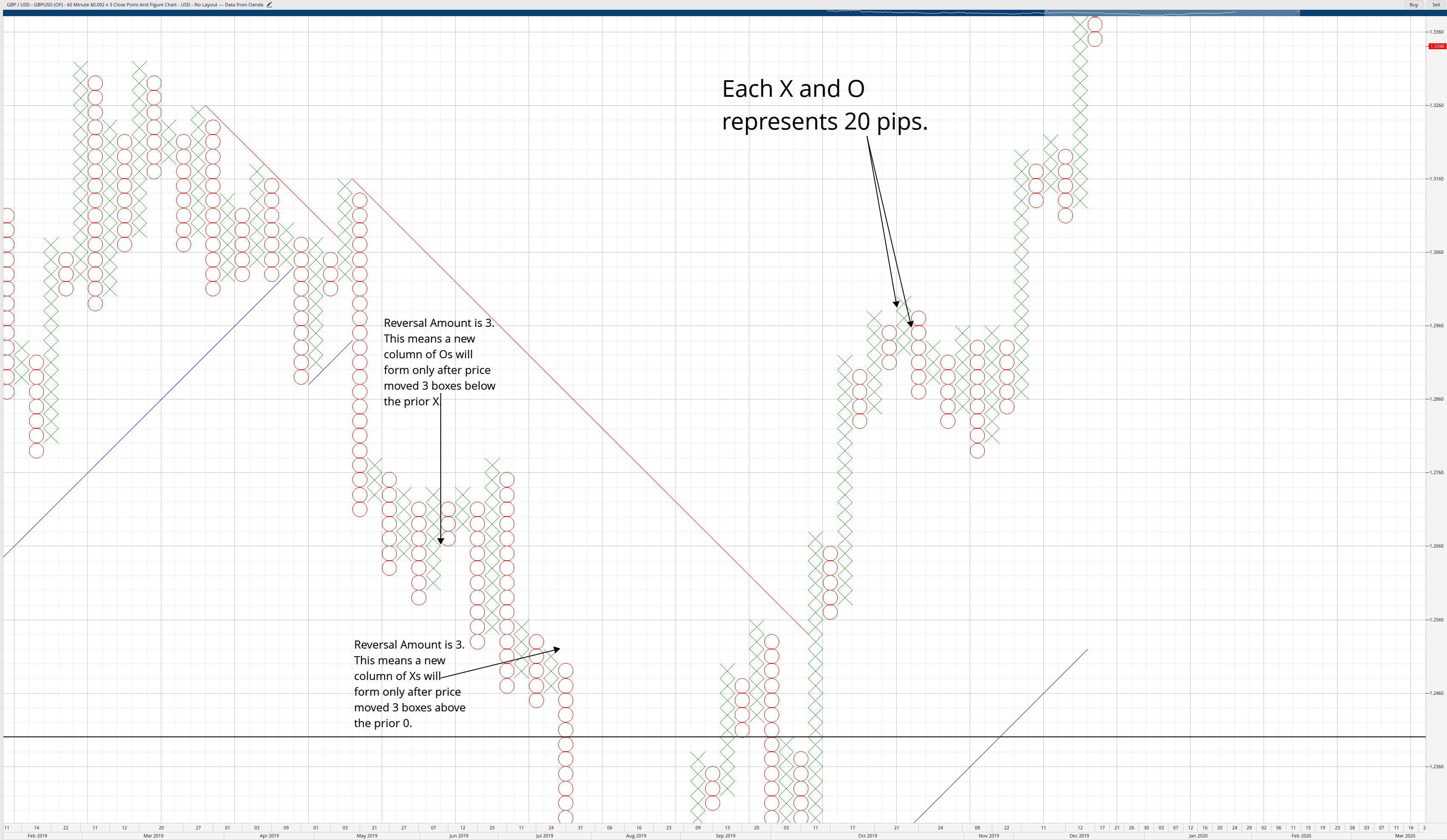 Box Size & Reversal Amount
| | | | |
| --- | --- | --- | --- |
| Pair | Box Size (in pips) | Pair | Box Size (in pips) |
| AUDCAD | 20 | GBPAUD | 40 |
| AUDCHF | 20 | GBPCAD | 40 |
| AUDJPY | 20 | GBPCHF | 20 |
| AUDUSD | 10 | GBPJPY | 20 |
| CADJPY | 20 | GBPNZD | 40 |
| CHFJPY | 20 | GBPUSD | 20 |
| EURAUD | 40 | NZDCAD | 20 |
| EURCAD | 20 | NZDJPY | 20 |
| EURCHF | 20 | NZDUSD | 20 |
| EURGBP | 20 | USDCAD | 20 |
| EURJPY | 20 | USDJPY | 20 |
| EURNZD | 40 | USDCHF | 20 |
| EURUSD | 20 | | |
How much time does it take for a column to change from X to O?
Your transition to a price action only chart from a Japanese candlestick chart is going to continually be hampered by continuing to think that 'time' has someplace on a Point & Figure chart. You will look at a chart and say to yourself, 'Well, that column of Xs has been there for a while, it can't move anymore, it will probably reverse.' While the concept of time is not used, some pieces of software will allow you to imprint the month on the chart where the month's number will appear at the price level it was trading at when the month started. This can give those who are transitioning to Point & Figure as a new chart style some 'grasp' of time. See below.
Some traders may find having the month displayed as a benefit. Is it useful? I think so. It does at least give a sort of perspective of time and how long something has remained in a single column or how many reversals have been printed on the screen. Additionally, cycle analysis teaches that we often see some of the highest probabilities of trend changes or corrective moves occurring at the start of a new month. If we observe a new month starting near an extreme high or low, we could be looking at an imminent reversal with at least a high probability short term trade option.
Trend Lines and Patterns
Another concept that people new to a price action only chart style might find difficult to understand is that P&F charts are always in a bear or bull market. And depending on the time frames you trade on a Japanese candlestick chart, Point & Figure charts may change bull and bear trends frequently or infrequently. Two types of trendlines can be drawn on a Point & Figure chart:
Objective (requires only one point to draw).
Subjective (requires two or more to draw).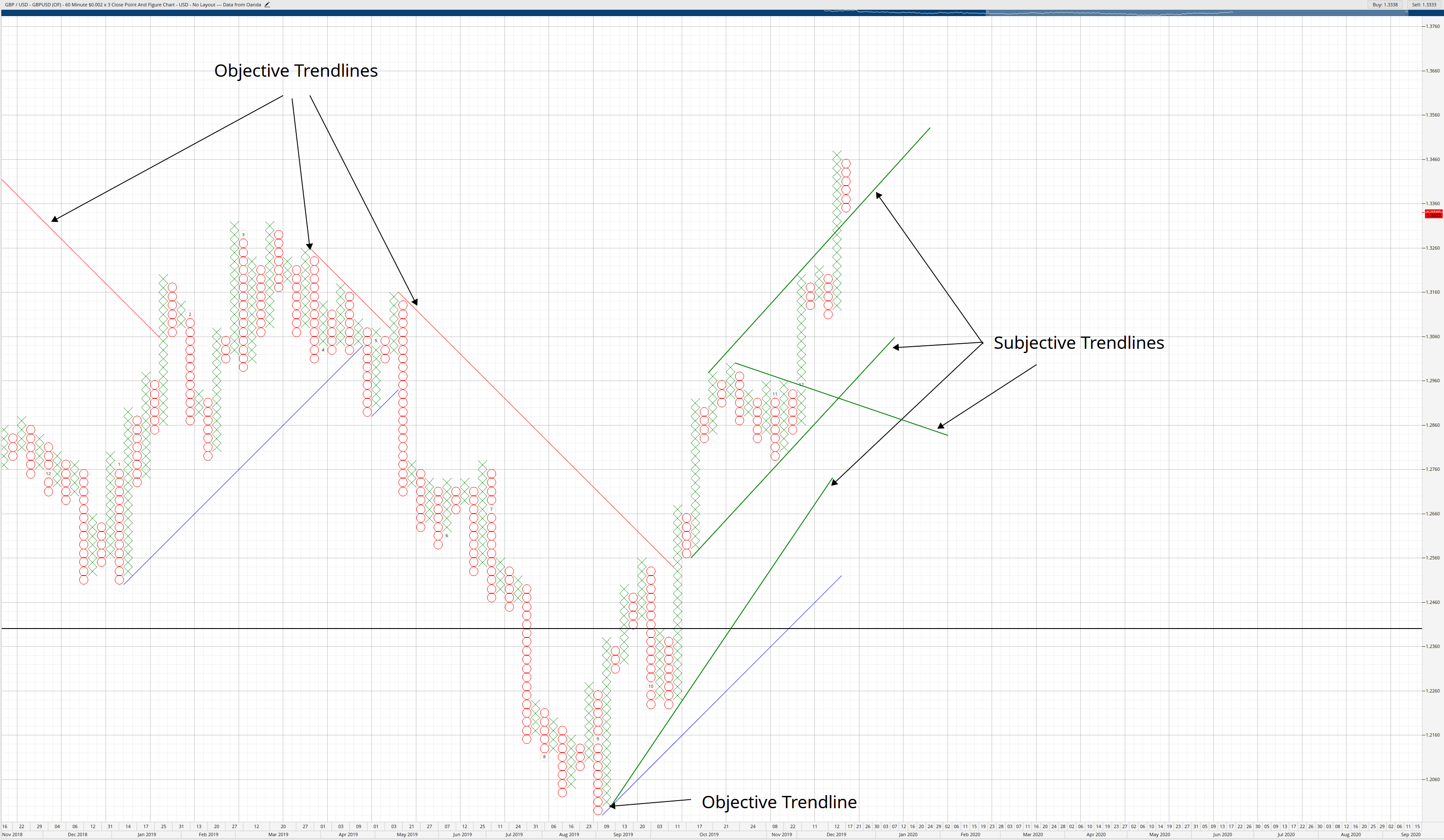 Objective Trend Lines or Dominant Angles are also called 45-degree angles. Dominant angles only require one point to be drawn, and they are always drawn from O to X or X to O (in 3-box reversal charts) – and always to the column right next to eachother. The software I am using for these articles is called Optuma by Market Analyst. In Optuma's software, they auto-draw some of the dominant trend lines. Subjective trendlines are drawn the same way you would draw any other trendline on a Japanese candlestick chart. I rarely, if ever, utilize subjective trendlines. In some of the strategies I will go over, the dominant/45-degree trendlines are useful in determining the direction of the trading you should take.
Patterns such as flags and pennants will show up on Point & Figure charts just like you would see on Japanese candlestick charts. The same principles that we would apply in trading continuation patterns like flags and pennants are the same on a Point & Figure chart. There are some stark differences between the breakouts of a pattern on a candlestick chart versus a Point & Figure chart. There is a primary difference between how we treat breakouts of patterns and trendlines on a Point & Figure chart versus a candlestick chart.
Most Important Rule To Follow
                There is one primary rule that must be followed when trading on Point & Figure charts.
Only Enter Trades After Multipletops/Multiplebottoms have been broken.
I've said that Point & Figure charts are unambiguous. The entry rules in Point & Figure reinforces that statement. When a multiple top appears, the entry is always on the next X above the multiple top. When multiple bottoms appear, the entry is always on the next O below the multiple bottom. See the charts below: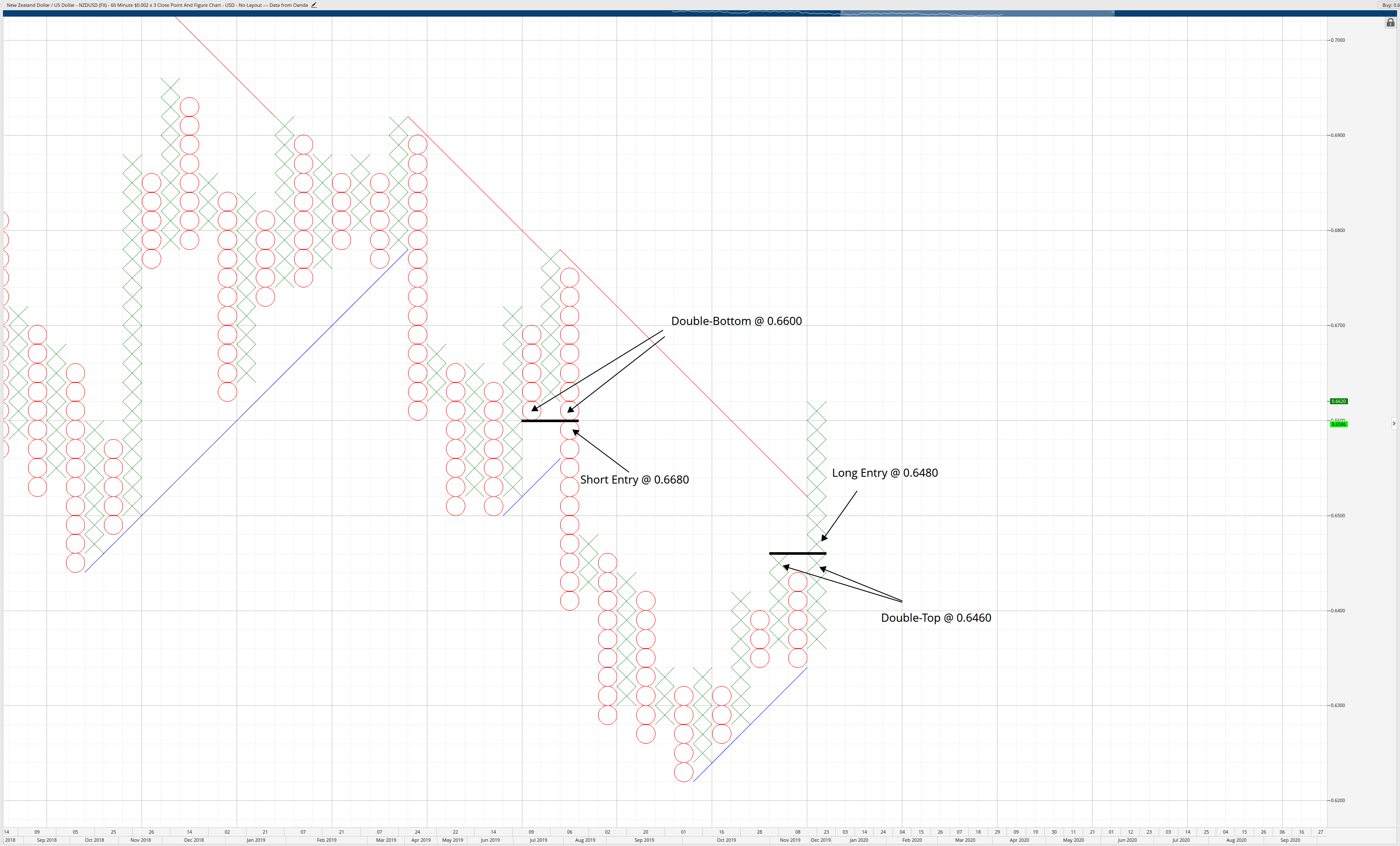 A question often arises when an X or O breaks a trendline: do you enter a trade when the trendline is broken? It depends. The entry rules of multiple tops and multiple bottoms still apply. Even if the price breaks a trendline, a multiple top or bottom needs to be broken to take an entry. Further discussion into entry rules and entry strategies will be discussed in further articles.
Sources:
Dorsey, T. J. (2013). Point and figure charting: the essential application for forecasting and tracking market prices (4th ed.). Hoboken, NJ: John Wiley & Sons.
Kirkpatrick II, C. D., & Dahlquist, J.R. (2016). Technical Analysis: The Complete Resource for Financial Market Technicians (Third). Old Tappan, NJ: Pearson.
Plessis, J.J. (2012). Definitive Guide to Point and Figure – a comprehensive guide to the theory (2nd ed.). Great Britain: Harriman House Publishing.
DeVilliers, V., & Taylor, O. (2008). Point and figure charting. London: Financial Times/Prentice Hall.