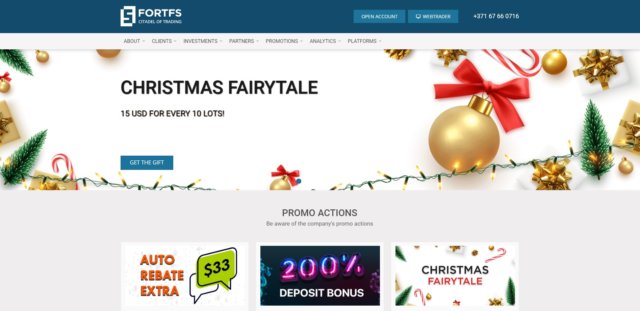 Fort Financial Services LTD – a company behind the FortFS brand is doing business since 2010 and has not rebranded. The broker managed to expand into the Asia-Pacific market while retaining the image of a one-stop complete trading solution for any kind of a trader or investor. FortFS is known for its cent accounts, bonuses, platforms, and a great range of trading assets, that match their slogan, "Citadel of Trading".
One could assume that a broker with this wide service range would be regulated, surprisingly it is not. FortFS once held a license by IFSC from Belize, a regulation that is regarded as mild anyway, but as of lately no license is held. FortFS reputation is maintained by diligently responsive staff that monitors the most popular benchmarking sites. Overall ratings by users are mixed although they are either excellent or bad. We have not found a single bad user report that has not met with an attentive inquiry from FortFS.
On several occasions, the broker put great efforts to prove their legit nature, and even publishing proof online. The website is very well organized considering so many services, some typical marketing is present but the majority of content has useful information. Transparency is good with plenty of available data, some of which need more clarification for a novice. Former company domains are TradeFort.com and TradeFort.ws.
The expansion to the attractive Asian market is evident with established websites for Malaysia and Indonesia fortfs.asia and www.neofortfs.com. Other countries like the Russian Federation remains a target market. This FortFS review will evaluate the broker services by sections so traders will have complete insight into points of interest.
Account Types
FortFS offers 4 account types that are differentiated not by the minimum deposit requirement, but with key categories like fixed spread, cent account, or faster execution. The aim is to accommodate every type of trader. Starting with the Newbie Account it is evident that the broker offers one specialized account that received rewards as the best for inexperienced traders. The Account features cent base only, meaning every $ is represented as 100 currency units, changing the scale of trading that allows forgiving losses. This account is also swap-free, with zero spreads for certain Forex currency pairs and low variable spreads. Having a swap-free also means no dividends are paid.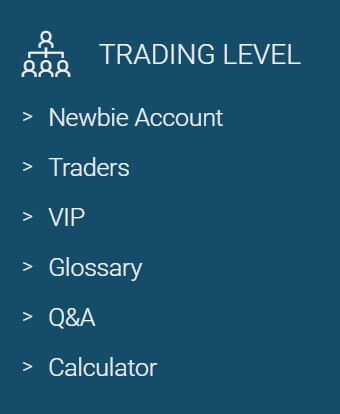 Trading shares is not possible with Newbie Account anyway, also ETFs are out. Leverage is high and enough for most, without the possibility to reduce it. Margin levels are very tolerable so newbies can trade until no equity is left, Stop Out is at 1% and Margin Call at 5% level. The minimum deposit requirement exists but it is small enough it is symbolic. Commissions apply, although only for "CFDs", not for Forex and they are $20 per lot.
Some trading volume limitations exist that should not be a factor while trading, more on trade sizes in the following dedicated review section. A unique benefit of the Newbie Account is the 10% compensation on closed losing trades but at a cost of no bonus eligibility. For Cent accounts, the maximum volume is 10 standard lots per tradeable instrument. For. Trading history will be kept for 90 days.
Fort Account's main trait is the fixed spread. Apart from this, the account base currency can be in EUR too and have the ability to have a Cent base like the Newbie Account. The downside is only 4 digit price accuracy, probably intentional to keep fast trading methods away and attract longer period traders. The commissions are the same as with Newbie ($20 lot), as well as the minimum deposit. Margin requirements are higher, Stop Out is at 25% and Margin Call at 50% and for Cent base is 10%/30%. Bonuses on deposits are available, in 10%, 20%, 30%, 40%, 50% levels. More on bonuses in the lower section of this FortFS review.
The broker also states information about dividends payout which is 5% and 3% for Cent accounts. Dividends are not available is a trader opts for a swap-free option. Zero spread instruments like in the Newbie Account are also included.
Flex Account is the most popular choice as the broker states. The biggest difference is the variable spread and 5 digit prices, retaining the offer of zero spread instruments. Designed for fast trading although without better execution times, which gives an impression the account type is "artificially" made. The rest is the same as the Fort Account. The leverage can be changed from a maximum of 1:1000, commissions are $20 per lot, and available deposit bonuses are from 10 to 50%. Margin requirements are Stop Out at 25% and Margin Call at 50%, for Cent base is 10%/30%. Dividends are paid 5%. Flex Account supports EUR and USD.
The final, Pro Account requires a higher minimum requirement that is still affordable. To some extent, it is also required as the leverage is reduced to 1:100 maximum. The Pro Account offers the best possible executions, intended for fast trading strategies applicable to Forex and commodities as no other assets are open for trading. The spreads levels are presented as low and the account is only available in USD, no Cent base. Trading volumes are in mini-lots minimum, which is the main reason for a bigger deposit.
The benefit apart from better execution is 100% ECN Account, which means all transactions are entered into the interbank market. Normally, participating in the interbank market should also bring tighter spreads. We will check if this is true in the Spreads section. Margin Call and Stop Out are 80%/40%and commissions apply – $9. Dividends and bonuses are not available.
Note that the following list of currency pairs are not available for trading on Swap-Free accounts: HKD, MXN, TRY, and ZAR. Short positions on USA shares will only remain until the end of the trading session and will be automatically closed at current market prices. Pending SELL orders will be canceled. Also, during our platform testing, we have noticed that the zero spread assets had 4 digit pricing on all account types.
VIP status is reached once a trader has a $25,000 balance excluding the bonuses. The benefits of having VIP are FortFS's compensation on any commissions for deposits or withdrawals, 10% interest per annum of free balance, 7% commission rebate, Pro accounts have 20% reduced commission, +3% for each profitable transaction, customized loss limits and position locking, unique analytical reports from the world's leading research agencies and banks.
Platforms
FortFS offers 4 trading platforms out of which some are dedicated to certain instruments. MetaTrader 4 and 5 are offered in all versions. Additionally, the broker offers NinjaTrader and CQG. MetaQuotes platforms are well known as almost all brokers use it but NinjaTrader and CQG are not that popular. NinjaTrader has some advantages over MT5 like more charting customization and features, historical data selection, better stability, multiple data feeds, and more. The platform provides great ordering functionality, clearly made for knowledgeable traders.
NinjaTrader has an insight into true market depth, simultaneous orders at different prices which opens special possibilities for experienced fast trading traders. Automated trading is more developed for the MetaTrader but NinjaTrader is written in C# and since this programming language is widely known, it is easy to make one in the NinjaScript tool. The testing module is also somewhat better than MetaTrader's Strategy tester with the ability to back and future test, simulated data feed support, and Monte Carlo simulation.
Overall, the platform is designed and superior for scalpers that need to have extra options for their strategies or automation. If you want to have this platform when trading with FortFS be ready to deposit $10,000 and accept the fact that micro-lot order sizes are not supported and trade only Futures instruments.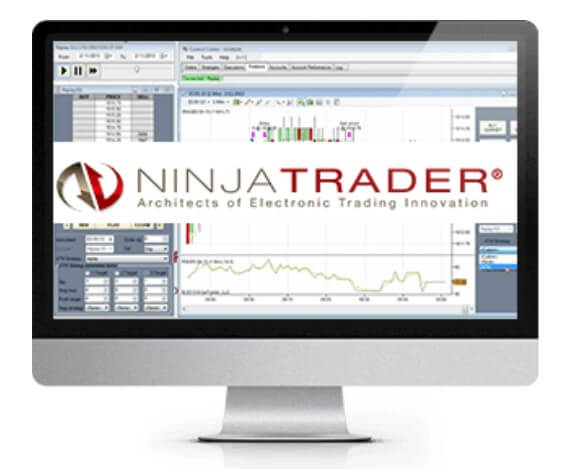 CQG platforms are also more oriented for experts in trading futures, spreads, and options. There are four client types, for mobile devices, web trader, QTrader for $40 per month and professional Integrated client for $ 595 per month. All types also have a $0.25 commission per contract which is included in FortFS's commission. Probably the most interesting would be the QTrader as it can also be optimized to work on mobile devices.
QTrader features modules whit specific functions that add on to the platform versatility. These are, for example, Spreadsheet Trader that allows for a great overview and track strategy performance on various instruments, Order Ticket – a variant of market depth and order module, DOMTrader®- order making app, SnapTrader® – One-Click trading mod, Alert Trading module, Spread Matrix, and Spread Pyramid – a spread monitoring module, and more.
The platform is connected to many exchanges globally such as CBOT, CME, COMEX, GLOBEX, IOM, SGX, NYMEX, KCBT, SFE, Eurex and a few more. Made for professionals who need to deposit at least $15,000 and no ability to have micro-lot sizing.
As for already known Metatrader 5, we can say it works very well with FortFS servers. There is only one server to select – FortFS live with a ping of 53ms. The client version is not updated to the latest although that is resolved with the automatic updates The very responsive start met us with 4 default chart screens that remained black as no information is received. The reason behind this is the FortFS does not have the default trading instruments names but with the "p" suffix for Pro Account and f for Flex. Zero spread assets also have a "nosp" suffix.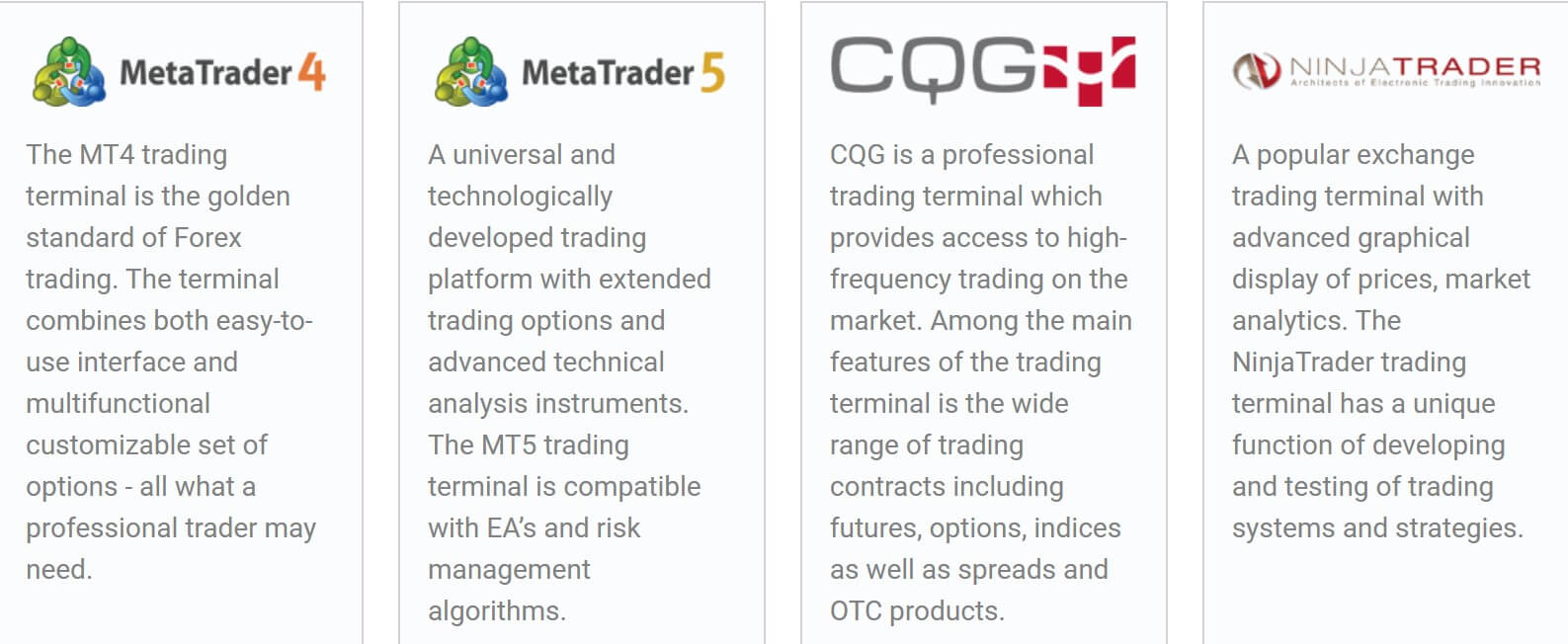 FortFS did not want to change the client defaults so 4 non-working charts may not be a good presentation to a novice if they decide to go with the Pro Account type. Inside the indicators list, we have noted a long list of custom added indicators and 3 basic templates. For the Pro Account, you will see only Forex, Commodities and the Indicative symbols groups as this account type does not feature all the possible assets. One-click trading buttons are not visible so the trader will need to enable it. The execution times for the Pro Account were around 60 ms with almost no deviation and valid for all assets.
The Trading Terminal window shows the cost of the swaps but not the commission. For the info on commission, traders will need to open the instrument specification window which has all important fields filled. We have also tested the execution times for the Flex Account types to see if the Pro is any better and to our surprise, Flex Account has an average execution time of 54ms without deviation. With this issue, we have doubts if the Pro Account provides any special value, as the execution time was one of two major advantages. Still, both execution times are among the top tier in the industry.
MetaTrader 4 is also available in all versions, as a web trade, for mobile devices running on Android and iOS and for computers running on Windows. This time we have tested the Flex Account and we could find two FortFS servers, Live and Demo. The ping was about the same as with the MT5 at 52ms. The default layout is different from what we see. There are 9 opened charts with custom backgrounds and themes with some indicators plugged in.
Some of the charts were offline as the matching asset name is different. The symbols are also grouped and categorized differently. The execution time is 130ms on average, twice slower than the MT5 although still fast enough, faster than presented "from 0.3 s". Trade Terminal shows the commission costs in MT4, unlike the MT5. Symbols are categorized in many groups and a bit untidy, some of which are not well described. Indicators available to use out of the box are not so numerous as with the MT5.
Leverage
The leverage is scaled with the total balance on the account, with a higher balance, then leverage is lower. Up to $1000 the leverage can be set at a maximum of 1:1000. After, up to $5000 is 1:500, then up to $20,000 – 1:200, up to $100,000 – 1:100 and everything above is 1:33.
The Pro Account type is limited to 1:100 immediately while others support the 1:1000 maximum leverage. The leverage level can be adjusted. Some additional limitations exist as stated by FortFS. the broker reserves the right to limit the leverage to 1:33 for positions opened using the martingale method. In other words, any additional positions using this trading method will require more volume.
Note that on Friday's trading session the leverage can change to 1:33 for the orders on Forex and Spot assets opened 60 minutes or less before the end of Friday trading session. Be aware that is the Stop Out level can be reached during this time.
For Cryptocurrencies, the leverage is 1:33 for all account types where they are available.
Trade Sizes
The only Account that does not have the micro-lot size volume is the Pro Account where the minimum trade size is 0.1 lots but any additional volume steps are 0.01 lots. Stops level is usually zero or one point for Flex Account, which is convenient for scalpers. For Fort Account Stops level varies from 0 to 86 points we have noticed with GBP/ZAR currency pair. Double-digit Stops levels were mostly for exotics while others have marginal values. Cryptocurrencies have micro-lot sizing minimal volumes and steps for all account types.
Trading Costs
FortFS are one of those kinds of brokers that have a complex structure for commissions as they have variable commission even for assets in the same category. The comparison table showing the account type differences present commissions per side, an option to make the costs look smaller, which is okay if that note is added but we have not found any. There are no commissions for Forex and Precious Metals but for zero spread assets it could be from $20 for majors to $50 for more exotic currency pairs. Zero spread instruments are only currency pairs and they are categorized under special groups in the MT4/5 symbols list.
For Indexes, the commission is 0.075% per lot and Crypto – 1.5% per lot traded. Stocks have 0.1% commissions per lot and ETFs have 0.1% per contract Swaps for Forex are under normal levels, with some positive figures and calculated in currencies. EUR/USD swap is -9.91 for long and 0.18 EUR for short per lot. GBP/USD has -7.79 and a positive short position swap 0.86 GBP. Interestingly as we go towards minors and more exotic currency pairs, the swap is lower on both sides. USD/DDK with -5 USD long swap and -20 USD long is the first example where the swap is more significant.

TRY quoted pairs shown the biggest swaps around -$100 for long and $3 for short position. Swaps for the zero spread pairs are the same. For precious metals swaps are calculates in percentage terms per annum. XAU/USD has -5% on both sides, XPT/USD -1.37% and XPD/USD -3%. Cryptocurrencies also have percentage swap and they are -20% on all. Swaps are tripled on Wednesdays and for Crypto on Fridays.
Pro Account commissions are $18 per lot traded for all assets available for trading with that account type excluding the zero spread currency pairs that retain the $20-50 commissions.
Assets
One of the main benefits of FortFS is the above-average asset range, probably among top offers in the industry without regulation. If we stick to the MT4/5 platform only there are 8 categories by our count. These are Crypto, Futures, Commodities, Precious metals, ETFs, Stocks, Indexes, and Forex with an additional zero spread currency pairs sub-category. This is a full asset range we had available with the Flex Account.
Forex features 51 currency pairs out of which 14 currency pairs can also be traded with zero spreads but with a commission. This option could be very useful for traders that like news trading or do not want to take spread widening risks that could trigger their Stop Loss. So for Forex traders, this is a unique offer as they can have the best from both spread types. In the exotic range, it is interesting to see TRY, MXN, HKD, CNH, ZAR, RUR (RUB), and Scandinavian currencies, some with EUR and GBP as base combinations. More very interesting currency pairs are just indicative, disabled for trading, but still, have a purpose.
Indexes are not as extended with 12 total. Majors like the S&P 500 are present with some other worth mentioning like Hang Seng Index, CAC, IBEX 35, and DAX 30. Among the Indexes category, we also found Natural Gas that was probably inside this group by mistake.
Stocks offer is average with just 50 companies from the US markets only, and all of them are popular. They are somewhat diversified by the industry as usual, but nothing special in this category.
ETFs are one of the shining parts of FortFS. We have counted a total of 41 ETFs that are very diversified and are a great complement to other assets. From precious materials, ETFs traders can find GlodMiners, Diamonds, and S&P Metals and Mining ETFs. Country specific share ETFs are also present.
Energies are limited to just 3. Both Oil types, WTI, and Brent and Natural Gas.
Commodities are classified as Futures contracts, and there are so many of them that the offer overshadows all other categories. Under Futures, there are also Bonds, Metals, Currencies, Indexes, and more Energies. It would take a lot of time just to grasp what opportunities exist in this category.
Precious Metals are in full 4 popular range, Platinum, Gold, Palladium, and Silver. Gold and Silver can also be found with the EUR quote making a total of 6 instruments. Futures metals extend this range to Copper too.
The cryptocurrencies range is very good with 13 tradeable. This class does not have other quoting currencies apart from the USD, so there are 13 different coins. Major cryptocurrencies are present with the addition of a few interesting ones like NXT, DashCoin, Stellar, Monero, Augur, Zcash, EOS, and Etereum Classic.
Spreads
Another specialty of FortFS is having a variable, fixed and zero spreads which are essentially fixed but have a commission as a substitute. Combining both into one account type is also unique, but how wide floating spreads are in times of volatility. We have tested this during the Friday closing. These are pairs with the lowest spread: EUR/USD had 3.7 pips, EUR/GBP – 0.3 pips, USD/JPY – 1.3 pips, EUR/JPY – 1.5 pips and EUR/AUD with 2.1 pips. The rest of the currencies had more significant figures, for example, AUD/NZD – 30 pips, CAD/CHF 19.5 pips, GBP/JPY – 12.7 pips, NZD/CHF – 38.4 pips and so on.
Spreads from 0.3 pips that are presented on the FortFS website are correct, and the major pairs have even less during the calm periods. Spread expansion is about 10 fold during higher volatility and this measurement can be used for Stop Loss orders placement to avoid the spread triggering. XAU/USD spread is around 70 pips during Friday closing, Palladium 2300 pips and Platinum 500. The BTC/USD has 3 digits price precision so the spread was $144 per coin.
Zero spread pairs are fixed to 0 and Fort Account type fixed spreads did not deviate from their fixed levels. EUR/USD stays at 2 points as well as USD/JPY, EUR/AUD 10 points and the highest spread from the non-exotic currency pairs is with the EUR/NZD at 20 points. Exotics had fixed levels too, so the EUR/MXN has 500 pips spread, the same as GBP/TRY and these are the highest fixed spreads. Others like USD/CHN had just 3.6 pips.
Floating spreads for these pairs during the volatile period were 1214 pips for EUR/MXN and 3653 pips for GBP/TRY. Note that exotic pairs do not have their zero spread options listed. Fort Account fixed spread for XAU/USD is 75 pips and for XAU/EUR 150, higher than variable spreads during Friday closing volatility. Although for Palladium and Platinum the spread was fixed to 600 pips, lower than floating spread. For spot Silver, the fixed spread was 10 times lower at 6 points. For Cryptocurrencies, there are no fixed spreads.
Minimum Deposit
The minimum deposit presented on the table is $5 for Fort, Flex, and Newbie Accounts. This is the same for Cent based options. For the Pro Account, you will need $500 as a minimum. Probably, even more, would need for optimal trading considering the reduced leverage and increased trade sizes. Note that for certain platforms, like NinjaTrader and CQG you will need $10,000 and $15,000 minimum. If you deposit by local bank transfers the minimum will be $20 as well as for deposits by Skrill, VISA or MasterCard.
Deposit Methods & Costs
FortFS client portal showed us fewer deposit options than what is officially presented on the broker website so the deposit options will be limited for certain jurisdictions. All possible deposit channels are by using e-wallets like Neteller, PerfectMoney, Qiwi, Skrill, WebMoney and more local bank options like Indonesian, Malay, Vietnamese and Thai Local banks. VISA and MasterCard are also supported without commission. The only channels listed that have commission are PerfectMoney with 1% and FasaPay with 0.5% commission. VISA, MasterCard and Qiwi can also be used for Ruble deposits, not just EUR or USD.

We also had the Expobank transfer option available from the client portal without commission. VISA and MasterCard have $10,000 maximum deposit limits and FasaPay $5000.
Withdrawal Methods & Costs
Withdrawals need to be made using the same method as the original deposit unless specified by the broker. The available methods are the same but they have different costs. Visa and MasterCard withdrawals have $20 minimum and 2.5% commission while Perfectmoney has the same 1% commission for withdrawals too. FasaPay commission is 0.5%. For withdrawals, we also had an Expobank transfer option without commission.
Withdrawal Processing & Wait Time
FortFS has a processing time of up to 5 days. If further investigation is needed the time could be prolonged to 10 days. Once the withdrawal form is processed, the withdrawal is instant. Only for VISA/MasterCard and bank transfers, there is a delay in up to 7 days.

Bonuses & Promotions
FortFS has one of the most extended promotions and bonuses structure we have encountered. Starting with the classical Welcome Bonus, a kind of volume-based bonus that is withdrawable after 20 lots traded within 45 days timeframe, without deposit requirements. The only step needed is the client verification. Newbie and Pro Account are not eligible for this $35 bonus. Forex and metals are counted for the volume condition only. More conditions are published on the FortFS website along with an example.
Deposit Bonus is a classical on-deposit bonus. It is selectable from 10% to 50% according to the client's wishes. The bonus time-limited to 3 months until the required trading turnover requirement must be met. The volume required depends on the bonus received and is calculated by Bonus in USD/4=lots required.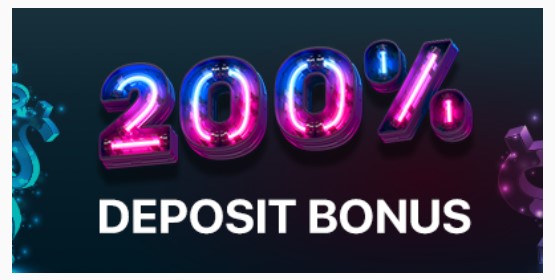 Megaprotect Bonus acts like margin support funds during a drawdown. It is available up to 100% deposit and also for cent accounts. Flex and Fort Accounts with no active bonuses obtained are eligible. Stop Out will not be triggered even when funds reach this level.
Unlimited Leverage, a unique offer from FortFS is an option to have unlimited leverage. The requirements are numerous, mostly restrictions of this leverage to volatile periods. To open a position you will still need the initial margin. After, the margin will be set at zero.
Not available for Newbie, Pro Accounts. Can be activated only for MT4 Accounts
AutoRebate is a rebate of up to 30% per lot. There are no restrictions, and for some instruments, the rebate is 15% minimum. For Fort and Flex Accounts only.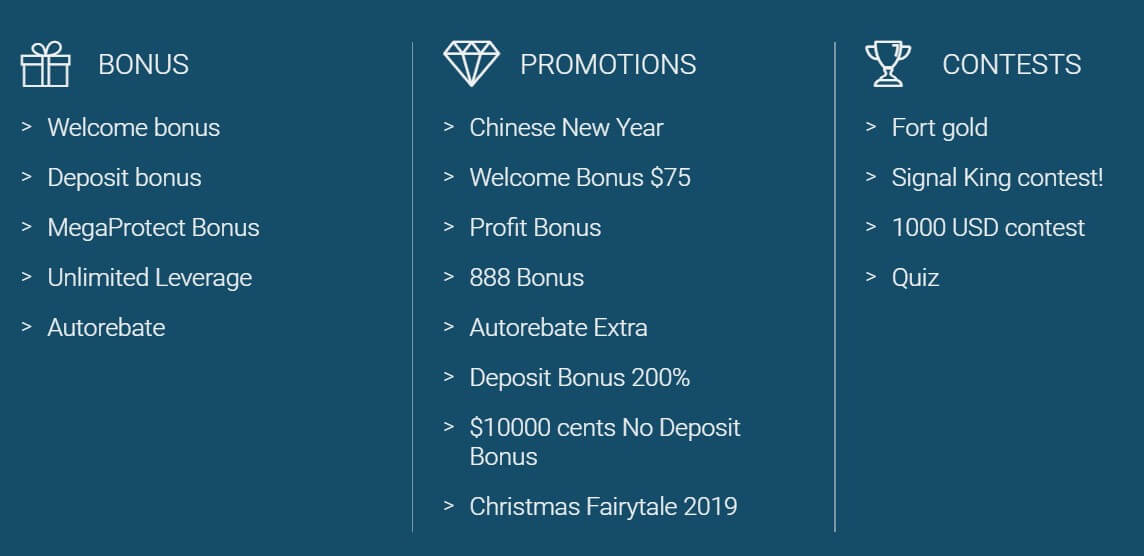 FortFS has many other promotions that are offered for a certain period. Some of them are additional Profit Bonus, $75 Welcome Bonus, "888" lucky draw, Autorebate Extra, and so on. FortFS has established a Telegram channel for the latest promotions.
In addition to bonuses, the broker also has interesting types of contests. These are not based on extreme risk performance. For example, FortFS organized a contest for the Financial analyst with prizes but also a position in the company, $1000 Contest is rewarded for completing social network tasks, and more.
Educational & Trading Tools
FortFS also has a solid Educational section. The material consists of 7 parts with topics that are related to the company and with trading in general. For example, Part 7 – Trading with Futures is a few page long tutorial on Futures contracts but also how to trade with them using the platform and FortFS services. Other parts could be longer, as the Technical Analysis with good content quality.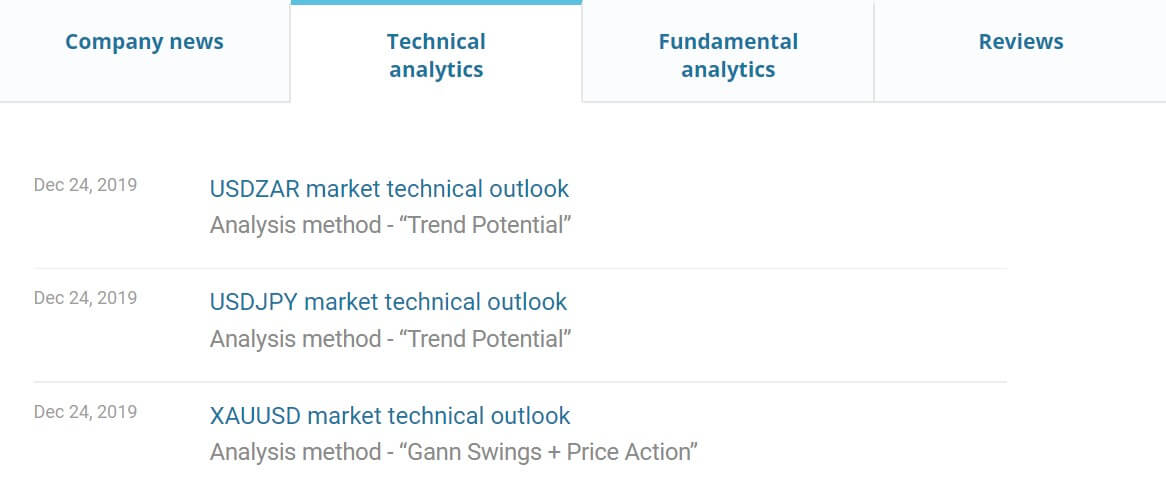 Technical and Fundamental analysis is provided in-house and updated daily. The technical analysis material is mostly based on Price Action, RSI, ADX and Bolliger Bands indicators with an interpretation of additional graphics. Support and Resistance levels are marked with some more info on what is going on in the market, but very basic. Some better content is provided in the Fundamental section that is brief but captures the gist. Also, there are weekly and monthly outlooks on markets, including Crypto.
Signal service is provided but it is not well established and is based on common indicators like the MACD. Some trading recommendations could be regarded as blind guessing. There are also Forex news and the Economic Calendar. Forex news is just one sentence about a particular trading asset, nothing more, but could be enough for most. The news is updated frequently. Economic Calendar is very basic, without any filtering, charts or info about the event.
Customer Service
FortFS has a very good customer service that could be contacted with a ticket system within the client portal, phone, and email. There is also a Telegram channel and social network pages that are well managed. The staff is responsive, you will not wait more than a minute for a response. All responses were good although they may lack depth. No marketing or KYC will be condoned and the approach is purely supportive.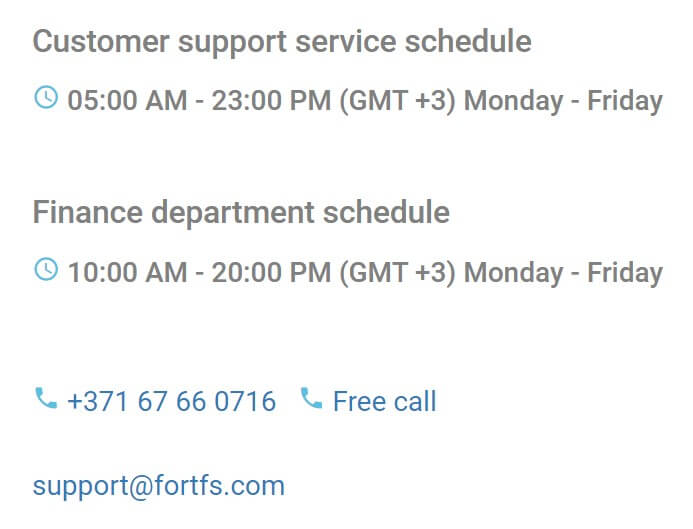 Demo Account
The Demo Account is great and could be opened for any platform and any account type. This will give you insight into the varied trading conditions these accounts provide. Servers on MT5 are the same for Live trading, so you will have the exact conditions. The Demo is time-limited to 90 days but could be easily renewed. The demo opening process is simplified and done through the platform, with most of the fields automatically filled in. The trader can select the account type, leverage, funds amount and so on.
Countries Accepted
We have a direct answer form the staff that only clients from the United States are not allowed for FortFS services.
Conclusion
Some additional information to this FortFS review that is important for investors. FortFS location cannot be determined and shares the common Belize location with many other off-shore brokers, some of which have scam reputation. FortFS does not give that impression at all, and most of the trust comes from their hard-to-achieve level of service and solid user ratings. Some of the bad ratings could come from traders that do not respect the bonus rules or use other prohibited techniques like quotes delay arbitrage and so on. Most of these traders are also attracted to the leverage, bonuses and other promotions that can be abused.
One of the additional services is the S.T.A.R – Short Term Assets Revenue, an investment service that allows investors to select their investment manager according to their criteria. This service makes this broker one of the most complete in the unregulated class, yet the regulation would surely cut most of the great benefits. As their staff responded to us, the license application in Belize was not completed even they had met all of the requirements. For investors, it is simple, all these benefits come with a certain risk that may be acceptable if good Money Management is applied.