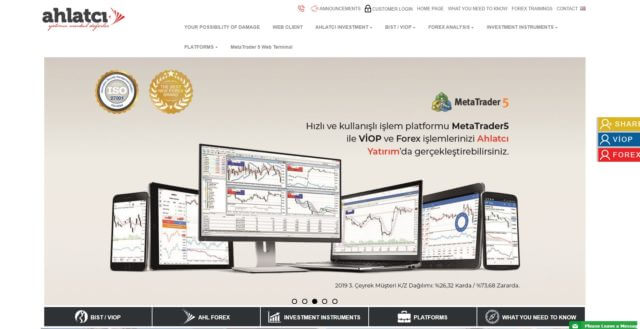 An American residing individual, citizen of Korea, was featured in the news in 2018 was confirmed to own and operate more than one forex business and unregulated forex brokers including AHL Forex. This individual was at the receiving end from CFTC scrutiny over a fraud scandal. The result of this was a 2.26 million dollar penalty fine. Nonetheless, AHL Forex still appears to be in operation, so let's take a look at this particular broker and see what they offer. The first thing to note is that this broker is only available for Turkish citizens, no other citizens are accepted. This could be a result of the CFTC backlash back last year.
Account Types
AHL Forex offers 3 different account types: Standard, Gold, and VIP. The website states that the minimum deposit requirement varies depending on the pairs you trade. For the Standard account, this could be between $13,500 up to $ 25.000. For the Gold account, the minimum deposit could vary between $25,000 up to $50,000 while the VIP account must have a minimum deposit of at least $50,000. These minimum deposit figures give us some indication that this broker is suitable for those only who are well experienced in forex trading and have large capital at their disposal.
Platforms
AHL Forex offers the MetaTrader 4 platform as well as MT5. Both options are available via Desktop, mobile (iOS and Android). Especially for the more experienced traders, it is nice to have the option between both MT4 and 5 since MT5 offers slightly different features to MT4, and for some, is the new preferable platform.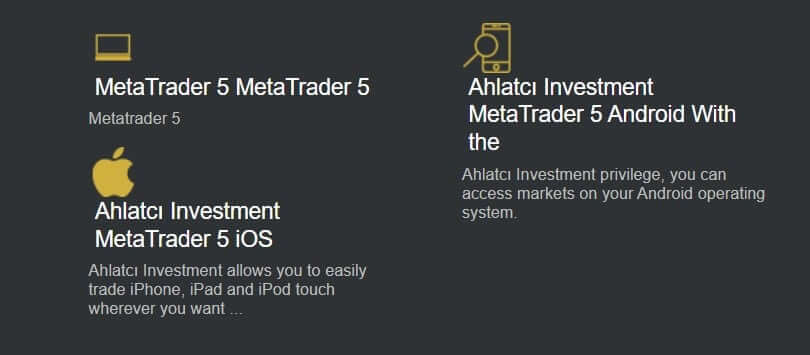 Leverage
The homepage advertises leverage of up to 1:80 which is not particularly competitive and stands out as a slightly odd number to provide for leverage. However, upon speaking to a customer service representative, it was clarified that AHL Forex offers leverage of 1:10 for trading, for all tradable instruments. This is not competitive at all to what is out there and available, however seeing as the minim deposit requirements are so high in comparison, the profit potential with even such low leverage can still be meaty.
Trade Sizes
The Minimum and maximum trade sizes are not stated on the website anywhere, so we took this question to live chat who did not understand the question and there was a strong language barrier that hindered communication. Eventually, we came to the conclusion that the minimum trade size is 0.01 lot, and the maximum trade size is unconfirmed so we cannot comment on that at this time.
Trading Costs
We could not find the trade commission and swap fees easily or obviously set out on the website, and when asking the live chat, we were refused answers unless we provided personal contact details. The Live chat agent then refused to assist and then closed the chat. Do bear in mind that the commission and swap fees may vary according to the account type. Eventually, after some digging, we found that the commission fees are $10 per lot, per trade. It is not clear if this is per side or round turn, but if it is applicable per side, this is an average cost in comparison to other brokers.
Assets
A full list of instruments available to trade is on the website, which includes: Forex, Indices, and Commodities. The selection of tradable instruments is a little limited in comparison to what other brokers can offer, in terms of the number of types of assets offered.
Spreads
There is no mention of spreads or even an average spread to go by from the website so in order to discover what spreads are available on which currencies, a potential client must open a demo account to check these out. DO bear in mind that spreads (floating/fixed) as well as a variation in pips, could be dependent upon the account type you opt for, although this is not clarified on the website.
Minimum Deposit
The only information regarding minimum deposits can be found under 'account advantages' on the FAQ which states the minimum is 50,000 TL but on the account comparison page, it states that the minimum deposit requirement varies depending on the pairs you trade. For the Standard account, this must be between $13,500 up to $ 25.000. For the Gold account, clients must deposit between $25,000 up to $50,000 while the VIP account must have a minimum deposit of at least $50,000.
Deposit Methods & Costs
AHL Forex only allows deposits via Bank Transfer with the following banks:
Akbank
Warranty
Is Bank
Construction loans
TEB
Denizbank
Vakıfbank
Clearing Bank
The above banks are evidently Turkish local banks, and specific branch account details are set out on the website to save clients contacting their bank for specific bank details to send the funds to. Funding costs are not mentioned so we can assume there are no fees applied for the above methods.

Withdrawal Methods & Costs
Withdrawal methods are not set out on the FAQ page, as the funding options are, so it can be assumed that the withdrawal methods are the same as the deposit methods. Again, withdrawal fees are also not mentioned but it is always advisable to check with your banking provider regarding any fees when moving money in and out of your account, to and from a forex broker, to avoid any surprises.
Withdrawal Processing & Wait Time
It is odd that AHL Forex has neglected to mention basic information and especially important information that is a shared concern between traders, especially when considering a new broker; withdrawal methods, timescales, and cost. This information is nowhere to be found and the customer service team struggles to communicate with non-Turkish speaking, which in turn made getting answers very difficult.

Bonuses & Promotions
AHL Forex does not appear to offer any deposit bonus scheme or promotional offers. This is definitely a positive element since it then leaves the trader to feel pressured to hastily keep placing orders in order to reach the target to be able to withdraw the bonus profit.
Educational & Trading Tools
AHL offers a 'glossary' which does shed light on trading terminology used, which is especially helpful for those still in the demo phase or just wanting to enhance their trading knowledge. Free seminars are also available. In addition, AHLF Forex also offers an economic calendar and daily analysis of the markets which is useful before charting up and beginning a forex session.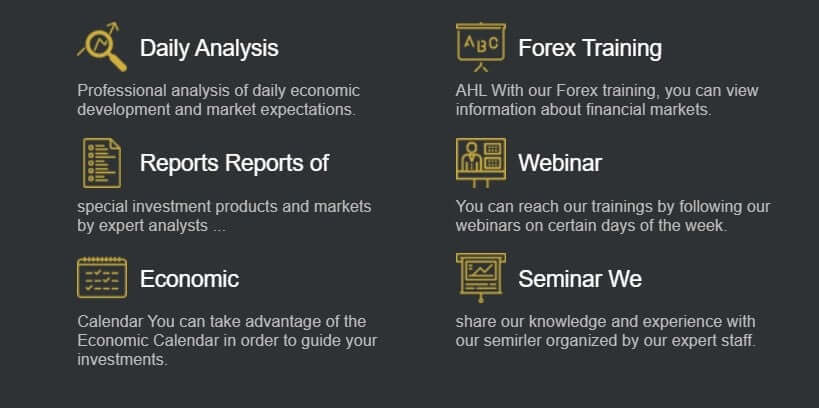 Customer Service
This broker is for Turkish clients only and therefore the customer support is Turkish speaking only. This made communication very difficult, and also because the website itself does not fully translate to English. The customer service team is available via email and telephone, or you can raise a ticket to request a call back which is especially handy so that you can be called back with the answer to your queries already solved and with an explanation, at a time that is convenient to you. It is unclear however what hours the customer service team operates. The Live Chat facility at times appears on the website, but at other times, it does not, which is odd and frustrating for those that prefer to communicate efficiently via that method.
Demo Account
Potential clients can backtest this broker's services via demo and have the option to demo with an amount of up to $100,000.

Countries Accepted
As mentioned at the beginning of this review, this broker only offers trading services to those with Turkish ID. If you cannot present a Turkish ID and/or residency proof document you will not be verified and accepted to trade with AHL Forex.
Conclusion
This broker is very vague when it comes to the provision of basic information which could raise concerns about the safety of one's funds with this broker. The high deposit requirements clearly indicate that this broker is not for beginner traders, and this is backed up by the fact that beginners would not necessarily know what to look for in trading conditions, which are incredibly hard to discover from the website and unresponsive customer support. Should you be considering becoming a live client of this broker, it would be prudent to open the demo account first, really clarify what the trading conditions are (spreads, leverage, lot size, etc) and see if these correspond with your trading strategies. If you are looking for a broker with on-hand support on the go, this is probably not the best choice of broker.