QuickTrade is a forex broker based in South Africa, during this review we will be looking into the service being offered by QuickTrade but as a word of warning, there is very little information available on the website so there may be some questions you have let unanswered by the time we finish.
Account Types
There isn't any account-specific information available on the website, there are a few aspects that are relevant but we will be looking at them later on in this review in their individual sections.
Platforms
QuickTrade only offers one trading platform, the good news is that the available platform is MetaTrader 5.
MetaTrader 5 (MT5) is the younger brother of MetaTrader 4 (MT4)m developed by MetaQuotes Software and released in 2010, MT5 is used by millions and for good reason. Offering plenty of trading and analysis features to ain in your trading. Additional services expand the functionality of the platform making its capabilities almost limitless.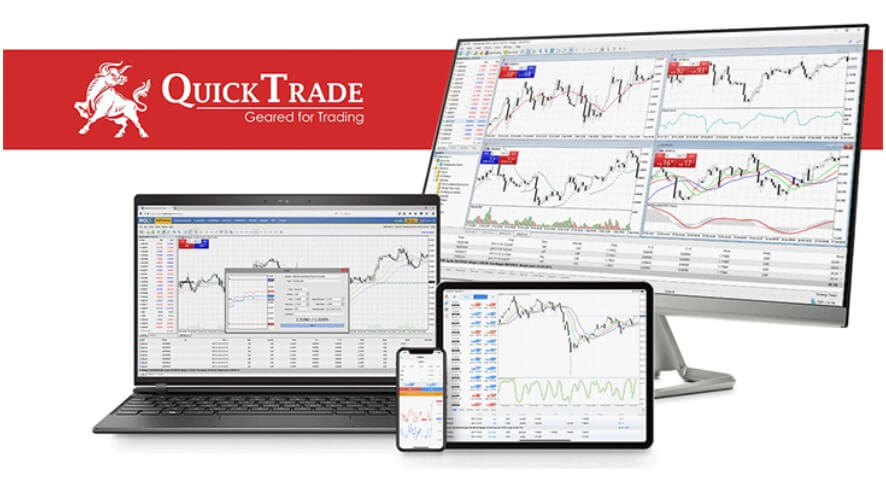 MetaTrader 5 offers the built-in Market of trading robots, the Freelance database of strategy developers, Copy Trading and the Virtual Hosting service (Forex VPS). Use all these services from one place, and access new trading opportunities. MetaTrader 5 is also highly accessible with it being available as a desktop download, application for iOS and Android devices and even as a WebTrader where you can trade from within your internet browser.
Leverage
The maximum leverage currently on offer is 1:100, leverage can be selected when opening up a new account.
Trade Sizes
Trades start at 0.01 lots and go up in increments of 0.01, so the next available trade size is 0.02 lots and then 0.03 lots. There is no mention of the maximum trade size however with most brokers this is between 50 lots and 100 lots but we would not recommend trading over 50 lots at the time as it can make it harder for liquidity providers and the market to execute the trade quickly without any slippage.
Trading Costs
In terms of additional costs, there isn't any information, the spreads are noted (we look at these later in the review) but in terms of commissions, there is no mention of them, based on the spreads we would assume that there is none charged. Swap fees are present and are charged or paid for holding trades overnight, these can be viewed directly within the MetaTrader 5 trading platform once you log into your account.
Assets
There isn't a full breakdown of the tradable assets or instruments but it appears that there are currently 30+ currency pairs, CFDs, EFTs and a few commodities and indices available, however, without the full breakdown, it is hard to see which ones and how many of each are on offer.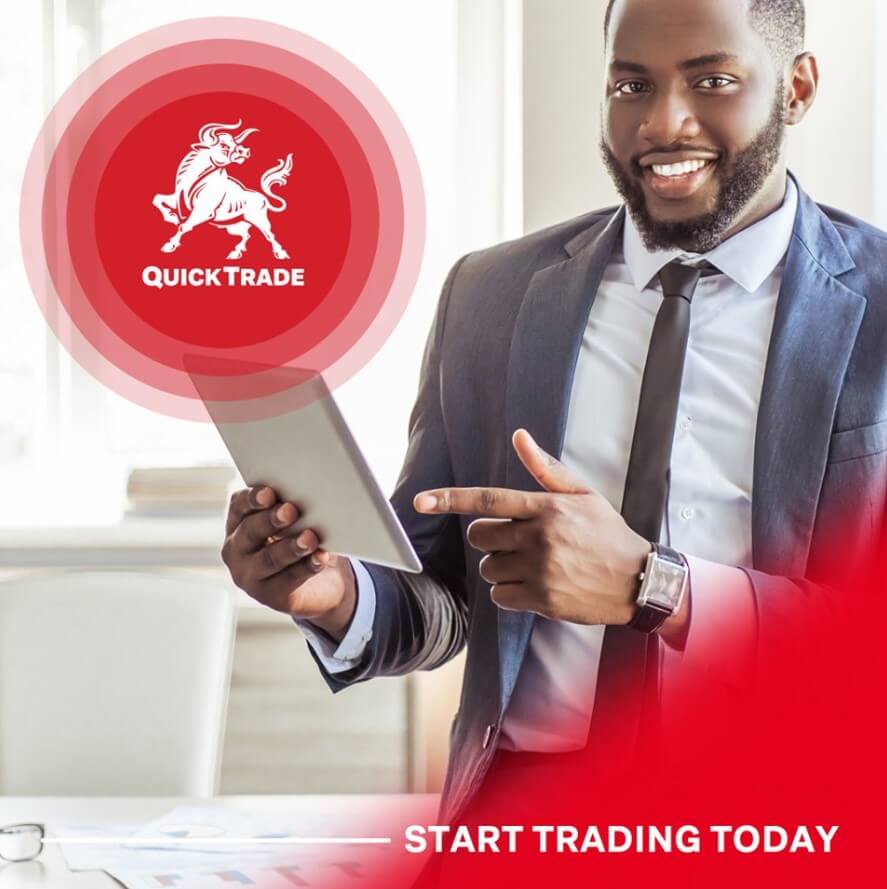 Spreads
Spreads start at 1.2 pips and are floating (variable) which means that they change depending on the market conditions. If the market is being volatile then the spreads will be a little higher, however, they will not fall below 1.2 pips. It is also worth mentioning that certain assets naturally have higher spreads and so may always be seen about 1.2 pips or even over 2 pips, but this is normal for all brokers.
Minimum Deposit
QuickTrade does not publicize what the minimum deposit is, so we, unfortunately, can not comment on this part of the review.
Deposit Methods & Costs
Just like the minimum deposit amount, there is no information about funding methods, the only information available is that all deposits must be in South African Rands, so this will alienate a lot of clients from outside South Africa. Information regarding deposits (as well as withdrawals) is vital for new clients so it is something that Quicktrade should work on providing.

Withdrawal Methods & Costs
Just like the other financial information, there is none available for withdrawing either. This is vital information and something that needs to be added to the site.
Withdrawal Processing & Wait Time
The trend continues and so we can not comment on this section of the review, however most brokers process within 48 hours so we will hope that QuickTrade does the same.
Bonuses & Promotions
There was no mention of bonuses or promotions on the site or in the terms so it does not appear that there are any available. There was, however, mention of a trading contest on the company's Facebook page. A screenshot of that advert is shown below.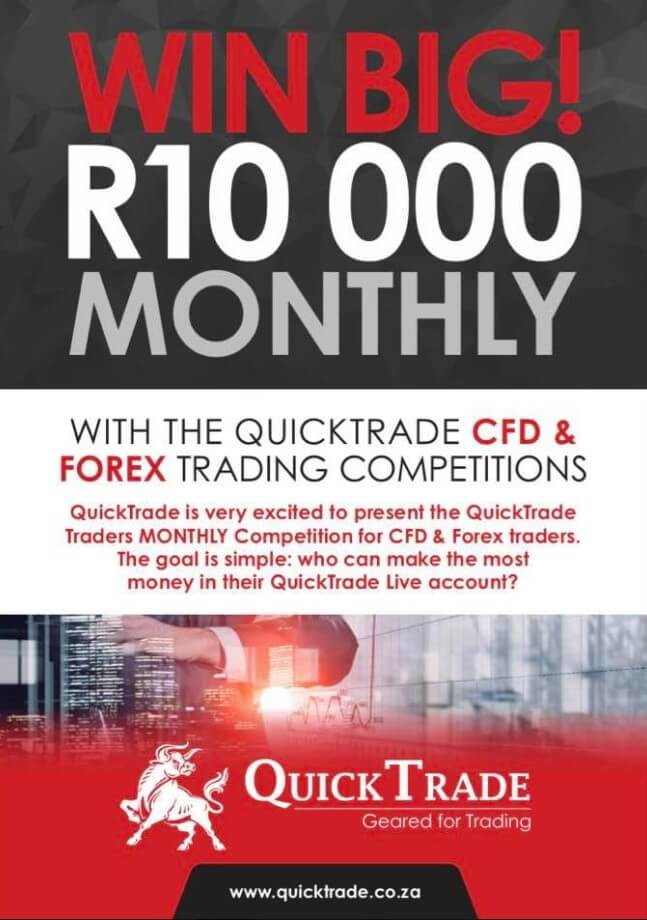 Educational & Trading Tools
There is something called "MT45 Training Login" on the site, however when clicking it, it takes us to a login page so we could not proceed any further, we expect this is a place to get to know and understand the MetaTrader 5 trading platform. There doesn't seem to be much more information on the website.
Customer Service
There are a few ways to get in touch with QuickTrade, you can use the phone number provided to talk to someone directly, there is also an email address available, finally, there is an online chat system which we tested out but did not get through to anyone for the 10 minutes that we waited.
Demo Account
A demo account is available, simply click the open demo account link and fill in the required information. This is where we got a lot of the information regarding the accounts from, there is no mention of how long the accounts last or any other details like that.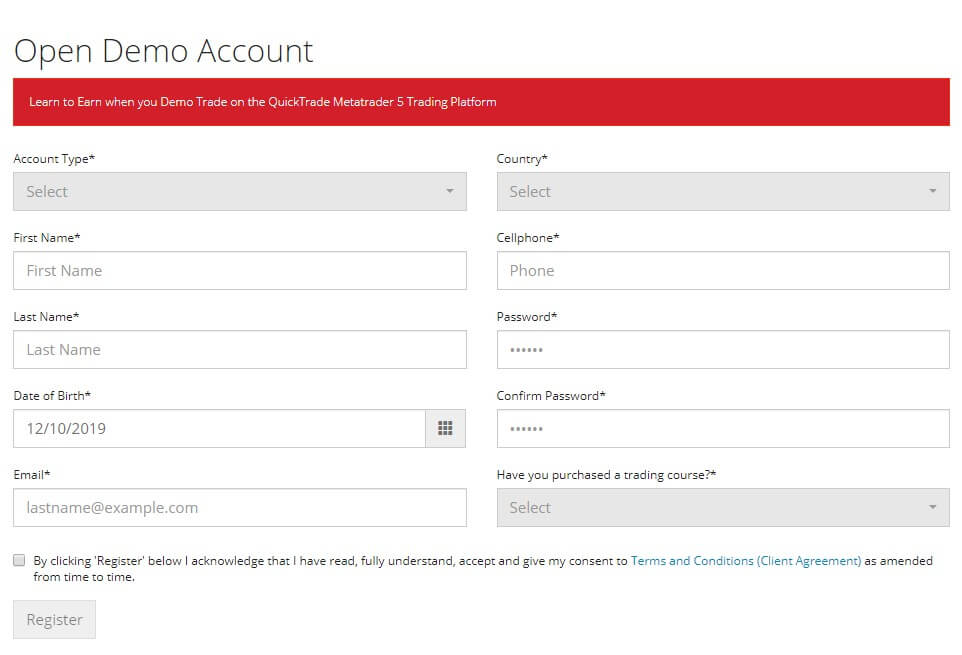 Countries Accepted
While it is stated that other countries are accepted, it seems that QuickTrade is aiming their service solely at the South African market. If you really wish to signup, we would suggest trying to get in contact with the customer service team to see if you are eligible.
Conclusion
There is just too much information missing for us to be able to recommend using them as a broker, they have alienated a lot of potential clients by only accepting South African Rand as a currency and even with that, there is no information on how you can deposit or withdraw, this coupled with the fact that we were unable to get through to the customer service team means we can not recommend them at this time.
We hope you like this QuickTrade review. Be sure to check out some of the other forex broker reviews that we have in order to help find the broker that is right for you.