Libertex is a forex and CFD broker regulated by the Cyprus Securities and Exchange Commission (CySEC) and located in Cyprus. The company has won 30 international rewards since its establishment in 1997 and employees more than 700 people, meaning that this broker is a large and worthy competitor in the forex world. Of course, there are many excellent brokers out there. Reading about Libertex made us wonder what exactly has kept them in business for more than twenty years, so we went to work to find out.
Account Types
Technically, this broker only offers one account type. However, conditions differ based on which trading platform has been chosen, so this would be the equivalent to different account types. Options would be the MT4-Instant, MT5-Instant, and the Libertex account. Conditions are almost identical when trading on MT4 and MT5, aside from the fact that each operates on a different platform, so we will group them together.
However, Libertex's own platform-based account type differs more significantly from the others, because it offers different leverage caps, commission charges, stop out levels, spreads, and more. Note that account verification is required when signing up; therefore, one should submit their documents as soon as possible in order to get trading. Verification typically takes between 1-2 working days. Below, you can view the differences, based on the chosen platform.
MT4/MT5 Instant
-Minimum Deposit: $10
-Leverage: Up to 1:500
-Spreads: from 0.6 pips
-Commissions: Floating (Not Specified)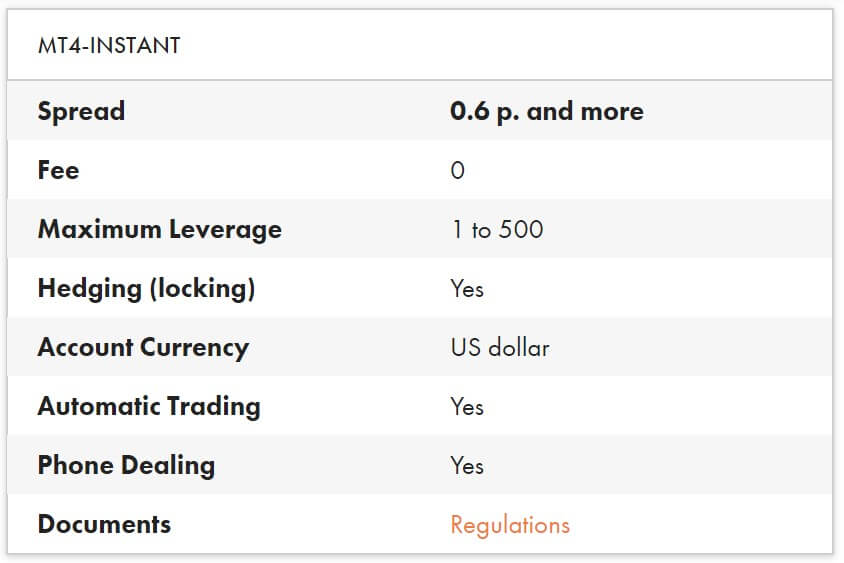 Libertex Account
-Minimum Deposit: $10
-Leverage: Up to 1:200
-Spreads: None
-Commissions: from 0.03%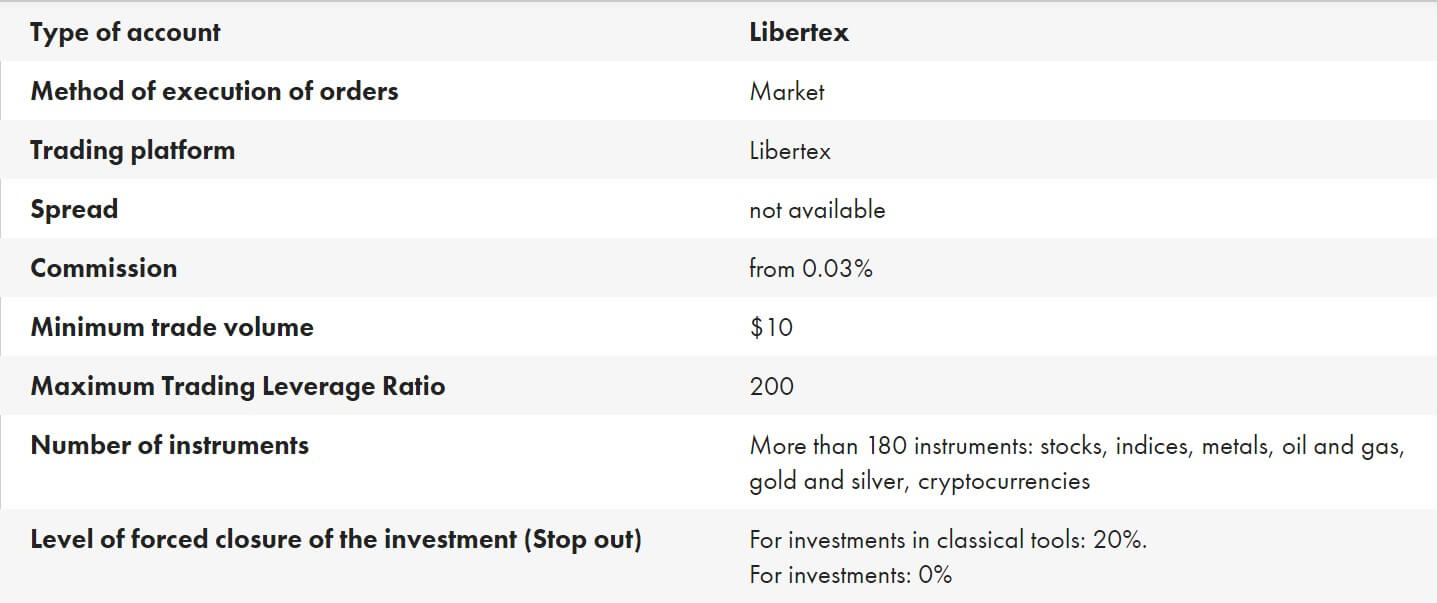 Platform
Unlike the majority of their competitors, Libertex offers both the MetaTrader 4 and 5 platforms, in addition to their own trading platform. MT4 is the most popular trading program among forex brokers, and for good reason. The platform offers more than 100 effective trading tools, supports trading from several different accounts, multiple analytics tools, and more. MT5, on the other hand, was designed to be a competent and sturdy trading platform, although many still prefer the earlier version. There are more features available on MT5, however. Both platforms are available for download on PC, Apple, and Android, as well as on WebTrader, the browser-based version.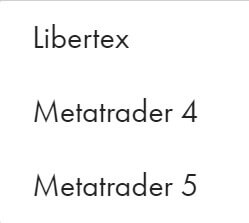 If you'd like to try something different, Libertex also offers its own trading platform. The company describes its platform as being aimed towards those that prefer simpler and convenient features with the ability to quickly manage capital. Traders can make deposits and withdrawals, access market news, and easily switch between their real and demo accounts on the platform. The platform can be accessed through the web browser or downloaded for Apple or Android. Note that the available account types depend on which platform has been chosen and that trading costs and other specifics differ based on which platform you choose to trade through.
Leverage
Leverage options are least flexible on the Libertex trading platform, although it does offer a leverage cap of 1:200, which is higher than the industry average. If this amount seems too low, traders will be happy to know the MT4 and MT5 platforms both offer leverage options up to 1:500. Since trading with higher leverage means greater risks, one should only choose an account based on this detail if they are a professional trader that is used to higher leverage options, otherwise, the leverage offered for the Libertex account should be more than enough.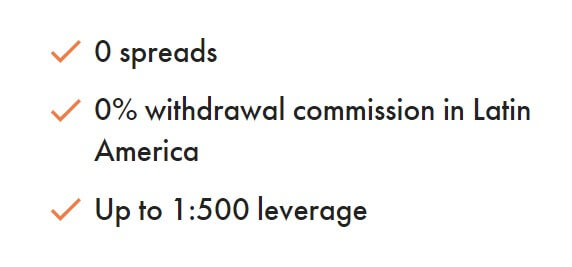 Trade Sizes
The minimum allowed trade size is listed at 0.01 lots, or one micro lot. Sadly, the website does not mention the maximum allowed trade sizes. On the MT4 and MT5 accounts, stop out level is set for 100% on all financial instruments, except CFD's on stocks, where the level is set at 80%. On the Libertex account, the stop out level is 20% for investments in classical tools and 0% on investments.
Trading Costs
Libertex profits from transaction fees or commissions, spreads, and rollover fees. Their transaction fee is floating, meaning it will vary in accordance with the market spreads. On the Libertex account, transaction fees replace commissions and start at 0.03%, but there are no spreads. When trading on MT4 or MT5, spreads start from 0.6 pips and commission fees are floating. Minimum fees and conditions are detailed in the Instrument Specifications. When opening a position, you will be shown the commission as a percentage; after you close it, you will be able to view the commission amount in Trade History. Rollover or SWAP is an interest rate credited on your account or debited from it every day at 9 pm GMT, depending on the position type.
Assets
Libertex offers more than 200 trading instruments, made up of forex, precious metals, indices, agriculture, oil and gas, stocks ETF's, and cryptocurrencies. Forex options include majors, crosses, exotics, and even the Russian Ruble. Metal options include Pallidum, Platinum, and Copper, in addition to the more popular Gold and Silver. More than 18 indices are offered from North America, Europe, Asia, the Middle East, and South America.
You'll find corn, wheat, coffee, sugar, cocoa, and soybean listed under the agriculture section. Five options are available under oil and gas, including a few Crude Oil options, Natural Gas, and Heating Oil. The 40 crypto options go farther than the most commonly featured options like Bitcoin, LiteCoin, or Ethereum. Stocks include some of the world's largest companies and are sorted into convenient categories, like consumer goods, finance, and materials, just to name a few.
Spreads
If you're trading from the Libertex platform, there are no spread charges. This provides a significant advantage, considering that almost every other forex broker is intent on profiting through spreads. Instead, the broker has replaced the spread with transaction fees, which start from 0.03%. Although the spreads are replaced by another charge, it seems that traders will save money by trading through the Libertex platform. Trading through the MT4 and MT5 platforms would provide more of a classic experience, with spreads starting from 0.06 pips. One would need to decide which platform they prefer and whether they would like to pay through spreads, or transaction charges.
Minimum Deposit
In order to get started with an account through Libertex, one would only need to deposit as little as $10. This is certainly one of the lowest options we've seen and doesn't come close to the $250 industry average. This provides the opportunity for many different clients, including beginners that may be afraid to get started, those that would like to test the available deposit and withdrawal methods or processing times before making a large deposit, traders that simply don't have a lot of funds to get started with, and more. The low deposit requirement is enough to make this broker stand out from the crowd, although we do suggest making a larger deposit if you have the means. Also, keep in mind that you'll need to deposit at least $100 to qualify for the 100% Welcome Bonus.
Deposit Methods & Costs
Visa/MasterCard, Bank Wire Transfer, Skrill, and Neteller are the most well-known deposit methods offered by this broker. Sofort, Trustly, GiroPay, iDEAL, P24, Multibanco, and Rapid Transfer can be used to deposit as well, but these methods are not available for withdrawals. Libertex does not charge fees on deposits. Aside from Bank Wire, all of the deposit methods are processed instantly. On the longer side of things, Bank Wire Transfer can take 3-5 business days for processing.

Withdrawal Methods & Costs
Libertex allows withdrawals to made to Visa/MasterCard, Bank Wire Transfer, Skrill, and Neteller. KYC documents must be approved before Libertex will begin processing your withdrawal, so be sure to provide those documents as soon as possible. Also, note that there are 0% withdrawal charges in Latin America within the Libertex platform. Below, you can compare the fees for each method.
Visa/MasterCard: €1 ($1.12 USD)
Bank Wire Transfer: 0.05% of the withdrawal amount (minimum €2/maximum €10)
Neteller & Skrill: Fee Free
Withdrawal Processing & Wait Time
Skrill and Neteller are the quickest withdrawal methods, with processing times of up to 24 hours. Processing for Visa/MasterCard withdrawals takes 1-5 days, which could be considered a little excessive. The website doesn't mention how long withdrawal by Bank Wire Transfer can take, but we would assume that there would be a waiting period of around 2 to 5 business days on this method, based on our experience.
Bonuses & Promotions
The broker matches your deposit, meaning they offer a 100% Welcome Bonus. This is one of the most generous offers we've seen. In order to receive the bonus, one would first need to open an account and make their first deposit. The more quickly you open deals and trade, the faster your bonus converts to real funds. The fully withdrawable converted bonus is then applied to your trading account.

The minimum amount to qualify for the bonus would be $100, while the bonus is applicable on deposits of up to $10,000. However, checking the terms reveals that the bonus money comes from 10% of the commissions you've paid while trading. The company pays the converted bonus to your trading account in 2% payment chunks and time runs out within 90 days. Therefore, it may be somewhat difficult to receive the full bonus if you do not open a lot of trades.
Educational & Trading Tools
On the website, you'll find featured news that is updated daily and a beginner level educational course. The course is made up of about 15 videos and explains some of the most important basic concepts of forex trading. The videos are fairly brief and don't go into deep detail, although they are clear and easy to understand. The website does not offer research tools like an economic calculator or other calculators.

While it is nice to see the broker providing some educational resources, the options would not be enough to complete one's education. Also, note that only the first five educational videos can be accessed without signing up for an account. If you're a beginner, you'll need to find educational material elsewhere.
Demo Account
Libertex offers free demo accounts to any traders that would like to use them. Demo accounts can be downloaded or accessed on the web and are available on any of the platforms supported by the broker. All demo accounts are credited with a balance of $50,000. This amount definitely provides room for testing the market, but it would be nice to see some lower, more realistic options available for the demo account balance. Still, this is an excellent learning tool that should be utilized by any trader that could use more experience.
Customer Service
The fastest contact method offered by this broker would be a phone call, although email seems to be a close runner up since we received a response within an hour when testing this method. Sadly, the instant contact option LiveChat is not available. The website also offers a form titled 'Ask a Question', which is simply a more convenient alternative to sending an email directly. Libertex is also active on social media via Facebook and Twitter, however, the social media accounts do not seem to be updated regularly. Also, note that a FAQ is available on the website and may answer some questions without the need for support.
Email: info@libertex.com and help@libertex.com.
Phone: +357 22 025 100

Countries Accepted
Libertex's list of restricted countries includes the USA, Japan, Brazil, and the European Union; countries identified by FATF as high-risk and non-cooperative jurisdictions having AML/CFT deficiencies; and countries that are under international sanctions. Refusing service to the US, Japan, and other locations is likely based on the company's regulatory body, CySEC. We did attempt to sign up from our US-based offices, just to see if there is a way around the block. Unfortunately, the website recognizes your location based on IP address, and will not even let those in restricted countries access the sign-up page.
Conclusion
Libertex is a trustworthy option that provides the ability to open an account with as little as $10. One of this broker's highlights would be the amazing list of tradable instruments they offer, including 20 cryptocurrencies, stocks, and a variety of other options. Another plus to trading through Libertex would be their higher than average leverage caps. Conditions depend on which platform one is trading through, with the options being MT4, MT5, or Libertex's own platform.

The broker is also offering a 100% Welcome Bonus on all initial deposits of $100 or more. When it comes to funding, there are a few fee-free deposit methods, a couple of fee-free withdrawal methods, and processing times can be from 24 hours to 5 days, depending on what method has been chosen.
The trader is charged either through spreads or transaction fees, depending on which platform has been chosen, although the conditions still seem to be advantageous. Sadly, the US, Japan, Brazil, and a few more countries are restricted from creating an account. Taking everything into account, it is easy to see how this broker has managed to stay in business for more than twenty years in such a competitive market.