Mira Capital Markets is a forex and CFD broker that was established in 2013 and located in Dubai. The company has acquired a growing client base of 117k people since its establishment in 2013. Despite their smaller size, this broker is still able to bring some competitive trading costs and a worthy product portfolio to the table. Since the company doesn't explain much about themselves, we did some research to find out exactly what this broker brings to the table.
Account Types
Mira Capital Markets offers three different account types with the Classic, Standard, and VIP account being the available options. Traders should choose an account type based on skill level, affordability, and other trading needs, such as the need to have access to trading commodities or to make larger trade sizes. Below, we have provided a more detailed outline of each account type.
Classic Account
This account type is aimed towards those that are just getting started and offers the chance to improve upon skills, while only taking minimal financial risks. This account type offers the lowest deposit requirement but limits tradable instruments to Forex, Gold, and Silver. The maximum balance on this account would be up to $10,000.
-Minimum Deposit: $1,000
-Leverage: Up to 1:100
-Spreads: 2 pips
-Commissions: None
Standard Account
This account type is meant for more experienced traders and holds a balance between $5,000 and $10,000. Additional perks to opening one of these accounts would be access to bonus opportunities, and the ability to trade more metals, indices, stocks, and futures, in addition to currency pairs. Maximum trade sizes and the number of open positions allowed are more lenient with this account type.
-Minimum Deposit: $5,000
-Leverage: From 1:1 Up to 1:200
-Spreads: 2 pips
-Commissions: None
VIP Account
This account type is meant for professionals, with no balance limit, and offers better trading conditions than its counterparts, including unlimited maximum trade sizes, no limit on the maximum number of open positions, and lower spreads. Tradable instruments include currency pairs, metals, indices, stocks, and futures.
-Minimum Deposit: $10,000
-Leverage: From 1:1 Up to 1:1000
-Spreads: 1.6 pips
-Commissions: None
Account verification is also required and must be completed before withdrawals can be processed. MCM requires photo ID and proof of address, alongside some basic information, such as name, birthdate, passport number, etc. If you have any questions, email compliance@miramarkets.com.
Platform
If you decide to open an account through this broker, you'll be trading on the award-winning MetaTrader 4 platform. MT4 offers leading trading and analytical technologies, as well as additional services. Some of these features include interactive charts and more than 65 built-in technical indicators and analytical objects. MT4 truly has everything you could need for forex trading. MT4 can be downloaded on PC, Android, Linux, or iOS.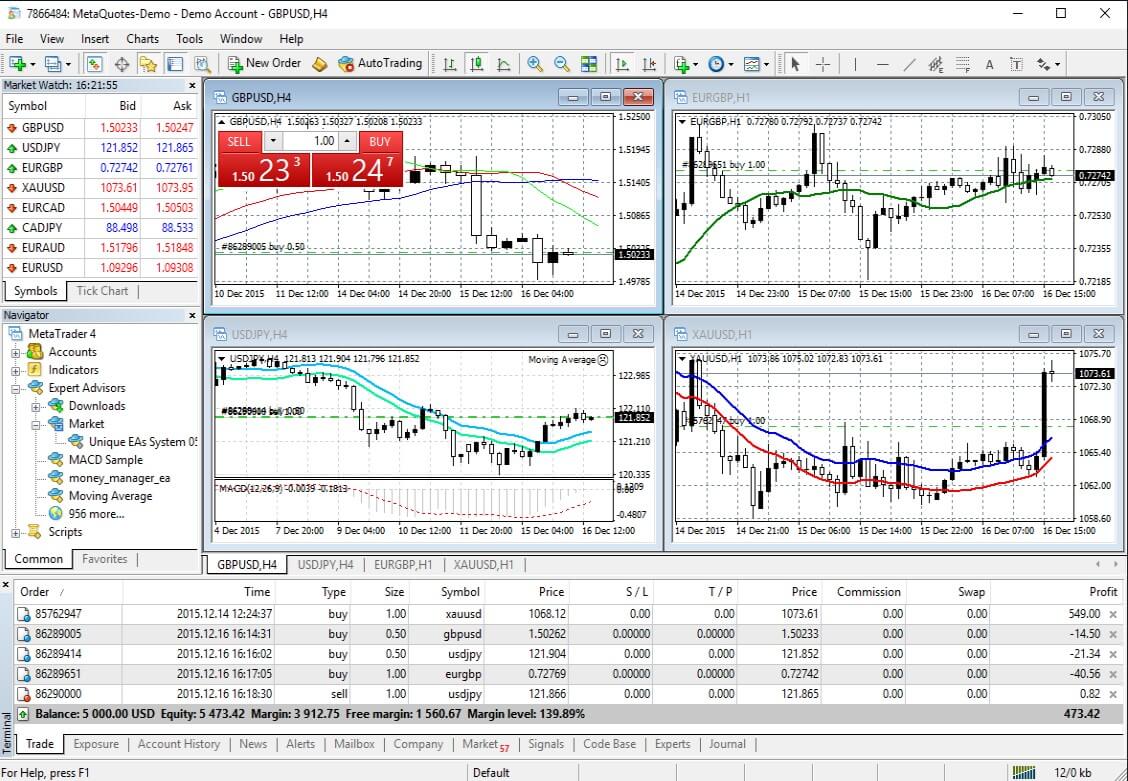 The MCM website also provides instructions for users that are using a Mac computer. (Mac users typically encounter issues because the software is not supported; however, the broker's website includes instructions for downloading the software via Wine). An online, browser-based version is available as well, so any Mac users that are having issues with the download, or any trader that would like to opt not to download MT4 will still be able to access the platform conveniently. Download links are available on the website under the 'Instruments' category.
Leverage
The Classic account offers a basic leverage option of up to 1:100. Many successful traders will tell you that this amount is ideal and would choose this option even if higher options were available. This would also be a good choice for anyone that hasn't grown accustomed to trading. If you're looking for something a little higher, the Standard account offers a higher option of up to 1:200. For the majority of traders, the leverage caps so far will be more than satisfying. On the other hand, if you prefer more of a high-stakes experience, you'll be happy to know that the VIP account offers a leverage option of up to 1:1000.
Having the ability to trade with leverage this high can be dangerous, so proceed with caution. Note that the leverage on Shares and Bonds is limited to 1:50. Many other brokers place stricter limits on their leverage caps, this broker provides their clients with the ability to decide how high they'd like to go for themselves. If you're one of the few that can handle this option, then there is a real advantage here.
*We did find a discrepancy on the website when it comes to the leverage cap on the Classic account. On the 'Comparison of Trading Accounts' page, the maximum leverage is listed as 1:100 on this account type. However, if you click on 'Read More', or go the Classic Account's direct page, you'll find that the leverage cap is listed at 1:1000 and this is the amount listed in reviews on other sites. Since the amount differs so significantly, we reached out to support and confirmed that the 1:200 limit is correct.
Trade Sizes
The minimum allowed trade size is one micro lot for all account types. Maximum trade sizes differ more significantly. On the Classic account, the maximum is 10 lots, on the Standard, it is 50 lots, and the VIP account does not set any limit. There is also a limit on the maximum number of open positions, with the limits being 50 on Classic, 100 on Standard, and once again, no limits on the VIP account type. The margin call/stop loss level for all of the accounts is set at 30%/50%.
Trading Costs
The majority of brokers make their profits through commission fees, spreads, and rollover interest. In the case of MCM, there are absolutely no commission fees charged on any of their account types, which provides an immediate advantage. The catch that typically comes with a lack of commission charges would be higher spreads, which seem to balance out the costs. At a glance, this broker does seem to offer spreads that are a bit high, but the trading costs actually turn out to be competitive. We will offer more detail on that later. Keep in mind that rollover interest will be applied to any positions that are left open overnight.
Assets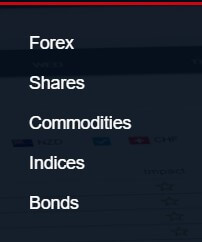 The Classic account type only allows for trading on forex, Gold, and Silver instruments. Both the Standard and Classic account types offer access to the company's entire portfolio, including forex, metals, shares, commodities, indices, and bonds. Forex options include 44 currency pairs on all account types. Trading Shares are available with a leverage of up to 1:50 on nearly 100 different shares in companies like Facebook, Walmart, and Pepsi. Several commodities are offered, including metals, energies, and agriculture options. US, European, and Russian indices are offered as well. Trading Bonds also limits maximum leverage to 1:50 and offers three options. In order to view all of the available instruments, you can select 'Products' from the top of the website and then choose a category.
Spreads
Earlier, we mentioned that the trading costs with this broker are competitive, although their spreads may seem high at first glance. Keep in mind that the industry average is typically around 1.5 pips, which is usually charged in addition to commission charges. The best spreads with this broker are available on the VIP account and start from 1.6 pips. On the Standard and Classic account types, the spreads are from 2 pips. However, these spreads are actually on the lower end of things, considering that no commission fees are charged.
Minimum Deposit
The deposit requirements with this broker may be high enough to force some of their potential clients to look elsewhere. The lowest deposit amount of $1,000 is exclusively available on the Classic account. Considering that some large brokers don't even require a minimum deposit, we must say that this is high, especially for a basic account type. Trading on the Standard account requires a larger deposit of $5,000.
Those that don't have that kind of cash on hand may feel frustrated by this amount, although we will point out that the Classic account offers the same spreads as this account, so there isn't much to lose if you have to stick with the first account type.
Also, note that the maximum amount of funds these two account types can hold would be $10,000. Ten thousand dollars is also the deposit requirement for the VIP account, so you'll want to open this account if you're funding with a large amount. Considering that this account type offers the best spreads and some additional features, we aren't really surprised to see a higher minimum listed here.
Deposit Methods & Costs
Methods: Bank Transfer (USD), Credit/Debit Card, Prepaid Card, and E-wallets. The latter options include Qiwi, Yandex Money, Azulpay, CorpBanca, PayU, and Perfect Money, all of which are lesser-known options than the popular Bitcoin and others. If you've opened a VIP account, you'll have to deposit via Bank Transfer or with an E-wallet, due to the fact that the other payment methods have a limit of $4,000. (The VIP account requires a deposit of $10,000) Third-party deposits are prohibited, so be sure that you're using an account under your own name.

Charges: If you are using a Credit/Debit Card or paying through a non-UK bank, there may be instances where a small fee is charged by your provider. MCM is willing to refund this amount to the client's trading account upon receipt of proof charges, so be sure to let support know if you are charged for making a deposit. If depositing in a method other than USD, conversion charges may apply.
Processing Time: Deposits through credit or debit are credited instantly and International bank deposits are credited once cleared with MCM's bank, usually within 5 business days. Deposits can only be credited within business hours (8 am to 5 pm UK time, Monday through Friday)
Withdrawal Methods & Costs
Withdrawals can be processed back to Bank Transfer, Credit/Debit Cards, E-Wallets, or to the Mira Debit Card. This means that all of the deposit methods are available for withdrawal, aside from Prepaid Cards. If you're making a withdrawal for more than $2,500, you'll need to use Bank Transfer or an E-wallet, due to the limits placed on card withdrawals. The company does not charge any fees on withdrawals.
Withdrawal Processing & Wait Time
Withdrawals cannot begin to be processed until your account has been fully approved. As long as the client has an approved account, E-Wallet withdrawals or withdrawals to the Mira Debit Card are processed instantly. Withdrawals back to Credit/Debit cards or Bank Wire Transfer can take between 1-5 business days to be processed and posted.
Bonuses & Promotions
We wish that we could provide a detailed review of this section, but this broker's website barely covers any information about their bonus options. What we do know is that a 100% bonus is available on the first deposit on the Classic and VIP account types. This means that the smallest deposit one could make to qualify for the bonus would be $5,000. However, we couldn't find any information about the terms and conditions for this bonus. On another note, we noticed that there is a Mira Debit Card option available for withdrawals. How does one acquire this card? What are the fees associated with it? The website doesn't offer any details. All we know is that one of the advantages of having this card would be instant withdrawals.
Educational & Trading Tools
Education: We wanted to highlight the educational opportunities that this broker has made available due to the fact that seminars, video lessons, and private webinars are all offered free of charge to their traders. There is importance in educating one's client base, and these options go into much more depth than what is commonly offered by brokers today. Below, you can view all of the available resources.
-Forex Glossary-Free seminars
-More than 25 free video lessons
-Free Private Webinars
-Free Demo Accounts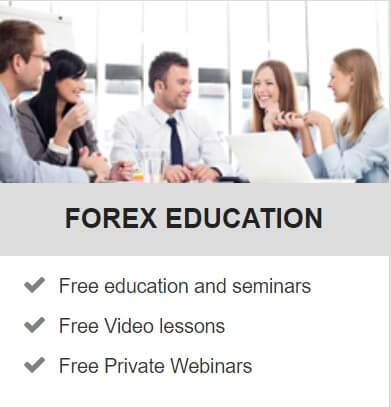 Trading Tools: A few tools are offered, meaning that this area has less to offer than the previous section. If the company would add some financial calculators to the website, in addition to the tools listed below, then we would consider the options in this category to be more complete.
-Live Trading Conditions
-Important News
-Economic Calendar
-VPS (Virtual Private Server)
Demo Account
Like the vast majority of other online brokers, MCM offers free demo accounts to their clients. These accounts provide traders with the ability to get acquainted with the MT4 platform, test out the market, check trading conditions with the broker, and to gain general practice, all while using a virtual currency. There's a lot to love about these simple practice accounts. Another plus side to opening a demo with this broker would be that the accounts are more customizable than they are elsewhere. Traders are able to type in any starting amount they'd like, down to the cent. Many other brokers predetermine how much is given in virtual funds, and we often see preset amounts that are much more than realistic.

You can also choose leverage from 1:100 up to 1:500. Note that there is no option to test out the leverage cap that is offered for this broker's VIP account and that the other account types only offer leverages up to 1:100 and 1:200. Therefore, you'll want to stick with these two options if you're looking for a more realistic practice session. In order to open a demo account, you can select 'Demo' from the top section of the website. The broker then asks for a few details, including your name, email, country, city, and phone number. If you ever need to top up your demo account, MCM provides the option to replenish your demo with any chosen amount of funds directly from the website, thus eliminating the need to get in touch with support.
Customer Service
24/5 customer support is available through LiveChat, phone, or email. Note that the 'Live Chat' button at the top of the website does not seem to be working, but the chat window can still be accessed by clicking the hand to the right of the screen, and then selecting the option from there. Phone support is limited to English only, so you'll want to use chat or email if you speak another language. There are two email addresses available, so be sure to email support for various inquiries and to email the compliance team if you're having issues with documentation. The company is active on Facebook, Twitter, LinkedIn, and YouTube. Below, you can find the various contact information listed on the website.
-Phone: +44 (20) 80776419
-Email: support@miramarkets.com/compliance@miramarkets.com
-Address: 302/02 Boulevard Plaza Tower 2 – Emaar, Business Bay, Dubai, UAE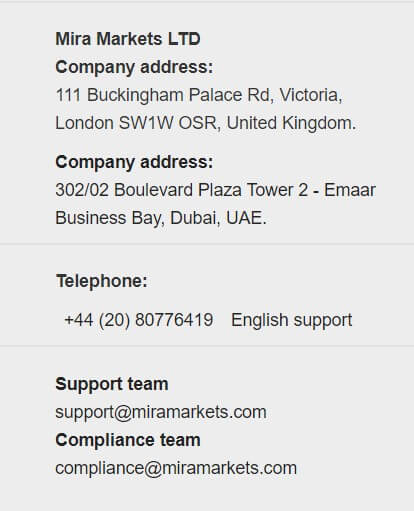 Countries Accepted
MCM does list any restrictions on its website. We tested the sign-up process out from our US-based offices and were relieved to see that this option is definitely available. If you're concerned that there may be limitations placed on your country, you can visit the sign-up page and check for your country.
Conclusion
Mira Capital Markets is a forex and CFD broker that offers the ability to trade a variety of assets on three different account types. Leverage options on this broker's Classic and Standard accounts are about average, but the leverage offer on their VIP account is exceptionally high. There are no commission charges, and trading costs could be considered competitive with all things into consideration. The broker also provides excellent educational opportunities and customizable demo accounts.
When it comes to funding, the broker does not charge fees on deposits or withdrawals, a variety of funding methods are available, including some lesser-known e-wallets, and a few methods provide instant withdrawals. Despite some of these positive qualities, the high deposit requirements may force some of their potential clients away, since the most affordable account requires a $1,000 deposit.
Customer support is available 24 hours a day, but you won't be able to get in touch with them over the weekend. This broker may be worthy of your loyalty, but you'll need to weigh the positive and negative qualities for yourself.