Alfa Forex is a currency exchange broker that is based out of Moscow, Russia. At first glance, there are plenty of negative aspects about this broker, such as their limited instruments, geographical constraints, and restrictive leverage. Having said that, the resourceful educational material, tight spreads, and highly advanced trading platform can make this broker reliable in the eyes of some traders. This article will cover these aspects in detail, allowing you to make a comprehensive judgment on whether or not to open an account.
Account Types
To open an account, you have to submit documents on Alfa Forex's website. The whole process takes a few hours. If the broker requires additional information or documents, it could take up to 2 days to get started.
Minimum Deposit: None
Spreads: From 0.16 pips
Commission: Variable swap rates for different currency pairs
There are no deposit requirements to start trading with Alfa Forex. You could fund your account with just what is needed to buy or sell their minimal trade size (0.01 lots). This broker doesn't charge commissions on trade, but you do incur swap fees on overnight positions. These costs vary from one currency pair to another. In addition, short and long positions come with their own fees for each FX instrument. One of the main positives of using Alfa Forex is their low spreads, which start at 0.16 pips (USD).
Platforms
Alfa Forex traders will use MetaTrader 5 (MT5). The state-of-the-art and market-leading platform gives you access to more than 80 graphs and technical analysis tools. You can also change the timeline of the charts, ranging from 1 minute to 1-month graphs. Traders can program their own robot so that it opens and closes positions based on pre-established market conditions.

MT5 makes it possible for traders to access and emulate the strategies and algorithms that others utilize. On Alfa Forex's website, you can download MT5 to your Windows browser, alongside the smartphone apps for iOS and Android devices. Mac users will have to install MT5 from the platform's website, directly, as that option is not available on Alfa Forex's website. Afterward, they can immediately start trading, just as users of other devices can.
Leverage
The maximum leverage amount that this broker offers is 1:50, which is incredibly low when compared to others. However, this is mostly out of Alfa Forex's control as Russian law sets a limit on how much leverage they can provide. You can increase your leverage, but doing so means that the broker will raise your stop-out level to minimize risks and potential losses.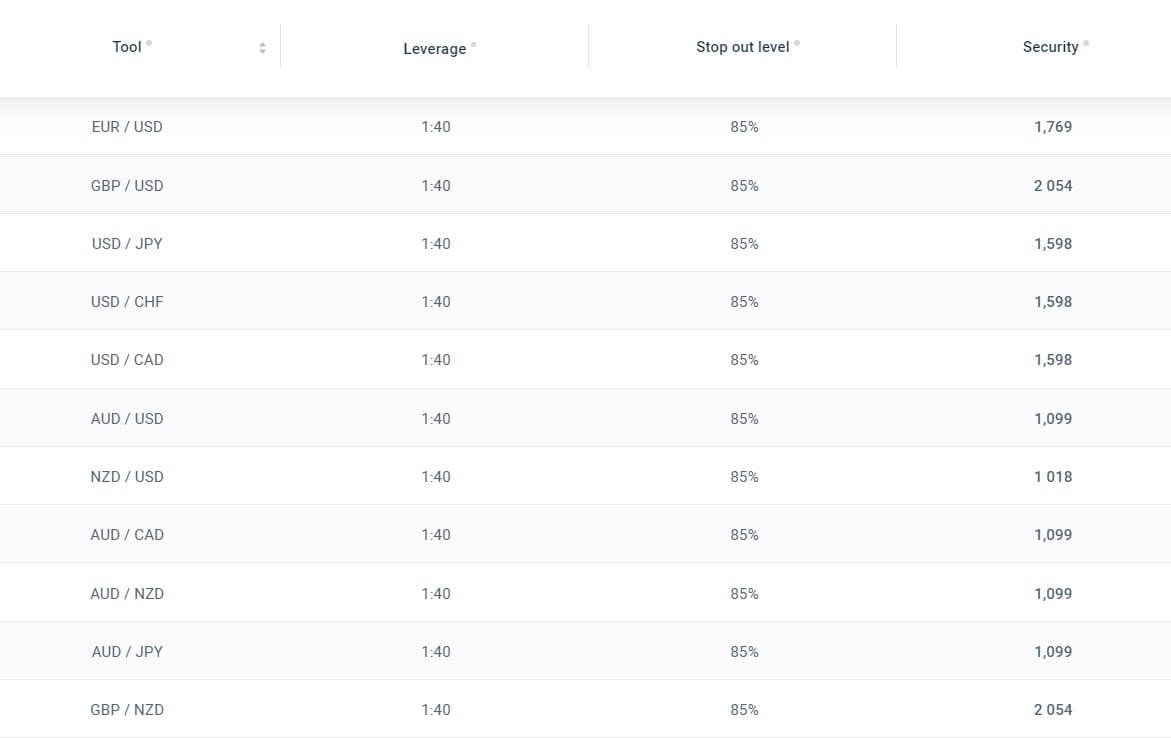 Trade Sizes
Alfa Forex has micro lot sizes, with 1 contract being worth 1,000 of the base currency. For example, if your account's default currency is USD, then 1 lot of the EUR.USD pair would be 1,000 Euros. You can enter trades that are as small as 0.01 lots.
Stop-Out: 85%
If you want to use Alfa Forex's fixed leverage, which is 1:40, then you will be stopped out at the 85% margin requirement. Leverages of 1:50 and 1:100 have a stop-out level of 100% and 200% the initial margin, respectively. The broker doesn't provide variable or floating rates, with each currency pair having a fixed 1:40 leverage (which, as mentioned, can be adjusted). This prevents you from losing all of your capital and having a negative balance.
Reaching the stop-out level means that Alfa Forex will immediately close your position to bring your account down to 80% of the margin requirement. You will have to either deposit more funds into your account or continue trading at lower leverage or margin (depending on how much capital you have left after being stopped out).
Trading Costs
We previously mentioned that Alfa Forex doesn't charge commissions and, instead, traders incur swap fees when they keep positions open overnight. The swap fee depends on the exchange rate and interest. On the broker's 'Trading Conditions' page, you can see the current swap fees for every currency pair that they offer. However, these costs are subject to change if certain news events or developments arise. The EUR.RUB (Russian Rubble) has the highest swap fees on long trades, while the USD.CHF is the most expensive pair to short.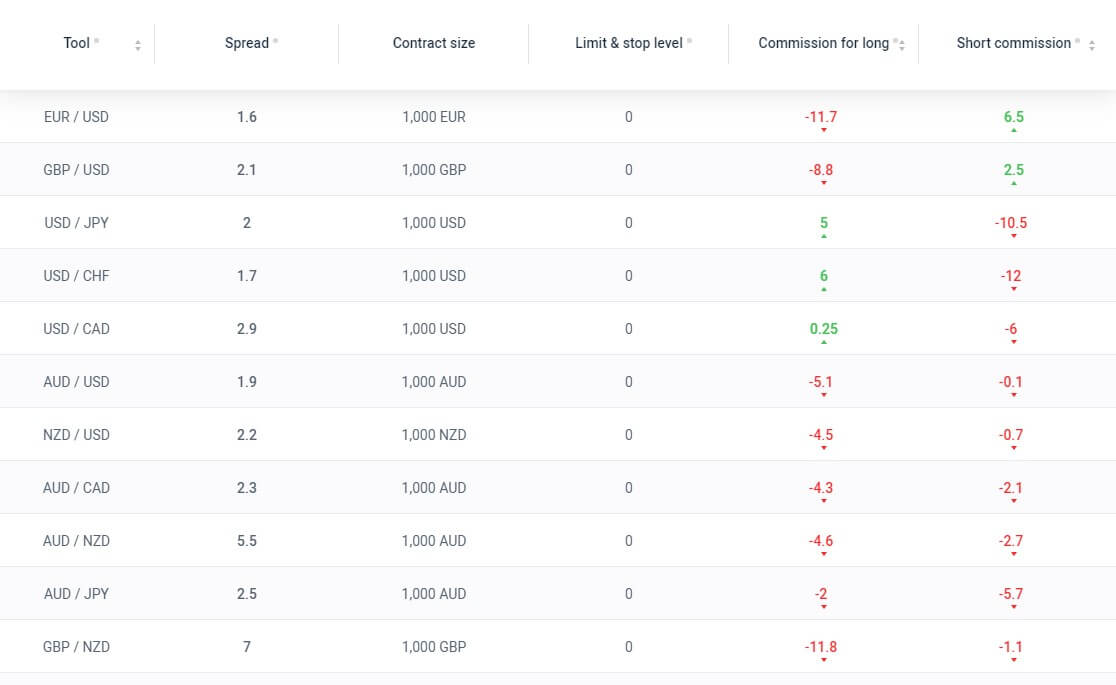 Assets
We found the very limited access to currencies and other financial instruments to be one of the main downsides of using Alfa Forex. There are only 29 currency pairs, which is far below what other brokers offer. In addition, there are no CFDs, commodities, stocks, or cryptos that you can trade on Alfa Forex. Apart from the majors, you can find currency pairs with exotics such as the Russian ruble, Mexican peso, and South African rand.
Spreads
You can access a full list of spreads on Alfa Forex's website. The broker has unique tools that allow you to view spreads, swap fees, and lot sizes in either the USD, EUR, or RUB. Since each currency is different in value, it is very useful to look at spread sizes based on your account's default one. For example, EUR.USD has a 0.16 pip spread in US dollars, but it is 0.14 and 10.19 if your account's currency is in the Euro and Russian ruble, respectively. The highest spread is 0.45 pips (USD), which is the case for the GBP.NZD. Given that the difference between the lowest (0.14 pips) and highest (0.45 pips) spreads are relatively tight, Alfa Forex traders enjoy a good degree of certainty (as opposed to dealing with fluctuating spreads).
Minimum Deposit
Alfa Forex only requires a deposit that is enough to trade the smallest contract size (0.01 lots). Otherwise, their website makes no mention of any deposit size that is needed to open an account. If you have enough funds to bid for a contract (regardless of how small), then you can start trading.
Deposit Methods & Costs
You can only deposit funds in Russian rubles. There are 3 ways to do so, all of which take 1 to 2 business days to process. You can wire funds online from your bank through Alfa Click (the broker's software) and there are no fees associated with this method. Another option is to transfer funds through the broker-affiliated Alfa Bank. The cost per transaction depends on the branch location and department. Lastly, you can wire deposits into your Alfa Forex account through your bank, which can be done online or in person. Alfa Forex doesn't charge any fees, but your bank or financial institution might.

Withdrawal Methods & Costs
You can only withdraw funds via bank transfers and there are 2 ways to do so: Either to an Alfa Bank account or another financial institution. If you want to transfer money to Alfa Bank, there are no fees. Other financial institutions might charge you for each transaction, but the broker doesn't.
Withdrawal Processing & Wait Time
Both withdrawal methods (via Alfa Bank or another institution) take 1 to 2 business days until they are processed.

Educational & Trading Tools
There are various educational and trading resources that Afla Forex makes available to account holders. In fact, we find those to be very resourceful and easy-to-use. First, Alfa Forex offers video webinars about trading strategies, how the currency exchange market functions, and Q&A sessions where analysts interact with account holders. A calendar of upcoming webinars is going to be posted on their website in the near future. Alfa Forex also provides training courses that are developed and designed by the Bank of Russia (the country's central bank).

As far as trading is concerned, there are several existing and soon-to-be rolled out tools that you can access. The website provides the live exchange rates and prices of each currency pair that they offer to account holders. Additionally, there are daily and weekly economic calendars that outline major events from all over the world. You can customize the list based on country, category (central banks, employment, confidences indexes, …etc.), and volatility (ranging from 1 bar/least volatile to 4 bars/most volatile). In addition, you can choose the date range that you prefer and monitor upcoming (as well as previous) events.
Customer Service
Alfa Forex can be contacted in person, by phone, via live chat, or through filling out a form on their website. Their service hours are from 7 am to 11 pm (Moscow time) on weekdays, which also includes their live chat's availability. If you want to visit the broker in person, they are located in Moscow, Russia. Traders who contact them outside of their regular hours will hear back from the customer support team sometime during the next business day. A map with their exact location is available on the website.
Phone: +7 (499) 215-79-79 or 8 (800) 100-62-02
Email: [email protected] or [email protected]
Demo Account
Alfa Forex recommends using a demo account alongside their training webinars and online courses. This allows beginner traders to test their strategy and develop it as they grow their knowledge of the FX markets. More specifically, through combing educational materials and paper trading, users can learn from their mistakes and duplicate their successes until they feel confident enough to start investing their actual funds.
Countries Accepted
Only Russian citizens can open an account with Alfa Forex. In fact, you even need to have a Russian passport, which is part of the required documents in the application. Even if you live in Russia but aren't a citizen, you can't open an account with this broker. Other requirements include being 18 years old and not having any criminal or legal problems that would prevent you from participating in the financial markets. Reviewing Russian investment laws is highly recommended, especially for inexperienced traders who are new to the market.
Conclusion
The obvious elephant in the room is that only Russian citizens who live in Russia can open an account with Alfa Forex. If this happens to be you, then you will greatly benefit from the tight and well-defined spreads that the broker offers. Having said that, there are only a few ForEx pairs that you can trade. Additionally, other financial instruments are unavailable, including cryptos. Alfa Forex doesn't have any minimum deposit requirements and you can start trading with just enough funds to buy a 0.01 lot contract.
Leverage, meanwhile, is incredibly low, even with the room for potential increases. Expanding your leverage means that you have to trade with a more strict stop-out level. Just as importantly, transfers come with difficult-to-ignore fees, unless you use the broker-affiliated Alfa Bank.
All in all, even if you are a Russian passport holder, some of Alfa Forex's features are highly undesirable and traders can find better options elsewhere. The available tools are only suitable for a small number of traders, especially beginners who want to access informative educational content and those who don't mind the very restrictive leverage (i.e., traders with a low risk tolerance). Otherwise, Alfa Forex is definitely not the best option for you.