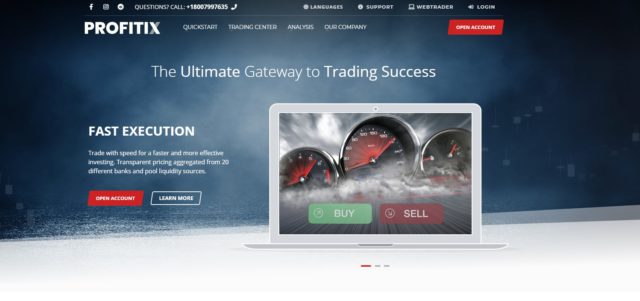 ProfitIX is a forex and CFD broker located in St. Vincent & the Grenadines. The company was just established this year, in 2019, but they've already generated enough popularity to receive several reviews online. On their website, this broker claims that their strongest commitment is keeping the most demanding of traders satisfied, by offering first-rate market conditions, ultra-fast execution, fund security, price stability, low latency, and exceptional customer service quality. It's easy to promise all of those things, but what really matters is whether this broker is following through with their promises. Keep reading to find out.
Account Types
This broker offers five different account types, with the options being the Mini, Advanced, Executive, Prime, and VIP accounts. There is no need to compare minimum deposit requirements, leverage caps, or available platforms. It is suggested that trading costs are better on the account types that require larger deposits, but this broker's website can be very vague when it comes down to explaining the real differences. Below, we have provided a quick overview of each account type.
Mini Account:
This account type is designed to suit novice traders and offers zero commissions with spreads starting from 3 pips. This is the most affordable account type, with a minimum deposit requirement of $250 and it also offers the maximum leverage offered by the company, up to 1:400.
Advanced Account:
This account type is aimed more towards expert traders. It requires a larger deposit of $2,500 USD, offers leverage options up to 1:400, and comes with variable or floating spreads. An account manager is also supplied.
Executive Account:
This account type is also designed for expert traders, with a $25,000 minimum deposit requirement. It offers the ability to trade on all of the available assets. Like with the Advanced account, spreads can be variable or floating.
Prime Account:
You'll need to deposit at least $100,000 USD to open one of these account types. This account was designed to offer competitive pricing and is the only account type so far to provide fixed spreads. All assets are available for trading on this account type and leverage go up to 1:400.
VIP Account:
The VIP account was made for high net-worth traders and active participants, who often trade larger volumes. The account offers fixed spreads and mentions a "low market price difference" as an advantage. All assets can be traded on this account type. The website does not list the deposit requirement, so you'll need to ask your account manager.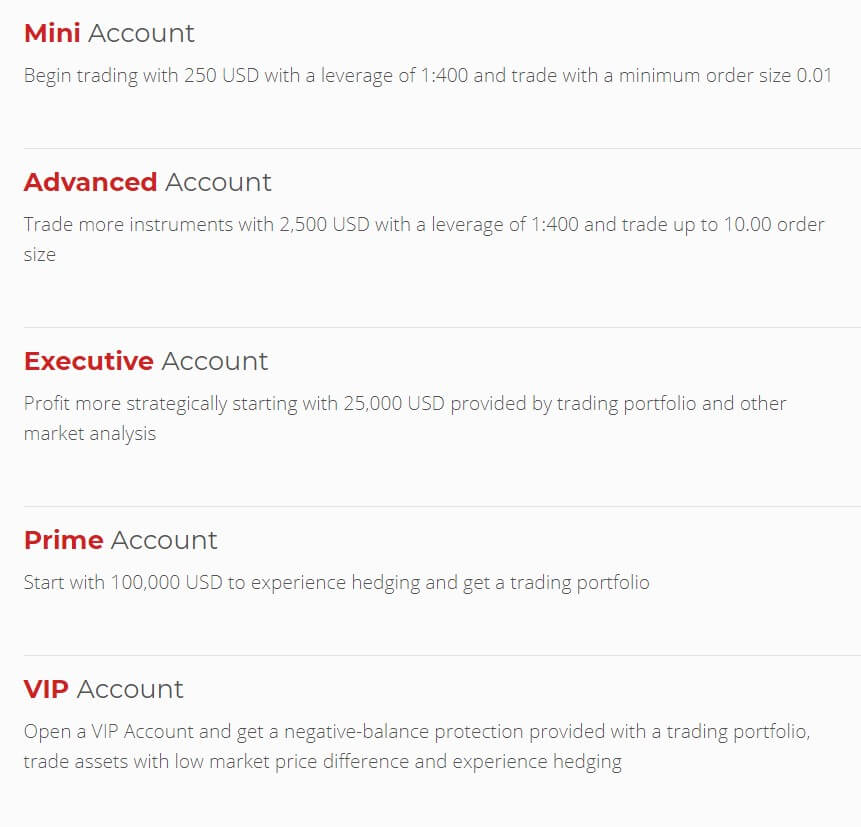 Platform
This broker offers trading on a platform that we don't see offered quite enough, the MetaTrader 5 platform. MT5 is the newer version of MT4 and has kept many of the same concepts and qualities that traders loved about the classic version while adding more pending order types, technical indicators, additional trading features, timeframes, and more. The developers kept this platform's layout similar to the one available on MT4, but programming and other features have been added. The program is accessible through its browser-based version, WebTrader, and also via download on PC, Apple products, and Android devices.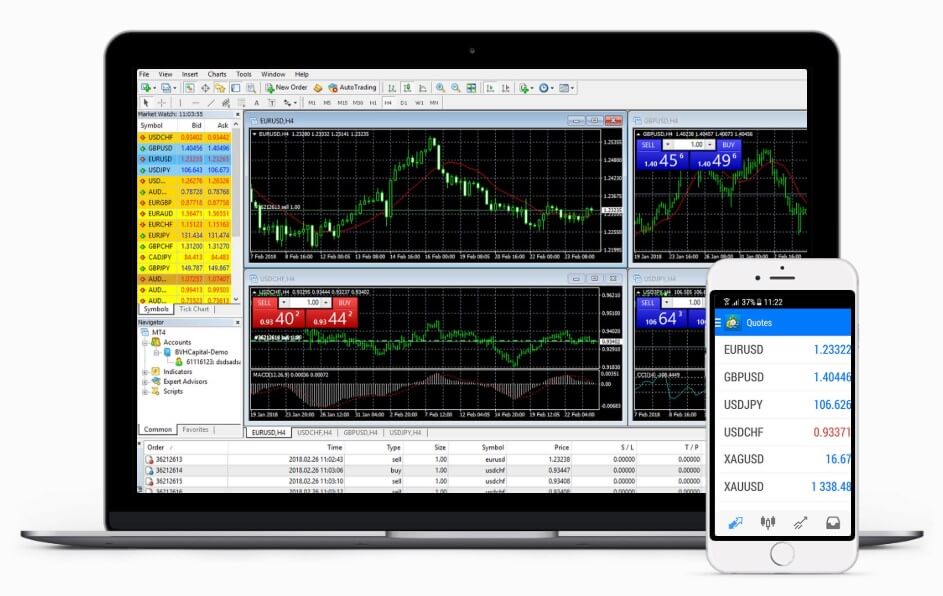 Leverage
Leverage options with this broker range from 1:1, up to 1:400 and the maximum amount is allowed on all four of the account types. This is significant, considering that many brokers limit the maximum leverage for account types that require larger deposits. If you're not familiar with leverage, you should know that choosing the 1:1 option would mean that you are simply trading with the funds that are already available in your account.

Choosing higher leverage, take the highest option of 1:400, for example, would mean that you are trading with 400 times the funds you have available in your account. This really opens the door to opportunity, but trading with leverage that is too high for your skill level or account balance can be a slippery slope to failure. Overall, we are happy to see such high options available and it is nice to see that this broker is willing to allow clients to make their own decisions. Simply remember to be wary of larger options if you are not ready for the risk.
Trade Sizes
All account types seem to offer micro lots as their minimum trade size, however, we aren't completely certain if this is available on the VIP account, since that account type is designed for higher-volume trading. The Mini and Advanced account types offer maximum trade sizes of 10.00 lots.
Trading Costs
Where most brokers profit from spreads, commissions, and rollover fees, this broker primarily profits from spreads, in addition to rollover interest when applicable. That means that no commission fees are charged on any of their account types. Rollover charges are only applicable on positions held past a certain time. You can view Market Hours on the website in order to determine the closing time for each market if you wish to avoid these charges.
Assets
ProfitiX gives its clients access to over 10,000 financial markets, including currencies, commodities, stocks, and other derivatives. On their account types page, it is suggested that these opportunities are more limited for those operating Mini and Advanced accounts. Currency pairs offer trading 24 hours a day, but the website does not explain what majors, minors, or exotics are offered. Oil, Gas, Brent Crude, and other commodities are available for trading with zero commission charges. Hundreds of shares are offered, in addition to spot metals, which include Silver, Gold, Platinum, and Pallidum. Several stock indices are also available. If you're interested in trading cryptocurrencies, you'll be happy to know that Bitcoin, Litecoin, Ethereum, and Bitcoin Gold are available options.

Spreads
The account type that offers the most specific information on spreads would be the Mini account, which offers variable spreads from 3 pips. At first glance, this spread seems high, considering that the market average would be around 1.5 pips. However, one must remember that no commission fees are charges on accounts with this broker, which essentially lowers the trading costs, despite the higher spreads. You'll have to decide for yourself whether this account type is offering competitive pricing, based on those qualities.
We know that the spread can be floating or variable on the Advanced and Executive account types, but the website skips over exact numbers. Moving on, the trading costs on the VIP account are described as being low, but no exact numbers are offered there either. We do know that spreads are fixed on this account type, which should ultimately lead to better conditions. What we don't understand is why this broker fails to be more transparent about exact spreads in this area, especially since it plays such a crucial role in selecting an account type.
Minimum Deposit
The most affordable account offered by this broker would be the Mini account, which requires an average, $250 deposit minimum. We aren't surprised to see this amount listed, but it would be nice to see the broker lower the amount a tad since this is a Mini account we're talking about.
Moving up, there is a $2,500 deposit requirement for Advanced accounts. This is still a realistic amount, although it may be too large for some beginners. From there, you'll need to make more significant deposits of $25,000 on the Executive and $100,000 on the VIP accounts. Obviously, these account types are meant for traders with larger financial means. The VIP account does not list a deposit minimum, but it's safe to assume that the amount would be more than the Executive account's $100,000 minimum.
Deposit Methods & Costs
Deposit methods include Visa/MasterCard, Western Union, Diner's Club International, Neteller, Skrill, and Money Gram. Deposits are advertised as being quickly credited, within five minutes. There are no fees charged on deposits.

Withdrawal Methods & Costs
All of the available funding methods are also available for withdrawals. Although the website is vague when it comes to funding, we were happy to find the information listed that mentions no extra fees are charged on withdrawals. Even many bigger brokers charge some type of commission on withdrawals and these fees can really add up in the long run, so there is a slight advantage to choosing this broker when it comes to this. Not having to worry about withdrawal fees mean that you can make smaller, more frequent withdrawals if you'd like to, without worrying about fees eating into your profits.
Withdrawal Processing & Wait Time
This broker advertises fast withdrawals but doesn't provide any actual timeframes to back up their statements. We found some comments elsewhere that did mention fast withdrawal times, so we're hopeful that the company is making an accurate statement. Still, we would advise making your withdrawal request ahead of time to avoid any delays. It would also be safe to assume that Western Union and Money Gram may take longer to be processed than the other methods.
Bonuses & Promotions
ProfitiX is not currently offering any bonus opportunities. This is disappointing, but this isn't something we expect all brokers to offer. The fact that the company has been around for less than a year suggests that they may need more time to become established and to draw in a larger client base before they can afford to make these types of opportunities available. Hopefully, the broker will have added some extra opportunities to profit by the time you read this article, should you decide to sign up.
Educational & Trading Tools
Educational offers are slim and made up exclusively of educational videos. These videos are detailed and provide an immersive learning opportunity, although we do wish that the company offered more in the ways of education. When it comes to trading tools, you'll find an Economic Calendar and Daily News under the 'Analysis' tab of the webpage.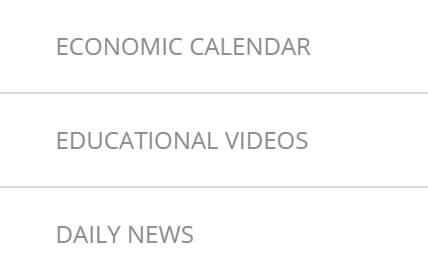 Demo Account
Sadly, this broker does not currently offer demo accounts to their clients. We're curious whether they simply don't understand how much of an opportunity these accounts can provide to beginner or novice traders, or if it is on the agenda to add these practice account types in the future. If you have your heart set on practicing frim a demo, you could always open one with a different broker, while trading from a real account with this broker. You'd still benefit from the practice, but trading conditions would differ slightly, which would take away from some of the demo's advantages.
Customer Service
Multilingual support is available 24 hours a day, 5 days a week via LiveChat, email, phone, or through their website's contact form. The company is also active on Facebook, Instagram, and Reddit, so be sure to add them to any of these social media outlets you use if you decide to open an account. You'll find all of their listed contact information below.
Phone: +18007997635
Email: helpdesk@profitx.com
Address: Carenage Bay Canouan Island, VC0450 Kingstown, St. Vincent & the Grenadines
Social Media:
Facebook.com/profitxofficial
instagram.com/profitx_official_
reddit.com/user/profitX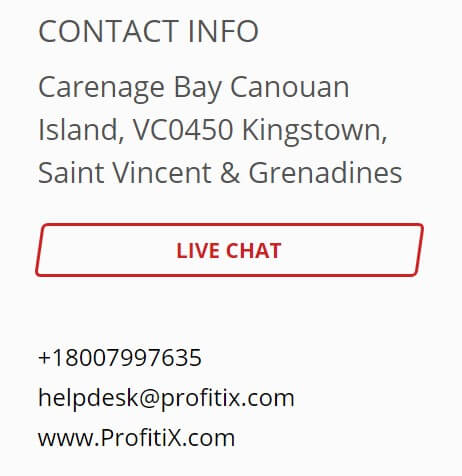 Countries Accepted
The ProfitiX website mentions that clients located in the United States are not allowed to open accounts. However, you'll often find that these terms are much more lenient, especially with brokers like this one that is located in St. Vincent & the Grenadines. After testing the sign-up page from our US-based offices, we had no problem creating our account. In order to bypass the restriction, you'll need to select 'US Minor Outlying Islands' as your country. Under 'State', you'll choose 'Other State' from the bottom of the list. You can then add your real phone number, address, and zip code and you will be allowed to open your account with no issue.
Conclusion
ProfitiX is a newly established broker that hasn't done quite enough to make their advantages known. The lack of detail on their website makes us wonder how much of an advantage there would actually be in making a deposit of $100,000, over simply opening an account with a $250 requirement. This doesn't mean that the advantages aren't there, but the company's lack of transparency makes us wonder.
On a positive note, the leverage options are very flexible with this broker and their customer support team can be reached easily. They also charge zero commissions and withdrawal fees, both of which can really save money in the long run. This broker is missing some of the extra little things that add to the experience, like bonuses and demo accounts. There could very well be a chance to profit with this broker, although it seems that the best way to do so would be to make a larger deposit.