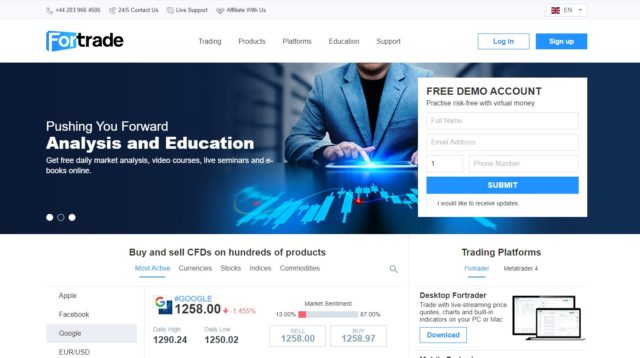 Fortrade is regulated by ASIC, NBRB, and FCA. This broker is well established and relatively popular on social media, possibly due to their volume of affiliate marketing. They are known for offering their own customized trading platform as well as MT4.
Account Types
Fortrade seems to offer only one account, 'Fortrader' account. You may use MT4 or their own Fortrade platform (web/mobile for both). It is not easy on the website to find basic information about the properties of the live account, which is frustrating, as it meant that we needed to contact client support to ask such basic questions.
Platforms
Fortrade offer both their own tailored trading platforms in web and mobile versions, as well as MT4 web and mobile versions.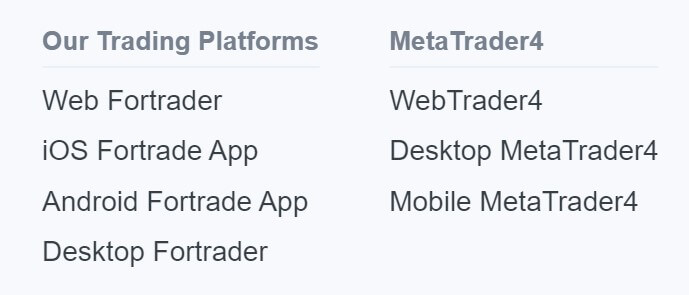 Leverage
If you refer to their FAQ page, you can find that they offer the following leverage caps, as a result of ESMA policy:
Major FX Pairs 30:1
Minor FX Pairs 20:1
Gold 20:1
Commodities 10:1
Major Indices 20:1
Minor Indices 10:1
Shares 5:1
Cryptocurrencies 2:1
Note if you apply for a professional client account, maximum leverage allowed is 1:200 however deposit requirements are higher. You will need to apply for this account in order to be given the full set of requirements.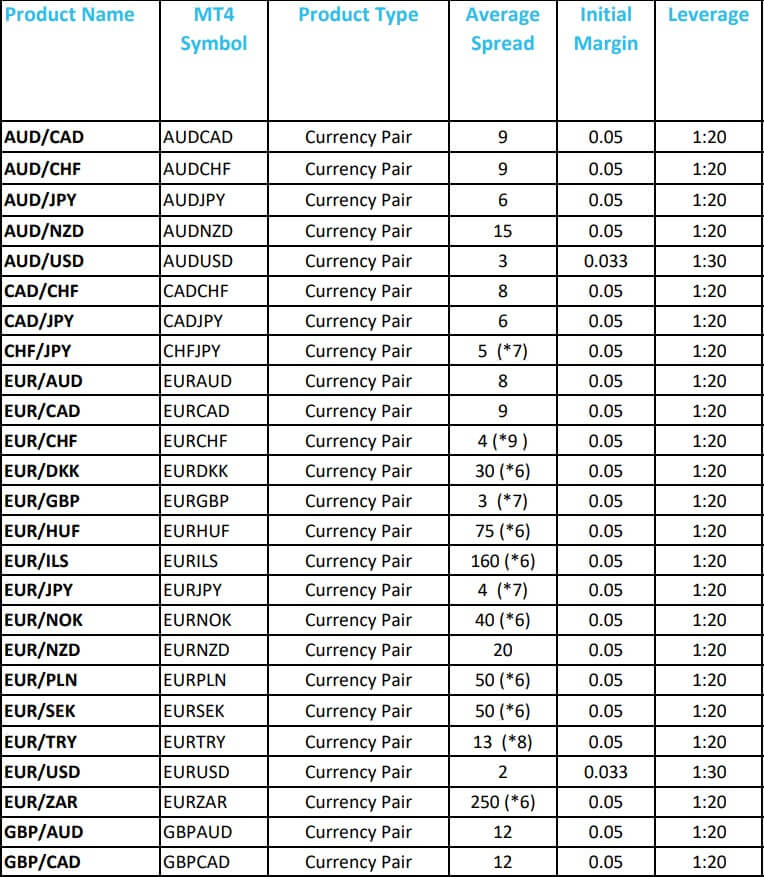 Trade Sizes
Unfortunately, the FAQ page is not very useful to pinpoint certain information such as minimum/ maximum trade sizes so this is not something we can confirm currently.
Trading Costs
Although specifications on how a dormancy fee can be applied and when Fortrade is entitled to charge such fees of $10 so that is one thing to bear in mind if your account becomes somewhat inactive. In terms of trade commission fees, there is no clear mention anywhere on the FAQ page or the website itself. When we asked Support to clarify this, we found out that Fortrade does not charge their clients commissions (so they make a profit from the spreads instead). For swap fees, there is a calculator handy from the website. Swaps vary in accordance with your trade sizes, etc.
Assets
Fortrade advertises that they offer over 70 currency pairs. Conclusively, they offer Forex, Indices, Commodities Shares, and cryptocurrencies. There is a fair variety of instruments to choose from, meaning clients have the opportunity to diversify their portfolio if they wish.
Spreads
Fortrade offers only fixed spreads. Bear in mind they make their money from the spreads since they charge 0 trade commissions, thus, they are a little higher than the average floating spreads from the average broker. Their fixed spreads have an average of 2 pips, which is not overly competitive. You can see a full list of their fixed spreads on the website.
Minimum Deposit
Fortrade requires a minimum deposit amount of $100, which is not too high compared to other brokers.
Deposit Methods & Costs
Fortrade does not charge fees for deposits. The funding methods available are as follows: Skrill, Neteller, Paypal, Wire transfer and Card.

Withdrawal Methods & Costs
Fortrade does not charge fees for their withdrawals, which are: Skrill, Neteller, Paypal, Wire transfer and Card.
Withdrawal Processing & Wait Time
Withdrawal timescales are not easily found on the website so we asked the live chat agent but it was incredibly frustrating that the response to this question was asking for client contact details to assist in opening a live account, rather than actually answering the basic questions asked. Even after much frustration and angst, we still never got to the bottom of the withdrawal processing times, but instead were demanded by the support agent to give a contact number to be assisted by an Account Manager to answer questions. Ridiculous customer service, and very pushy to get clients to open an account without knowing the full ins and outs of the account they are signing up to.
Bonuses & Promotions
Yes, Fortrade does offer deposit bonuses. When we asked the live chat agent about any deposit bonuses and where to find information on it (since it is not obviously displayed on the webpage), we were advised that yes, they offer a bonus, however, we were once again asked to give a contact number so an account manager could then give us the info. This is not efficient and also demonstrates that the agents are not fully trained or competent on the company products and services.
Educational & Trading Tools
Fortrade offers a multitude of educational services including training videos, seminars, and daily analysis articles.
Customer Service
Most of the time Customer support is efficiently responsive but at times we had to repeat ourselves and rephrase simple questions, which made it seem their support agents are not fully competent in the English Language. You may contact client support via telephone, email and live chat on a 24/5 basis (9 AM to 9 PM GMT).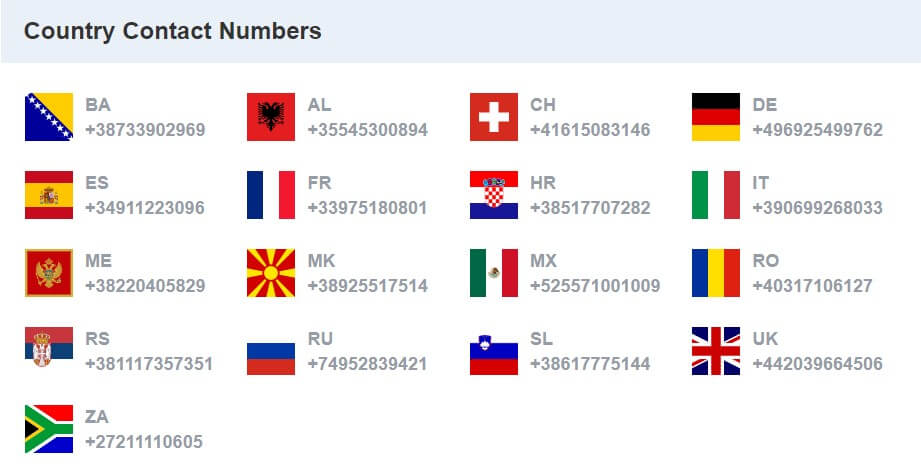 Demo Account
Fortrade does offer a demo account, which is definitely handy if you are a beginner trader, however, the only issue we had with this is that you are encouraged to demo with $10,000 which for many is a highly unrealistic amount. In reality, you should only demo with what you could afford to trade with on a live account.

Countries Accepted
Due to the multiple regulations this broker is restrained by, Fortrade cannot accept clients from the USA or Belgium and is not intended for distribution to, or use by, any person in any country or jurisdiction where trading be contrary to local law or regulation, so be sure to check if your resident country is on the list before you apply for an account.
Conclusion
Firstly, the website is not easy at all to navigate, so beginner traders, find a broker that for a start, has a website that is easier to use. Secondly, customer support was painful in the sense that communication was not smooth and the quality overall is less than satisfactory. Thirdly, the trade conditions are not at all competitive; fixed spreads (and high ones at that), with low leverage… this makes profitable opportunities rather slim. This broker does not stand out for any element at all and therefore is not competitive to other brokers out there right now.