This is a relatively large, well structured, ASIC regulated broker. Since 2006 GO Markets is known as the first broker to offer the MT4 platform in Australia. The broker has some server problems at first but quickly expanded the IT infrastructure and opened new offices in London, Taipei, and Honk Kong.
Go Markets recently offered the Metatrader 5 and the web trading platform. The addition of cryptocurrencies, more features, and account types points that this broker is in the right direction and is following the trader's needs. The website is very well designed for ease of use and has a good bland of marketing and information value. As with many companies that want to break through the competition, GO Markets tries to differentiate with some features mix that adds on to the overall trading experience. By going through the sections we will review what this broker has to offer.
Account Types
Go Markets has two distinct and feature-packed account types. The Standard Account for those that want to stick to standard floating spreads range and the GO Plus Account that features 0 pip floating spreads and the $3 commission per side. GO Markets provides a good introduction to both account types without redundant phrases. Traders of the Standard Account will get relatively low spreads comparing to other brokers from more than 22 liquidity providers. Account currencies options are great, traders can open an account in AUD, USD, EUR, GBP, NZD, CAD, SGD, CHF, and HKD. This number of base account currencies is rarely seen.
The GO Plus Account type takes raw spreads from the market but also charges a commission. This account also has a bit higher minimum deposit of $500 although this amount should be low enough for anyone that wants to trade seriously. To make this account even more interesting, GO Market included the Dedicated Account Manager service. Although further investigation showed that this service is available to both account types.
Platforms
Metatrader 5 and 4 are available for all desktop and mobile versions. The web platform is also available using the Metatrader layout and button shortcuts to GO Markets client portal, deposit, and live chat. Both MT5 and MT4 platforms are by default settings and quickly establish the connection with the server. The average execution on the MT4 is a bit slower than MT5 and is around 500ms. The MT5 though is around 200ms which is good enough. The account types do not matter much towards execution times. Go Markets does not have any proprietary trading platforms and focuses on the Metatrader only.
Leverage
GO Markets offers a leverage level of up to 1:500. This is a higher than average when compared to other brokers and shows that this broker is biased to low deposit, high-risk trading. The leverage is changeable, by default it is set to 1:100. GO Markets client portal is well designed and the leverage change is done from there for any account created by the client. Note that the leverage is scaled to the maximum account balance, for example, traders with more than $500.000 cannot have leverage higher than 50:1.
Also, anyone above $10.000 cannot have higher than 1:400 leverage. Some exotic trading instruments may have lower leverage than the set standard. Just to be clear, GO Markets states this information as a margin percentage in the MT4/5 instrument specifications, so traders may be confused with the 500% margin percentage for some exotics. For Cryptocurrencies, the leverage is 1:5. As we are informed by the GO Markets support, the leverage level is about to be revised.
Trade Sizes
Trade sizes are in-line with the two account types offered. The minimal trading volume size is 0.01 lots. Additional volume steps are also at 0.01 lots. The maximal volume is capped at 40 lots. Of course, this value differs from asset to asset, so for BTC/USD it is five lots is the maximum. For Oil, the maximum is at 20 lots with 0.1 lots minimal trade volume and step. GO Markets has set a Margin Call at 80% and a Stop Out at 50%, this is not usual levels as with other brokers (50%, 20%Stop Out) so traders will have to pay attention to risk management.
Trading Costs
Clients that choose to go with the GO Plus Account will have a $3 commission per side ($6 round trip), while the Standard is commission-free. From the MT4 platform, we have noticed a $5 commission charge for 1 lot, but that is Australian Dollar, just to avoid confusion.
Swaps are under normal levels, even for crypto at -25. Positive swaps are common, for the EUR/USD pair, a short swap is 6.08 points and long -9.55. For some exotic like the USD/HUF is 11.88 long and – 23.42 short swap. As we went on to see the swaps for each currency pair, we were impressed to see so many positive.
Assets
GO Markets does not want to leave any type of traders out, and that counts towards the asset range too. This broker covers almost all categories, Forex, Indices, Shares, Commodities, Metals, and Crypto.
Starting with Forex, a total of 50 pairs plus the USDollar index are listed. All the majors are there and the exotics offer is not bad either. AUD/CNH is a rare sight yet GO Markets is from the eastern forex block. Other exotics like the PLN, TRY, SGD, HUF, MXN, and Snadinavian currencies are not left out. All that forex traders need.
Indices offer is average with 13 total, not counting the USDollar index. China50 and the ASX are of course listed, but all other global major indices are on the list, this way the range covers all trading sessions.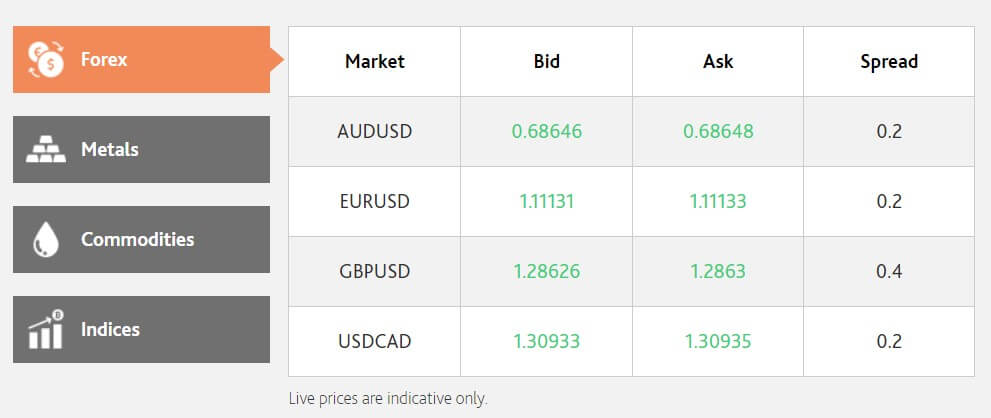 GO Markets recently introduced shares from ASX (Australian Securities Exchange). Over 200 top ASX companies are listed but this offer is only for Metatrader 5 platform. Catered for Australian clients, this is a great offer.
Commodities are very limited. Some commodity traders may be disappointed as only 2 Oil assets can be traded. The spot WTI and Brent Oil. Brent Oil trading session is a bit shorter than usual, available from 03:00-24:00 GMT+3 time.
Just as with the commodities, the metals range are limited to Silver and Gold. On the GO Markets web site, more in this category are mentioned although during the writing of this review these are not yet on introduced.

Finally, the cryptocurrency range is not catered for the most demanding traders but all the majors are offered. What is interesting that Cryptocurrencies are not listed on the GO Markets web site at all, and this is unclear as Crypto is one of the most attractive CFD categories. The MT4 platform shows Bitcoin, Bitcoin Cash, Litecoin, Ethereum, And Ripple all denominated in USD.
Spreads
The always amazing 0.0 pip spread statement is often not true for most of the trading time. However, the most liquid pairs like the EUR/USD and USD/JPY had 0 pips spread sometimes. What is certain is that 90% of the time is from 0.1 to 0.3 pips. Of course, this is valid for the GO Plus Account where commissions also apply. For Bitcoin, the spread is 22 pips, and this is one of the best spreads in the industry.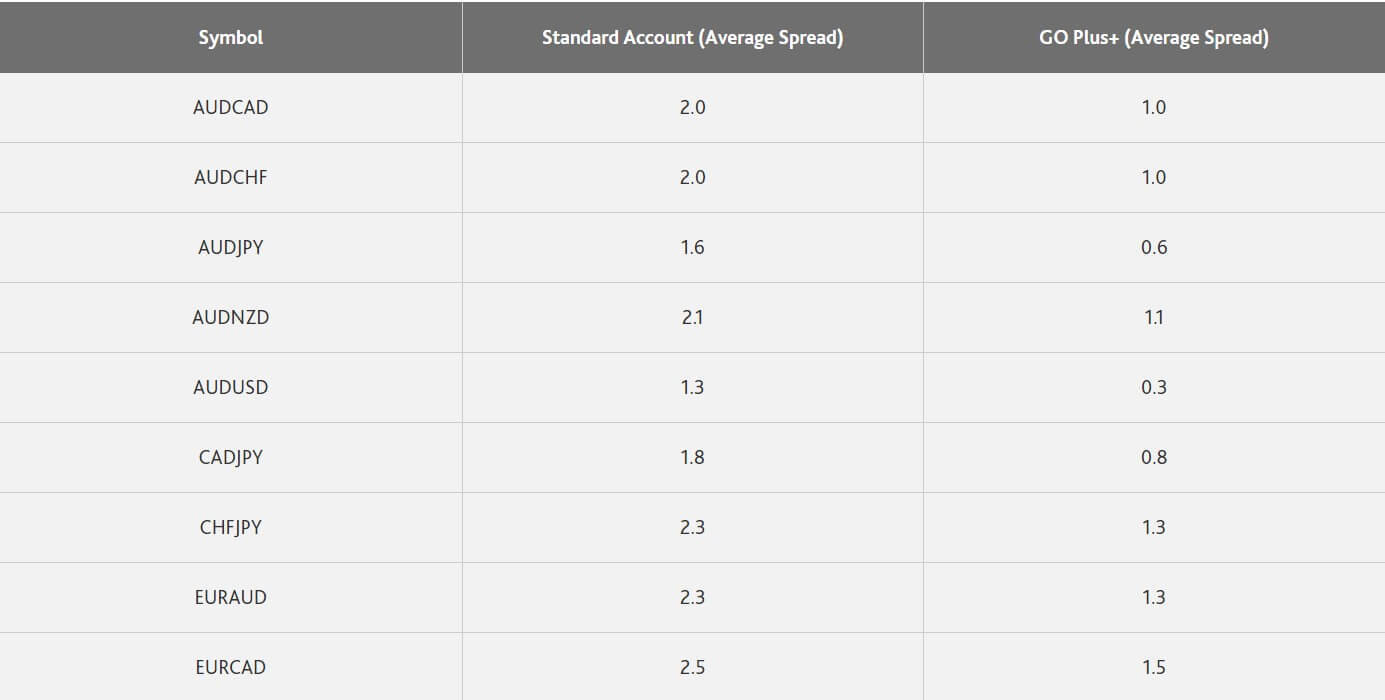 The Standard Account has a somewhat wider floating spreads. For EUR/USD Metatrader5 platform showed 1.1 pips, same as with USD/JPY, GBP/USD and even the NZD/USD pair. Generally, all majors had around 1.2 pips and this is a very good spread comparing to other brokers.BTC/USD spread is the same as with the GO Plus Account at 22 pips. The Standard Account could be an even better choice for longer-term traders.
Minimum Deposit
From 200 AUD traders can open the Standard Account and from 500 AUD GO Plus Account.
Deposit Methods & Costs
Bank Wire transfers are available but imply transaction costs that vary and are subject to the client's bank. BPAY deposits are possible although it may depend on the client's country, currently only for Australian clients. We are informed by the GO Market support that the handling fees described in the Product Disclosure Statement are not charged anymore.
GO Markets does not charge any internal deposit fees using Visa/Mastercard, Skrill, Neteller, and Bank Transfer. In addition to the mentioned methods, FasaPay and Poli are also available. All the deposit methods may not be available for all clients. Credit Card, Bank Transfer are accepted from all countries, Skrill and Neteller for countries outside the EU for now.
The client portal will list all the deposit/withdrawal possibilities once a client is approved.
Withdrawal Methods & Costs
As GO Markets states, profit funds can only be returned to a bank account in the client's name. No fees will be charged by GO Markets for withdrawals. The withdrawal process can be started from the client portal and all the methods as with deposits are optional.
Withdrawal Processing & Wait Time
The withdrawal process is submitted through the client portal and will take 24 hours during business days to complete. By Wire Transfer, the withdrawal processing will take 1 business day by the GO Markets, although it will take more time for the funds to reach the client's account. This is usually 1-5 business days. Electronic payments like Poli and BPAY withdrawals are done in a few hours. E-wallets and Credit Cards are instant once the withdrawal is approved.

Bonuses & Promotions
Thre are several mentions about promotions in the Legal Documents section of the GO Markets website. What we have found is that currently, GO Markets has a 50% off on commission for GO Plus Accounts. To apply a client has to deposit $20.000 and have this promotion for some time (a few months). For deposits of $50.000, this period is extended to about 6 months.
For those that are interested in Introducing Brokers, Affiliates or White Labels, GO markets have offers for these partnerships too. Any marketing source like a blog, email, social media, websites, etc is possible to link with this broker marketing. To apply for these programs parties need to fill a form
Educational & Trading Tools
GO Markets has invested in education material and is on par with the top brokers. Introduction to the world of Forex trading is very good, complemented with videos and webinars. The Inner Circle is for any trader level that aims to learn even more. The education is not as deep as some traders enthusiast sites have to offer but it will cover the basics and more. The Videos are not long, easy to follow and have a good concept. As with other GO Market material, it is detailed and catered to be understood. E-books are available but only for live accounts, so in a way it is not accessible for free. Webinars are also available where attendees can pose questions. Of course, registration is required for these, weekly, Inner Circle webinars.
Tools offer is also great. Traders will have familiar Autochartist and Trading Central service for automated chart drawing and analysis. Full Autochartis and Trading Central abilities are well described. For this service traders will need to deposit at least 500 AUD. With the demo account, it is also possible to see Autochartist in action, you just need to contact the assigned Account Manager.
VPS is available although certain conditions have to be met. Traders will have to reach a $1million trading volume per month or a $10 fee will be applied monthly. VPS service will be terminated if your trading account balance falls below $30.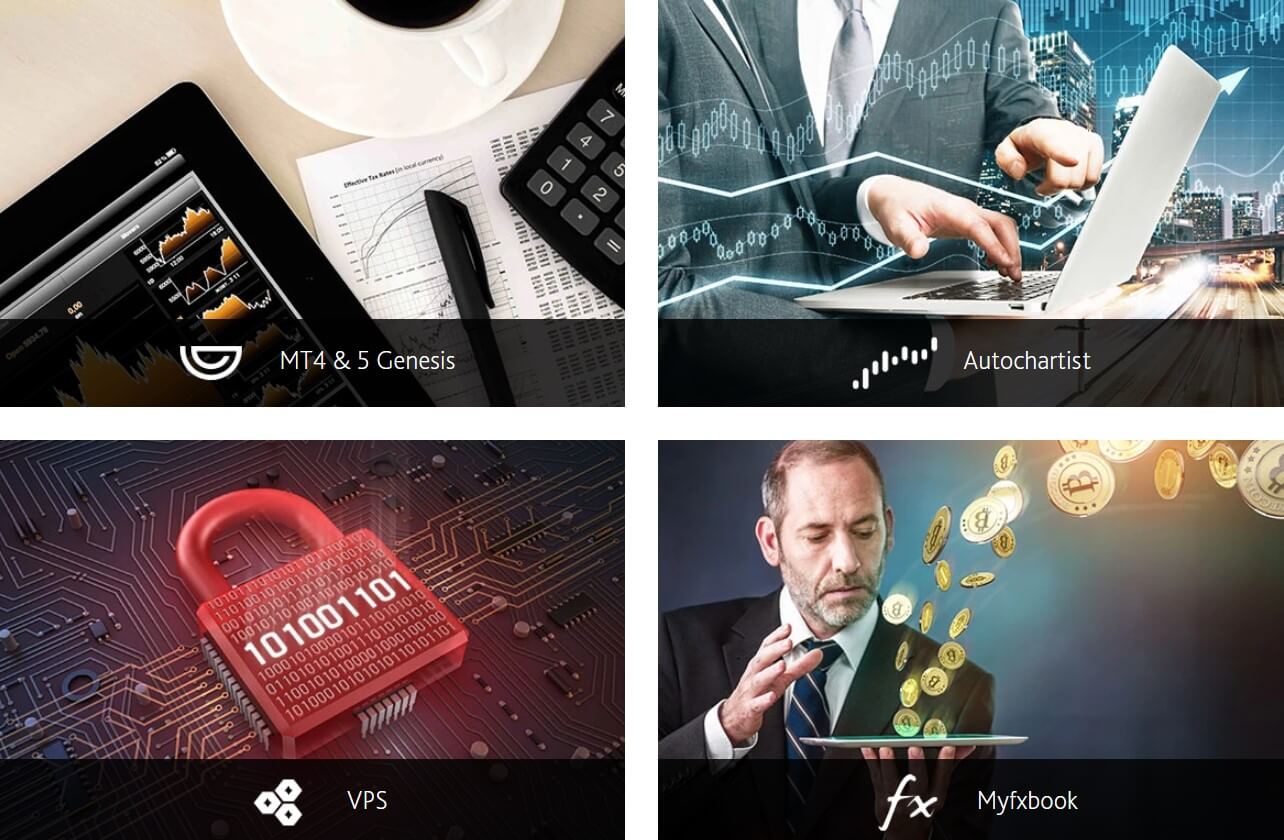 A-Quant Daily Trading Strategies offer is a third party service that encompasses trading signals from the AI learning machine. A-Quant is a new fin-tech company from Cyprus made up from experts in Finance, AI, that have decided to create this signal service. We do not have information on the quality or the success rate of these signals although it is always good to have an extra trading tool.
MT4 & 5 Genesis offered by GO Markets is an addon pack with apps and indicators for trading environment enhancement. Specifically, better info panels, Correlation Matrix, Alarm app, Economic News Calendar, Sentiment Indicator, and a Session Map. As with the VPS, this service is available for deposits of at least $500.
GO Markets is connected to Myfxbook social trading. As some may already know, Myfxbook features thousands of traders that share their signals. Copy trading is a popular method for anyone who does not have the expertise to trade successfully. Myfxbook features some good tools for various aspects of trading and is one of the most popular websites for traders. To be able to use this tool, clients need to deposit at least $1000 and have the Standard Account type. By adding this feature to the mix, GO Markets has covered all the interest areas of traders.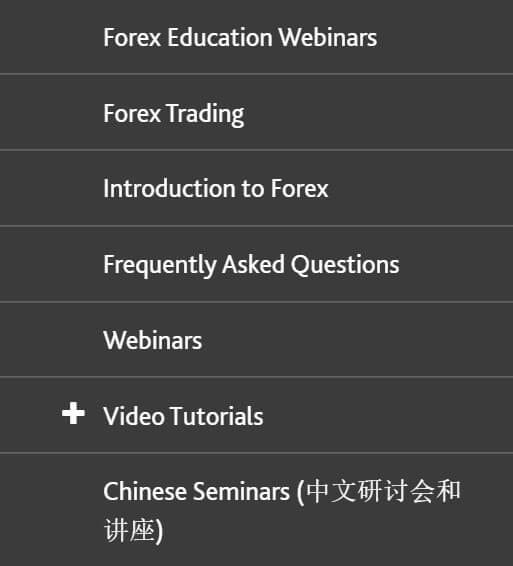 Go Markets Newsfeed and analysis is very similar to the headlines you can see with popular news companies. Some simple facts are stated with additional key fundamental figures are a very good way of approaching and covering global topics. All the sources are from trusty institutions. Traders that dive into fundamentals will enjoy the Daily and Weekly news section.
Economic Calendar is packed with features but not overwhelming. The design is good with plenty of useful filters. All the information about events is presented with impact meter, historic movements chart, source links, and the ability to save the setting for the next session. This type of Economic Calendar app is common with the top brokers.
Margin Call is GO Markets's great podcast series with very good interviews. The series has a great concept and a nice overview of the interview structure so you can know what to expect. This high-quality feature will be very interesting to many listeners as it covers some deep and interesting industry topics.
Customer Service
Chat is the first choice for a quick answer and GO Markets has 24/5 multilingual support. What we have found out that chat is not always available so the 24/5 applies to emails. The queue is not long, the GO Market representatives are relatively quick to connect with you, in about 5 minutes. They will provide very good answers and explain some issues you have with examples. Any subsequent questions will be answered promptly.
The knowledge they have is enough for any level and they speak (type) English, Chinese, Thai, Portuguese, German, and Vietnamese. Email language does not matter as they have translators for all. The phone line is also available. Overall, the support is professional and close to the top level.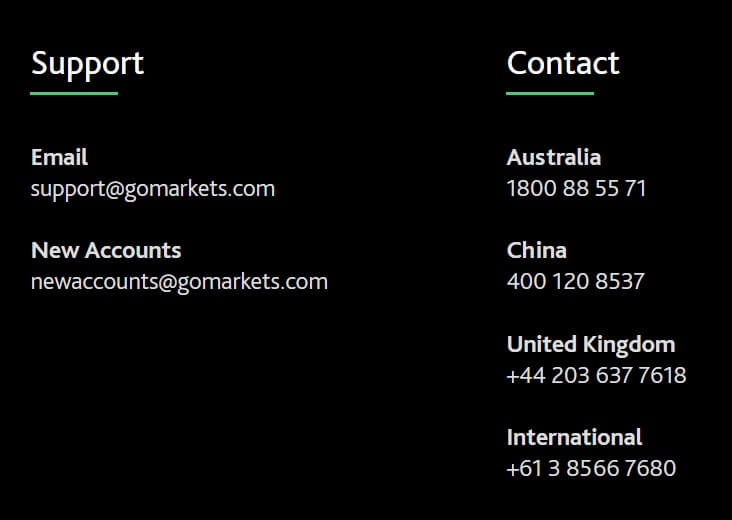 Quick support app (TeamViewer) is another feature that clients can use if they want to give GO Market staff access to their computer and resolve or explain any issues. Note that this method is not always easy to accept by some clients for privacy concerns although TeamViewer is a great and efficient problem solver.
Demo Account
The demo account will last for 30 days but this limit can be revoked by request to GO Market support. The process is protected from bad inputs (fake phone number) and the login password is sent by SMS, not to the email. For anyone not willing to provide their phone number, they can go and use free online phone numbers for SMS reading. The demo can reflect both account types, all the commission and swaps will be accounted when trading, no information will be hidden. Traders can select the account type during the registration process, the base currency and the leverage level. It is great to see that the demo can be used to compare all the pros and cons of both account types without any compromise in information transparency.
Countries Accepted
The very careful and meticulous registration process will filter all the countries that are not accepted from start. The list of prohibited countries is not short, many will find this broker off-limits. Clients from Afghanistan, Azerbaijan, Botswana, Bosnia and Herzegovina, Burundi, Central African Rep, Congo, Côte d'Ivoire, Ethiopia, Eritrea, Egypt, Gaza Strip, Ghana, Guinea Bissau, Haiti, Iran, Iraq, Lebanon, Libya, Myanmar, Nicaragua, North Korea (DPRK), Pakistan, Serbia, Sierra Leone, Somalia, Sri Lanka, Sudan, South Sudan, Syria, The Bahamas, Trinidad and Tobago, Tunisia, West Bank, Venezuela, Yemen and Zimbabwe are not accepted.
Conclusion
GO Markets has a mediocre score on the user satisfaction benchmark sites. The main issues were with international withdrawals and with people who are earning profits. As claimed they were locked out of the trading, had abnormal quotes before news events, etc. Of course, as an ECN and a Market Maker broker, they are hedging against the big and profitable traders. On the other side, GO Markets features a great Education, News, and tools that are not just for marketing sake.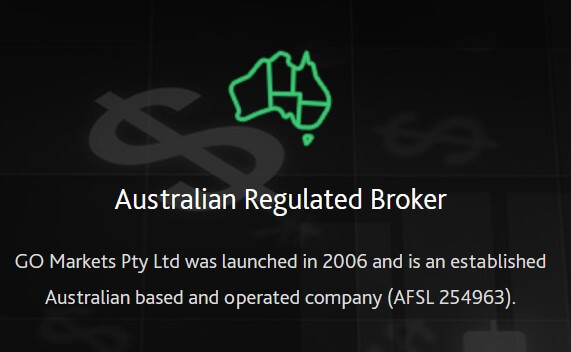 The asset range is good enough, the account types are affordable and diversified enough, even if only two types are offered. The support staff is also giving an impression of quality. This broker is evolving and expanding quickly into new markets, the Middle East and Northern Africa (MENA) region are their new focus and we can expect new trading instruments, offers, and features. We have noticed some changes and outdated clauses in the legal documents that prove this rapid change and it is for the better. A great example of this is the "handling fee" cancelation and setting all transactions to be free of charge. Moreover, changes in the account type offer allow having different trading environments for an affordable minimum deposit.
Being very clear, attentive and informative to visitors of their website shows a professional attitude that traders will notice and this is certainly their best marketing. What traders need to be aware of is that their style of trading may not be adequate for GO Markets, even if this is a relatively low latency, ECN, raw spread broker. Similar user reviews posted on the benchmarking website may point to a valid issue about the profitable traders blocking in various ways. Note that EAs, scalping, hedging and news trading are not prohibited.