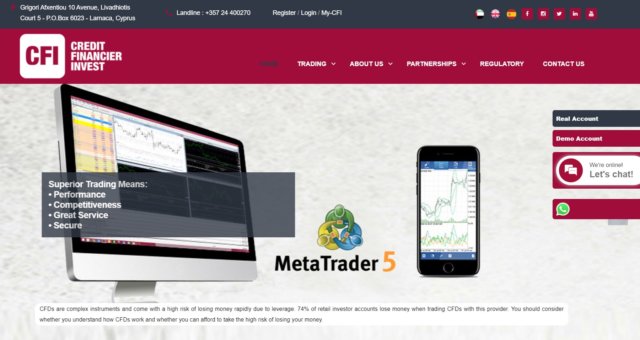 CFI Credit Financier Invest is an online FX and CFD broker that boasts about attractive trading conditions, reliable support, deep liquidity, and fast withdrawals as a few of their many advantages. The company can first be traced back to a private banking firm known as Credit Financier, which was established in 1998. In 2005, the company separated the credit business from the trading business and launched the first entity directly related to this section of the company.
The head branch of this strand of the company is located and registered in Cyprus, with a secondary location in London. In the time since they came into operation, the broker has grown to include a more established customer base and has won several awards for protecting client funds, being a top regulated broker, Best Forex Broker in Asia (2016), and more. If you'd like to find out more about CFI's interesting account types and trading conditions, you'll want to keep reading.
Account Types
CFI offers three account types, with options being the Standard, Elite, or Prime account. Funding methods would require a $100 deposit on the Standard account, while minimum requirements for the other account types spike much higher. Spreads are also the highest on the aforementioned Standard account, while the spreads start from 0.3 pips on the more expensive account types. Commissions depend on the chosen account type and are actually listed as negotiable on the Prime account, which is noteworthy.
This broker separates retail and professional clients and offers higher leverages and lower stop out levels to the clients that are categorized as professional. One can apply for professional status on the website. If you're considered an average client, you'll have access to the same leverage, regardless of which account you're trading from. Accounts also share the same trading instruments and trading platform, MT5. A brief summary of these conditions can be viewed below.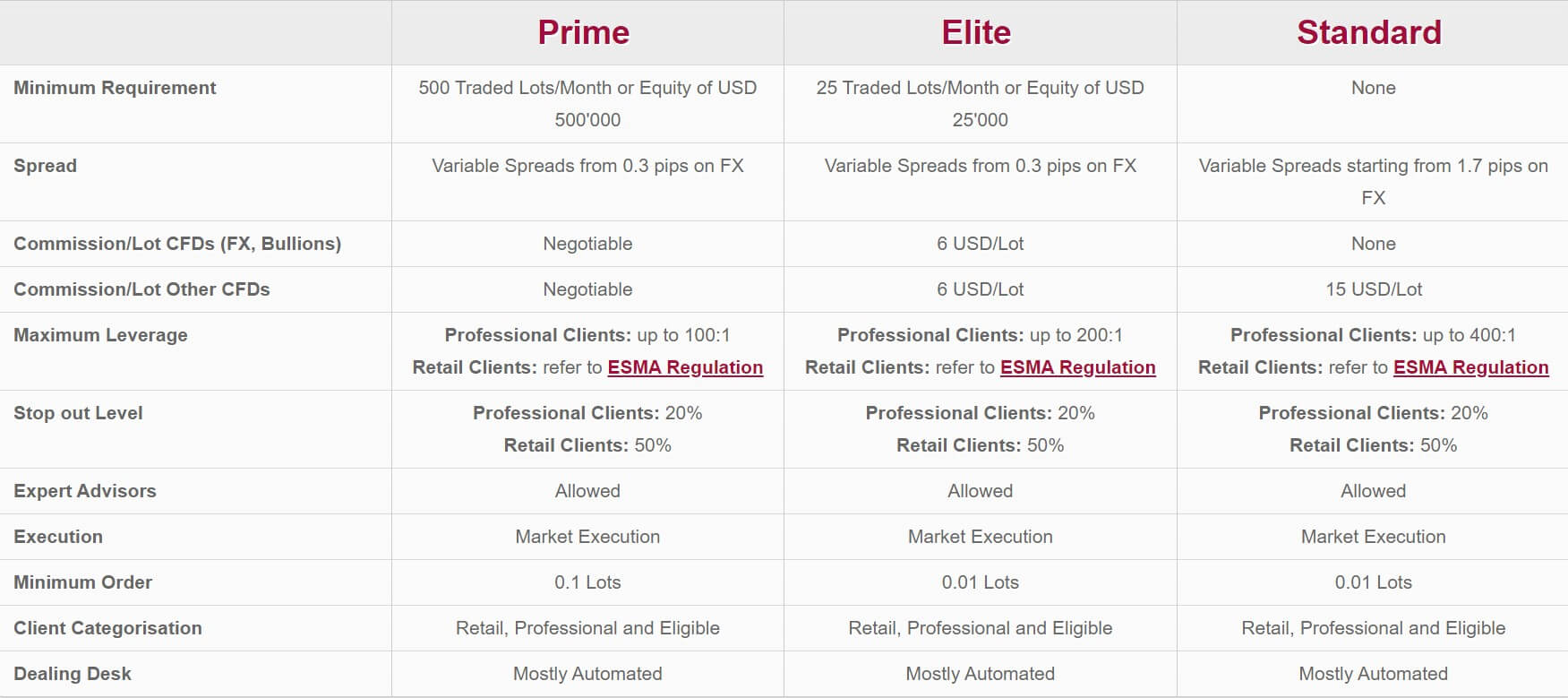 Standard Account
Minimum Deposit: None
Leverage: Up to 400:1 (Professional Clients)
Spread: From 1.7 pips
Commission: None on FX & Bullions/15 USD per lot on others
Elite Account
Minimum Deposit: $25,000 (or trade 25 lots per month)
Leverage: Up to 1:200 (Professional Clients)
Spread: From 0.3 pips
Commission: 6 USD per lot
Prime Account
Minimum Deposit: $500,000 (or trade 500 lots per month)
Leverage: Up to 1:100 (Professional Clients)
Spread: From 0.3 pips
Commission: Negotiable
Platform
This broker features one of the best all-powerful trading platforms – MetaTrader 5. This platform is an improved version of MT4, which is probably one of the most well-known and commonly offered trading platforms offered today. MT5 has no issues with popularity itself and is preferred by millions of traders across the globe. In addition to offering everything a trader could possibly need, MT5 has added more pending order types, analytical tools, an economic calendar, user-friendly interface, Expert Advisors, and more to the mix. MT5 can be conveniently accessed through the WebTrader and mobile apps or downloaded on PC and MAC for the best experience.
Leverage
One of the largest contributors to the success of Forex trading would be leverage, so we are always looking for advantages in this section. With this broker, we do see a generous cap of up to 1:400 on FX options on the Standard account type, while the maximum cap drops to 1:200 on the Elite account and 1:100 on the Prime account.
Most likely, this broker sets lower limits on the accounts that require larger balances in order to limit the losses that will be incurred by those clients. It's really a safety measure for the broker, although the caps on the more expensive accounts may be lower than some clients would like to see. It also seems that those advertised leverage caps are only for professional clients, while lower caps are offered for average clients. Those limitations are as follows: 1:30 on major currency pairs, 1:20 on non-major currency pairs, 1:20 on major Indices and Bullion, 1:10 on Commodities (other than Gold), 1:10 on non-major Equity Indices, and 1:2 on Cryptocurrencies.
As one may notice, these limitations could be too restricting for one that would prefer trading with high leverage. Many traders do prefer a leverage of around 1:100, so it would be vital to ask for a professional status if that's something you're looking for.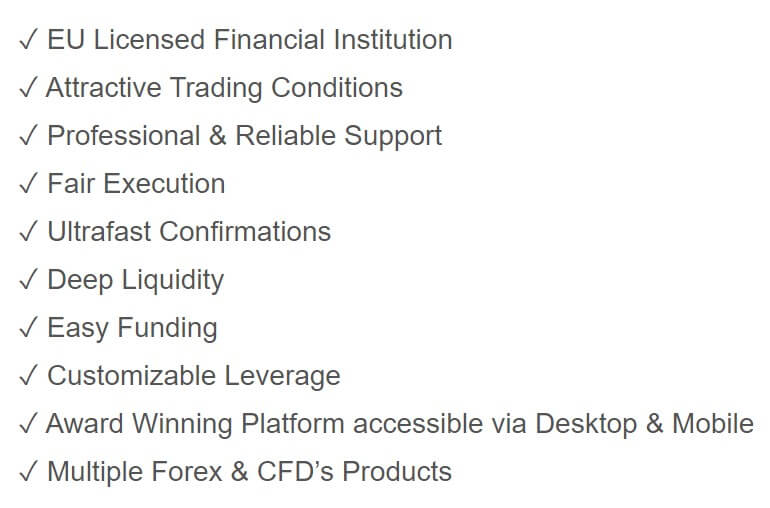 Trade Sizes
All accounts offer a minimum trade size of 0.01, or one micro lot on all assets, aside from Cryptocurrencies, which require a trade size of 0.1 lot. There is a maximum trade size of 20 lots when trading Cryptocurrencies and the website does not specify for the other instrument types. The margin call level is set at 50% on all trading accounts. The stop out level for professional clients is 20%, while the stop out for average clients is at 50%.
Trading Costs
This broker profits through commissions, spreads, and swaps. The Standard account offers spreads from 1.7 pips on FX options, with no commission charges on FX and Bullions and a charge of 15 USD per Standard Lot on other instruments. On the Elite account, we see spreads from 0.3 pips with a fixed commission charge of $6 USD round turn on all instrument types.

For the Prime account, spreads also start from 0.3 pips and commissions are listed as negotiable. Swaps may be adjusted daily based on market conditions and are applicable to all open positions. Swaps are in USD/day, on Wednesday's overnight, positions will be charged for 3 days to cover Saturday's and Sunday's costs.
Assets
This broker advertises multiple FX and CFD options as being available; however, the broker has made the questionable choice to exclude offering a more detailed product page on their website. This leaves us with questions about just how many currency pairs are available and how wide of a range the variety of CFDs cover. Fortunately, we do see that the broker has recently added Cryptocurrency CFDs to their portfolio, with available options being Bitcoin, Litecoin, Ethereum, Bitnote, and Ripple (US dollars).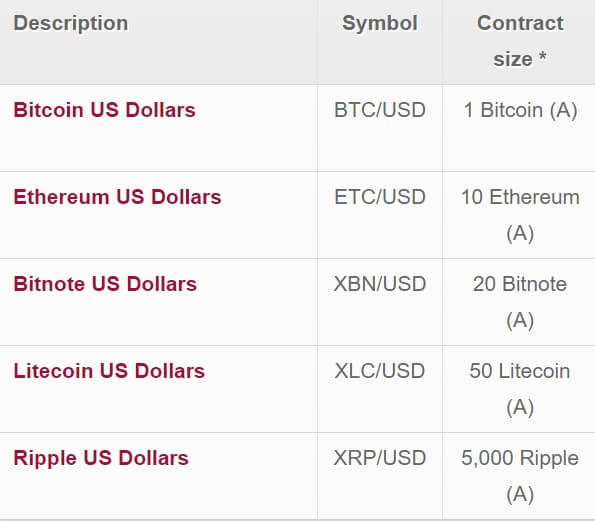 Spreads
All accounts offer variable spreads, starting from 0.3 pips on FX options on Elite and Prime accounts and from 1.7 pips on Standard accounts. Typically, we do like to compare options in order to see if the advertised spreads are not misleading, although it wasn't possible to do so since this broker is missing a product specification page. Judging by the advertised numbers, one could certainly say that the spreads on the more expensive account types start from amounts that are much lower than average. As for the Standard account, one would want to consider the commission-free trading on FX and Bullions and how that would lower the trading costs altogether.
Minimum Deposit
This broker does not require any minimum funding amount in order to open their Standard account; however, each funding method requires a minimum funding amount of $100 USD. For the other two account types, traders can either maintain a certain balance or trade a specific number of Lots each month. On the Elite account, the choices are to maintain a balance of $25,000 USD or trade 25 lots per month. Some traders may have to stick with the Standard account type, due to these strict requirements. On the most expensive account type, the Prime account, traders can either maintain a balance of $500,000 USD or trade 500 lots per month.
Deposit Methods & Costs
Accounts can be funded through Wire Transfer in an unlimited amount, through Visa/MasterCard for up to $10,000 per week, through Neteller for up to $2,000 a week, or through Skrill for up to $10,000 a week. All methods require a minimum deposit amount of at least $100 USD per deposit. The broker does not apply any fees on Bank Wire Transfer; however, fees will be charged from the bank's side. There is a 1% fee on Visa/MasterCard deposits, a 3% fee on Neteller deposits, and a 4% fee on Skrill deposits. When the client first opens an account with any of these payment providers, the first deposit will be fee-free, with the exception of Skrill, which offers a fee-free deposit for an amount up to $2,000. Note that fees would still be applicable to Bank Wire Transfers.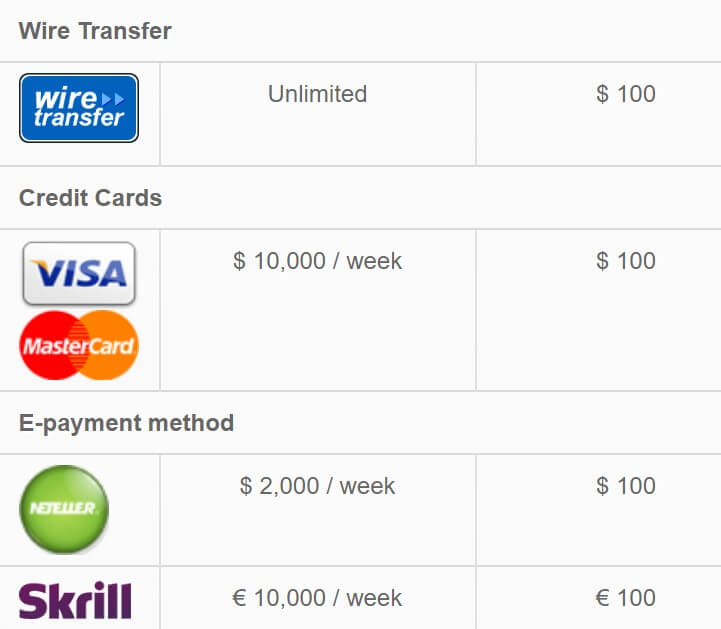 Withdrawal Methods & Costs
Any client of the company must make their first withdrawal request back to the originating payment method. A $25 fee in US dollars/Euros is charged on Wire Transfer withdrawals. For Visa/MasterCard withdrawals, a fee of 2.5% is applicable. Neteller charges a fee of 3% of the transaction value, while the other e-payment method, Skrill, only charges 1% of the transaction value. Sadly, fees will not be avoidable and it would be beneficial to determine which payment method would charge the least amount for any particular withdrawal.
Withdrawal Processing & Wait Time
As long as the request is submitted within business hours, withdrawals will be processed the same day between 08:00 and 16:00, Cyprus time. If a withdrawal request is received outside of working hours, or on the weekend, it will be processed the following business day. One should expect a wait time of 2-5 working days to receive Wire Transfers and 2-10 working days to receive Visa/MasterCard withdrawals. Neteller and Skrill withdrawals for amounts less than $1,000 will be received within a day, while withdrawals for larger amounts can take up to 10 days to be received.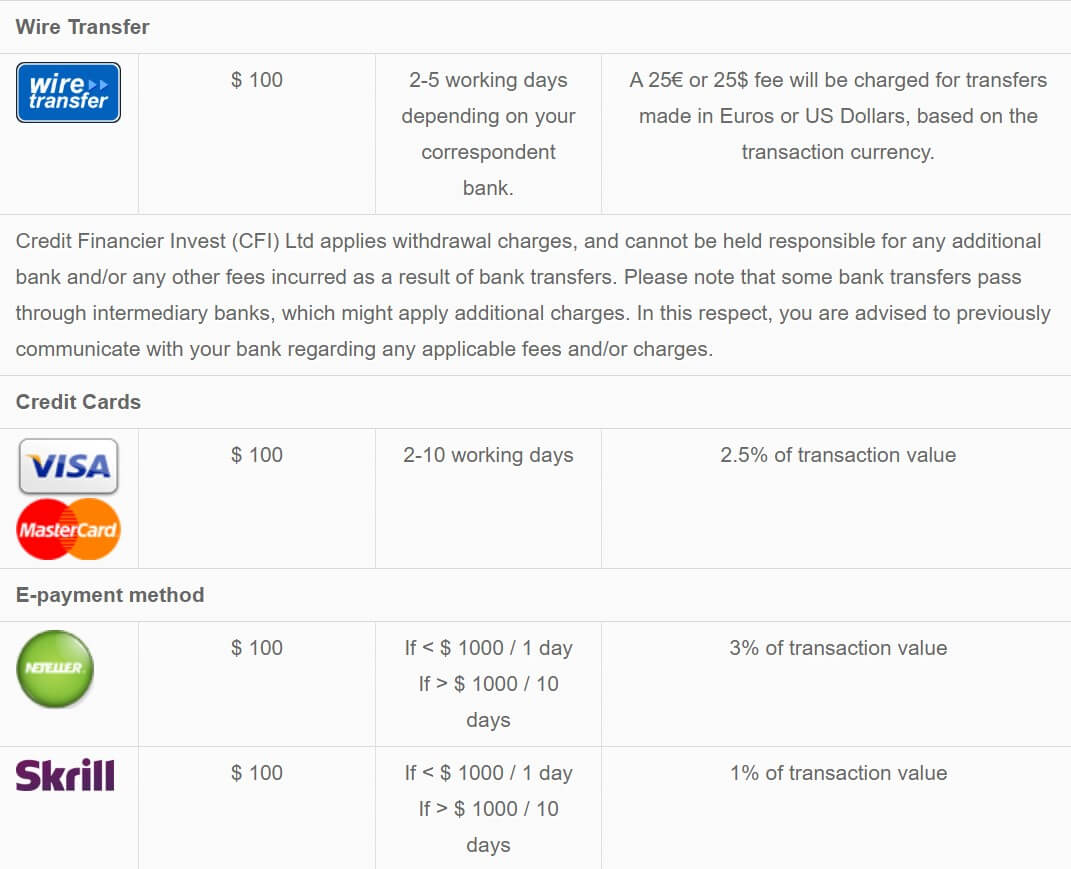 Bonuses & Promotions
At this time, CFI is missing any sort of welcome bonus or promotional opportunity. This doesn't mean that the broker won't add something in the future, although we couldn't find any indication that the company is currently considering adding a bonus program. It's always nice to see something offered in this category and it can be fun to participate in contests with prizes, although the lack of options here shouldn't warrant one switching to another broker on its own.
Educational & Trading Tools
The broker also seems to be lacking in the educational category, which will force any beginners to look elsewhere for resources. We do see demo accounts available, although one would certainly need some prior knowledge in order to practice from a demo account successfully. If you're hoping to find tools available on the website, you'll be equally disappointed, since options are limited to VPS alone. On the bright side, traders will find a variety of tools built-into the MT5 platform.
Demo Account
Risk-free demo accounts are offered by the broker as a way for potential or existing clients to become more acquainted with their trading conditions, to test out the MT5 platform, and to gain more experience trading without risking any real funds. Demo accounts do expire after 30 days, likely as a way to push potential clients into opening real accounts. Fortunately, one could simply sign-up for another demo upon that expiration if they were not ready to make a real deposit. An account can be created quickly by filling in a few details – name, email, country, phone number, etc.

Customer Service
Support can be contacted through LiveChat, phone, email, Whatsapp, or by submitting a callback request. Support hours were not listed, although the website did inform us that support was online at a late hour. We took the opportunity to sign-into LiveChat; however, the experience was rather frustrating since the broker then informed us that an agent actually wasn't online. On the bright side, the website will allow one to leave a message in this situation so that support can respond asap.
Contact information is provided for the head office in Cyprus, in addition to the secondary office in London, so one would want to be sure to email or phone the correct department. If you'd like to fill out a callback request, this can be done quickly from the contact page. The broker will ask what time the client would prefer to receive the call for convenience. On can also follow the broker on Facebook, Twitter, Instagram, LinkedIn, and YouTube. All listed contact information has been detailed below.
Cyprus
Phone: +357 24 400270
Fax: +357 24 400271
Email: info@cfifinancial.com/cy
Address: Grigori Afxentiou 10 ave, Livadhiotis Court 5, P.O. Box 6023
London
Phone: +44(0)2039 687 7706
Phone: +44(0)2039 687 7707
Email: info@cfifinancial.co.uk
Address: 70 Gracechurch St, London EC3V 0XL, London – UK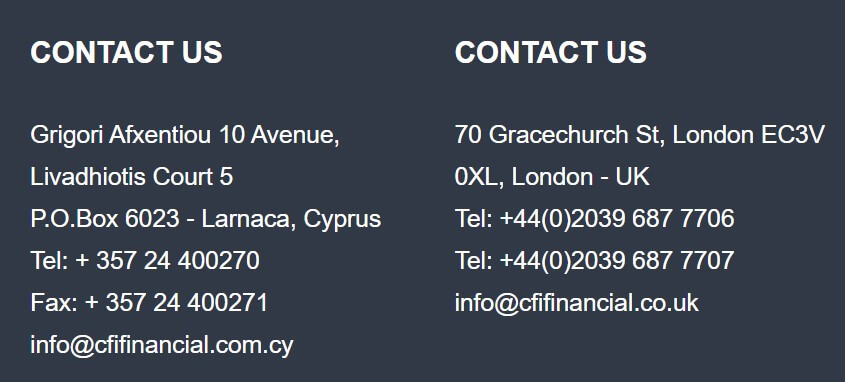 Countries Accepted
This broker didn't list any specific restrictions on their website, so we headed straight to the account registration page to check for ourselves. We were happy to see the United States, North Korea, Iran, Japan, and many other commonly restricted countries on the list, so there's no reason to worry if you're located in any of those countries. Of course, there could be something we're missing, so you'll want to contact support if you don't see your country on the registration list.

Conclusion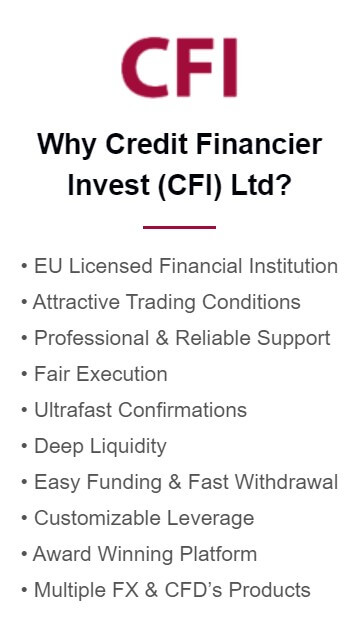 CFI is an online broker that offers leveraged trading of up to 1:400 for professional clients on FX and CFD instruments, including Cryptocurrencies, on the MetaTrader 5 platform. Those advertised leverage caps are set much lower for regular clients, with the highest cap offered to be a leverage of up to 1:30. One must deposit at least $100 to open a Standard account and traders can choose to maintain a certain trading volume or to maintain a certain account balance of a larger amount for the other account types. When it comes to trading costs, we see commission-free options on certain instruments, and commissions are negotiable in the case of the Prime account.
Spreads start from either 0.3 or 1.7 pips, depending on the chosen account type. When it comes to funding, we see fees applied on all deposits and withdrawals, although the broker has quick processing times. Sadly, there are no ongoing bonus opportunities or educational resources available on the website, aside from demo accounts. If one needs to contact an agent, it's possible to reach out through several contact methods, although support hours are not listed.
This broker would be a good option for anyone that is commonly located in a restricted country since the company allows anyone old enough to sign-up for an account. Overall, we do see the broker upholding some of their advertised advantages, although one would need to weigh those against the disadvantages when deciding whether to open an account.