VT Markets is a brand of Vantage International Group Limited, under a Vantage Global Prime Pty Ltd company regulated by ASIC. This group also has VantageFX and KlimexCM brands under their control. VantageFX is much more popular than newly established VT Markets and this is an attempt to get around more restrictive ASIC regulation for overseas operations. This caused Vantage International to open different brands under different regulators like the Cayman Islands Monetary Authority (CIMA).
VT Markets internationally are regulated by this authority yet also regulated by ASIC for Australia clients. VT Markets is a kind of an extension of VantageFX to Asia-pacific region setting targets to China, Thailand, Malaysia, and Singapore markets. Although still new and unpopular, judging by other brands, this broker has a solid set up to bring quality service to traders, developed IT solutions and structure for features, and a good business model for sustainability. We will research each section to see what makes VT Markets stand out.
Account Types
VT Markets offers VIP ECN Account and Standard STP (Straight Through Processing) Account. The VIP Account is still not available and as to when will more options come online is unknown. It is said that traders will have a lot of account types to choose from, based on their trading style. Unfortunately, it is just one – Standard STP for now. This account encompasses all the styles, EAs, scalping, hedging, news trading, all allowed. The opening process is simplified, primarily oriented to Asian clients, where VT Markets is focused on. This is a Metatrader 4 platform only account, no commissions, with low spreads.

VT Markets put a lot of effort to connect with as many liquidity providers as possible to get the best spreads but also fast executions. Over 13 large and well-known LPs are listed, among them, JP Morgan, Bank Of America, Barclays, Citi Bank, Deutsche Bank, and more are connected via oneZero Financial Systems company's MT4 Liquidity Hub. This is one of the leading choices brokers worldwide decide to implement for connection to liquidity providers. The MT5 platform accounts will be possible in the future and it is one of the VT Markets objectives. In the next sections, we will test the technology this broker speaks about and if it holds to the words on the transparent and informative website.
Platforms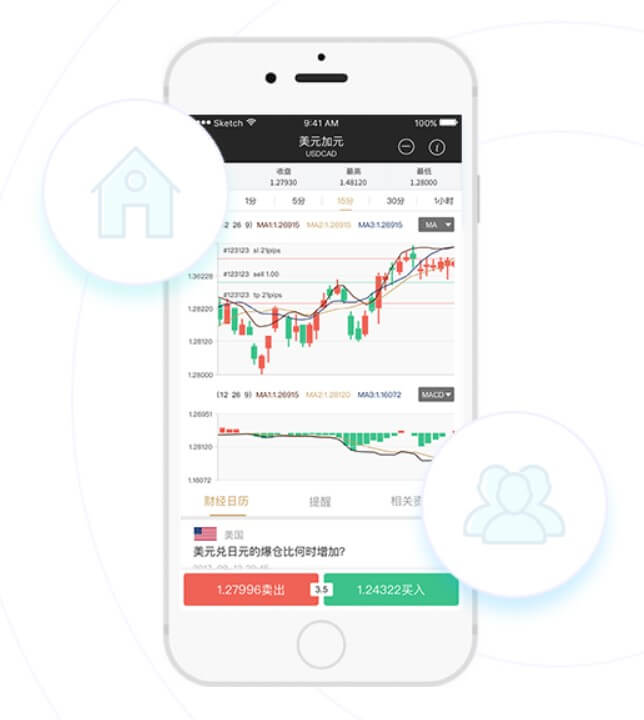 As already mentioned above, Metatrader 4 is the only available platform available in all of its iterations for desktop and smart devices. MT4 web is also set up for those that do not want to install anything. The MT5 is announced to be adopted as Metaquotes slowly develops the support for that platform, although many brokers have adopted MT5 a long time ago. VT Markets MT4 is in default settings, latest build, pinging to the North Virginia server in 1.15ms, although the first issue we have noticed is the black, waiting for update chart on USD/CHF currency pair. The reason behind this is that the normally quoted-pair is called USD/CHF-VIP instead. We assume this is because of VT Markets preparation for the VIP ECN Account package, yet, this pair is not exotic in any way.
Whatsoever, almost all of the Forex pairs have the VIP suffix, leaving us confused about VT Markets decisions on account types range. The execution times are above 200ms mark averaging 250ms showing mostly slower executions times compared to other brokers, especially concerning STP ECN types where VT Markets belong. Whatsmore, the Take Profit order we have set on AUD/JPY pair has not executed when reached for unknown reasons.
VT Markets also features its App for mobiles but not available from Google Play Store or Apple. The app is all in the Chinese language and it is specifically designed for that region, where English is not well adopted. The App features K chart, Stop Loss/Take Profit orders, alarm module, data analysis and reporting system, Forex forum and social elements.
Leverage
VT markets feature 1:400 leverage on the Standard STP accounts. Of course, this is valid for Forex, the leverage will vary from asset to asset. Metals leverage is 1:100, Commodities 1:50. Generally, this leverage is high comparing to other brokers allowing small deposits a high-risk breakthrough to thousands. Even for Gold 1:100 leverage is very attractive. Indicies leverage is also 1:100.
Trade Sizes
Trading sizes are optimal, starting from micro-lots minimum order size (0.01 lot) to 50 lots for Forex. Volume steps are also in micro-lots allowing full precision in trading and flexible money management. Stop Gold follows the same levels, up to 50 lots maximum and Silver up to 25 lots. Stops level is at 20 points.
Trading Costs
VT Markets will not charge conversion fees, commission or any other fees related to trading. Apart from spreads, swaps are the only type of cost traders will face when trading. The swaps are all under normal levels and it is common to see positive values on many instruments. In fact, we had trouble finding a Forex pair without a positive swap on one side. EUR/USD has -10.57 and +6.62 points on the short side, GBP/JPY +3.08 long swap and -6.33 short, AUD/NZD has +0.08 on long and -0.99 points on the short overnight swap. For sure, this is a good sign for traders that the broker is not obsessive with profits even though swaps are marginal costs.
Assets
This category is probably the weakest point of VT Markets. There is a bit of everything for all sets and we are not sure if some instruments are available for VIP ECN Accounts only as their name suffix implies. Forex has a total of 38 currency pairs are on the list with the VIP suffix. Without the VIP mark, there are just 5, EUR/USD, AUD/USD, USD/JPY, GBP/USD and a pair that is more interesting for the Asia-Pacific zone – USD/HKD. For anyone looking for exotics, SGD is present across all major pairs like SGD/JPY, NZD/SGD, etc. Some Scandinavian currencies and TRY are listed, giving enough instruments for classic Forex traders.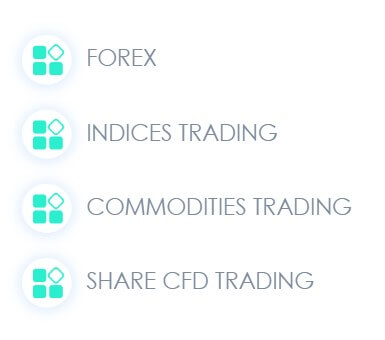 Precious metals range is different than what is announced on the VT Markets website. Namely, Palladium and Platinum are not listed in the MT4 platform. Spot Gold, Silver and Copper are available though, but taking into account that Silver and Gold move almost in sync, metal traders will not have another asset to diversify. 
Indicies range is good, covering all the majors and as expected, more indices specific for the Asia-pacific zone. A total of 15 indices counting the VIX and US Dollar Index are on the MT4 platform. APAC zone traders would like the ASX SPI200, Hang Seng Index, China 50, ES35, and Nikkei 225 index. 
The commodity offer is better than average in the industry. A total of 10 commodities are tradeable as CFD. Including Orange Juice, Cotton, Cocoa, Sugar, and Coffee. Energies set is also extended and traders can find WTI, Brent Oil, Natural Gas, Heating oil, Low Sulphur Gasoil, and Gasoline. If we could pick a broker type based on the asset offered, VT Markets would certainly be a commodity broker.
Shares offer range is good, although it is also oriented towards the APAC zone traders. The shares range is equally divided into US and HK companies with over 100 total listed. The biggest from both sets are selected including banks, oil and tech giants many are familiar with. We do not see any VIP suffix here meaning that shares are open for all account types. Traders that want to trade companies not listed elsewhere will probably find them with VT Markets if it is in the Asia-Pacific region.
Spreads
Like with some other ECN STP brokers, VT Markets also states spreads from 0.0 pips. This is not correct and by our estimation, the minimum variable spread recorded was 1.1 pips. That spread is for EUR/USD currency pair although it is surprising that the spread did not go over 3 pips for any other pair. For example, AUD/SGD is 2 pips, SGD/JPY 1.5 pips, and even GBP/JPY is 2 pips. The biggest spread was for GBP/HKD pair at 31 points which are good for their Average Daily Range. Both Silver and Gold had spread of around 3 pips and Oil around 4. Looking at other assets we can conclude that the spreads are not the best, certainly not form 0.0 pips but very even and competitive. 
Minimum Deposit
This amount is very obscure and is hard to find. What we could get from the support and the Product Disclosure Statement is that the minimum is 200 AUD or equivalent. VT Markets describe themselves transparent, and with most of the information, this is truly making us wonder why the minimum is not published on the website. 
Deposit Methods & Costs
Depending on the jurisdiction and where the trader comes from, the deposit methods will vary although all will be listed from the VT Markets client portal. All the possible methods are Bank Wire, VISA, MasterCard, BPAY, Neteller, Poli, and Skrill. VT Markets does not charge fees for deposits and the costs may arise from the client's bank or payment service.

Withdrawal Methods & Costs
In accordance with AML, VT Markets will do all reporting relevant transactions to AUSTRAC and process the withdrawal using the methods listed in the client's portal available from the website. There are no fees except the fees associated with the currency conversion and the client's bank.
Withdrawal Processing & Wait Time
Banks transfers that are local in Australia will be finished in 2 days. International transfers will take up to 7 days. E-wallet and Credit/Debit Card are usually instant. Withdrawal processing time for VT Markets is 1 business day.
Bonuses & Promotions
VT Markets has a rebate scheme that is directly credited to the MT4 platform on a daily basis. Now this rebate program is available for the Standard STP Account although what amounts are in question is undisclosed. VT Markets has bonus promotions from time to time and mostly targeted for Chinese clients. We have found a $100 bonus for new deposits program in 2018, as per bonus requirements, traders only had to trade 2 lots to claim the bonus. For now, no bonuses are offered.
Educational & Trading Tools
VT Markets does not have any education material or at least not at the moment of writing this review. It is stated on the website that" a plethora of content under both the News and Education menu tabs." These tabs do not exist yet. On the other hand, VT Markets have a Tools section with a few different products. MT4 Smart Trader Tools is a package of additional apps that could be inserted into the Metatrader 4 platform. The exact content of this package is not disclosed, the page reserved for this product is not yet complete. 
EAs are supported and encouraged. MT4 is the main base for new EAs and from the description on the VT Markets website, VPS service is available for free. Still the "VPS page" is mentioned but nowhere to be found. For now, clients will have to check with the support for this service.

Trading Central signal service is offered and sent by email to live clients. MT4 signals are also described that come with Metaquotes by default. The signals that come from Trading Central are not deeply described just the statement that TV Markets are not responsible for any losses made from using the signals.
The economic calendar page is created and contains the classic Metaquotes calendar. This calendar is basic in features without any kind of filters. The events are described well with the addition of a chart of historic levels. The impact of an event is marked as well as expected values. There is nothing special about this calendar. 
Customer Service
VT Markets customer support is available through phone, email, and chat. The broker boasts about "24h award-winning support", this is not what we have encountered. The chat is offline and the email response takes longer than 24 hours. Yet we are certain that the support staff is well trained to answer all the questions and concerns.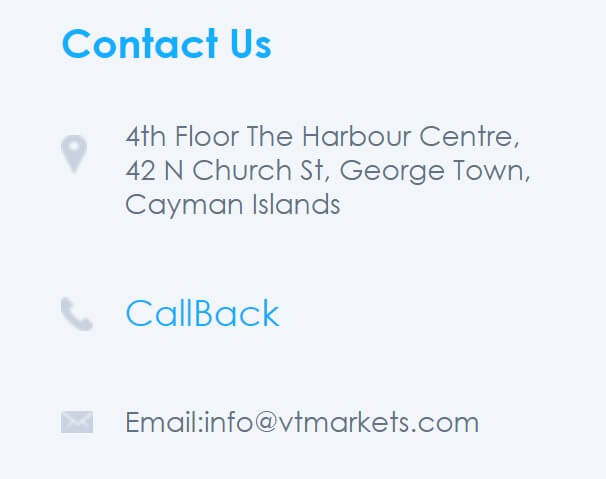 Demo Account
The demo account is easy to make with an email confirmation process. It is limited to 90 days and reflects the actual trading environment. In the legal documents, it is stated that the real account might be different from the demo. As this account is available with the desktop MT4 version, bot EAs and the Trading Central signal service can be tried out.
Countries Accepted
VT Markets legal documents state Japan, United States, and North Korea are not available for their services. We also know that other countries do not allow trading or fall under high-risk jurisdiction according to The Financial Action Task Force (FATF).
Conclusion
TV Markets is an extension brand for adapted for the APAC region and shares the same legal documents with VantageFX, another brand under the Vantage Global Prime company. The structure of this group is distributed to cover all possible clients across the globe and features of a competitive broker. This way, VT Markets has two regulations CIMA and ASIC. Only clients from Australia will be under the ASIC, all other global coverage comes under the CIMA as stated in the legal documents.
Another key point traders should know is that VT Markets is closely working with Hong Kong, the mobile app is available only in Chinese and via the installable APK android package. Traders will probably have conditions with VantageFX as VT Markets feels specialized. Furthermore, this broker has still an unfinished website, packages, tools, and education material that is mentioned. On the other hand, This broker can be a good choice for APAC clients in the future. We also encourage the transparency and efforts to bring additional value to traders, no restrictions on any kind of trading style and EAs support.