Hamilton Club is a forex and CFD broker that is located in Saint Vincent & the Grenadines. On their website, the company explains that they have had more than ten years of experience in the Forex market and that their attractive trading conditions have helped them to form a large client base. The broker also takes credit for helping their clients earn 2.5 million daily and has earned awards, both for being innovative and for Best Russian Broker 2018. After investigating, our research revealed that this broker is ideal for one specific type of trader. Keep reading to find out if you belong in that category, or if you should continue looking elsewhere.
Account Types
In total, Hamilton offers four different account types, with the choices being Standard Micro, Standard, Professional Micro, and Professional accounts. This broker assigns status levels to each account type, based on a certain deposit minimum that is made. Status levels range from the default Silver and top out at Diamond status. So, for example, the most basic account would be a Silver Standard account, while a Diamond Professional account would be the account type with the lowest trading costs, but we will explain how costs are affected in more detail later.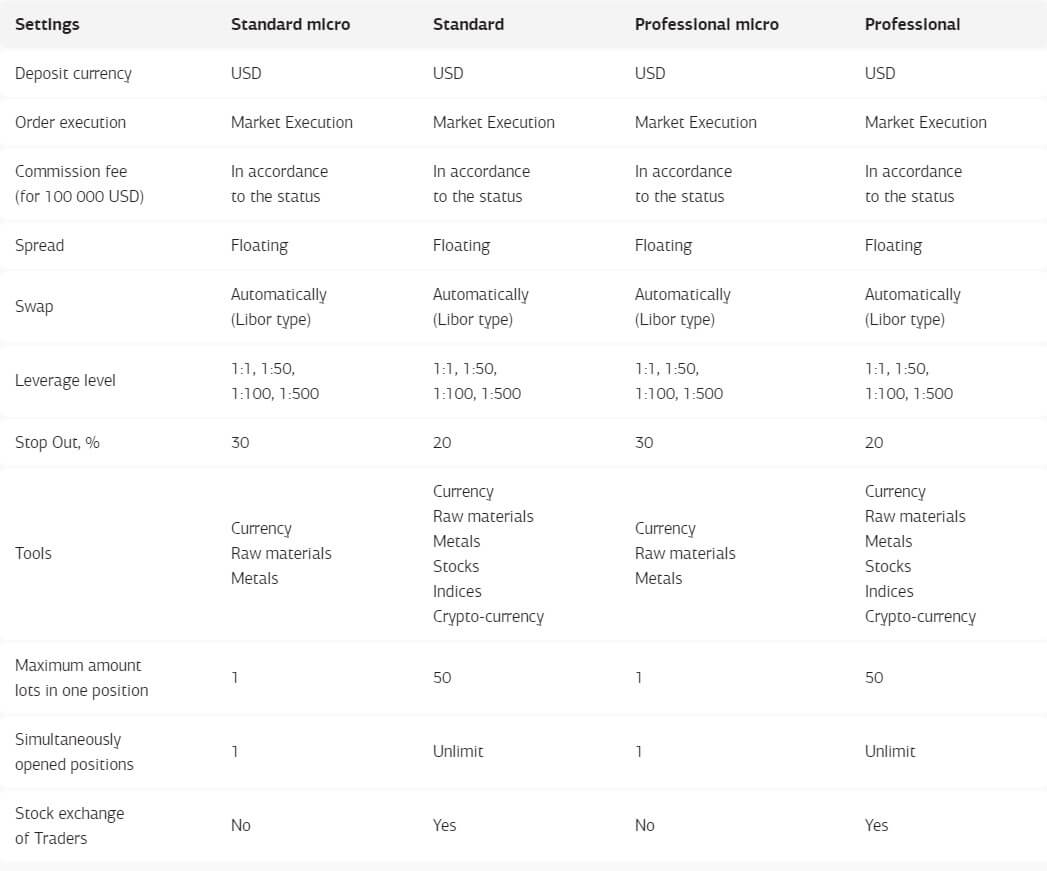 One of the main differences for the account types would be that the Micro account options both offer trading on currency pairs, raw materials, and metals. Meanwhile, both of the main account types offer trading on currency pairs, raw materials, metals, stocks, indices, and cryptocurrencies. The Professional account types offer lower spreads and commissions than those available on the Standard accounts, but exact details differ, based on the status level we mentioned earlier. The accounts share the same leverage options.
Platform
Like many of their competitors, this broker exclusively features the MetaTrader 4 platform as their sole trading platform. Allow us to catch you up to speed if you aren't already aware of what this trading platform offers. Many traders would point out the easy to use, customizable user-interface as a clear advantage to choosing this platform, while others would mention the built-in programming language, which allows one to create your own advisors and indicators. MT4 also comes with many built-in tools, technical indicators, analytical objects, and more.
The platform is highly accessible, so traders should have no problem accessing it from anywhere, even on the go. The program can be downloaded on PC, Mac, iOS, and Android. Keep in mind that this also means you can access MT4 from your smartphone, tablet, or any other device that supports the App Store or Google Play. To access the download links, you can select the 'Trading Platform' from the website's main menu.
Leverage
Regardless of which account type you choose, you'll have access to the same leverage options, starting from 1:1 and including 1:50, 1:100, and the highest option, 1:500. Generally, many professional traders feel that choosing leverage of around 1:100 is ideal. However, those that enjoy high-risk, high-reward trading prefer high leverages, so the 1:500 option would be perfect. Overall, this broker is offering an excellent selection of leverages, including the most ideal option, and an option that is high above average. Whatever your situation is, you should be satisfied with these choices.

Trade Sizes
The smallest allowed trade size would be one micro lot on all account types. Micro accounts limit the maximum trade size to 1 lot, while there is a limit of 50 lots on the other account types. Also, only one open position is allowed on the Micro accounts, but there is an unlimited amount offered on the main account types. Therefore, you'll want to avoid Micro accounts if you prefer a larger trading volume and opening multiple positions at once. The stop-out level is set at 30% on Micro accounts and 20% on the main account types.
Trading Costs
On the website, one can use an interactive chart that shows what type of commission would be charged. First, you would choose a status level: Silver is the default, then there is Gold, Platinum, and Diamond. Next, you would choose an account type, with the options being Standard + Standard Micro and Professional + Professional Micro. Finally, you can select an instrument from a drop-down list in order to view the applicable commissions and spreads. From what we learned, opening a Professional account, including the Mini version, grants commission charges that are always 0.002% lower than those charged on the Standard account types. Below, we have provided some examples for different scenarios, but you can also use this chart to compare the results yourself.
Silver Status: 0.013% for the majority of instruments on Standard account types, going as high as 0.16%; conditions are always 0.002% lower on each asset for the Professional account types. (Default)
Gold Status: 0.011% for the majority of instruments on Standard account types, going as high as 0.14%; conditions are typically 0.002% lower on each asset for the Professional account types. (Requires a $10,000 deposit)
Platinum Status: 0.09% for the majority of instruments on Standard account types, going as high as 0.12%; conditions are typically 0.002% lower, or more, on the Professional account types. (Requires $50,000 deposit)
Diamond Status: 0.007% for the majority of instruments on Standard account types, going as high as 0.1%; conditions are typically 0.002% lower on the Professional account types.
In addition to the applicable commission charges, one should be prepared to pay rollover interest on any positions that are held overnight.
Assets
The Micro account versions of the Standard and Professional account types offer the least variety of tradable instruments, with options bring limited to currency pairs, raw materials, and metals. The Standard and Professional account types offer trading on all of these options, including a larger variety of metals, stocks, indices, and cryptocurrencies. The website doesn't offer more specific information on the assets in each category, so we cannot go into further detail about each category.
Spreads
Remember earlier, when we explained how the interactive chart on the website can be used to view commission charges? The same exact chart can be used to gain examples of spreads. However, the differences in the spread on each account status and account type vary more greatly. From what we learned, it seems that each status level affects the spreads, as well as whether the account is Standard or Professional. Of course, the spreads are highest on the Silver account status and are best on the Diamond status.
The Professional account types also seem to offer spreads that are significantly lower than those offered on the Standard account types. It seems that spreads are higher than average on all of the Standard account options, but can be lower than average on all of the Professional account types. Comparing all of the options can be exhausting, so we provided an example using the AUD/CAD currency pair below. Note that spreads are floating. If you'd like, you can use the interactive chart by choosing 'Trade on Forex' under 'Products and Services'.
The spread on AUD/CAD is 2.5 pips on the Silver status Standard account types. On the Professional account types of the same status, the spread is 1.2 pips. On the same asset type, the spread is 2.3 pips on the Gold Standard accounts and from 1 pip on the Professional account types. The same asset type has spreads starting from 2.1 pips on the Platinum Standard accounts and from 0.8 pips on the Professional account types. The best status level, Diamond, offers spreads from 1.9 pips on the Standard account types and from 0.6 pips on the Professional account types.
Minimum Deposit
All account types are automatically assigned the Silver status level, which doesn't seem to require a minimum deposit. To earn the Gold account status, you'll need to make a deposit of $10,000. The next best account would be the Platinum status level, with a minimum deposit of $50,000. The very best status would be Diamond. A $100,000 deposit is required to earn this title, so acquiring this status level will be beyond many trader's reach. As we explained earlier, this broker offers the very best conditions to those that can afford the higher deposits. This isn't uncommon in the Forex world, but we wish that it was more realistic for an average trader to afford one of the better two account types.
Funding
This broker does not offer much information about their funding methods and procedures. We do know that MNP, Visa/MasterCard, WebMoney, Qiwi, and Rhaekc are all listed on the website, so we assume that these are the methods currently offered for funding and withdrawing. The website doesn't offer details until your account has been approved, so we can't say much more from there. The best advice for this situation would be to be prepared in case there are any withdrawal fees and to try to request withdrawals in advance of when you'll actually need the funds. Otherwise, you could reach out to support for more information.
Bonuses & Promotions
All promotional offers are valid on all account types. Terms and conditions apply to all of the options, but those details are not available on the website, so be sure to contact your account manager to ask for the details. Keep in mind that there are likely conditions, like a certain deposit requirement to apply for a bonus, limits on when the client can withdraw funds, etc. that you'll want to consider if you'd like to qualify for any of these offers. All opportunities have been listed below.
-Deposit Bonus: Get an additional 25%-100% added to your trading account, based on your deposit amount. The broker applies status levels to each deposit amount and the status level determines how much of a deposit is needed. Note that these status levels are given different names that the main status levels, and really only matter with regards to this section. The levels are as follows:
VIP White: $10,000 deposit = 25% bonus
VIP Blue: $50,000 deposit = 50% bonus
VIP Black: $100,000 deposit = 100% bonus

-Trade After Pay: Begin trading for bonus funds and the company will provide 10 days to replenish the funds.
-Commission Compensation: Broker will refund two times the amount paid in commission fees directly to the client's trading account.
-Interest on Deposit: Earn 1-2% per month on your deposit, adding up to a total of 12%-24% paid back in interest. Note that 12% interest is paid back for VIP White status, 50% for VIP Blue status, and up to 24% for VIP Black status.
Educational & Trading Tools
We'll start by highlighting the educational opportunities available on the company's website. First, there are free 14-day Forex courses that are aimed towards providing one with enough knowledge to be prepared for trading. The company offers a Basic, Advanced, and Professional course, so these can be beneficial for traders of all different skill levels. In addition, you'll find a Forex Glossary, which is filled with helpful definitions. All of the technical tools include Copy Trading, Analytical Research, an Event Calendar, Trading Forecasts, AutoChartist, Prime News, Macroeconomic Indicators, and FxWirePro.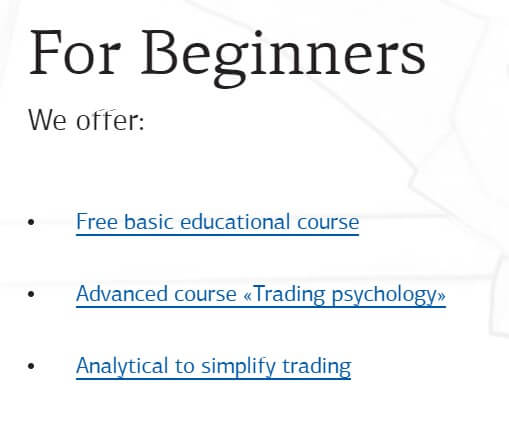 The latter is a professional information service that allows you to receive the actual stream of news from the financial markets directly. Copy Trading provides the ability to choose for your account to automatically copy the trades of a selected professional trader. This could be a golden opportunity for those that don't have much knowledge, although you may want to test this feature with caution, just to be sure that your chosen trader really knows what they're doing.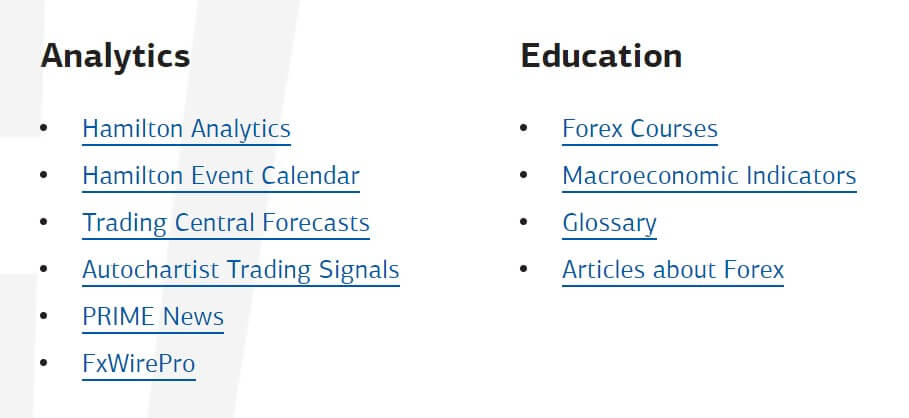 Demo Account
Considering the fact that the website does not mention demo accounts and we could not find anywhere to sign up, we must conclude that this broker simply doesn't offer the ability to open practice accounts. Sadly, these account types can be extremely beneficial for those that need experience trading. This isn't enough of a reason to choose another broker, but we do wish this broker would add these account types in the future.
Customer Service
Hamilton provides customer support 7 days a week via email, phone, ticket, or social media. All clients will use the same email address to contact support, but there are multiple phone numbers listed, so you'll need to use the best one based on your location. A ticket can also be created by choosing 'Questions' under 'Support' when logged into your account. This broker is also active on social media and updates their Facebook regularly. Support can be messaged directly via Telegram as well. All contact information, including links to social media accounts, have been listed below.
Email: support@hamilton.club
Phone:
United Kingdom: +44 (8000) 698-465
United States: +1 (888) 718-65-94
Canada: +1 (888) 718-65-94
Russia: +7 (800) 200-00-51
Mexico: +52 (800) 269-44-52
France: +33 (805) 0-888-59
Japan: +81 (120) 963-036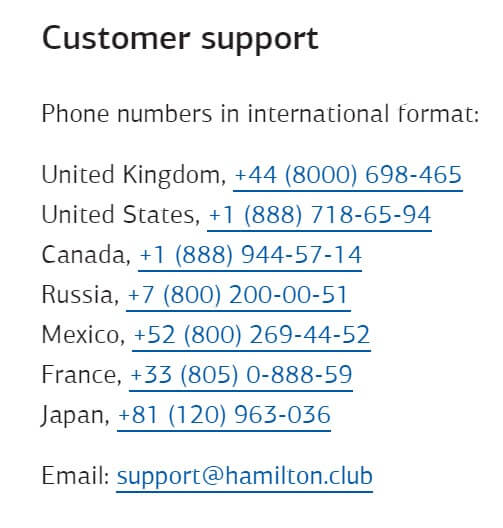 Address: First Floor, First St. Vincent Bank Building, James Street, Kingstown, St. Vincent & the Grenadines.
Social Media:
VK: vk.com/hamiltonclub
Facebook: Facebook.com/hamilton-club-480213925679638
Ok: Ok.ru/group58415991160893
Telegram: t.me/HamiltonResearch_bot
Countries Accepted
Hamilton Club's convenient location in St. Vincent & the Grenadines makes it possible for them to provide less restrictive rules. Therefore, all countries appear to be accepted. We were especially happy to note that the United States is included in this list, and the company even provides a direct phone line to clients located in the US.
Conclusion
Hamilton Club is a forex and CFD broker that offers trading on various assets, including cryptocurrencies, on four different account types. Some of the highlights would be the flexible leverage offers on all account types, the fact that clients from all locations are accepted, and the great educational offers and trading tools available. However, the best trading conditions are reserved for the clients that can make larger deposits. Another downside would be the lack of information on the site about funding.

This broker definitely rewards those that afford to make larger deposits. If you can afford the $10,000-$50,000 deposit requirement that grants a better account status level, then you'll have access to the very best trading costs. Otherwise, you may have a harder time profiting under the conditions on the most basic account types. This is an excellent broker for those that are more established, but we are always looking for advantages for the underdogs.