Tickmill Ltd is a non-dealing desk Forex broker that is regulated by the Seychelles Financial Services Authority (FAS) and is therefore required to hold client funds in segregated accounts. The company offers high-leverage trading on FX, Metals, Indices, Oil, and Bonds from three different account types. Tickmill claims to be built by traders, for traders, and its experts have experience in the market that dates back to the 80s. This broker has also won several awards every year for its transparency, execution, trading conditions, and more. Stay with us to find out more.
Account Types
This broker offers three different account types; Classic, Pro and VIP. In addition to the three primary account types, Islamic accounts and demo accounts are also available. Accounts share the same leverages, tradable instruments, and trade sizes. Conditions differ when it comes to spreads and commission fees, so the main difference would be the way one pays trading costs. All account holders are eligible to participate in promotional opportunities. We've outlined some of the more important details below.
Classic Account
Minimum Deposit: $100
Leverage: Up to 1:500
Spreads: 1.6 pips
Commissions: Zero
Pro Account
Minimum Deposit: $100
Leverage: Up to 1:500
Spreads: 0.0 pips
Commissions: 2 per side per 100,000 traded
VIP Account
Minimum Deposit: Above $50,000
Leverage: Up to 1:500
Spreads: 0.0 pips
Commissions: 1 per side per 100,000 traded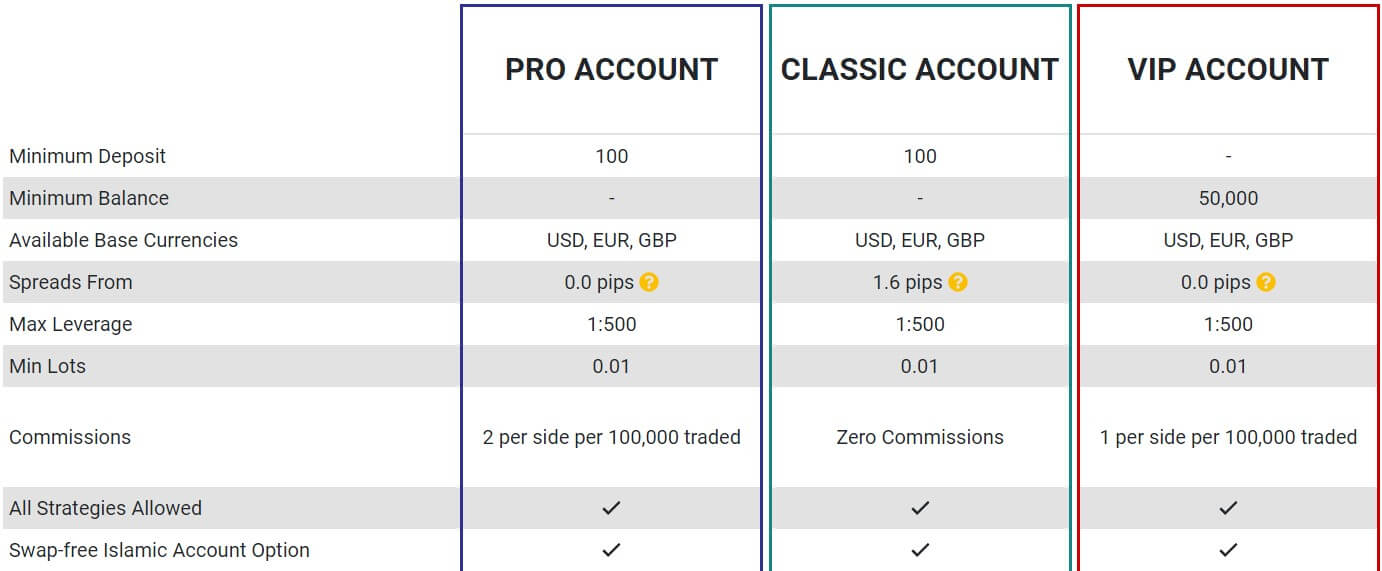 Islamic Account: These accounts are available for all three live accounts and offer the same exact trading conditions and terms, except that there is no swap charged on trading instruments. Instead, the broker charges a handling fee for holding exotic currency pairs overnight for more than three consecutive nights. Traders would need to sign up for a regular account of the type of their choosing and then contact support in order to have the account converted within one business day.
In order to register an account, potential clients must submit a Proof of Identity (POI) and Proof of Address (POA) document. The broker does not specify how long it can take to review these documents.
Platform
This broker features the MetaTrader 4 Terminal as their sole trading platform. MT4 is widely recognized as the world's best trading platform and features an easy-to-use interface, enhanced charting functionality, more than 50 indicators, and supports the use of expert advisors. Using MT4 with this broker also means one would have access to an advanced notification system and execution times of 0.15 seconds. The platform can be downloaded on PC, Mac, Android, or iOS devices. WebTrader is also available and is simply a browser-based version of the program that can be accessed more conveniently, should one not have the time or ability to download the platform.

Leverage
Leverage options range from 1:1, which means trading with the available account balance, up to 1:500. The leverage cap is offered on all account types, so there is no need to compare it on that basis. However, there is a limitation when trading Silver that makes the leverage 4 times lower than the set leverage on the account. For example, if the account's leverage was set to 1:500, then the leverage for Silver would be 1:125. Gold can be traded with the highest leverage cap. The leverage cap on Indices, Oil, and Bonds is limited to 1:100. Also, note that 1:500 is the default leverage amount. If you're a beginner or if you don't have a lot of funds to risk, we recommend choosing an option that is lower than the default amount.
Trade Sizes
All accounts require a minimum trade size of at least 0.01 lots, otherwise known as one micro lot. Once your account net equity drops below 100% of the initial margin required to establish open positions, MT4 changes color to red to indicate that you are close to margin call. Once your account net equity drops below 30% of the margin requirements, the system will begin closing trades out one by one.
Trading Costs
Tickmill charges commissions, spreads, and swaps.
Commissions: Classic account holders will not have to pay any commission fees. On Pro accounts, commissions are charged at 2 currency units per side per lot. VIP accounts offer a lower 1 currency unit per side per lot.
Spreads: Spreads are not fixed and start from 0.0 pips on Pro and VIP accounts. Classic account holders will have access to spreads that start from 1.6 pips.
Swaps: Swap rates are applied at 00:00 platform time. Triple swap charges apply for positions on FX pairs, Silver and Gold that are held overnight on Wednesday. For the rest of the instruments, triple swap charges apply for positions that are held overnight on Friday. These swaps cover the interest for Saturday and Sunday when the markets are closed.
All swaps are based on the quote currency. The company offers updated information on their swaps under 'Trading' > 'Spreads & Swaps' and recommends clients check the swap rates on a regular basis. Rates can also be checked within the MT4 platform.
Assets
This broker offers 80 plus tradable instruments, including Forex, 14 Stock Indices and Oil, precious Metals, and Bonds. Forex options are made up of 60 currency pairs, including majors and minors. Metal options include Gold and Silver. Bonds are limited to German options only. As a whole, the company does offer a few options, but we'd love to see some more commodities and maybe even cryptocurrencies featured here. For some, this won't be something that is missed, but others may feel that the instruments are a bit restrictive.
Spreads
The very best spreads start from 0.0 pips and are available on Pro and VIP accounts. You can't go lower than this, although you should expect to see the spreads climb higher. Spreads are not fixed with this broker and the broker seems to advertise the minimum spreads, while typical spreads are higher. Spreads start from 1.6 pips on the Classic account type. This would put the spreads as being slightly above average, although one should remember that there are no commissions charged on this account type, meaning that trading costs are built-into the spread. The website also states that spreads can widen substantially at market opening and closing times, so be sure to keep this in mind.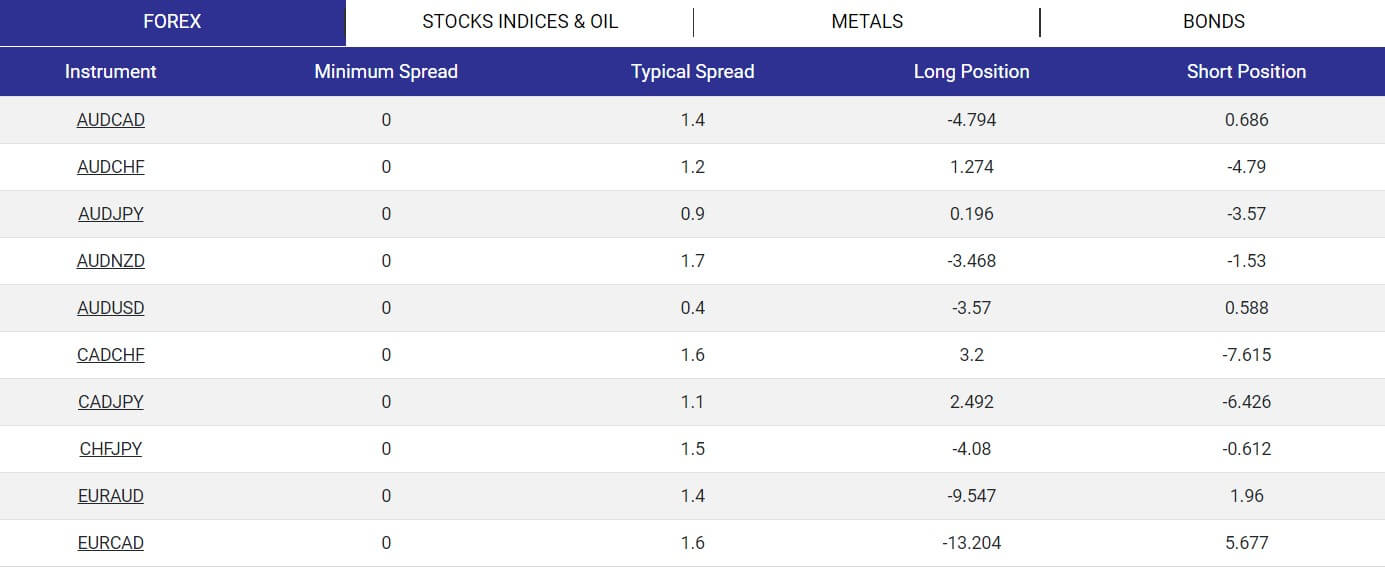 Minimum Deposit
There is a standard $100 deposit requirement on Classic and Pro accounts. It's always nice to see lower options for beginners, but this amount shouldn't be too intimidating. A plus side would be the fact that both accounts require this deposit, so one would not need to come up with a larger amount if they'd prefer a Pro account. As for the VIP account, clients must maintain a minimum balance of $50,000. This would mean that traders would need to deposit a larger amount in order to trade while maintaining the required balance. The VIP account would, of course, be more suited for more professional traders that have the capital, so novice traders will want to stick with either a Classic or Pro account for a while.
Deposit Methods & Costs
Available deposit methods include Visa/MasterCard, Bank Transfer, Skrill, Neteller, SticPay, FasaPay, UnionPay, Nganluong, and QIWI. The broker covers any bank charges on deposits on deposits of at least $5,000, but clients making smaller deposits through Bank Transfer will be required to cover any banking charges. All of the other methods are fee-free. Most deposits are credited instantly, although there is a waiting period of up to one business day on Bank Transfers and 1-2 hours for UnionPay.

Withdrawal Methods & Costs
Tickmill only processes withdrawals back to the original form of payment and clients can then choose to withdraw any extra profits through their method of choice. All of the deposit methods are available for these withdrawals. This broker does not charge commission fees on withdrawals through any method. All of the withdrawal methods do require a $20-25 minimum amount to be withdrawn.
Withdrawal Processing & Wait Time
The broker processes all withdrawals within one working day (Mon-Fri), but the actual amount of time it can take to receive those funds varies. Skrill, Neteller, SticPay, FasaPay, and QIWI are all available instantly once processed. It can take 2-7 working days to receive Bank Transfers and 8 working days to receive payments back to Visa or MasterCard. UnionPay is credited within 48 hours and it can take one working day to receive Nganluong payments.
Bonuses & Promotions
Currently, this broker is running three different promotional opportunities; Trader of the Month, Tickmill's NFP Machine, and $30 Welcome Account. Each offer is completely different, so we have provided an overview and some of the most important terms for each below.
Trader of the Month: Each month, the broker rewards the best trader with a $1,000 withdrawable cash prize. When deciding the winner, the broker accounts for good profit and money and risk management skills. Participation is automatic, so there is no need to sign-up for the offer. Note that minimum equity of $500 is required to qualify. The promotion begins on the first day of each month and ends on the last day. Winners are announced within 15 days of the next month. You can also view all previous winners on the Wall of Fame on the website.
Tickmill's NFP Machine: The object of the game is to guess the price of a chosen instrument on the MT4 platform at 16:00. A perfect guess will bring $500 to one's trading account. If nobody guesses correctly, the closest predictor will be rewarded with a $200 prize. This promotion runs weekly, every Friday. Traders will need to submit trading account information along with their guess ahead of time.
$30 Welcome Account: This is offered for new clients that are interested in opening a live account with this broker. The account offers the ability to trade with $30 in free funds, with no need to make an initial deposit. The account is available for 90 days and has the same trading conditions as the broker's Pro account type. Up to $100 in profit can be transferred to a real account or withdrawn.
Educational & Trading Tools
As always, we were happy to see a multitude of educational resources available on the website. All traders have to start somewhere, so it's great to see brokers putting in an effort to help teach the newer generation of clients. This broker offers seminars, Ebooks, video tutorials, infographics, a forex glossary, fundamental analysis, technical analysis, articles, and market insight. Some of these options speak for themselves, but we do always like to take a more in-depth look at seminars and video tutorials since the information provided in those can vary so widely.
When it comes to seminars, this broker offers an updated list of all upcoming events, including dates and the ability to register. These events seem to be live, therefore it is unclear if one could live stream the seminar.
The website also provided pages upon pages full of educational videos, so it's safe to say that beginners should have access to everything they could need. In addition to all of their educational offerings, the broker also provides several tools on their website, all of which have been listed below.
-AutoChartist
-Myfxbook Copy Trading
-Economic Calendar
-Forex Calculators
-Tickmill VPS
-One-Click Trading
Demo Account
Along with the majority of its competitors, this broker is offering free demo accounts as a means of practice. It is not necessary to open a live account in order to access a demo, so anyone can take advantage of this opportunity. Registering for a demo account only takes a few minutes and requires a few personal details – name, email, phone, and country. This broker also offers more specialized options and there are demo accounts modeled after each of the broker's real accounts. Rather than being given a standard deposit amount, this broker allows clients to input any amount they'd like in virtual currency, so long as it is not below their standard deposit requirement of $100.
Clients can also choose from leverage options ranging from 1:1 up to 1:500. Note that demo accounts will expire after 7 days if there is no login activity. In our opinion, this broker is offering one of the better demo account options, due to the fact that they put so much effort into assuring that conditions are realistic. Traders could test demo accounts in several different ways with this broker, by testing different account types, leverages, deposit amounts, etc.
Customer Service
Tickmill's multilingual support team can be contacted through several different methods – LiveChat, phone, email, or by filling out a contact form on the website in order to receive an email or callback. Customer service is available from 7:00 to 20:00 GMT/GMT+1 during Daylight Savings Time. LiveChat or phone would be the quickest contact methods and support claims to respond to emails within 24 hours on business days.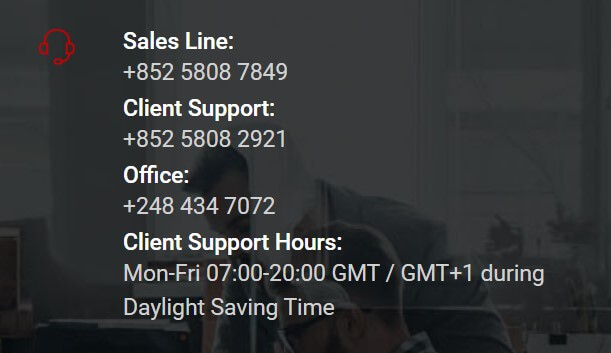 The company provides one email address and has three telephone lines for their office, client support, and sales lines. We tested out the LiveChat option and received a response from a real person instantly, making this our favorite contact method offered by this broker. You'll also find that the company is active on Facebook, Twitter, LinkedIn, YouTube, and Instagram. All contact information is listed below.
Email: support@tickmill.com
Phone:
Office: +248 434 7072
Client Support: +852 5808 2921
Sales: +852 5808 7849
Address: 3, F28-F29 Eden Plaza, Eden Island, Mahe, Seychelles
Countries Accepted
Being a highly regulated broker, we weren't surprised to see some stricter country restrictions. Our LiveChat agent informed us that the broker accepts clients from a list of certain countries. After asking what country we were located in, she quickly informed us that United States residents are not accepted. The US and all similar options are completely missing from the sign-up list, so the broker seems to take these limitations seriously. We didn't find any other specific country names that are also banned, but we recommend reaching out to support if your country is also missing from the sign-up list.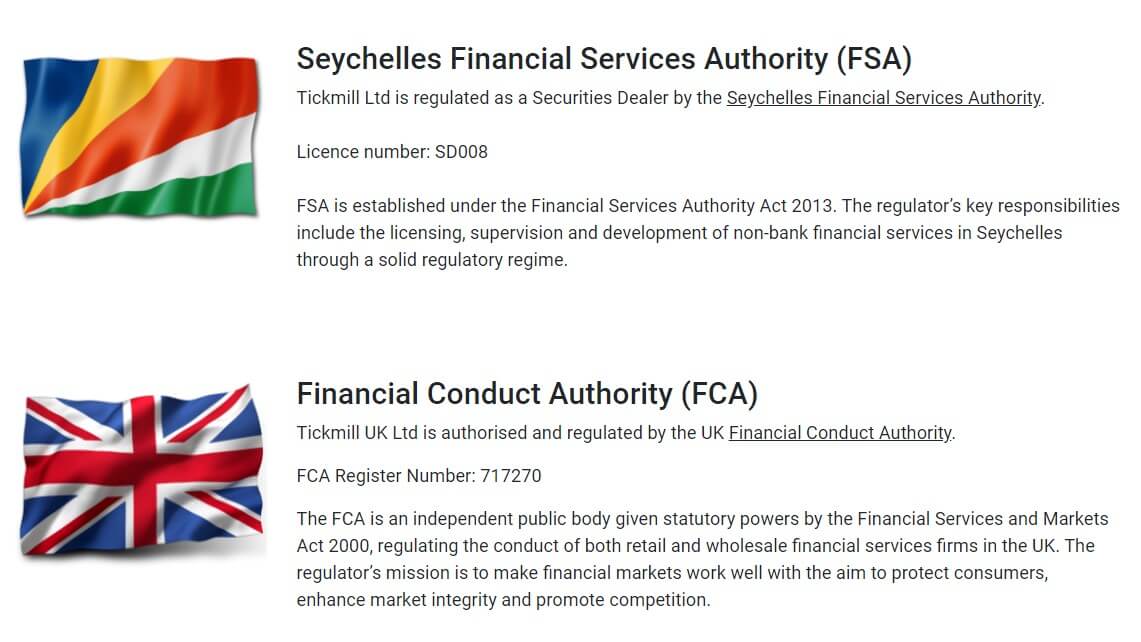 Conclusion
Tickmill is a regulated Forex broker that offers trading on FX, Metals, Indices, Oil, and Bonds via 3 different account types on the MetaTrader 4 platform. The Classic and Pro accounts require a minimum deposit of $100, while the VIP account needs to maintain a balance of $50,000. All accounts offer the same leverage options of up to 1:500. The Classic account is a commission-free option that offers spreads from 1.6 pips. The Pro and VIP accounts both offer spreads from 0.0 pips, but commission fees differ, with fees being lower on the VIP account type.

Accounts can be funded through several different methods with no fees on deposits or withdrawals. Customer support can be contacted easily and was quick to reply when we tested out the LiveChat option, although we would love to see longer support hours. There are also several educational resources on the website and specialized demo accounts are available. The broker has three running promotions at the moment, including one that allows clients to open an account with no deposit and a credited $30 for trading by the company. If you find these conditions to be advantageous, then this broker would certainly be a worthy choice.