Nord FX is regulated by CySEC and fully compliant with the MiFID. Their services are compatible with Meta Trader 4 and there are over 160 assets to trade. The website is well structured for easy navigation and there is 24/5 assistance for clients in the event of any questions or queries. It is slightly odd, and rare, to come across a broker brand which has a regulated and unregulated version for the same broker. This does, however, mean that potential clients can opt for either or, depending on their residency acceptance to either of the versions.

Account Types
Nord FX (EU) offers 4 account types to choose from Bronze, Silver, Gold, and Platinum. Nord FX.com offers different accounts (3), which is not regulated, but simply compliant with the Vanuatu Financial Service Commission (VFSC). For Nord FX (EU) The higher the account deposit, the higher the percentage on discounts you will be entitled to. The Bronze account has no discounts on fees applied, and also does not come with a dedicated personal account manager, whereas the Silver, Gold, and Platinum do.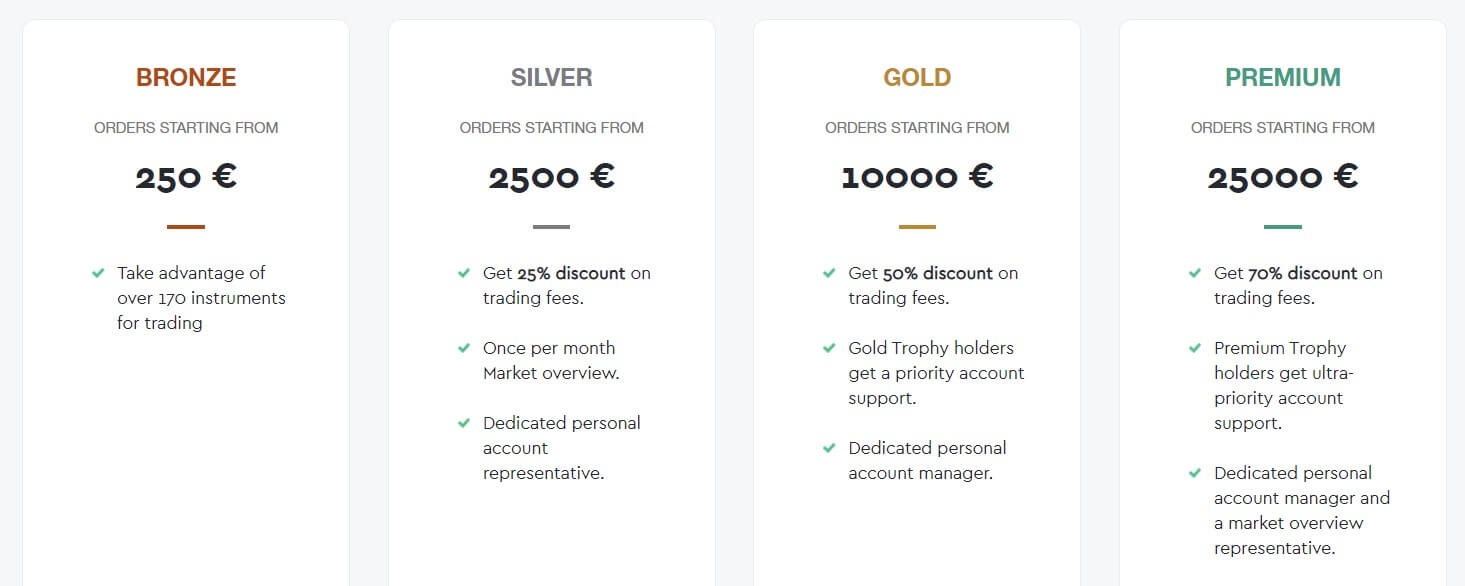 Platforms
Nord FX offers its services compatible with MetaTrader 4 (desktop, iOS/Android and tablets). MT4 is usually the preferred platform for most traders to date, and having the flexibility of being able to trade at home as well as on the go is definitely beneficial to many of us.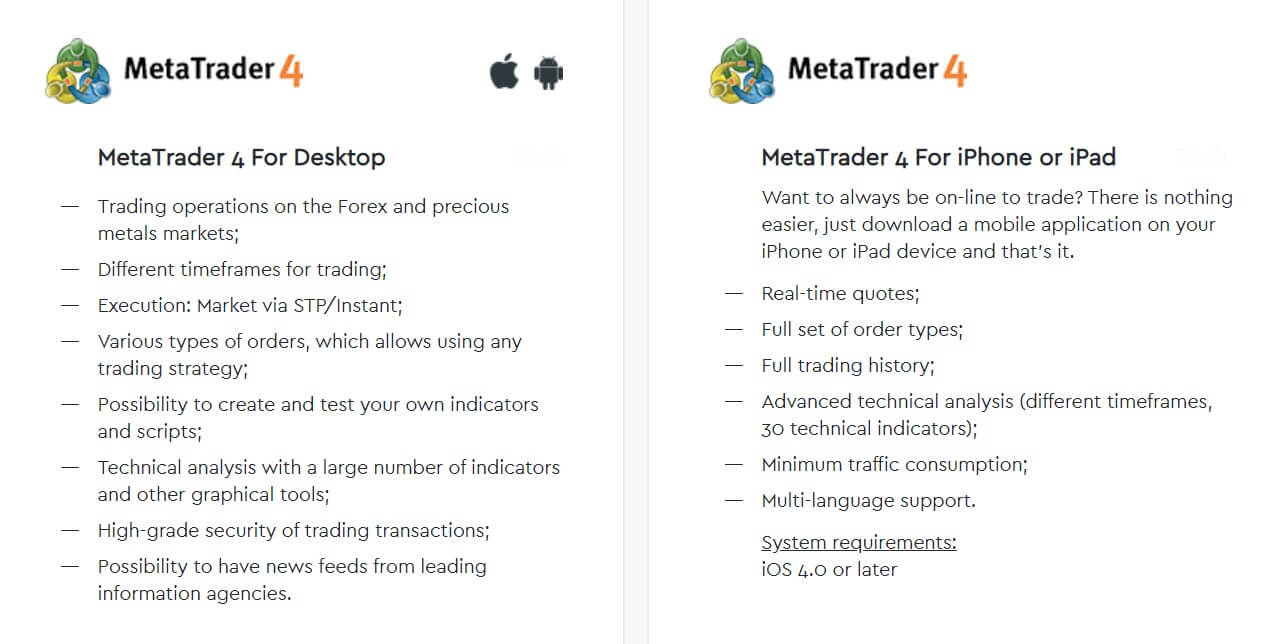 Leverage
Leverage options are not set out on the website so we spoke with the live chat support team to find out what leverage is available. We were advised that the maximum leverage for all clients, for the trading of ALL instruments, except for Cryptocurrencies, is 1:1000. However, this raised doubts as the footer of the website do state they are CySEC regulated, which, is an obvious indication that leverage caps should be a lot lower than that.
The Live Chat agent then sent an email contact to be contacted should one want a CySEC account. If not, the other account you would have is 'regulated' under the Financial Commission. This shed light on the fact that there are two versions of the brand- regulated and unregulated (Nordfxeu/com/ Nordfx.com) This means that potential clients can effectively choose whether they want to go with the regulated or unregulated brand, which then, of course, will mean the trading conditions vary significantly between the two.
Trade Sizes
Nord FX (EU) website does not state what the minimum and maximum trade sizes are, and when asking the customer support team, they could not disclose any information regarding Nord FX EU, but only Nordfx.com, for which they did not respond to, either. Be mindful that the two variations of the brand could have different minimum and maximum trade size requirements.

Trading Costs
Trading costs are not mentioned on the website, and even after a 48-hour wait after submitting an email ticket to the support team, no response was received. For this reason, we cannot comment on trade costs at this time but do bear in mind that commission and swap fees are likely to be applied.
Assets
With Nord FX EU it is unclear exactly what tradable assets are available as they are not set out on the website, but of course, once can open a demo to see the full list available, that would reflect the live account. At the same time, you could also check the spreads this way, too.
Spreads
Nord FX offers floating spreads, which start at 0.1 pips. Floating rather than fixed is usually what works well with many traders, and 0.01 is a competitive starting point. Live spreads are not displayed on the website however you do have the option to open a demo account to take a look at the spreads that are offered.
Minimum Deposit
The minimum deposits vary on the account type you choose, of which there are four:
Bronze: min deposit $250
Silver: min deposit $2,500
Gold: min deposit $10,000
Platinum: min deposit $25,000
Deposit Methods & Costs
With Nord FX, you may fund your account via the following methods:
Bank Card (visa/mastercard/UnionPay) – UnionPay has a 3.25% fee
Neteller – no fees
Skrill – no fees
Bank Transfer (CardPay Ltd/AstroBank) – a full table is available on the website with how fees are set out, which can be up to 60 euro per transaction.
This selection of methods available allows flexibility with traders who may opt for more than one funding method, or allow them to use their preferred or most familiar methods.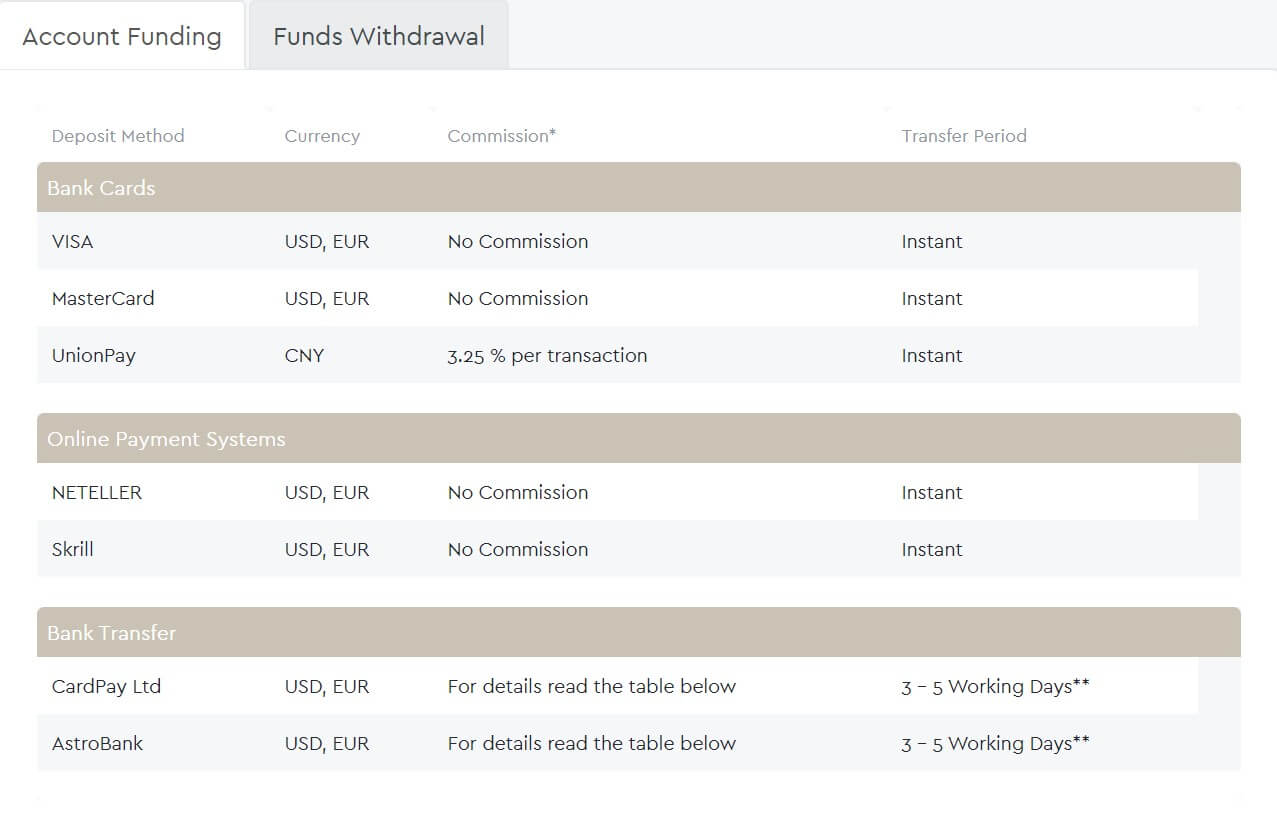 Withdrawal Methods & Costs
You may withdraw your funds via the same methods available to deposit:
Bank Cards – up to 200: 20 EUR / 20 USD per transaction/ 200 – 1000: 30 EUR / 30 USD per transaction/ over 1000: 3% per transaction
Neteller/ Skrill – 5% fee
Bank Transfer – a full table is available on the website with how fees are set out, which can be up to 60 euro per transaction.
Withdrawal Processing & Wait Time
The timescales for processing withdrawals are set out on the website, which states the following:
Bank card – 1 working day
Neteller/ Skrill – 1 working day
Bank Transfer – 3-5 working days
Of course, bear in mind that your banking provider may vary in timescale due to standard checks, which may cause delays in the receiving of funds back to your account so it is always good practice to check with your provider before requesting a withdrawal. This applies to deposits and withdrawals alike.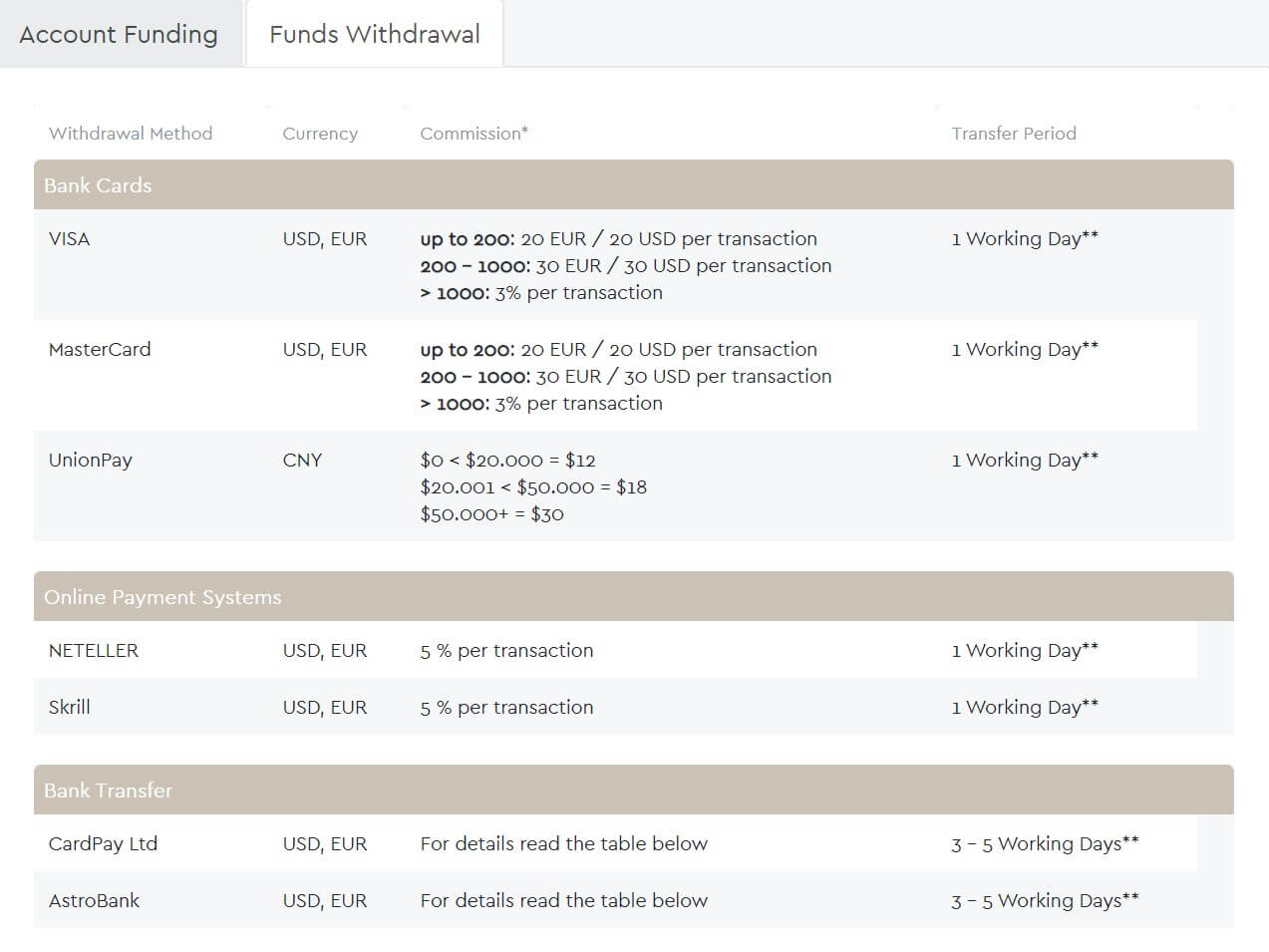 Bonuses & Promotions
Bonuses and promotional schemes are not at all mentioned on the website, and given the regulation status, it would seem these services would not be allowed to be offered anyway. Upon checking, we can confirm that neither the regulated or unregulated versions of this brand offer bonus schemes.
Educational & Trading Tools
Nord FX does offer a multitude of trading training educational material including readable content as well as videos. However, in order to access these, you must first register as a client. This is a clever way to entice potential clients and convert them into live clients before having a full understanding of forex and how it works; why would someone try to access training material if they did not need to? The point is, Nord FX have educational packages available, should that be of interest to you.
Customer Service
Should you need to contact Nord FX EU, you may call in or send a ticket between Monday and Friday 9 am – 6 pm Cyprus local time. For NordFX.com you also have support on a 24/5 basis, but you have live chat facility in addition to the telephone line and email options.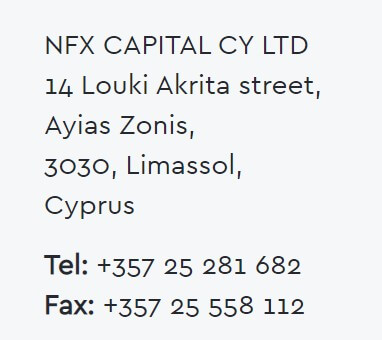 Demo Account
Nord FX does offer a demo account for one to backtest their trading conditions to test suitability. It is always good practice to make use of a demo until sufficient profits are being made to ensure your strategies are compatible with the trading conditions offered.
Countries Accepted
Bear in mind that this Nord FX brand, there are two versions- regulated and unregulated. This means that with the CySEC regulated version, note that they cannot provide financial services to the residents of USA, Canada, Japan, Belgium, and other additional jurisdictions.
On the other hand, the unregulated brand does not allow the provision of services to US citizens or residents due to the US internal fiscal and security regulations. They also don't accept clients from South Africa. It is also interesting to note that you can become an affiliate of the unregulated version, but not the regulated version of this broker.
Conclusion
It is incredibly confusing and misleading that there exist two versions of this brand- regulated and non-regulated which means there are significant differences int rade conditions between the two. Overall, however, for what you are entitled to (depending on residency, etc), Nord FX offers amicable conditions accordingly. Of course, the regulated version is more restricting when it comes to leverage allowance, whereas the unregulated version is a lot more preferable with 1:1000 leverage, as opposed to 1:10.
The unregulated version offers a live chat facility, whereas the regulated version does not. Customer support and availability/methods do play a very important part in a broker, so it is frustrating for some traders, if there is not someone they can speak to, quickly and around the clock, should they have any trade queries or concerns.
Overall, this brand does offer good trading conditions, and a demo account means you can backtest this broker's services to see if they suit you and your trading style/strategies.