Stock Global is a global brokerage firm based in the Republic of Marshall Island whos rich experience in the global financial markets enables them to build a reliable company that offers superior trading conditions to both amateur and experienced traders. That is what their site says and this review is designed to delve into what is being offered to see if they can live up to it and then enable you to decide if they are the right broker for you.
Account Types
There are 4 accounts on offer from Stock Global, each with their own entry requirements and trading conditions, we will briefly look at what is on offer.
Bronze Account: The bronze account is the entry-level account, it has a minimum deposit of 250 which is reasonable. This account comes with spreads starting at 2.8 pips, and no added commissions. Leverage can be up to 1:300 and uses MetaTrader as a trading platform. The base currency for the account can only be in USD. Trade sizes range from 0.01 lots up to 50 lots and the stop out level is set at 5%. Expert advisors are not usable on this account.
Silver Account: The silver account increases the minimum deposit to $2,000, a lot of features such as leverage, trade sizes, base currency, trading platform and stop out level. One major difference is that the silver account is able to use expert advisors while the bronze account can not. Spread is also reduced down to a starting level of 2.5 pips.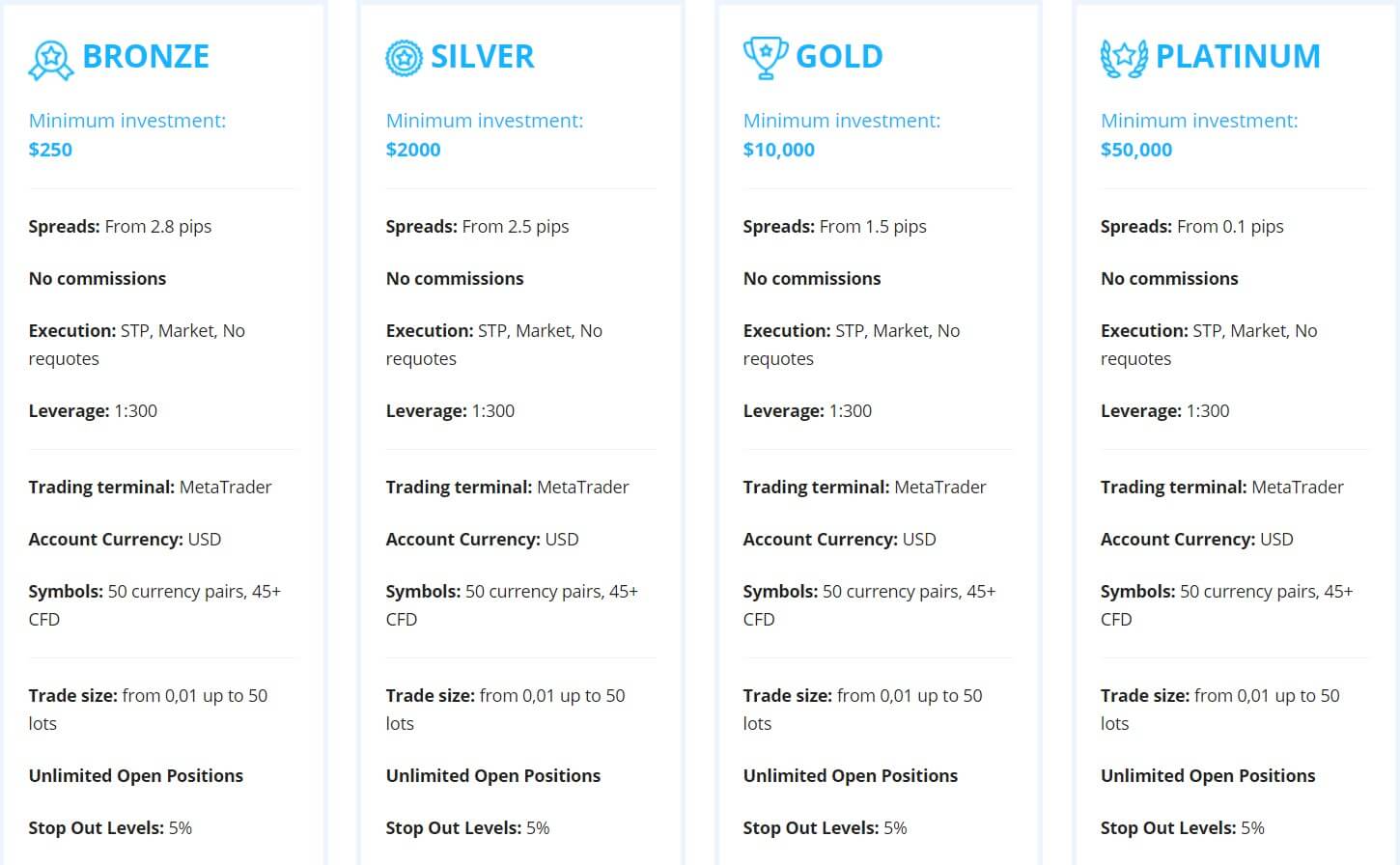 Gold Account: The gold account increases the minimum deposit further as it now sits at $10,000. It isn't much different from the silver account, the main difference is the spreads, which have been reduced to 1.5 pips as a starting level. Al other aspects such as leverage and trade sizes remain the same.
Platinum Account: The top-level account from Stock Global, this account requires a minimum deposit of $50,000 which will price out the majority of retail traders. Spreads have reduced down to 0.1 pip as a minimum and there is still no commission charged to this account. All other features seem to remain the same such as leverage, trade size, stop out levels and the ability to have unlimited open positions.
Platforms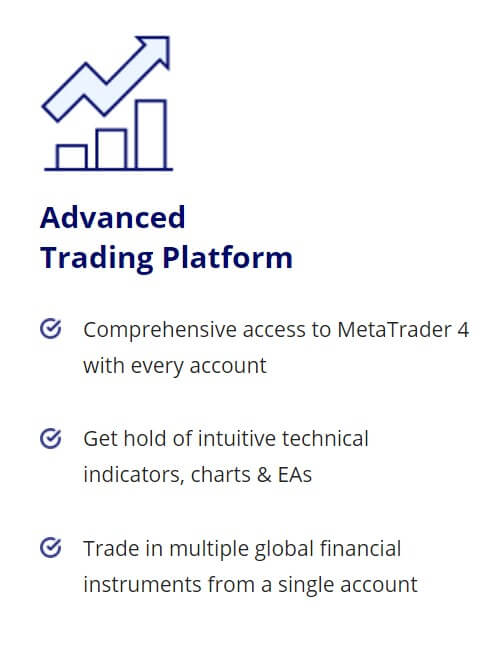 Just one platform on offer, the good news is that it is the ever-popular MetaTrader 4 which is always a good option to have.
MetaTrader 4 (MT4) is one of the world's most popular trading platforms and for good reason. Released in 2005 by MetaQuotes Software, it has been around a while, it is stable customizable and full of features to help with your trading and analysis. MT4 is compatible with hundreds and thousands of different indicators, expert advisors, signal providers and more. Millions of people use MT4 for its interactive charts, multiple timeframes, one-click trading, trade copying and more. In terms of accessibility, MT4 is second to none, available as a desktop download, an app for Android and iOS devices and as a WebTrader where you can trade from within your internet browser. MetaTrader 4 is a great trading solution to have.
Leverage
The maximum leverage being offered by Stock Global is 1:300, this can be selected when opening up an account, various other increments are also available to choose from. 1:300 is a good level as it offers a lot of profitability without letting you use huge amounts of risk. Once an account is open, you can change the leverage by getting in contact with the customer service team, there must be no trades open at the time of the request and until the request has been processed.
Other tradable assets such as Indices have different leverage with indices having maximum leverage of 1:100, metals 1:100, energies 1:100, futures at 1:50 and stock at 1:20.
Trade Sizes
Trade sizes start at 0.01 lots which are also known as a micro lot, they then go up in increments of 0.01 lots so the next trade size would be 0.02 lots and then 0.03 lots. The maximum trade size available is 50 lots which are a good limit as we would not recommend trading over that amount anyway as it can become increasingly harder for liquidity providers and the market to execute larger trades instantly and without any slippage.
Trading Costs
It does not appear that there are any commissions charged, at least that is according to the website. The accounts use a spread based payment structure that we will look at in the spread section of this review. There are swap charges though, these are either paid or received from holding trades overnight and can be viewed directly within the available trading platforms.
Assets
Assets of Stock Global are broken down into a number of different categories, we will briefly have a look at them to see what is on offer.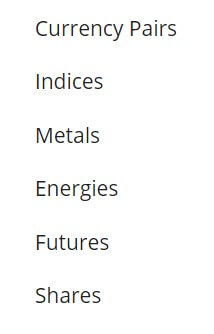 Currency Pairs: In terms of forex pairs, there are currently 43 different pairs on offer, these are across the major pairs, minor pairs, and exotic pairs. Some examples of what is available as EUR/USD, AUD/CAD and EUR/NOK.
Indices: Indices are present, there are 15+ available so plenty to chose from, some examples are the US30, NSDQ-100, and UK100.
Metals: Metals are available to trade with both Gold and Silver being available and gold is tradable against both the USD and EUR currencies.
Energies: Three different energies are there to be traded, these are Spot UK Brent, Spot US WTI and Natural Gas.
Futures: There are 10 futures on the Stock Global platform, these include Wheat, Cocoa, and Cotton, they offer competitive trading conditions and tight spreads.
Shares: The final asset type is shares, plenty available to trade such as Apply, Amazon, Ferrari, and eBay.
With so many assets available it is a surprise to not see cryptocurrencies making an appearance, they are quickly becoming a major trading instrument for many new and experienced traders.
Spreads
Spreads are dependant on the account that you are using and the asset that you are trading. When trading currencies, if you have a bronze account you will be looking at spreads starting at 2.8 pips when trading the EUR/USD pair, the same pair will have a minimum spread of 2.5 pips on the silver account and 1.5 pips on the gold account. The platinum account has greatly reduced spreads due to the added commission.
It is worth noting that these spreads are variable (floating) which means that they go up and down depending on the volatility and market conditions, however, they will not drop below the stated starting amount of pips. As mentioned, different assets will have different starting spreads as some naturally have higher spreads in the market.
The spreads on the bronze account are pretty high when compared to other brokers and we would usually want to see starting spreads at under 2 pips.
Minimum Deposit
The minimum amount to open up a standard account (bronze) is $250, if you want an ECN account then the minimum required will be $50,000 which will price out a lot of people. Usually, after the initial deposit, the next deposit used to "top-up" your account will be reduced however there is no mention as to whether this applies to Stock Global or not.
Deposit Methods & Costs
Only three methods on offer when depositing with Stock Global, these are Bank Wire Transfers, Credit and Debit cards, and Bitcoin. It is nice to see bitcoin being included as a lot of people are now beginning to use it as a money transfer method. It would have been nice to see some e-wallets included, but the methods used are secure and accessible.

There is no mention of any fees or if the fees are covered by Stock Global, but the fact that there are no fees mentioned leads us to believe that there are none added when depositing.
Withdrawal Methods & Costs
The same three methods of Bank Wire Transfer, Credit and Debit cards and Bitcoin are available to withdraw. Similarly to the deposits, there are no mentions of any fees so we are assuming that there are none added to withdrawals which would be nice to see.

Withdrawal Processing & Wait Time
Withdrawal requests are processed the same day as long as they are made between 09:00 and 18:00 if requested after 18:00 then they will be processed on the next working day. Bank transfers then normally take between 3 – 5 working days, credit and debit cards also between 3 – 5 working days and Bitcoin will come as soon as there are confirmations on the network.
Bonuses & Promotions
There does not appear to be any promotions or bonuses active on the site, this does not mean that there won't be any in the future so if you are interested in bonuses, be sure to keep checking back just in case one comes up.
Educational & Trading Tools
In terms of education, there is just an FAQ and a glossary of forex based terms in case you need to find out what something means. It is a shame to see nothing else to help make their clients a better trader as a lot of brokers are now investing in helping their clients become better traders.
Customer Service
There are a few different ways of getting in contact with Stock Global should you have any queries or concerns, they are also open 25/5 and close only when the markets do over the weekend. As with most brokers, there is an online form to fill out, once submitted you should receive an email as a response. There is also an email to email directly along with a phone number to speak to someone.
Demo Account
Demo accounts are available and Stock Global state that the conditions are similar to the real trading accounts, however, please bear in mind that they will never be identical. There isn't much information in regards to the conditions and if you can select to have a demo account mimic any of the available account types or if you are just stuck with one of them, it would have been nice to have this information available. There is also no mention of how long the accounts last as some brokers only give you a certain number of days, while others last indefinitely so it would have been nice to know.
Countries Accepted
We had a look through the site and the terms and conditions however we could not locate any information regarding which countries are eligible and which are not so we would recommend getting in contact with the customer service team to make sure before you sign up.
Conclusion
Stock Global seem to offer a decent service with plenty of information available, having said that, the lack of real info regarding deposits and withdrawals can be a little concern but not one big enough to completely turn us off. The main downside of their trading conditions are the higher than normal spreads on the bronze account, however moving up to the gold the spreads become a lot better and more in line with the competition, the only bad thing about that is that you need a much bigger deposit to get to that level. The initial $250 minimum is great if only the trading conditions were a little better.
We hope you like this Stock Global review. If you do, be sure to check out some of our other reviews to help find the broker that is right for you.