ThinkMarkets are a leading forex broker that was founded in 2010 and is authorized and regulated by the Financial Conduct Authority and the Australian Securities and Investment Commission. ThinkMarkets offer a wide range of instruments and platforms, so let's take a closer look at what they really offer.
Account Types
ThinkMarkets currently offer two main types of accounts and then some additional accounts such as Islamic and Joint Accounts. Let's take a little look at what is on offer from the accounts:
Standard Account:
The standard account is as the name suggests, the standard account at ThinkMarkets. The standard account comes with spreads as low as 0.4 pips however the average spread for forex is around 1.2 pips. It has a $0 operating balance, so it can be used from any balance amount. It provides a maximum leverage of 1:500 and there is a maximum trade size of 50 lots. With this account, you are able to use both MetaTrader 4 and MetaTrader 5 and also Trade Interceptor (we will go into more details on this later).

ThinkZero Account:
ThinkZero is ThinkMarkets zero spread account, and it offers 0 pip spreads, although the average sits at 0.1 pip, we can let them off for that one. This account comes with a commission of $3.5 per lot, which is relatively low when looking at the competition. There is a minimum operating balance of $500, which means that your account can not drop below $500. It also has a leverage of 1:500 and wit this account, the maximum trade size is 100 lots which are more than enough. You are able to use MetaTrader 4 and MetaTrader 5, and this account also comes with AutoChartist and an account manager which the standard account did not.
Islamic Accounts:
If you are not able to accept or pay swaps due to your beliefs, you are able to open up an Islamic account that does not have overnight swaps. You will need to get in touch with ThinkMarkets for them to set this up for you. The majority of the options that come with it are similar to the above two accounts.
Joint Account:
There is less information regarding this one and the only way to open one is to contact ThinkMarkets directly. If it is similar to other joint accounts then it will mean that multiple people have access to it and can withdraw and deposit from multiple accounts.
Spread Betting:
There are also spread betting accounts available, these are used by some people in the UK as it constitutes as gambling and so no tax needs to be paid on any earnings. The details of this account are not publicized on the site, however, when setting up an account the option is there should you wish to use it.
Platforms
There are a few different platforms on offer from ThinkMarkets:
MetaTrader 4 (MT4):
One of the world's most popular and widely used platforms, MetaTrader 4 offers unparalleled customization and access to thousands of expert advisors and indicators. MetaTrader 4 with ThinkMarkets is available as a desktop download, a mobile app for iOS and Android and also as a WebTrader to use on your web browser, offering plenty of opportunities to trade wherever you are.

MetaTrader 5 (MT5):
MT5 is MT4's younger brother, building on the success and features of MT4, MT5 has a few extra features and is more streamlined than it's older brother, and also offers similar levels of customization, there aren't quite as many expert advisors or indicators working for it, but you will find more than you'll ever need. Similarly to MT4, MT5 with ThinkMarkets is available as a desktop download, apps for Android and iOS and also as a WebTrader to use with your browser.
Trade Interceptor:
Trade Interceptor is ThinkMarkets own trading platform, boasting it's advanced technology and performance. Trade Interceptor allows multiple graphs on screen, multiple indicators to run on mobile, which is very refreshing to see. While not as customizable as the MetaTrader series, Trade Interceptor definitely seems like a winner when it comes to mobile functionality.
Leverage
Leverage on accounts att ThinkMarkets all have a maximum of 1:500 which is fast becoming the standard with more modern brokers, the leverage can be changed within the account settings and can be changed at any time as long as there are no open trades. Anything between 1:1 and 1:500 is selectable.
Trade Sizes
All account types have a minimum trade size of 0.01 lots (micro-lot), if you have the standard account then your maximum trade size will be 50 lots, if you have a ThinkZero account, then your maximum trade size will be 100 lots. Not many traders will reach these limits, so they are high enough for most.
Trading Costs
Trading costs will be based on your account type if you have a standard account, then your costs will be based around a slightly increased spread. The spread can be as low as 0.4 pips however the average is closer to 1.2 pips and 1.5 pips. There is no commission with this account.
If you are trading with the ThinkZero account, then you do not have any spread markup, instead you are charged $3.5 per lot traded, which is actually surprisingly low, the majority of brokers will look to charge around $6 per lot, so it is refreshing to see a broker going below this figure.
There is also a dormant account fee, if you do not use your account for 90 days, it will be charged at (base currency) 50 until your account balance reaches 0. You can avoid this by making at least one trade every 90 days.
Assets
There isn't a full breakdown of available assets and instruments with ThinkMarkets, however, there are a number of different asset types available such as Forex, Shares, Cryptocurrency, Indices, Metals, and Commodities. We are particularly happy to see Cryptocurrencies making an appearance as they are quickly becoming the go-to trading asset for a lot of traders and people just getting into trading. It appears that there may only be 5 or 6 available to trade, but it is definitely a step in the right direction.
Spreads
Spreads on the standard account can be as low as 0.4 pips, however, we have seen them hovering around the 1.2 pips to 1.5 pips mark. This is still a pretty good level for an account not charging commission. The ThinkZero account spreads were seen to be around 0.1 pips which is appropriate for an account charging a commission (and a relatively low commission too).
Minimum Deposit
The minimum amount of equity needed to be deposited with ThinkMarkets is $250, this will get you the standard account, if you wish to take advantage of the ThinkZero account then you will need to deposit a minimum of $500, however if you lose your first trade you will need to deposit further to continue trading (due to minimum operating balance requirement), so we would recommend a minimum of $10,000 for the ThinkZero account.
Deposit Methods & Costs
There are a number of different ways to deposit with ThinkMarkets, there are bank wire transfers, card via Visa or Mastercard, Neteller, Skrill and Bitcoin payments through BitPay. As far as we can see, there are no added fees for depositing with any method, we are particularly happy to see the opportunity to pay with Bitcoin, as a lot of newer tech-savvy traders are using Bitcoin to fund their trading.

Withdrawal Methods & Costs
The same withdrawal methods are available as the ones to deposit. There are no added fees on any withdrawal from any of the available methods. Please note that your bank may charge currency conversion fees or similar.
Withdrawal Processing & Wait Time
Withdrawals for all methods are processed within 1 business day, for the majority of methods this will mean that your funds are processed and in your account within a few hours after processing, however for bank transfers, it may take an additional 3 – 5 business days. The 1 day processing time is pretty standard for brokers these days.
Bonuses & Promotions
There are no bonuses being advertised on the website, however, a quick google search indicates that there are or have been promotions in the past. Many of these require you to sign up with an introducing broker however as they are not advertised on the ThinkMarkets website, we do not want to comment on them.
There is of course the affiliate program, where you can earn for introducing new clients to Think Markets.
Educational & Trading Tools
There are a few educational tools available with ThinkMarkets, they have a "Learn to trade" section where they outline all of the basics of trading, including how to analyze, how to use the trading platforms and various other aspects of trading. There are also a number of different tutorials that outline different aspects of trading in much more detail and are intended as a learning course to help develop your own trading skills and knowledge. Along with this, there is also a glossary of all the different forex and trading terms in case you are unsure what one of them means.

There is an economic calendar available as well as a number of different webinars where you can tune in to learn from someone live, this can be quite beneficial as it also gives you an opportunity to ask questions to a professional trader.
AutoChartist is also available with ThinkMarkets, AutoChartist is a bit of kit that can provide you with all sorts of helpful information such as support and resistance levels and other automated visual analysis. If you have heard or AutoChartist before we suggest looking it up and seeing how it can benefit your trading.
Customer Service
Support is available 24/6, you are able to contact them via the contact form on the site, there are also a number of different email addresses available which let you contact the exact department that you are after rather than a single support line. There are also phone numbers available in multiple different countries including the UK and Australia. We tried contacting the UK phone line and they picked up within a couple of minutes and were helpful in answering all of our questions (we didn't have many as were just testing).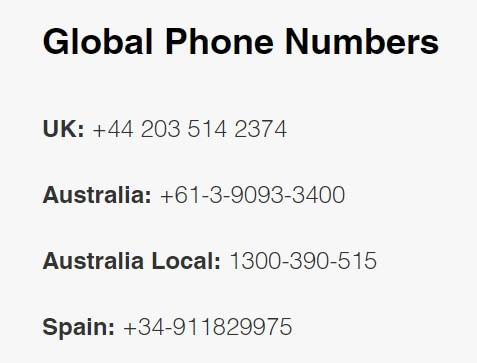 Demo Account
Demo accounts are available with ThinkMarkets and you are able to get a demo account top use on wither MT4, MT5 of Trade Interceptor. These accounts last forever as long as they are being used, if it is dormant for too long then it can be closed, however, you can simply open up a new one.
Countries Accepted
ThinkMarkets do not accept clients from AF, Yugoslavia, AO, GM, NG, AW, GH, KR, BY, GN, BO, GN, PK, BW, HT, PG, IR, PN Island, Burma MM, IQ, RW, KH, , SN, CF, JP, Sierra Leone, TD, KG, SO, CI , LB, SZ, CU, LS, SY, of CG, LR, TJ, DJ, LY, Tanzania, EC, Laos, TG, ER, ML, TM, ET, MN, UG, Falkland Islands, NA, US of America, FJ, NI, YE, ZW
Conclusion
ThinkMarkets have been running for quite a while now, their customer service was quick and efficient and their accounts are currently great value for money with low spreads and low costs. There are quite a few excluded countries, so if you live in one of them, you may need to look elsewhere.
There are plenty of options when it comes to trading platforms and there is a lot of education and tools provided to help you trade better. With the addition of cryptocurrency, there are plenty of assets and instruments to trade too. We can't think of a good reason to tell you to avoid ThinkMarkets, so if they seem like a broker you could use, go for it.
We hope you liked this review, be sure to check out the other reviews to help find the broker that is right for you.