NPBFX is a Forex broker, registered in St Vincent and the Grenadines, and are in association, or rather, 'registered' with the Financial Commission Service, which is not to be confused with a regulating body as we know it, but more an undertone regulation body in which clients can approach in the case of feeling their broker has caused them to make a loss, which was made at the hand of the broker, and not the actual client trader. According to the website, they have been providing trading and forex services since 1996, so we can safely assume this broker is well equipped to provide a more than satisfactory service to its clients.
Account Types
NPBFX offer 3 live trading account types:
There is a comparison table for all 3 account types displayed on the website, clearly set out with each account specifications to help potential clients decide which account is most suitable. All 3 accounts have access to both MT4 trading platform as well as this broker's very own customized platform, namely NPBFX Trader. No matter which account type you opt for, you will not be charged trade commissions, and all accounts also have the same access to the same markets. The minimum deposit requirements vary, which we will go into shortly.
Platforms
NPBFX offers the well known MetaTrader 4 platform (mobile, web and desktop versions all compatible) and they also offer their own NPBFX Trader Platform. It is also nice that despite which account type you choose, you can choose which platform you wish to use.

Leverage
NPBFX offer different leverage allowances according to the account type, which is as follows, as stated on the website:
Master: 1:1000
Expert: 1:200
VIP: 1:200
All Leverage options are more than generous and competitive also. Even 1:200 allows traders to maximize profits greatly, taking into consideration especially the minimum deposit requirements.
Trade Sizes
Minimum trade size again varies according to the account type:
Master: 0,01 (1 000 units of the base currency)
Expert: 1,0 (100 000 units of the base currency)
VIP: 1,0 (100 000 units of the base currency)
The trade size definitely seems fair and just in accordance with the minimum deposit requirement and the leverage allowed on each account.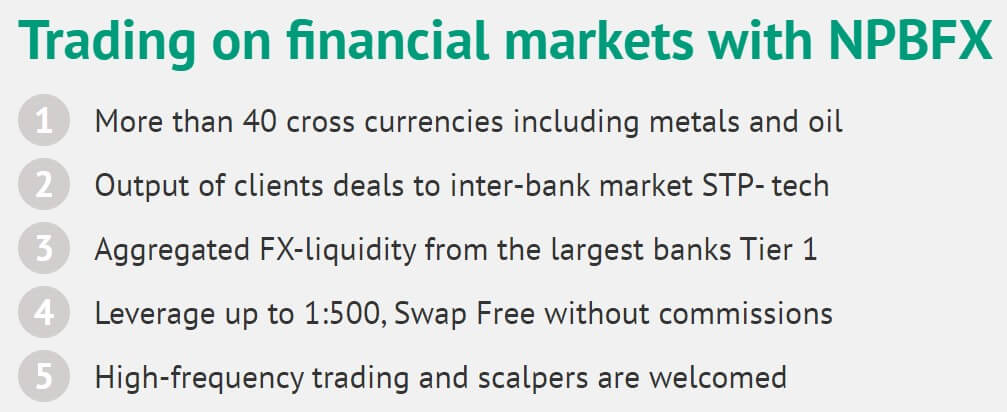 Trading Costs
NPBFX does not charge any trade commission fees, on any of the 3 account types, which is definitely a bonus in itself for clients. In regards to the swap fees, they are specific to the pairs you are trading, which can be calculated accordingly and taking into consideration trade volume also. All relative information can be found on the website itself.
Assets
All 3 accounts have the same access to the same markets which are: 38 currency pairs, gold, silver, oil, and natural gas. This is not a particularly extensive selection of tradable assets for a broker to offer, with the majority of brokers in the industry offering a lot more.
Spreads
All tradable assets are shown on the website with their minimum (variable) spreads, the smallest appearing to be 0.4 pips. Overall, in comparison to brokers of similar standing, their spreads appear to be competitive.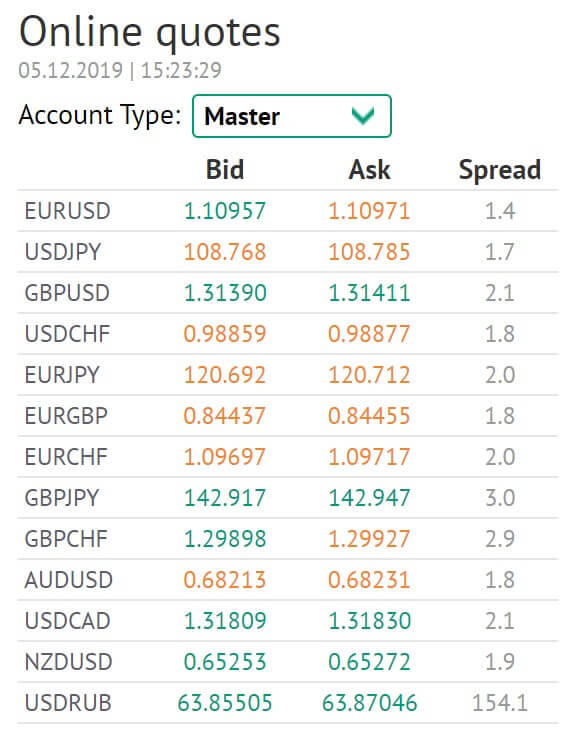 Minimum Deposit
The minimum deposit requirement varies according to account type, which you can get from the website account comparison table:
Master: 10 USD
Expert: 5 000 USD
VIP: 50 000 USD
The deposit requirement is also a good gauge to indicate the level of expertise a trader must go for when choosing the account type most suitable for them.
Deposit Methods & Costs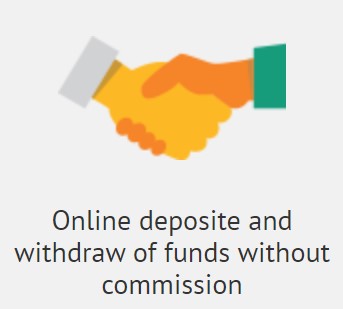 The website is very clearly set out and outlines deposit methods available very clearly. The deposit methods offered by NBPFX are Skrill, Neteller, Bank Wire (a very large variety of which you can see on the website) and also Visa/Master Card. Bank Cards, local bank transfer, and Wire Transfers are the only ones that come with a fee by the bank, while all other methods do not incur any fees from the broker.
It is also good to note that the more 'modern' approaches to money transfers such as Skrill and Neteller are available since these do seem to be the more popular methods these days, undoubtedly for the sheer ease of use as well as the speed of transfer.
Withdrawal Methods & Costs
The withdrawal methods are the same as the deposit methods, and again the costs are the same, other than it should be noted that WIre (swift) transfers incur a 100 EUR fee. It is always good to check with your own banking provider to see which fees you are liable for, before making any withdrawal requests with your broker. All Withdrawal methods available are displayed on the website, and another really useful thing is that there is a guide on 'how to' make the withdrawal, which is beneficial to those who are unfamiliar or uncertain with particular methods.

Withdrawal Processing & Wait Time
According to a live chat agent of NPBFX, All withdrawal requests are checked by the payment department which can take around 1 working day. Processing time does, however, depend on the withdrawal method used. Typically speaking banks (card/wire) can take anywhere between a few days and a week, and Skrill/Neteller are usually the same day/48 hours.
Bonuses & Promotions
The only promotional scheme that NPBFX offer is a one-time deposit bonus (first deposit made). It was not particularly clear to find this info on the website, but the live chat agent gave assistance promptly with the provision of information on this scheme. The welcome bonus essentially gives new clients $20 or equivalent currency.
Educational & Trading Tools
Aside from eh demo account offered, which is an excellent way of practicing and perfecting trading strategies, NPBFX also offers some free learning material and tools on the website including reading material, but this is only available once you register as a client, and then you will see it on the client portal.
Customer Service
NBPFX offers a very friendly and professional customer support team, which can be contacted via telephone, email or live chat on a 24/5 basis which is useful to have to hand int he case of any general queries, or trade issues. Alternatively, there is a handy FAQ page on the website to answer any basic questions or queries you might have as a potential client.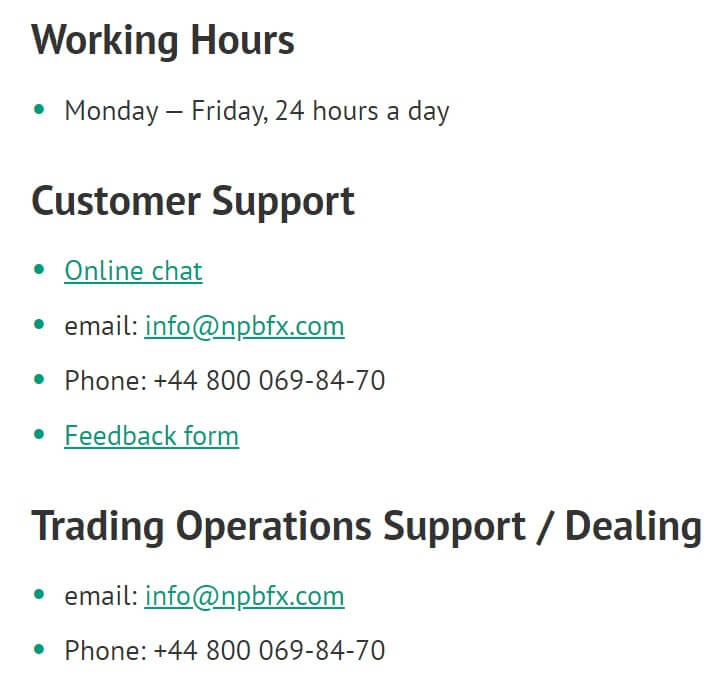 Demo Account
NPBFX does offer a demo account, which is good to use as part of a practice and training exercise, and of course, to backtest the trading conditions offered, which should reflect precisely on the live account. The only thing a demo does not take into account is things like slippage. So do bear that in mind.
Countries Accepted
Taking into account that NPBFX is not regulated, there is a disclaimer at the footer of the website stating regional restrictions include not providing services for Canada and United States residents. Be sure to check if your country allows the use of such services, before signing up. You can check individually with the customer support team also.
Conclusion
Taking into consideration all elements we have reviewed, NBPFX does seem like a very strong contender int he Forex Industry; The leverage options are competitive, as are the spreads, and 0 commission fees are charged to clients. Withdrawal options are lengthly in terms of selection, and the customer service is consistent, friendly and professional.