Global Market Index is a forex broker that claims to be one of the most respected names in online leveraged forex trading, they have offices based in the major financial hubs in London and Shangai. They state that they are committed to providing market-leading services and a fair transparent pricing structure. In this review, we will take a closer look at what is being offered to see if they can live up to their claims.
Account Types
There are 4 different accounts on offer from GMI Global Market Index, below wee take a little look at their differences and requirements.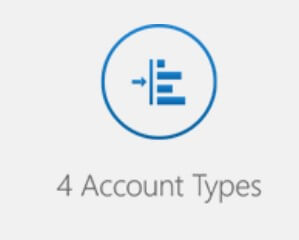 Standard Account: The standard account is the entry-level account from Global Market Index, it has a minimum deposit amount of $2,000 which is quite high for an entry-level account. It has a leverage of between 1:50 and 1:200 and its minimum order size is 0.01 lots. Any orders either buy or sell must be made at least 2.4 pips away from the current market position and there are no restrictions when it comes to trading styles.
Plus Account: The majority of the plus account information on the accounts page is the same as the standard account apart from the change in the minimum deposit which increases up to $5,000. All other information remains the same but there must be some other differences, we will explore each part a bit later in this review to see what the differences actually are.

Pro Account: The pro account increases the minimum deposit up to $30,000 which will price out the majority of retail traders. Its leverage and minimum trade order remain unchanged but now the minimum order distance reduces down to 0 pips.
ECN Account: The ECN account has a huge minimum deposit amount of $100,000. All other parts of this account remain unchanged except for the minimum trade size which no longer states 0.0 lots but instead 1,000 contracts.
Platforms
Plenty of platforms available to sue, however, a number of them are not currently available to all regions, for example, 3 of the platforms were not available to people from the UK, so be sure to check if they are available for you to use.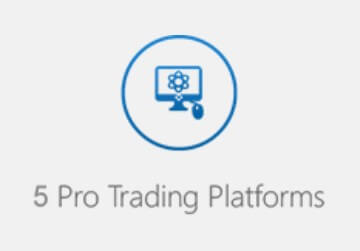 MetaTrader 4 (MT4) is one of the world's most popular trading platforms and for good reason. Released in 2005 by MetaQuotes Software, it has been around a while, it is stable customizable and full of features to help with your trading and analysis. MT4 is compatible with hundreds and thousands of different indicators, expert advisors, signal providers and more.
Millions of people use MT4 for its interactive charts, multiple timeframes, one-click trading, trade copying and more. In terms of accessibility, MT4 is second to none, available as a desktop download, an app for Android and iOS devices and as a WebTrader where you can trade from within your internet browser. MetaTrader 4 is a great trading solution to have.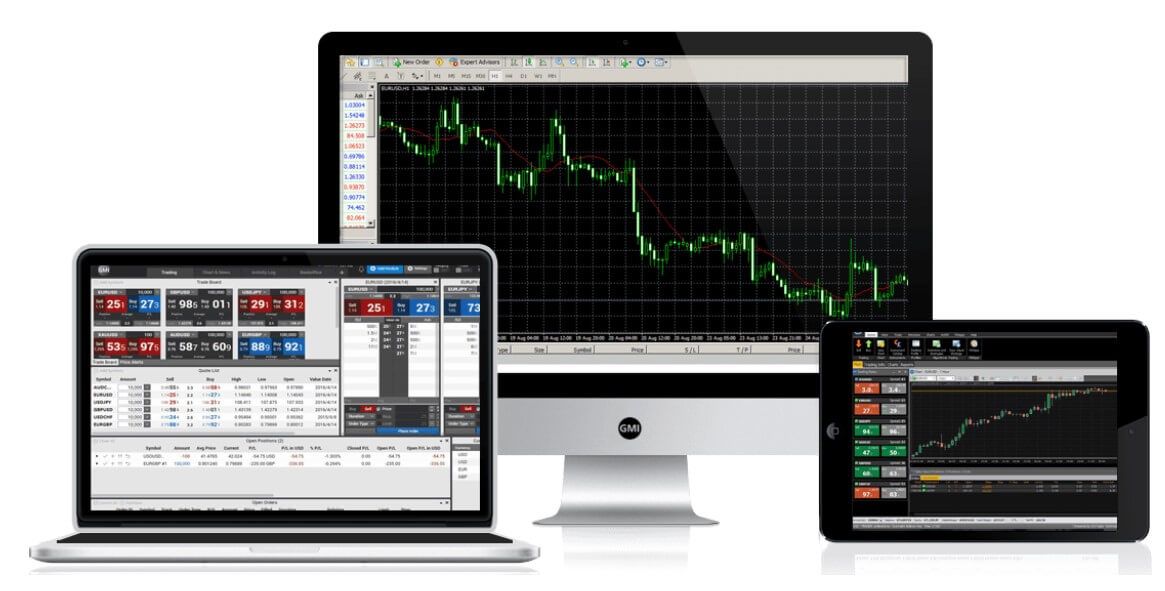 GMI Alpine Trader is one of the platforms that are currently not available to UK clients, it offers intuitive UI, convenient trading from the charts, ability to trade in fixed dollar amounts, top of book view, OCO orders, server-based trailing stops (pip-by-pip) and, a VAT (Visual Algorithm Trading) wizard.
GMI Clear Pro: Not huge amounts of information on the site, but this platform offers full market depth view institutional platform, View Value Weighted Average Pricing (VWAP) for different order sizes, customizable workspace with module docking, 9 order types and up to 72 order combinations, one-click order reversal and, Micro-lots enabledInterbank style daily settlement.
GMI MTF: Another platform that is not available to UK clients, it offers ECN trading venue, MTF venue for multiple asset classes, flexible connectivity with FIX/APIs, low-latency, high-throughput, no "last look", no trade rejections and, ultra-high order acceptance rate.
GMI Currenex: The final trading platform and another that is not available to UK clients, it offers ECN automatic matchmaking system, a wide variety of order types, ESP quote system and, a deep Liquidity pool
Leverage
Currently leverage is offered between 1:50 and 1:200 which is an appropriate level, however, a lot of modern brokers are looking to push leverage up to around 1:500. Leverage can be selected when opening up an account and can be changed by contacting the customer service team as long as there are no open trades before or during the request being made.
Trade Sizes
Trade sizes start at 0.1 lots which are also known as a micro lot. The maximum trade sizes are dependant on the asset that you are trading, if we look at the forex markets, the maximum trade size is set at 20 lots which is an appropriate level as it is more than most will trade at one time and any higher can make it harder for the liquidity providers or markets to execute instantly.

Trading Costs
There isn't much talk or information on the site in regards to any trading costs in relation to commissions. GMI most likely use a spread based structure rather than commissions, however, we can not rule out the possibility of there being spreads. Swap charges are also applied for holding trades overnight, these can be both positive and negative.
Assets
Assets on GMI Global Market Index are broken down into a number of different categories. Forex pairs include the likes of EUR/USD and USD/CHF, offering major pairs, minor pairs and exotic pairs available to trade with leverage up to 1:200. Metals are also available with the usual Gold and Silver and there are also Indices and commodities available to trade however the information regarding which ones or any trading conditions around them is not currently present on the website.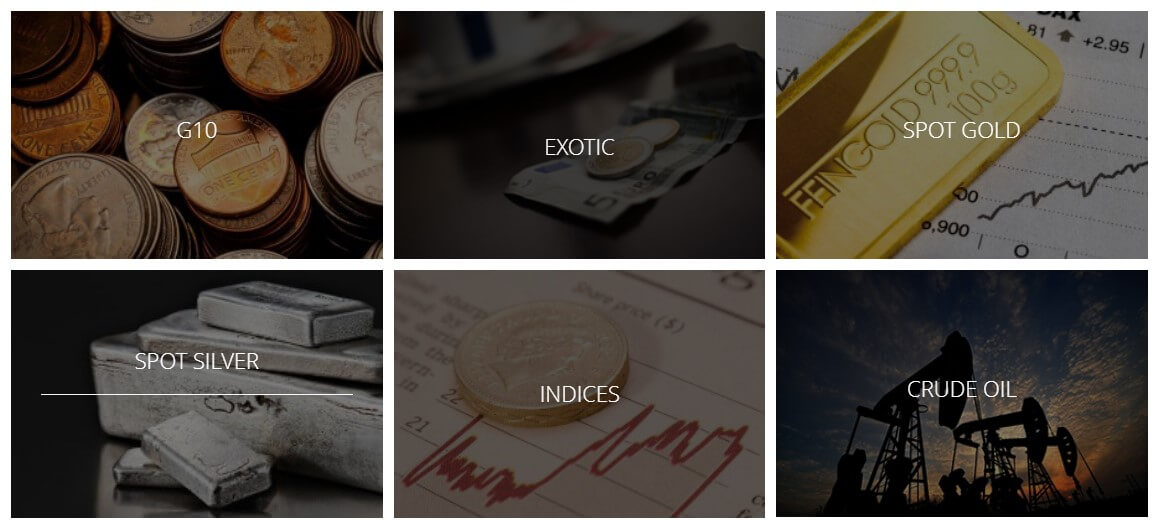 Spreads
Spreads on Global Market Index are stated as being "ultra-tight floating spreads" however there is no indication of what this actually means. Looking around the internet it appears that they are sitting at around 2 pips, which is hardly ultra-low, however as we did not manage to see them ourselves it is hard to put in a full judgment on what they are actually like.
Minimum Deposit
The minimum deposit to open up an account is currently $2,000 which is relatively high for an entry-level account. Usually when there is a higher minimum deposit for accounts, any subsequent deposits after the account is open have a lowered minimum, however, there is no information on whether this happens with Global Market Index or not.
Deposit Methods & Costs
There is no information on the site in regards to what methods of depositing are available and if there are any extra costs so we can not comment on this, it is very strange that there is absolutely no information as this is info that a lot of potential clients will be looking for.
Withdrawal Methods & Costs
Similarly to the deposit methods, there is no information regarding withdrawals, both deposits or amounts. We feel this is an area that GMI really need to improve on as it will put off a lot of potential clients.
Withdrawal Processing & Wait Time
As expected, due to there being no withdrawal method information, there is also no information in regards to the length of time they will take and how long it takes for requests to be processed.
Bonuses & Promotions
There is no mention of any bonuses or promotions on the site so we do not believe that there are any active at present. This does not, however, mean that there won't be in the future so if you are interested, be sure to check back regularly to see if any have appeared.
Educational & Trading Tools
There isn't really anything notable to talk about when it comes to education or trading tools. It states that there is marketing information available but this won't help you as a trader, the website also mentions a powerful member area but we have no idea what this means and is most likely just a client area similar to any other broker.
Customer Service
The GMI Global Market Index support team is available for your queries 24 hours a day 5 days a week and close at the same time as the markets do. There is an email address available and a few different phone numbers based in different locations such as China, Shanghai, Beijing, Dailan and Aukland.

Demo Account
We could not locate any information in regards to a demo account so it appears that they are not available, there may be a way to open them but we could not locate it.
Countries Accepted
Just like a lot of other things, this information is not available on the site, if you are interested in joining, we would recommend getting in contact with the support team to find out if you are eligible for an account or not.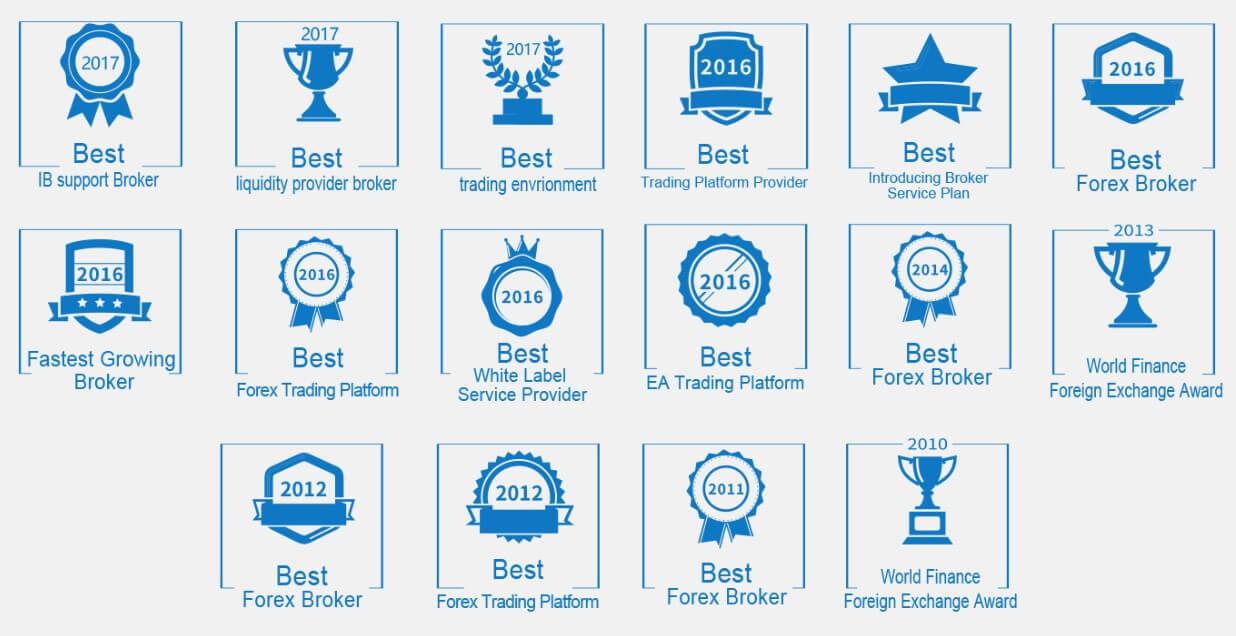 Conclusion
It is hard to recommend a broker that has such a small amount of information on their site, and the information that they do provide is very obscure and does not answer any questions. Without knowing what deposit and withdrawal methods are available, or if there are any commissions or accurate information on spreads it is very hard to find good reasons to sign up as a potential client.
We hope you like this GMI Global review. If you did, be sure to check out some of the other reviews to help find the broker that is right for you.