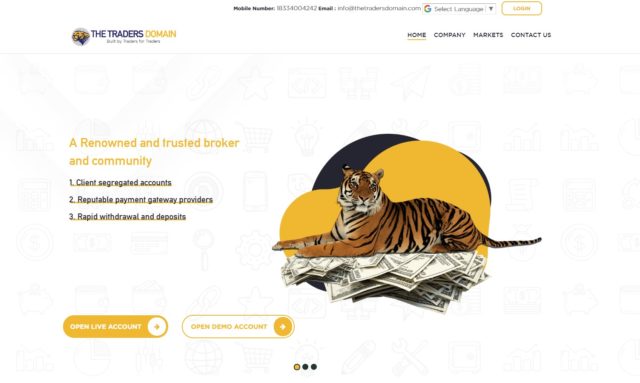 The Trader's Domain is a forex brokerage company located in St. Vincent & the Grenadines. The company describes themselves as being built by traders, for traders, with a focus on providing a convenient experience and mentions that their objective is to become a leading brokerage company, but smart traders know that is much easier said than done. Does this broker have what it takes to meet their goal, or will they fall short? Stay with us to find out.

Account Types
This broker offers Standard and ECN account types, although everyone seems to be granted with a Standard account upon registration, so you may need to reach out to support if you'd prefer an ECN account. Also, note that Islamic accounts are available for the ECN account type only. Both account types come with the same minimum deposit requirement and leverage options. Below, you can view the differences in the account types.
Standard Account
-Minimum Deposit: $100
-Leverage: Up to 1:500
-Spreads: From 1 pips
-Commissions: None
ECN Account
-Minimum Deposit: $100
-Leverage: Up to 1:500
-Spreads: From 0.0 pips
-Commissions: $3.50 per 100k traded
Upon opening an account, one will need to provide ID and address verification documents. Accounts are approved once enough documents have been provided to achieve 100 points. Address documents count as 70 points per document, while proof of identity documents count as 70 points per document.
Platform
Those that decide to trade through this broker will have the advantage of choosing between the MetaTrader 4 and MetaTrader 5 platforms. Many other brokers feature either one platform or the other, with the award-winning MT4 being the most commonly offered option, due to is highly customizable, user-friendly interface, along with a number of pre-installed indicators and tools that are also included. Developers of MT5 kept most of its predecessor's strong suits and added in more pending order types, analytical objects, and more.

Both platforms are excellent options, so it really comes down to one's own personal preference when it comes to choosing which to trade through. Accessibility is also no issue on either platform since both can be downloaded on a desktop, Android, and iOS. You can also access the platforms on the WebTrader, which is the browser-based version. The WebTrader would be the best option for Mac users.
Leverage
The Trader's Domain allows traders to trade with up a volume of up to 500 times their trading capital. This provides an opportunity to maximize profit, regardless of how limited one's actual capital is. However, one should note that trading with high leverages goes hand in hand with taking higher risks, so one should not simply choose the highest leverage offered. It is advantageous for brokers to offer options that are so much higher than the industry average because it provides lower-level traders with room for growth if they make it big in the forex world.
Trade Sizes
The Trader's Domain allows a minimum trade size of 0.01 lots, otherwise known as one micro lot. Trading a micro lot allows for smaller positions that what would be allowed with a mini or standard lot. Support informed us that the maximum trade size usually depends on how much your margin can handle. Margin call and stop-loss levels are set at 50%.
Trading Costs
Many brokers charge fees through spreads, commissions, and rollover interest. With this broker, those charges differ based on account type. On the Standard account, spreads are from 1 pip and there are zero commission charges. Meanwhile, the ECN account offers spreads from 0 pips, with a commission fee of $3.50 per 100k traded.
Assets
The Trader's Domain offers 100 plus tradable instruments, including CFDs, precious metals, and some cryptocurrencies. Sadly, the website does not offer a list of products, nor does it go into any further detail. A Product Disclosure Statement can be obtained on request from their offices and the website suggests that this should be considered before one decides to enter into a transaction with the broker. We would recommend reaching out to support to request the PDS.
Spreads
The ECN account type offers the most attractive spreads, advertised as starting from 0.0 pips. The Standard account advertises spreads as starting from 1 pip. Keep in mind that the industry average would fall somewhere around 1.5 pips, so both are presented as being well below average and are therefore competitive. However, The Trader's Domain does not list their products on their website with actual spreads, so it is difficult to investigate whether these options are truly as low as advertised.

Minimum Deposit
This broker allows traders to open either of their account types with a deposit of $100. There are really two sides to the coin when it comes to comparing this amount to the minimum required by other brokers. On one side, this amount may be steep, considering that many brokers offer deposit minimums of around $10, or even eliminate the requirement altogether. Offering lower minimums would be more beneficial to beginners or those that are iffy about signing up with this broker. On the other side, this is a bit lower than average, and $100 provides one with the ability to make a number of trades before needing to make another deposit quickly.
Deposit Methods & Costs
This company accepts deposits through Bank Wire and a number of e-wallets. E-wallet options include more popular options like Bitcoin, Bitcoin Cash, LiteCoin, and Dash, alongside some lesser-known options like Monero, Neo, Ripple, and Cardano. It's odd to see so many e-wallet options available without the option to deposit via Visa/MasterCard. Also, note that a deposit fee of 2.5% is charged on all deposits. Aside from Bank Wire, all deposits are processed within 24 hours. Bank Wire can take 2-3 business days to be credited to the account. This broker does not accept third party deposits, so ensure that you are always funding from a method under your own name to avoid the hassle.

Withdrawal Methods & Costs
The website doesn't offer any information on withdrawals, so we reached out to support to find out more. We learned that all of the available deposit methods are also available for withdrawal. The broker charges a 2.5% withdrawal fee, one that matches their deposit fee. This fee may seem steep at first glance, but this means that if you made a deposit and a withdrawal of $100, the broker would take a total of $5 by the time funds were deposited and withdrawn. Of course, if you made a larger deposit, the fees would add up to a larger amount. Upon requesting a withdrawal, you'll find that the website does the math for you and displays what the commission cost will be once fees are applied. Withdrawals to accounts that have never had any open trades will be subject to a 15% processing fee.
Withdrawal Processing & Wait Time
All withdrawals are processed within 24-48 business hours. It would be nice to see some instant options; however, these options are still realistic. One would simply need to put in the request a day or two in advance of the time when funds would be needed. Of course, you may want to request a withdrawal earlier in the week in order to avoid the delay caused by the weekend. Remember that all compliance documents must be uploaded and approved before a withdrawal request can be processed.
Bonuses & Promotions
At this time, there are no bonus opportunities being offered by this company. While we love seeing bonus options available, this is just one of those extra things that aren't necessary. If you do continue looking for a broker that offers a bonus, be sure to read the terms and conditions. If a bonus seems too good to be true, it probably is. Remember that you should never choose a broker based on this category, but it can be a nice addition to a list of positive qualities if you do find a qualified broker that offers an attainable bonus opportunity.
Educational & Trading Tools
Aside from the ability to trade with a demo account, The Trader's Domain is barren when it comes to educational opportunities. However, the company does offer an economic calendar and multiple calculators. Overall, these trading tools are helpful, but we can't help but feel that this broker could be doing more to educate their client base. If you're a beginner, we would suggest researching elsewhere and then opening a demo account through the broker when you're ready. Below, we've listed all of the available calculators.
-Pip Calculator
-Margin Calculator
-Fibonacci Calculator
-Pivot Calculator
-Profit Calculator
-Lot Size Calculator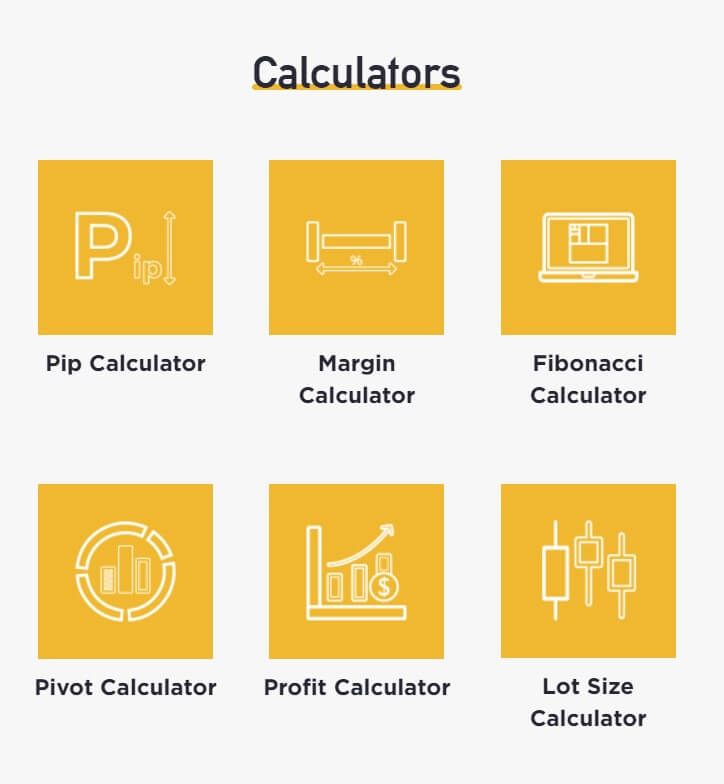 Demo Account
The Trader's Domain does offer demo accounts to any traders that would like the advantage of opening one. If you haven't heard of demo accounts before, you should know that many forex brokers offer these practice accounts in order to give their clients a chance to test out the market using virtual currency. Opening a demo account is free and one could maintain both a demo and a real account at the same time.
Customer Service
24/7 customer support is provided in multiple languages via LiveChat, email, or phone. We were able to get in touch with an agent via LiveChat instantly and our support agent was willing to answer all of our questions clearly. We didn't get the usual run-around or refusal to answer certain questions that we've received in the past with other brokers. On another note, this broker admits to a 24 to 48 wait time in order to receive a response via email, so you may want to use one of the other contact methods if you have an important inquiry.
-Phone: 18334004242
-Email: info@thetradersdomain.com
-Address: Suite 305, Griffith Corporate Centre, P.O. Box 1510, Beachmont, Kingstown, St. Vincent & the Grenadines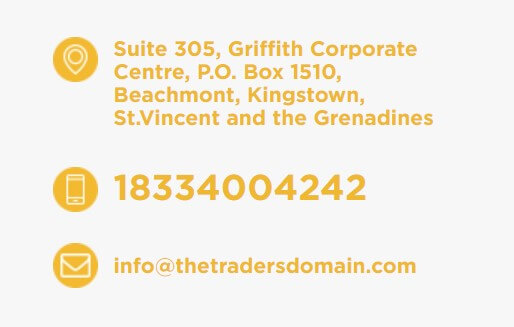 Countries Accepted
The Trader's Domain does not accept applications from residents of the US, Canada, the United Kingdom, Israel, and the Republic of Iran. However, we were able to bypass the restriction by opening an account from one of our US-based offices by selecting the 'US Minor Outlying Islands' as our country of residence. When chatting with an agent, we were never asked about our location and we had no issue accessing our account through the back office.
Conclusion
The Traer's Domain is a forex and CFD broker that offers the ability to trade with high leverages on two account types. Traders can choose between the Standard and ECN account types, both of which offer competitive spreads and commission charges with a minimum deposit of $100. This broker also offers both the MT4 and MT5 platforms and multilingual, 24/7 instant support. The downside to choosing this broker would be the lack of variety and unavoidable deposit and withdrawal fees when it comes to the funding of one's account.
Educational options and bonuses are also absent, but these are simply extra options that don't affect the main experience. In some places, the website can be vague, but support is always available to answer any questions one may have. In our opinion, this broker is offering competitive enough trading costs to potentially meet their goal of becoming a leading broker, but they'll need to offer better funding conditions and add more opportunities on their website in order to make it all the way to the top.