Worldforex was founded in 2007. Existrade Limited is the company behind the trademark World Forex, and is registered in the British Virgin Islands. This broker offers the ability to trade in more than 50 currency pairs as well as several CFDs. World Forex uses the MT4 platform. It is in 2016 that the trademark WORLDFOREX is transferred to Existrade Limited, which has its registration in the jurisdiction of Vanuatu, authorized by the Vanuatu Financial Services Commission (VFSC).
Although World Forex appears to be a regulated broker, it is not precisely so. Licenses issued by offshore bodies do not have the same guarantees as European licenses. In Vanuatu, brokers are not required to meet the requirements of having high capital to demonstrate the financial solvency of the broker. There is also no requirement for brokers to report their transactions, nor to apply strict rules of customer protection. That is why, when a trader invests in an offshore company, he has less protection and guarantees than if he invests in a licensed broker such as the UK FCA or the Australian ASIC, for example.
Account Types
Worldforex has several trading accounts, for which no minimum deposit is required, and no commissions are charged. Some accounts have fixed spreads, and in others, the spread is floating. This broker offers us 5 different types of accounts, called, W – CENT, W – PROFI, W – INSTANT, W – ECN, and W – CRYPTO. Below, we provide you with the main characteristics of each of these:
W – CENT: Currency, USD/EUR. Minimum deposit, from 1 USD. Minimum deposit for the transaction, 0.13 USD. Spreads, fixed from 1.8 pips. Leverage, 1:33 – 1:1000.
W – PROFI: Currency, USD/UAH/RUR/EUR. Minimum deposit, from 1 USD. Minimum deposit for the transaction, 1.3 USD. Spreads, fixed from 1.8 pips. Leverage, 1:33 – 1:1000.
W – INSTANT: Currency, USD/UAH/RUR/EUR. Minimum deposit, from 1 USD. Minimum deposit for the transaction, 1.3 USD. Spreads, fixed from 2 pips. Leverage, 1:33 – 1:1000.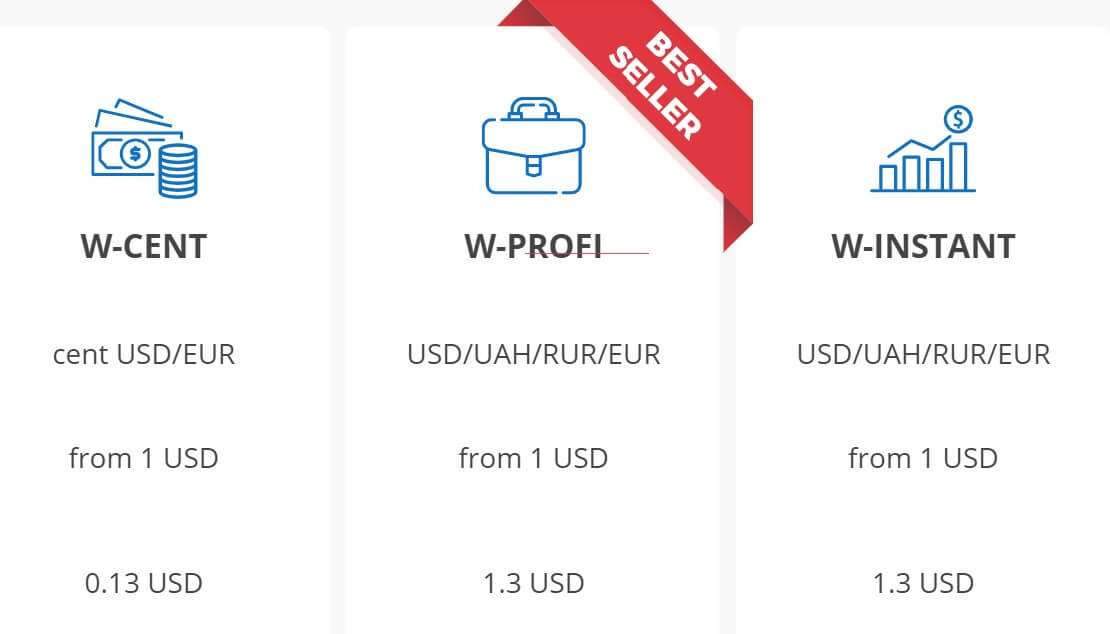 W – ECN: Currency, USD/UAH/RUR. Minimum deposit, from 1 USD. Minimum deposit for the transaction, 2.6 USD. Spreads, floating from 0.2 points. Leverage, 1:50 – 1:500.
W – CRYPTO: Currency, USD/UAH/RUR. Minimum deposit, from 1 USD. Minimum deposit for the transaction, NA. Spreads, floating from 0 points. Leverage, 1:1 – 1:25.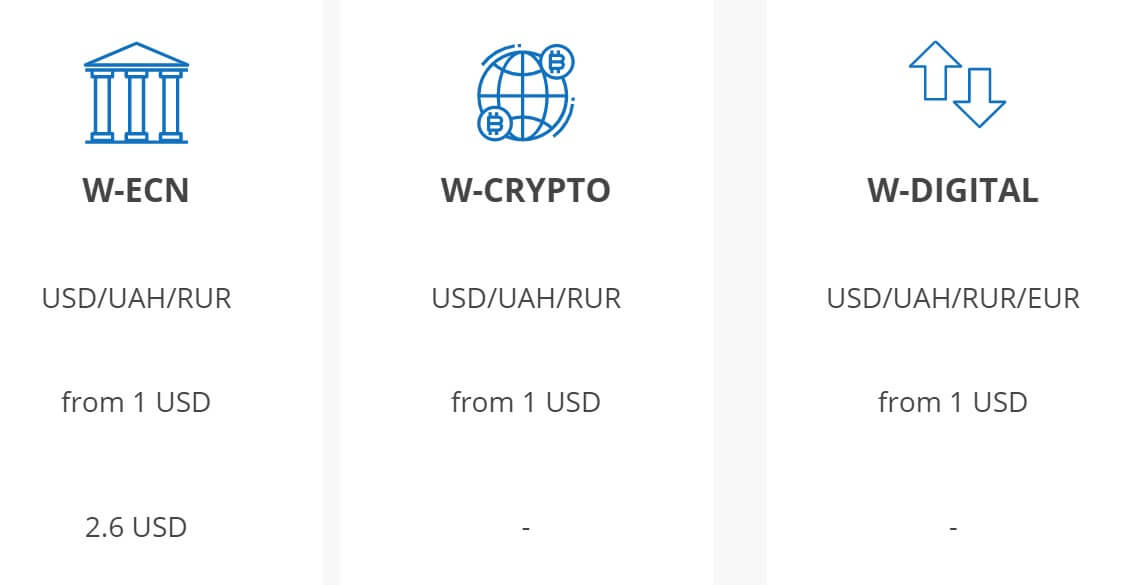 It also has an Islamic account, exempt from swaps, to comply with Sharia Law.
Platforms
Like most brokers, World Forex offers its customers the popular Metatrader 4 (MT4) platform. The platform is available both in desktop versions, for use on computers, and in mobile versions, so you can use it on your iOS or Android devices, such as smartphones or tablets. This platform is straightforward to use and has a long series of technical analysis indicators, tools with advanced graphics, the option to back-test your strategies, and a multitude of Expert Advisors (EA), to automate your trading.
Leverage
Worldforex offers a wide variety of leverages, from 1:33 to 1:1000. A leverage of 1:1000 may be considered too high since small fluctuations in the markets can lead to significant profits, but also large losses. For novice traders we recommend starting with lower leverages, between 1:33 and 1:100, so that your trading account is not exposed to too much risk, and then with more experience and the desire to increase the risk, you can use the leverages so high that this broker offers.

Trade Sizes
The minimum trade size to trade is 0.01 lots (micro lot).
Trading Costs
This broker is advertised as a broker without commissions in operation. Nor does he have commissions on deposits and withdrawals. The only expense we will have with this broker, as with any other, will be the Swaps, that is, any position held overnight, which will incur a maintenance cost (interest). This amount can be negative or positive depending on the instrument and the direction of the position, and its amount is fixed by the central banks of the base currency of the open position.
Assets
With this broker, you can trade more than 50 currency pairs, as well as several commodity CFDs. It is also possible to trade with cryptocurrencies with a leverage of up to 1:25. The available cryptocurrencies are Bitcoin, Bitcoin Cash, Dash, Ethereum, Litecoin, Ripple, Zcash, Monero, Eos, and Neo.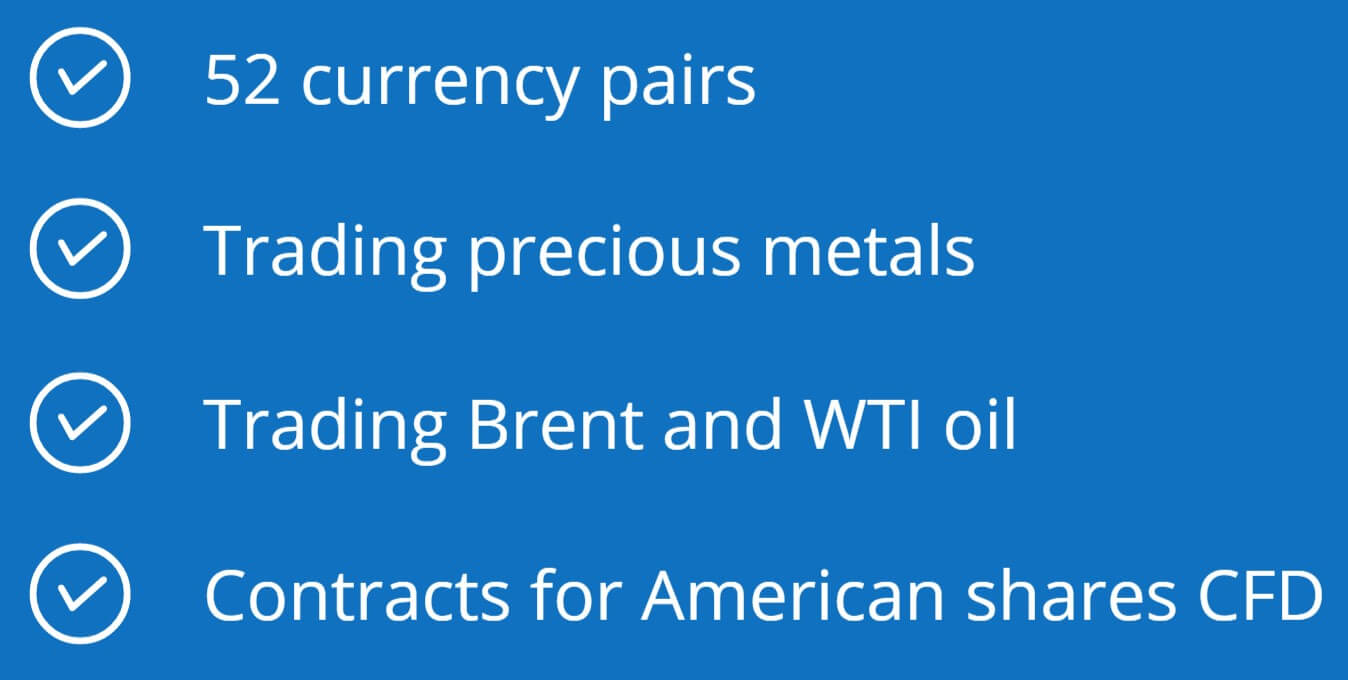 Spreads
The offered spreads vary by account type and can be either fixed or floating. Below, we provide a breakdown of the pertinent details.
W-CENT – Fixed from 1.8 pips
W-PROFI – Fixed from 1.8 pips
W-INSTANT – Fixed from 2 pips
W-ECN – Floating from 0.2 points
W-CRYPTO – Floating from 0 points
W-DIGITAL – From 2 points for 0-100 Digital contracts
Minimum Deposit
There is no minimum deposit with this broker. You can deposit from 1 USD. But this is something ridiculous. We recommend deposits from 200 USD in order to start trading with micro-lots.

Deposit Methods & Costs
Worldforex offers its clients a wide variety of deposit methods: credit or debit card (Visa, Mastercard or Maestro), bank transfer and electronic payment systems such as Яндекс Деьгии, Webbpay, Paypal, Webmoney, Zpayment, and OkPay. It also accepts payments with cryptocurrencies such as Bitcoin or Dash. The broker reports that all his deposits are exempt from commissions.



Withdrawal Methods & Costs
For withdrawals, World Forex uses the same systems as for deposits. Always remember that when you deposit with a particular payment system, the subsequent withdrawal will be made by that same system. Nor can it be removed in the name of a third person. This is because of international anti-money laundering laws. The broker reports that all withdrawals are exempt from commissions.
Withdrawal Processing & Wait Time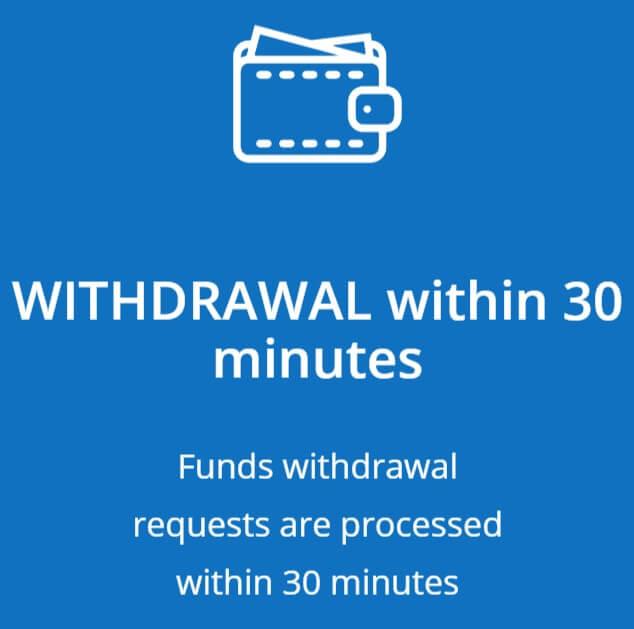 On the broker's website says that the process times are 30 minutes, which we find speedy processing compared to most brokers if this is true. Even the withdrawals ordered on weekends will still be processed in 30 minutes. The waiting times are the usual, if the withdrawal is by bank transfer the time until your money appears in your account is 1 to 5 days. For withdrawals made using electronic and cryptocurrency media, you may have the withdrawal process completed on the same day.
Bonuses & Promotions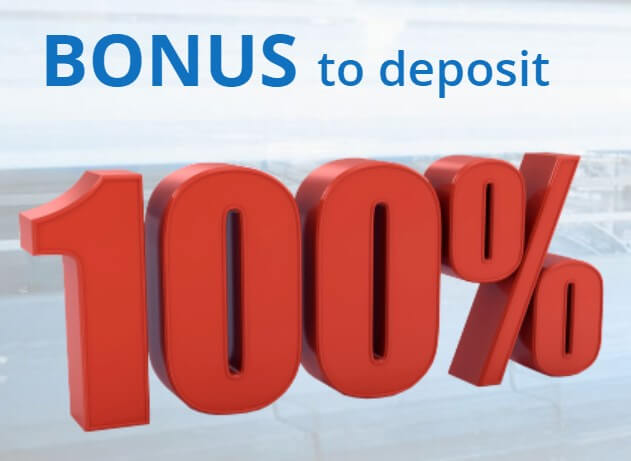 WorldForex has a promotion now consisting of a 100% deposit bonus. If the deposit amount is higher than 100 USD it also offers a free VPS server. Usually, this type of bonus is not removable; instead, what you do is increase your margin so you can trade with more volume. Profits made with bonus capital are usually refundable. As always, we recommend reading the terms and conditions surrounding bonuses prior to accepting one.
Educational & Trading Tools
The broker has several useful tools for the trader. It has a Forex calculator, an economic calendar to know the most important events of the day, and that every trader must consult daily. It also offers market reviews with daily analyses of several currency pairs. Information on the different time uses in which it can operate in the various international markets is provided, as is an economic news section that is updated regularly.
Customer Service
World Forex provides its customers with a variety of methods to contact customer service, including multiple phones, emails, and a web contact form. The complete data are as follows:
Telephone:
Ukraine: +38044 379 48 54 Russia: +7 495 266 60 77 , 8 800 555-78-99
Great Britain: +44 870 479 8221, Thailand +66 634 463 436

Email:
ADMINISTRATION: For inquiries and clarification of general organizational issues. office@wforex.com
SUPPORT: In case of difficulties with handling the company's products. support@wforex.com
FINANCIAL DEPARTMENT: In the case of occurrence Financial issues. money@wforex.com

Addresses:
Suite 305, Griffith Corporate Centre P.O. Box 1510, Beachmont Kingstown St.Vincent and the Grenadines
Govant Building, Kumul Highway Port Vila, Vanuatu PO BOX 1276
BVI Business Companies Act, 2004. BVI . R.G. Hodge Plaza 3rd Floor, Road Town, Tortola, British Virgin Islands
United Kingdom of Great Britain and Northern Ireland Suite 10320, 45 Salisbury Road, Cardiff CF24 4AB Wales
Demo Accounts
Demo accounts can be used to test a platform before depositing money into a real account and World Forex does offer them. It is also important to know that the Demo account retains the same live prices and market conditions, simulating the exposure in a real account. Unfortunately, although Worldforex offers a Demo account, that account is not free so we haven't been able to test it.
Countries Accepted
Citizens of the following countries will not be able to open an account with Fidus Investments: USA.

Conclusion
World Forex is primarily a Forex broker. The economic conditions are reasonable, at least in the fixed spreads, as we have not been able to verify which are the variable spreads. They do not require a minimum deposit to open accounts, which is a very positive aspect. The number of options for deposits and withdrawals is enormous. In spite of all this, we would recommend a broker with better regulation.
To summarize the above:
Advantages:
MT4 available
Bonus offered
Competitive spreads
No minimum deposit required
No fees charged
Quite a few useful tools for traders
Disadvantages:
Offshore broker
No free demo accounts