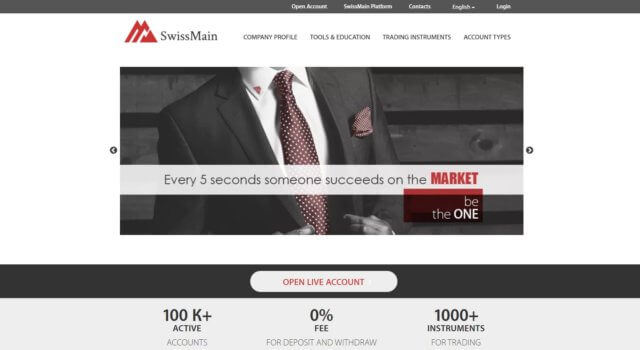 SwissMain is a broker with which you can access and trade more than 1000 assets in the financial market. Major currency pairs, commodities, indices, and stocks are available, as well as exotic pairs. Swiss Main is the business name of Meridian Banc Ltd. This offshore company is regulated by the Vanuatu Financial Services Commission (VFSC). The broker appears to have offices in Vanuatu, Denmark, Switzerland, and Dubai. Its website is available in English, French, German, Italian, and Russian.
Vanuatu is a country located in the South Pacific Ocean, where requirements and taxes for brokers and businesses, in general, are quite weak. With VFSC regulation, offshore brokers are not subject to financial supervision, nor do they have to obey specific requirements, as is the case with other regulations.
Swissmain (Meridian Banc Ltd.) has been blacklisted by several regulators, including the Belgian financial regulator FSMA, who stated that Swissmain offers investment services in Belgium without complying with local financial legislation and advised against responding to any financial services provided by this broker and by Meridian Banc Ltd. The financial supervisory authority has also warned Swissmain of Switzerland (FINMA) and Hong Kong (SFC).
Account Types
At Swissmain we have four different types of accounts to choose from. The broker calls them Silver, Gold, Platinum, and VIT. These are the spreads and the minimum deposit required for each of them:
Silver: Minimum deposit of $500 USD – Spread from 2.1 pips
Gold: Minimum deposit of $10.000 USD – Spread from 1.5 pips
Platinum: Minimum deposit of $25.000 USD – Spread from 0.9 pips
VIP: Minimum deposit of $50.000 USD – Spread is negotiable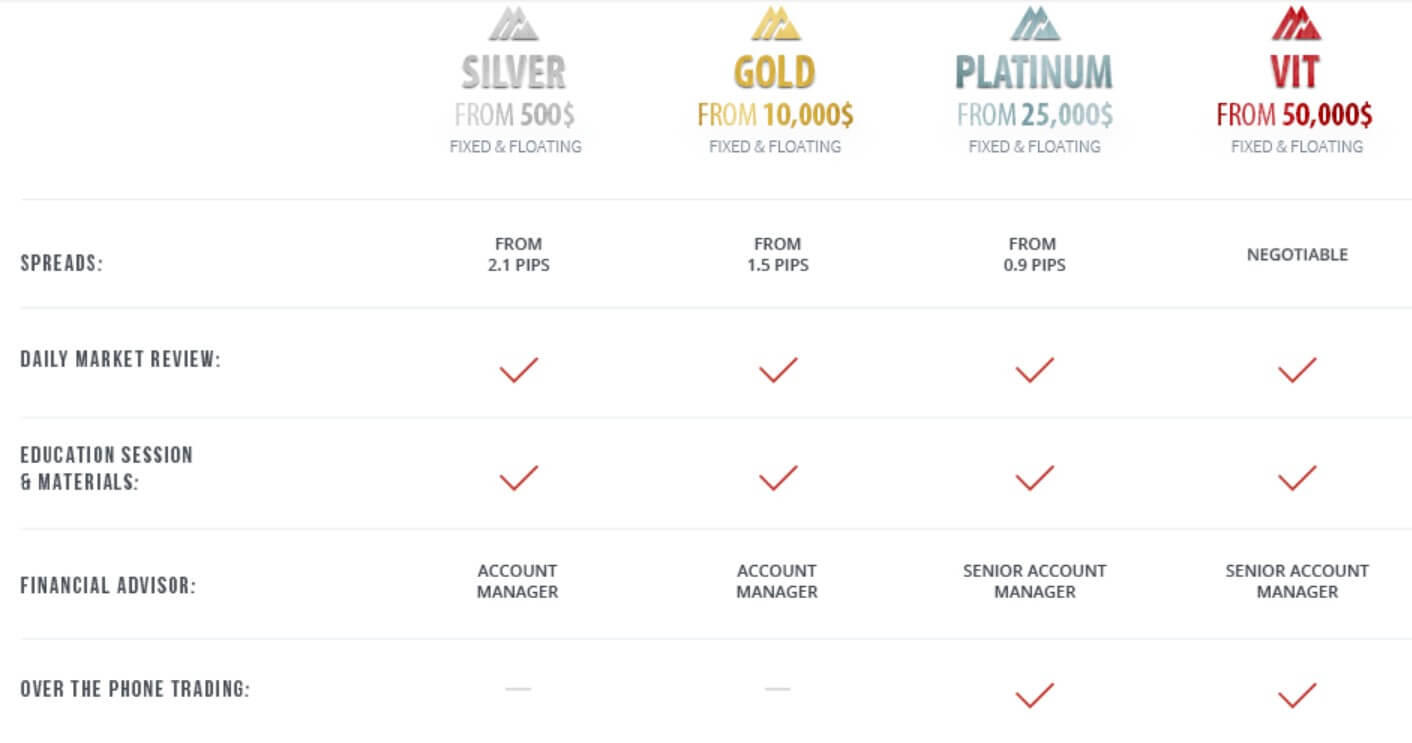 Platforms
Unlike most Forex brokers, SwissMain does not provide the popular Metatrader4 (MT4) platform. Instead, it offers a proprietary web-based interface, which isn't bad. It has social trading features and some functional analysis. In reality, most traders probably prefer the MT4 platform, as it is highly praised for its stability, ease of use, and the advanced tools it includes. The advanced graphics of MT4 are second to none, and the platform is very popular for its automated commercial bots, known as Expert Advisors (EA).

Leverage
The Swiss Main website does not provide any information on certain essential business conditions. In the case of leverage, we have no information about the levels applied by this broker.
Trade Sizes
Swiss Main has a variety of requirements that are based upon the account type and asset. Fortunately, the broker does provide a comprehensive list of assets and trade requirements (data) on its website. Below, you'll see a small, partial list for a few of the currency pairs.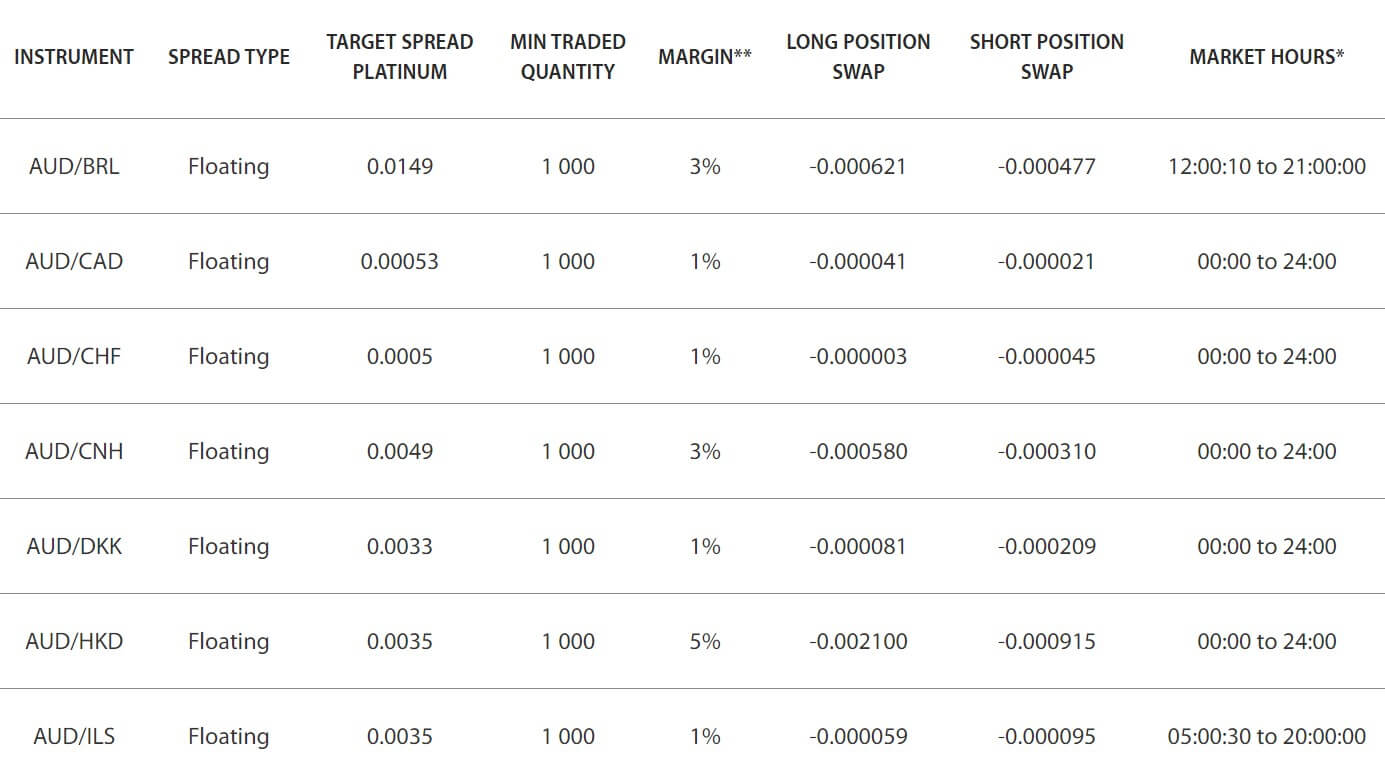 Trading Costs
We can only report about the swap, which is a cost applied by all brokers (as long as the accounts are not Islamic); this is because no information is provided about possible commissions in the trading.
Swaps: any position held overnight, which will incur a maintenance cost (interest). This amount can be negative or positive depending on the instrument and the direction of the position, and its amount is fixed by the central banks of the base currency of the open position.
Assets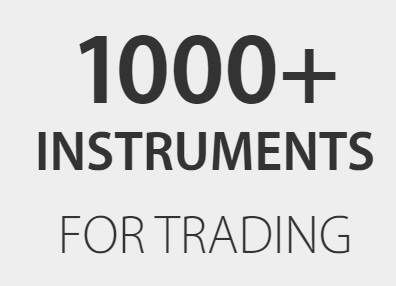 Swissmain is a broker with which you can access and trade more than 1,000 total assets in the financial market. They make available major currency pairs, commodities, indices, and stocks, and even exotic pairs. The only attractive asset category this broker does not offer is cryptocurrency. Overall though, traders will find more than enough variety, as this broker offers well above the average number of underlying assets.
Spreads
This is the variable spreads ratio offered by Swissmain in its Platinum account,
The spreads offered by Swissmain are not very competitive. There are many well-regulated and licensed European brokers with lower spreads.
Minimum Deposit
The required minimum deposit depends on the account type. These are Swissmain's requirements:
Silver Account: Minimum deposit of $500 USD
Gold Account: Minimum deposit of $10,000 USD
Platinum Account: Minimum deposit of $25,000 USD
VIP Account: Minimum deposit of $50,000 USD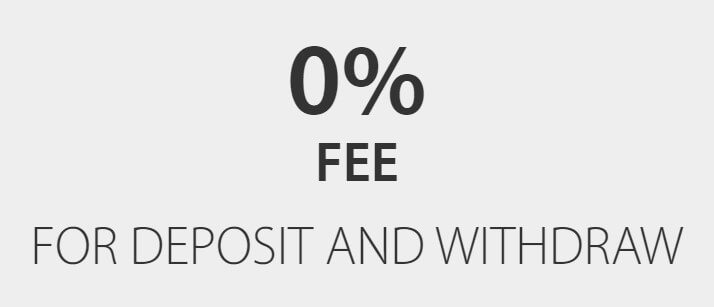 Deposit Methods & Costs
Swissmain offers only two deposit methods, bank transfer, and debit or credit card. There is no information about the costs associated with the deposits.
Withdrawal Methods & Costs
There is no information about withdrawal methods and their associated costs. We understand that they will be the same as above, bank transfer and debit or credit cards.

Withdrawal Processing & Wait Time
The website reports that withdrawal requests are processed between 6 am and 2 pm GMT on business days and it typically takes up to 5 business days to process a withdrawal.
Bonuses & Promotions
We have not found any current bonuses or promotions.
Educational & Trading Tools
On the Swissmain website, there is a section called "TOOLS & EDUCATION".
In this section, we find three different areas:
An economic calendar, a fundamental tool for any trader, where we can observe the most important daily events, and that can affect different assets during the day.
A tab of economic news, that we have been able to verify that they are updated.
And an analysis section. In this section and daily analyze four specific assets, gold, DAX 30, USD/CHF, and EUR/USD.

Customer Service
To get in touch with Swissmain, we will contact their customer service department, which provides us with a web contact form and several phones. The specific data are:
SWITZERLAND Headquarters
Address: Zurich World Trade Center. Leutschenbachstrasse 95, Zurich, 8050, Switzerland.
Phone:+41 43 508 94 25 +41 43 508 87 73
Business Hours: 9:00 am – 6:00 pm Monday – Friday
DENMARK Marketing Department
Address: Weidekampsgade 6, Copenhagen, 2300. Denmark
Phone:+45 89 882 362 +45 78 150 111
Business Hours: 9:00 am – 6:00 pm. Monday – Friday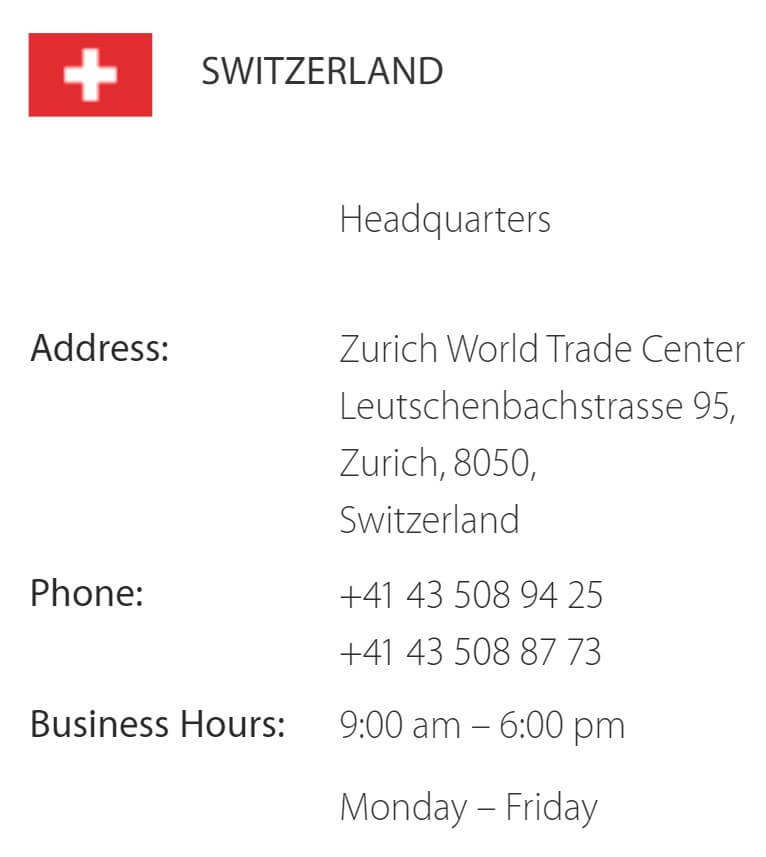 DUBAI Financial Planning & Forex Management Department
Address: The Greens. DAMAC Smart Heights Building, Sheikh Zayed Road. Dubai
Business Hours: 9:00 am – 6:00 pm. Monday – Friday
VANUATU
Address: Govant Building. BP 1276, Kumul Highway, Port Vila. Vanuatu
Business Hours: 9:00 am – 6:00 pm. Monday – Friday
Demo Account
SwissMain does not have a demo account for its clients. We consider this a negative aspect. Having a demo account is essential, especially for all those novice traders who need to simulate a real operation without taking risks and gain experience in different markets.
Countries Accepted
The broker does not mention anywhere on his website about citizens or jurisdictions that may have restricted the fact of opening an account with Swiss Main. We advise all traders interested in opening an account with this broker to contact customer service to find out if they can open an account or not.
Conclusion
Swissmain is not an easy broker to recommend, as various financial authorities have warned the public against it. In addition to this, their commercial offer is not very attractive: their spreads are above the industry average, the minimum deposits required are very high, the web platform offered is too pure, and the website lacks much crucial commercial information. At this time, we recommend some serious consideration before creating an account and depositing money with Swiss Main.