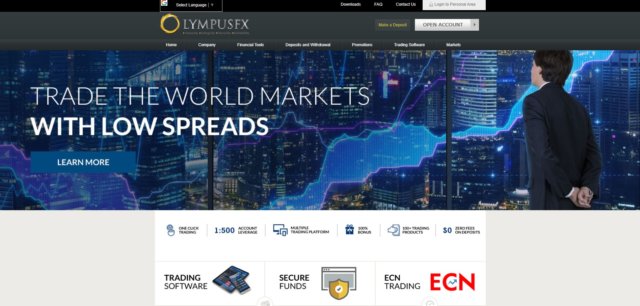 The Olympus Finance Group (or OlympusFX) is an international forex broker based in Saint Vincent and the Grenadines. They claim to be technology-driven, client-focused and offer core values of integrity, excellence and continual self-improvement. We will be using this review to delve deep into the services being offered by OlympusFX to see how they stack up against the competition and so you can decide if they are the right broker for you.
Account Types
We are a little lost when it comes to what account types are available when signing up there is just the option of a live account, however, in parts of the FAQ it talks about there being multiple account types (without mentioning them explicitly) so we do not know what is actually available. In this review, we will be looking at different parts of the broker, so if we come across any differences then we will outline the differences in the potential accounts.
Platforms
OlympusFX offer MetaTrader 5 (MT5) as the sole trading platform on offer, Metatrader 5 is highly customizable and convenient. It includes charting tools, market indicators, scripts, and EAs, advanced risk management, real-time market execution and more. Hugely accessible, MT5 is available as a web trader in your browser, a mobile application for your mobile devices and as a desktop download. Whatever you need from a trading platform, MT5 will be able to provide it.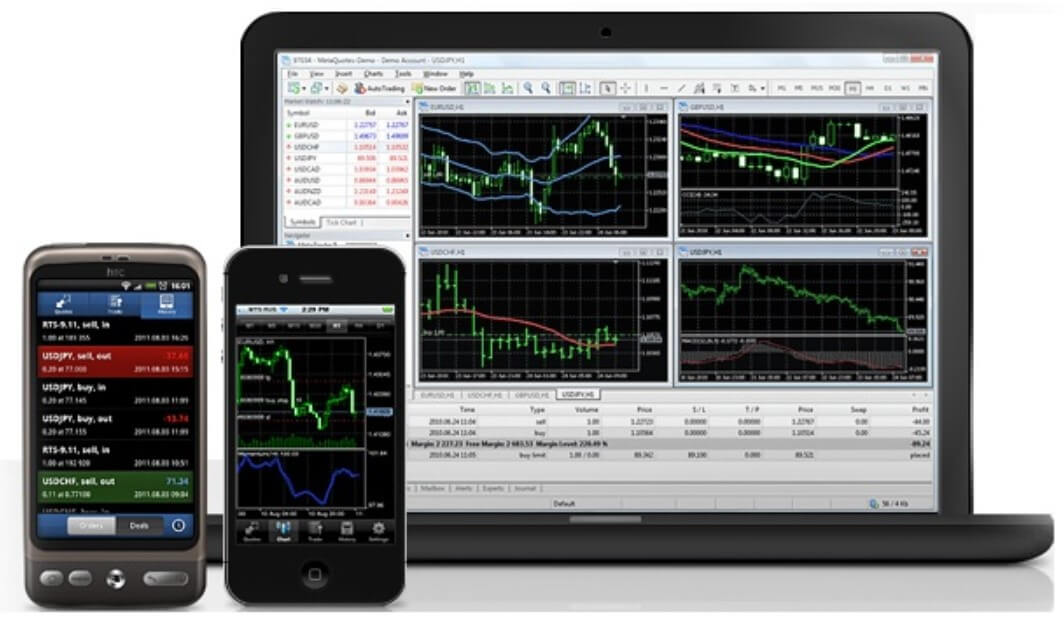 Leverage
The maximum leverage available from OlympusFX is 1:500 which can be selected when opening up an account, should you need to change it on an account that is already open then you will need to contact the customer service team with your change request.

Trade Sizes
Trade sizes start from as low as 0.01 lots (known as a micro lot) and go up in increments of 0.01 lots. It is not known what the maximum trade size is or what the maximum number of open trades you can have at any one time. Whatever the maximum trade size is we would recommend not trading over 50 lots due to slippage and execution speed with larger trades.
Trading Costs
Unfortunately, we do not have any information surrounding the trading costs such as commissions, spreads or swap fees, so we can't comment much on this site, except to express our disappointment as this information is vital and should be present.
Assets
It seems that there are three different types of assets available, we will outline what can of them below.
Forex:
There isn't any information given on the forex side of things, no breakdown or specification of the available products.
Metals:
When it comes to metals it seems that Gold and Silver ar ethe only two available to trade.
Cryptocurrencies:
There are a few different crypto coins available to trade, these include Bitcoin Ethereum, Ripple, Dash, Litecoin, and SataCoin.

Spreads
We do not know what the spreads start at or what they average, the only information that we do know is that they are ECN spreads and that they are variable spreads. Variable spreads mean that they constantly move, when there is added volatility in the markets they will be seen higher and when the markets are calm they will be lower and more stable.
Minimum Deposit
The minimum deposit amounts are broken down by currency type, as shown below.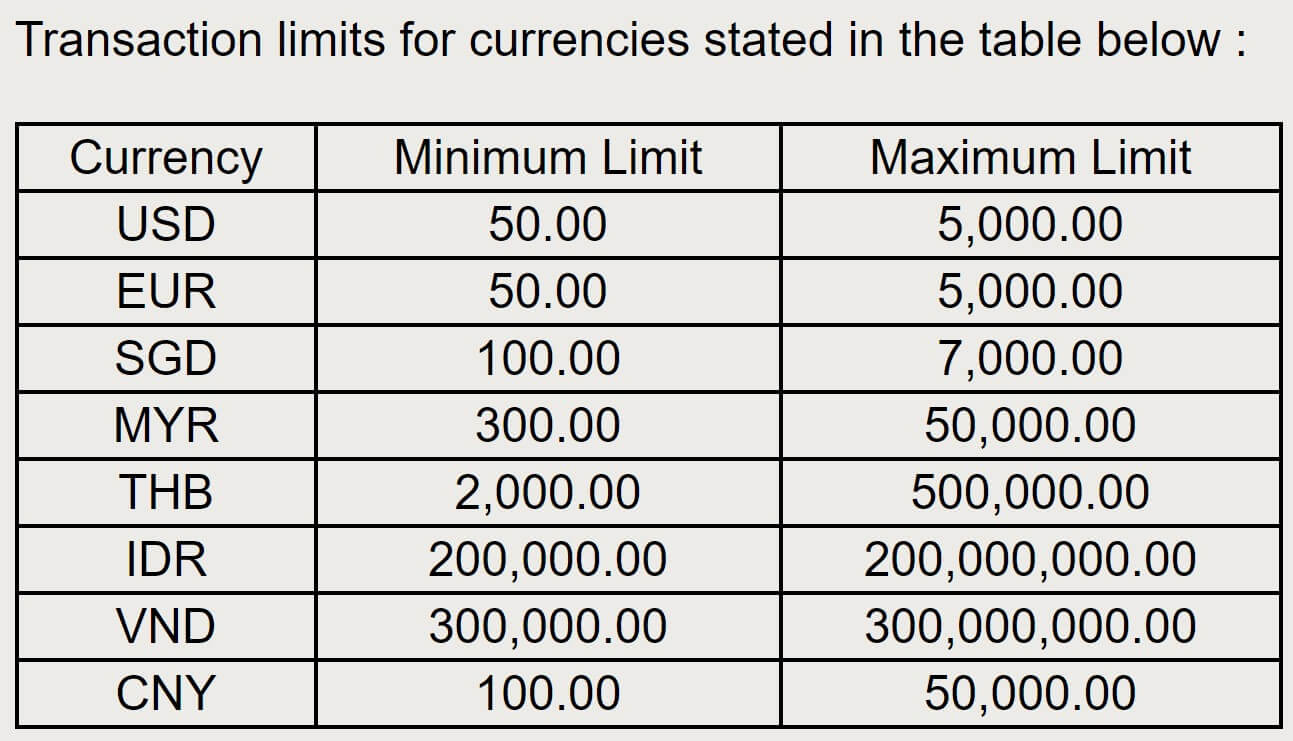 Deposit Methods & Costs
The deposit page gives ASEAN Bank Transfer and RMB Bank Transfer as the only two options, so bank wire transfers are the only method available. There also does not appear to be any fees added for deposits however OlympusFX states that the client will be responsible to pay their own banks transfer fees and any fees created by the client due to errors or processing or details given.
Withdrawal Methods & Costs
The only way to withdraw from OlympusFX is via bank wire transfer, the withdrawal form needs to be filled in and then it will be pending waiting for processing.
There is no mention of any fees for withdrawing however it also does state anything to do with no fees for withdrawing, be sure to check with your own bank to see if they add any transfer fees of their own.
Withdrawal Processing & Wait Time
A little statement on the site states: "If a deposit or withdrawal is not carried out instantly, it will be completed within 24 hours." so this indicated that withdrawal requests will be processed within 24 hours. After this, the time it takes will depend on your own bank's processing time but is normally completed between 1 to 5 working days after being processed by OlympusFX.
Bonuses & Promotions
You can receive an up to 100% bonus on your deposits, the following table outlines the deposit, bonus, and requirements to turn it into real funds.

You have 30 days to complete the turnover requirement or the bonus will be removed from your account.
Educational & Trading Tools
Apart from a couple of pages explaining what forex is, there isn't anything related to education, this is a shame as a lot of modern brokers are now looking to help their clients become better traders by giving them education or tools, it would be nice to see OlympusFX do something similar for their clients.
Customer Service
If you need to contact OlympusFX there is just one way to do it, that is through an online submission form, fill in your name, email, and message and you should get a reply via email. It is a little concerning when there is no contact information provided on the site, not even an email is present, it does not build up a lot of confidence in us as it makes it look like they do not want to be contacted or known.

Demo Account
Demo accounts are available, demo account sallow potential new clients to test out the servers and trading conditions, it also allows existing clients to test out new strategies without risking any of their own capital. There isn't any information about the terms of the demo accounts like the trading conditions or any sort of expiration time, so it would be good to have some of this information added to the site.
Countries Accepted
This information is not present on the site, so if you are thinking of signing up with OlympusFX, we would recommend getting in contact with the customer service team prior to doing so.
Conclusion
There isn't much for us to say about OlympusFX, there is so much information missing from the site that whatever the positives are, they are massively outweighed by the negatives, we will say it is up to you if you join them, but we would strongly suggest looking elsewhere.
We hope you enjoyed this Olympus FX review. If you did, please be sure to check out some of the other reviews to find the broker that is right for you.