This is an ECN type broker doing business since 2005 under the "by traders for traders" motto. FXOpen is transparent with its history, stating major advances for each year, the readers will have a better picture of what they do, how, and what are their concerns. Their business domains cover the Australian branch from FXOpen.com.au and FXOpen.co.uk for the UK, while fxopen.com is from Saint Kitts and Nevis, Carribean country without any regulation.
The UK and Australian domains have FCA and ASIC licenses respectively. To cover the lack of regulation for the Nevis domain, the broker turned to "The Financial Commission" group, a neutral 3rd party committee organization that features a list of brokers' reputation and also a Compensation Fund. The Compensation Fund acts as an insurance policy for members' clients. FXOpen pays to be a member of this organization but we are not sure if it could be a substitute for the ASIC or FCA.
There are also other differences, one notable is that FXOpen does not offer negative balance protection, unlike their FCA regulated branch. The website is simplistic full of information related to trading. The homepage will showcase FXOpen business model visual, Quotes Table with the live spreads information, and a real-time spreads comparison table with other brokers – a featured feed from myfxbook.com. This is a good sign of transparency and good marketing mix as other legitimate party information is used for promotion.
The broker's main selling points are low spreads, diversified account types, low minimum deposit, their PAMM, and crypto trading. Ratings the broker has received on the benchmark sites are mixed. However, it is notable that FXOpen responds to negative opinions with good arguments and openness for resolution. This FXOpen review will provide insight into how good their services are by sections.
Account Types
FXOpen offers 4 account types that are not diversified by minimum deposits requirements and scaling benefits but towards the trading style and financial capabilities.
ECN Account is FXOpen's main account that features aggregating liquidity technology, therefore it should provide tight spreads, great execution time and liquidity. Each participant acts as a liquidity provider and Level 2 Market depth is available.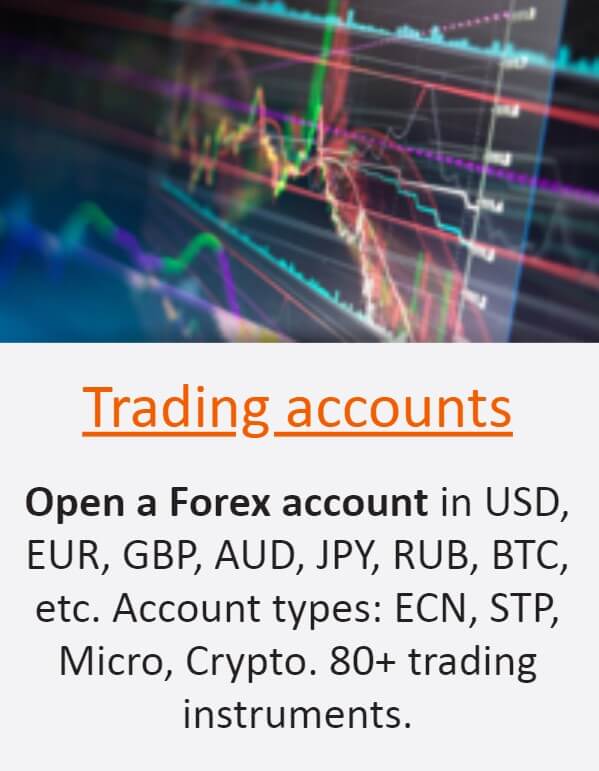 ECN Account is an NDD type without any limitations to the trading style. Account currencies available are USD, AUD, CHF, EUR, GBP, JPY, RUB, SGD, milliBTC (0.001 BTC), and GLD. GLD is a unique Gold unit are represents 0.001 troy ounces of Gold that can be used for account currency. Having Gold as a base gives traders the ability to have a haven from market crashes, special hedging, and hold an asset that has undisputable intrinsic value. Note that the account will not have actual Gold backed up, just a representation of Gold. The account specification table is very detailed, more than what we usually see with other brokers.
ECN account has a commission charged, although it is one of the lower amounts in the industry. Furthermore, the amount may vary depending on the volume and also if you open an account through an affiliate. FXOpen recommends this account type for scalper trading strategies and experienced traders. There are more than 70 tradeable instruments according to the FXOpen website.
STP Account is a no commission variant of ECN Account with a lower initial deposit requirement. The commission is integrated into the spread. Account currency can be in USD, EUR, GBP, JPY, RUB, CHF, and Gold. GLD is used as base currency the same way as the ECN Account. No limitations are set and the trader will have more than 50 tradeable instruments as stated, under the same liquidity conditions as the ECN type. STP Account also has more tolerable Margin Call and Stop Out levels. STP Account does not list crypto assets and some other commodities for trading, only the ECN Account has all assets available.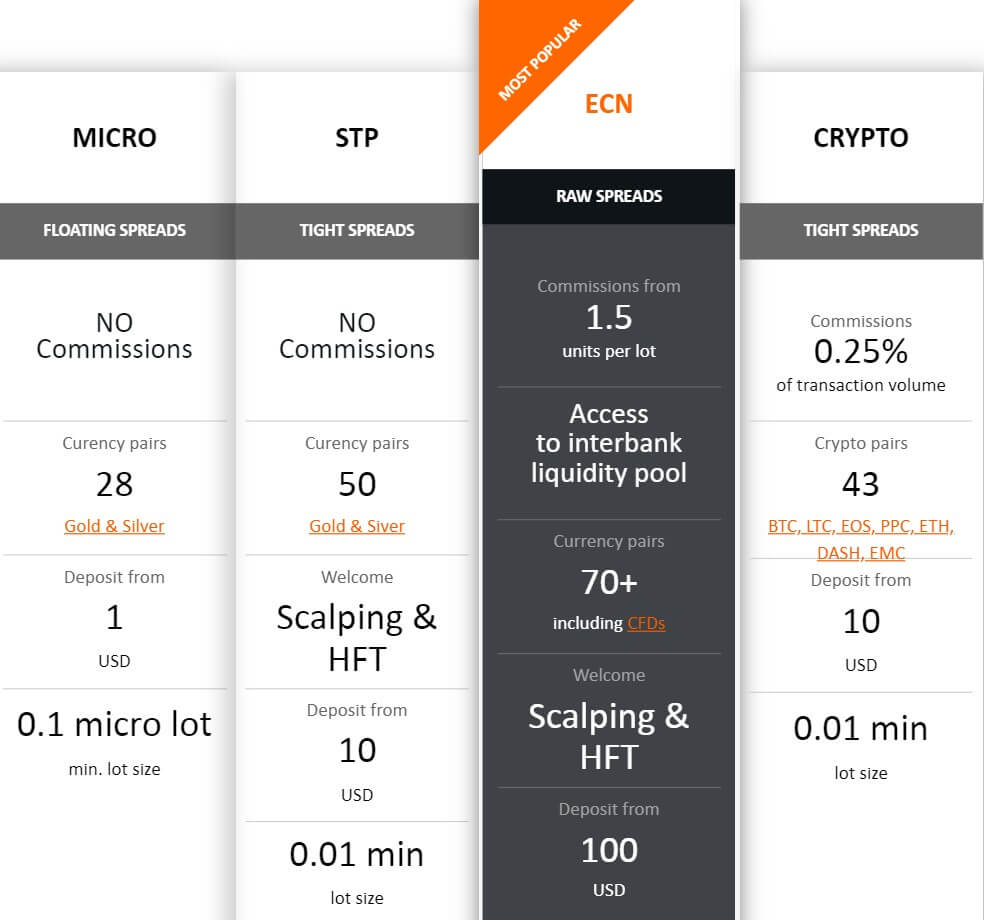 Micro Account is scaled down to cents instead of regular USD and is designed for low capital traders. The initial deposit amount is minimal, Margin Call and Stop outs are even lower then STP but they share the same trading conditions. There are 28 currency pairs, Gold and Silver available for trading only. Demo account for Micro is not available, it acts almost like a demo with real, low-value capital. Some other restrictions apply to trade styles. News trading and scalping are not allowed and Level 2 market depth is unavailable. No commissions are charged but the leverage will be reduced once the balance exceeds $3000.
Crypto Account is dedicated to cryptocurrencies trading with a leverage of 1:3. The broker uses the same ECN aggregation technology for better liquidity as with other accounts. Conditions are very well presented, almost all the information that we were interested in is stated. Account currency can be in USD, EUR, GBP, RUB, JPY, Bitcoin (mBTC), Litecoin, Ethereum, and Dash. This ability to have cryptocurrency is very convenient for those who do not want to have any intermediaries for their financial transactions. The commissions are charged and are scaled to trading volume.
There is a total of 43 trading instruments with BTC, ETH, BCH, EOS, Ripple, Monero, ETH, LTC, etc. No bonuses are available for this account type. Traders will have no trading style restrictions. Also, you will enjoy 24/7 crypto trading. More info on trading assets and costs for each account type in the following sections.
Islamic account is available but the swaps are just integrated into commission equal to the Swap rate of the particular currency pair.
Platforms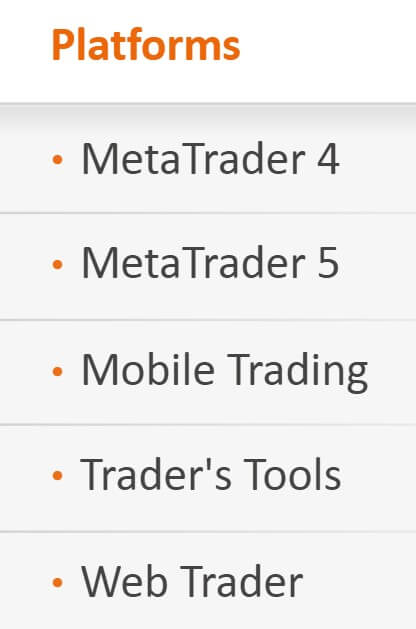 FXOpen launched the MetaTrader 5 platform for the ECN accounts in 2018 and also holds former licenses for the MetaTrader 4 platform. Both are available for computers running on Windows and Mac operating systems as well as for the mobile devices running on Android and iOS. Web access MT4 or is available without any need for installation or download. The MT4 platform has different modifications for the ECN and the STP or Micro accounts. So traders will have two versions to download.
The MT4 platform will show 2 FXOpen servers to select, Live and Demo, both having around 50ms ping. The main four charts will resemble default settings but FXOpen wants to showcase their crypto assets trading for the ECN Account type. So, apart from two major Forex currency pairs on the H4 timeframe, there are also BTC/USD and LTC/USD. One-click trading is only enabled on the EUR/USD chart. Of course, One-click trading can be enabled but not for cryptocurrencies as we have experienced in the MT4. The reason is that to trade crypto, you need to have Crypto type Account. FXOpen has separately offered "One-click trading and Level 2 plugin" developed by Soft-FX. This tool acts as an Expert Advisor that is can be installed like any other program.
A few settings have to be enabled in the MT4 before the tool can be applied to charts. The plugin is well designed with several useful options for trading. Traders can see the spread, Bid and Ask price, Level 2 structure in quantity or lots. Orders type selection, Stop Loss and Take Profit boxes are available with the addition of partial closing, aggregated ordering options, volume-weighted average price mode and more. The tool package comes with the custom complementary indicator that will show the Level 2 histogram orders on-chart. Tools like this add unique value to traders and are rare to see. FXOpen provides a very good installation and Usage Guides for this tool.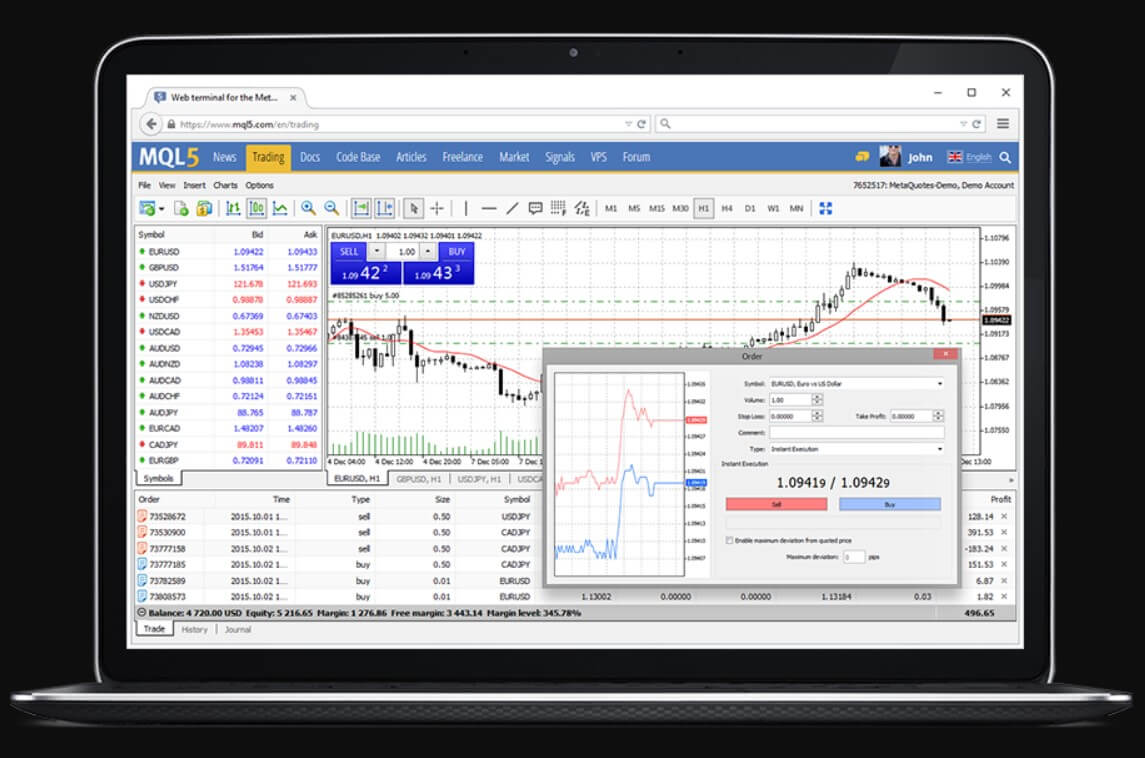 The platform client is updated to the latest version and it is registered for the FXOpen Investments Inc. in Panama City, Panama. This address is not the same as the one registered for contact on the FXOpen website. There are no additional templates or custom indicators included in the default installation. The symbols are grouped into several groups, too many in our opinion and many of them contain one asset. Still, traders will understand the classification. There are also groups containing the Ask and Average prices for the many instruments, these are indicative only but opens a different aspect of trading.
The instrument specification window is showing enough trading conditions data. Open positions have swaps and commissions columns that accurately represent trading costs. The execution times range from 240ms to 280ms with an average of 263ms. Deviations are not extreme and under normal conditions are rare.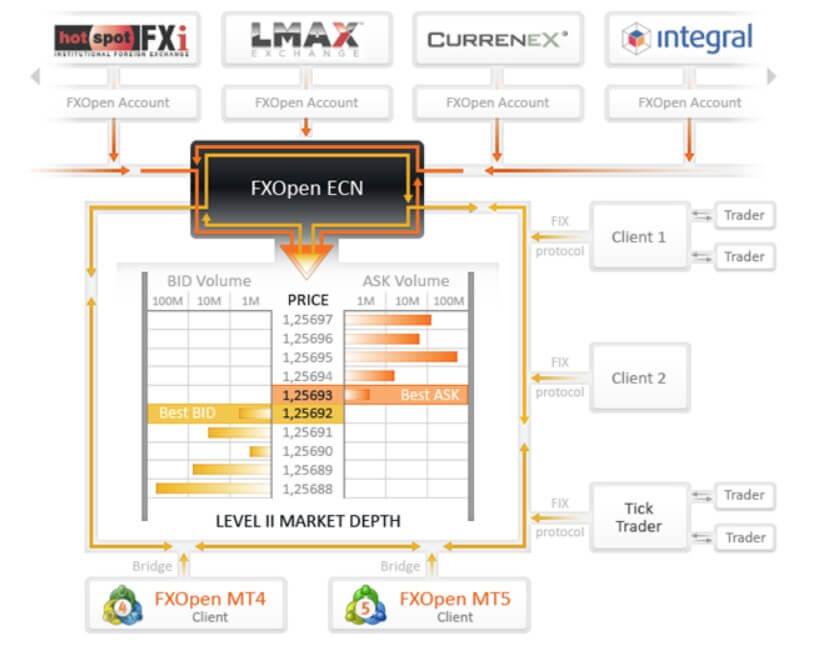 Metatrader 5 platform is available only for ECN Account type traders. The EU server has a bit slower ping rate of 55ms compared to the MT4. The client is updated to the latest version and is registered to FXOpen Investments Inc. in Panama City. The default startup template is not modified, it is by default settings with 4 major forex currency pairs set on H1 timeframe. This time cryptocurrencies are not presented on charts. Symbols list is similar to the MT4 but better, as there is no unnecessary grouping. Instruments Specification shows all the trading conditions including the commission in percentage terms per lot. The execution times are better than with MT4 and are about 60ms without deviations, one of the fastest execution times in the industry. Market depth Level 2 quotes are available.
Leverage
The leverage will be dependant on the FXOpen domain traders are registered to. EU regulations do not allow leverage above 1:30 unless traders are classified as Professionals. ASIC regulated domain will have leverage up to 1:500 for the Standard ECN Account.
The leverage level also depends on the account type. ECN accounts leverage is up to 1:500 and it is also scaled to balance size. Therefore, traders with a balance up to $25,000 can have 1:500 maximum, from $25,000 up to $100,000 – 1:200 and up to $1,000,000 is 1:100. FXOpen is open for leverage negotiation for sizes above 1 million.

The leverage level is changeable by notifying the broker. For some instruments, the maximum leverage is lowered, such as for exotics and volatile currency pairs. These are all GBP based pairs, EUR/DKK, EUR/GBP, EUR/TRY, USD/TRY and USD/HKD with a maximum leverage of 1:100. Gold and Silver remain at 1:500, which is not common. Oils are at 1:50 and Natural Gas 1:25. Indexes leverage go from 1:50 to 1:100.
The STP Account has 1:500 leverage for all assets except for the GBP related currency pairs that have 1:100. For the Micro account, the leverage is 1:500 maximum. Once the balance of a Micro account exceeds $3000, the leverage will be decreased 100x (for example: from 1:500 down to 1:5). The leverage specifications of this account published on the FXOpen website is not consistent with the main account presentation table, but we have confirmed that the leverage is 1:500 maximum. The Crypto Account has the leverage of 1:33 maximum for all trading assets, which are all and only cryptocurrencies.
Trade Sizes
FXOpen uses micro-lot sizes on all accounts or 0.01 lots (1000 units). The maximum trade size is not limited as stated, what we have noticed in the specifications from the MT4 is 1000 lots. Additional steps are also 0.01 lots allowing traders to be precise when allocating more trades. This is also convenient using the One-click trading and Level 2 plugin with more options for trading orders. Stops level is set to 0 for all forex pairs, meaning no limits where you put your Stop Loss or Take Profit orders. We haven't noticed any Stops levels for other account types too.

For Indexes, the minimum trading size volume is 0.1 lots, Oil types retain 0.01 lots minimum, and Natural Gas is set to 0.1 lots. For cryptocurrencies, trade sizes vary and are scaled to the coin value. Bitcoin minimum trade size is 0.01 lots with steps in micro-lots too. But, Litecoin's minimum trade size is 0.1 lots and allowing additional trade steps in micro-lots. The same trade size conditions are for other low values coins like Ethereum. For some, the minimum trade size can go up to 10 lots as these contracts contain only one, low-value crypto.
There are differences regarding the Margin Call and Stop Out across the account types. ECN Account has this set to 100% Margin Call and 50% Stop Out, STP Account is set to 50% and 30% and Micro to 20% and 10% Stop Out. Margin Call for Crypto Account is 30% and 15% Stop Out.
Trading Costs
FXOpen has a somewhat complicated commission fee structure. It is affected by the trading volume and the equity size. Bigger the equity, less the commission but also trading volume can further decrease it. The complete structure is published online. For ECN MT4/MT5 Accounts, the commission can be from $10 per lot traded to 3$ – if a trader reaches more than 250,000,000 units of trading volume without breaching the $1000 equity. For Equities more than $1,000, the commission is further reduced from $5 to $3, and from $25,001 equity, it is $3.6 to $3.
Any equity above $250,000 has $3 commission per lot traded regardless of the trade volume. Index commission is in pips and ranges from 0.16 to 4 pips depending on the Index. Other base currencies are not converted, so a commission of $5 is €5 if the account is in EUR. STP Account does not have commissions as they are integrated into the spreads.

Inactivity fees are charged by FXOpen. A trading account is deemed inactive if there are no open trades, transfers or deposits more than 90 days. Inactive accounts will be charged 10 USD each month. Whatsmore, if you want to start trading again you will have to pay a reactivation fee of $50. The broker recommends if you plan to cease trading to transfer all funds to FXOpen eWallet where they can stay indefinitely.
Swaps are low with frequent positive figures on one side. They are calculated in points for Forex and tripled on Wednesdays. EUR/USD pair has a positive on the short side 3.6 and -9.6 points on the long. USD/JPY has 2.3 on long and -8.2 points on short, GBP/USD -0.8 short and -7.5 long, and AUD/USD with -4.7 points on long and -0.3 points on the short side. Other, more moving currency pairs have increased swaps but not to extremes.

GBP/NZD has -8.4 points on long and -5.1 points short, EUR/TRY -291 on long and 160 short, GBP/SGD -11.8 long and -2.5 short, SGD/JPY 3.67 long and -5.85 short and so on. The biggest swap is for the USD/MXN with -423.7 points on the long side and 156.3 on the short. USD/RUB has a low swap compared to other brokers with -175.5 points for long and 1.3 points on the short side. Gold swap is not unusual with -15.7 points on the long and a positive 0.6 points on the short.
Moving on to the Crypto Account swaps and commissions. Swaps are calculated in percentage terms per annum and tripled on Wednesdays. For all crypto assets, it is -10% on both trade sides. The commission charged is 1% per lot traded and it is applied to all crypto instruments although it is affected by the trading volume.
Assets
FXOpen has separated cryptocurrencies into their Crypto Account, and the STP Account does not hold all assets from the ECN Account. We will present what assets are present in each of the account types. Starting with the Crypto Account the broker states 43 tradeable assets related to cryptocurrencies only. We have counted a total of 32 in the MT4. Note that the number of cryptos is lower as single crypto has multiple quoted variations, thus increasing the total number of instruments.
Bitcoin is available against EUR, USD, CNH, JPY, and RUB. Bitcoin is also used on the quote side for other cryptos, for example, BCH/BTC, LTC/BTC and so on. Counting only cryptos available there are Bitcoin, Litecoin, Ethereum, NameCoin, PeerCoin, DASH, Emercoin, and Ripple. One of particulars of FXOpen's crypto offer are rarities like DSH/CNH, EMC/BTC, PPC/BTC, NMC/BTC, ETH/CNH, ETH/RUB, LTC/JPY, BTC/RUB, BTC/JPY, BTC/CNH and more.
Chinese Offshore Yuan and Ruble are present as a quote for most cryptocurrencies, showing signs of broker focus on the Asian markets where cryptocurrencies are most popular. In 2018 the broker states that they have included Bitcoin Cash, Ethereum Classic, EOS, Monero, NEO, IOTA, OMNI, etc. We have not found these in the MT4 platform except for the BCH.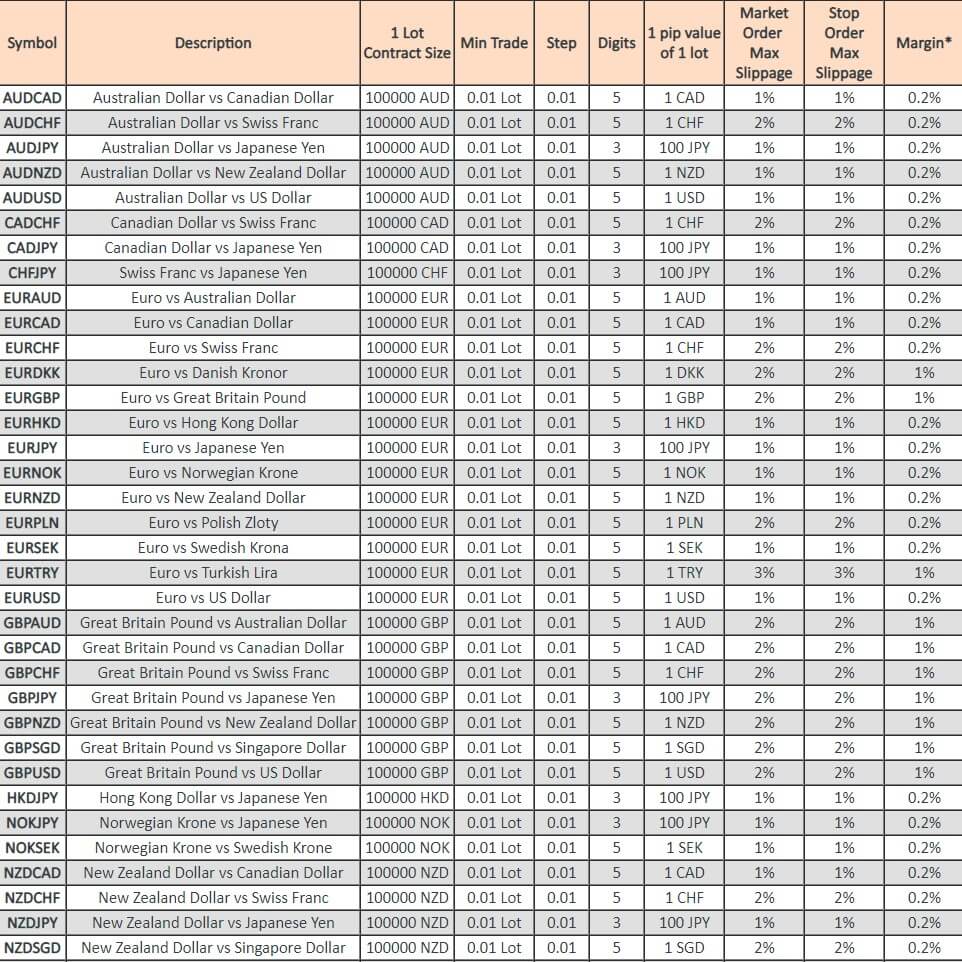 ECN Account holds more than 70 instruments available to trade and is the most complete offer. categories covered are Forex, Commodities, Indices, and Precious Metals. Forex offer is very good with a total of 50 currency pairs. All majors and minors are listed with some additional combos like GBP/SGD, and HKD/JPY. Other notable and rare pairs are EUR/HKD, EUR/PLN, EUR/TRY, NOK/JPY, USD/MXN, USD/RUB, USD/CNH, and USD/TRY.
Commodities range is limited to two Oil types, spot Brent and WTI with the addition of Natural Gas. Indexes offer is good enough with a total of 13 total assets. FXOpen offers mini Index for S&P500, Wall Street 30, Germany 30, and NASDAQ. Others offered are France 40, Europe 50, Australia 200, UK 100, Japan 25, and Wall Street 50. There are only two precious metals for trading, as usual, Gold and Silver.
STP Account does not feature Indexes, Commodities or Crypto. It is focused on the Forex and two metals, Gold and Silver. The forex range contains the same 50 instruments as for the ECN Account. The Micro account has a limited Forex offer to 28 pairs and also offers Gold and Silver. The Forex range does not feature exotics and is limited to majors and minor currency pairs.
Spreads
FXOpen offers floating spreads on all of its accounts. The broker promotes the famous "from 0 pips" line. During our readings the Crypto Account BTC/USD spread is $7.4, BTC/EUR €5.2. XRP/USD spread was 233 points and Litecoin/USD – 28100 points. Forex ECN Account spreads are not 0 pips on any asset at any time during our testing.
The lowest spreads are 1.2 pips for the EUR/USD, 1.5 pips for HKD/JPY, 2.2 pips for EUR/GBP 2.3 pips for USD/JPY and 2.5 pips for AUD/USD. It is surprising to see HKD/JPY on this list.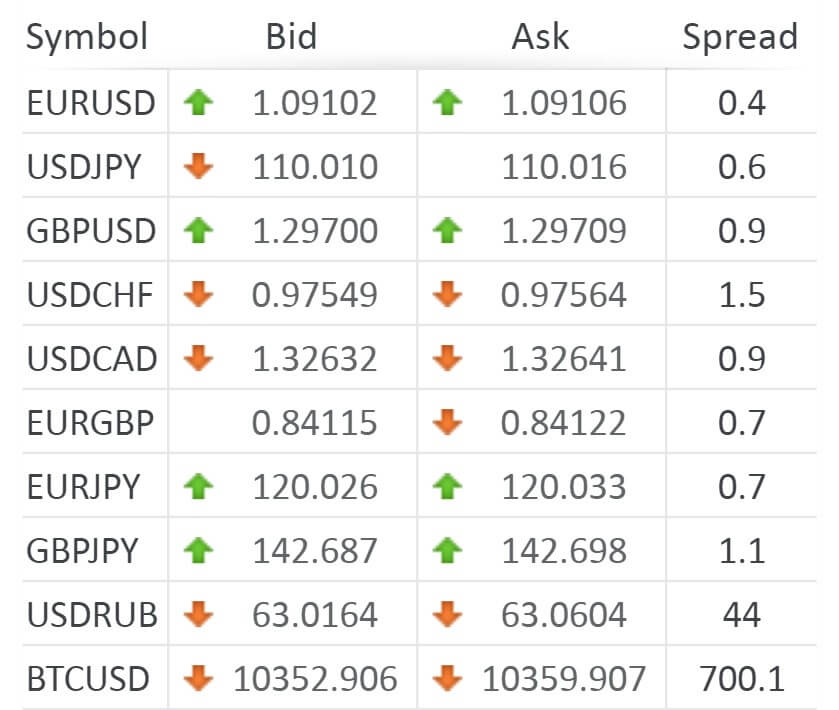 Other forex instruments spreads are marginally higher, notably higher are AUD/CHF with 48 points, EUR/CHF at 60 points, EUR/NZD at 62, EUR/JPY at 40, GBP/AUD at 67, GBP/NZD at 184 and USD/CHF at 63 points. The exotics spreads are also good enough with USD/CNH at 80 points, USD/RUB at 518 points, EUR/NOK at 3081- which is also nominally the highest Forex spread, EUR/TRY at 1751, and USD/PLN at 375 points. Spot Gold spread is competitive with 45 pips. Bothe Oil types have around 14 points floating spread.
STP Account should have higher spreads since the commission is added to them. Starting with the EUR/USD at 2 pips, 8 points markup compared to the ECN Account, HKD/JPY is 38 points, EUR/GBP is also 38 points, USD/JPY 33 and AUD/USD has 30 points spread. AUD/CHF rises to 75 points, EUR/CHF at 74 points, EUR/NZD at 84, EUR/JPY at 47 – just 7 points more, GBP/AUD – 104, GBP/NZD at 200, and USD/CHF at 66, just 3 points higher. According to this comparison, we could say the spreads are about 30% wider than with the ECN Account but not in all cases. Spot Gold has 61 pips spread and Silver 38.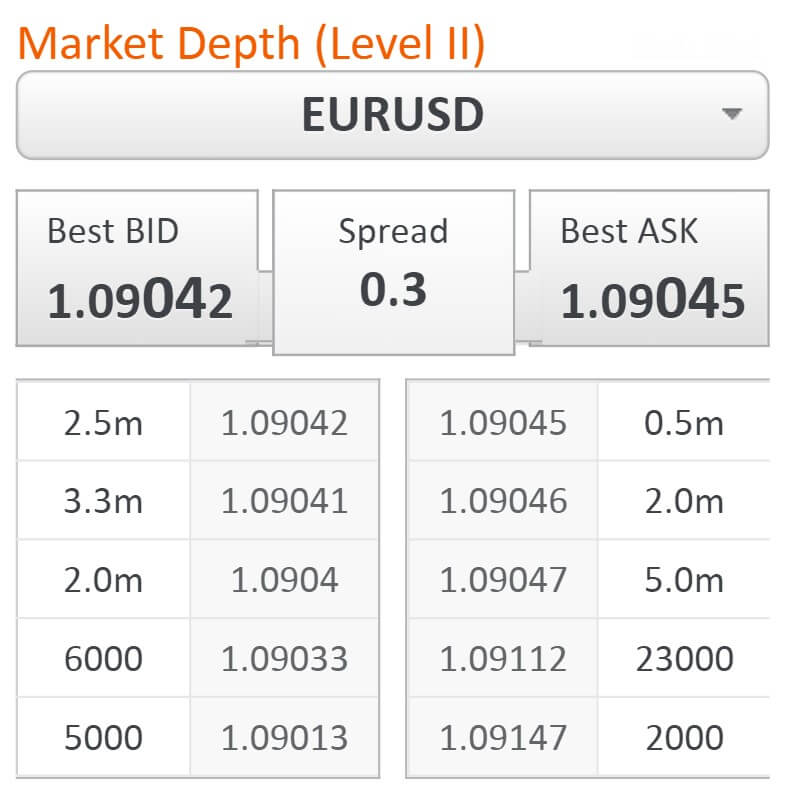 Minimum Deposit
The minimum deposits requirement starts from $1 for the Micro Account or cent account as often called. For the STP Account, you will need to deposit at least $10 and for the ECN $100. Crypto Account requires $10 or equivalent.
Deposit Methods & Costs
FXOpen has many deposit channels, some of which may not be available to all. One is certain, cryptocurrency deposit is available to all. The broker allows Bitcoin, Litecoin, Ethereum, Emercoin, and Tether deposits. FXOpen's eWallet is the main account where all financial transactions are done. Channels for deposits by electronic wallets are Netteler (in AUD, EUR, GBP, RUB, SGD, and USD), Skrill (in AUD, CAD, CHF, EUR, GBP, JPY, and USD), WebMoney (EUR and USD), QIWI Wallet (in EUR, RUB, USD), FasaPay (in IDR, and USD), Yandex.Money (only RUB), and IntellectMoney (only Ruble). Standard Bank operation deposits are available as SEPA transfers, PayToday (THB only), Wire transfer and local deposits.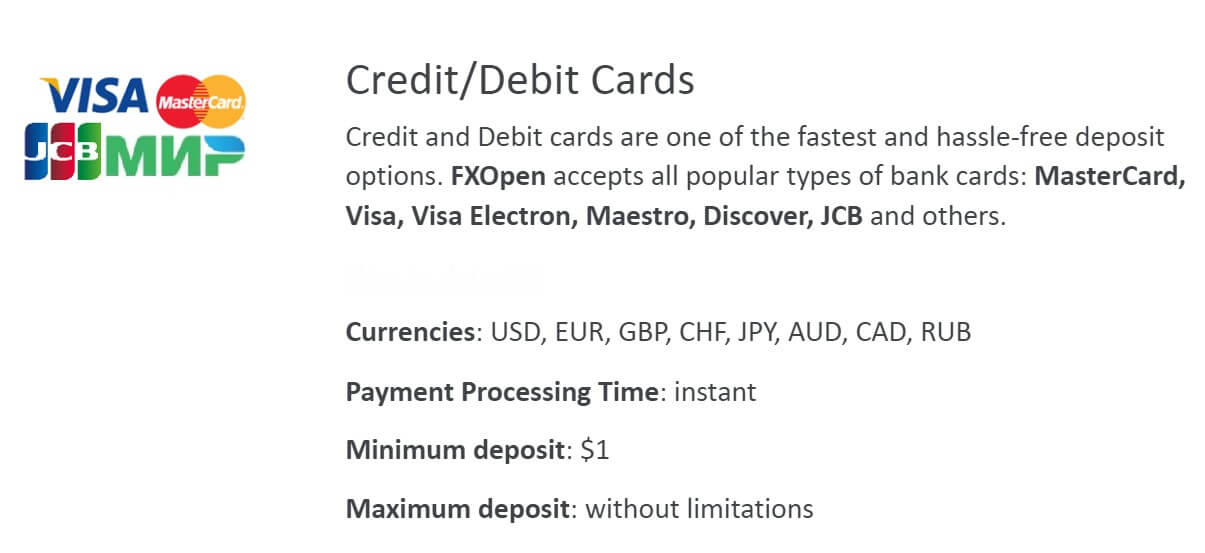 Instant local bank transfers are available in RUB only by Alfa-click. Credit/Debit Cards are accepted with the addition of China UnionPay. Prepaid cards, vouchers, and Paysafe are also accepted. Note that Tether is a US Dollar-pegged cryptocurrency, that lets traders deposit and withdraw in USD and EUR equivalents using the Blockchain technology.
Wire and SEPA transfers have a minimum of 25 EUR/USD while local transfers have a minimum of $1. Other deposit methods also require very low amounts for transfer.
Alfa-click has a 7% deposit commission, local bank transfers have from 3.2%+USD 0.29 for USD deposits and 2.5%+EUR 0.29 for EUR deposits (or equivalent in another currency). Credit Cards will be charged from 2.5% + EUR 0.29. China UnionPay commission for deposits is from 2.5%.

As for eWallets, commission for deposits is 1% for WebMoney, 3.2%+USD 0.29 (2.5%+EUR 0.29 for EUR deposits) or equivalent in another currency (min EUR 1.29 or equivalent for transfer between Skrill accounts). QIWI Wallet has a high commission for deposits of 6% as well as Yandex Money with 7%. Neteller deposit commission is 2.5% + 0.29 (commission equivalent for all currencies). The IntellectMoney deposit commission is from 3%. FasaPaay will not charge any commission for deposits. Prepaid cards do not have any costs except for Paysafe – 8.25%.
Withdrawal Methods & Costs
Withdrawal methods are almost as numerous as with deposits but there are certain restrictions. Bank Wire transfers have a minimum of $100, local transfers minimal amounts are changeable, Cards have a minimum of EUR 8 or USD 10 and $2000 maximum, while other methods have small minimum amounts required.
Unfortunately, FXOpen has fees for withdrawals. Costs related to Bank Transfers are from 15 EUR/ 45 USD/ 1500 RUB/ 35 GBP/ 45 CHF/ 65 AUD/ 5000 JPY and for SEPA is from EUR 15. Skrill commission is 1% (max $0.68) and Credit Cards 2.5%+USD 3.5 for USD, 2.5% + EUR 3.5 for EUR and 2.5%+RUB 50 for RUB withdrawals. The commission may vary depending on the card-issuing country and amount of payment. China UnionPay commission is from 2% but not less than 10 CNY (RMB). WebMoney withdrawal commission is USD 0,8% (max $50), EUR 0,8% (max €50, min. 1.29).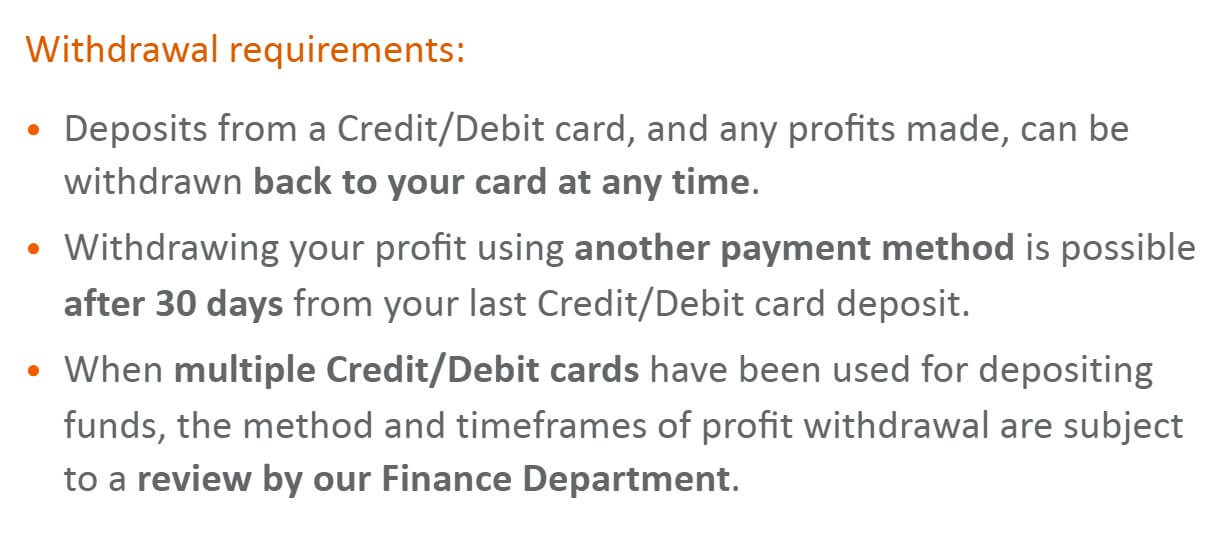 Yandex Money will ask for 1% of the withdrawal amount while Netteler does not have any costs for withdrawals. Perfect Money does not have affordable deposits but is friendly when it comes to withdrawals with 0.5%. FasaPay will also charge 0.5%.commission. QIWI withdrawal fee depends on the currency, for RUB – 1%, for EUR – 0%, and for USD – 1%.
If you request a withdrawal before meeting the requirements of the minimum notional trading volume, your account may be subject to a fee of 2.5 to 8.25% depending on which deposit option you used.

Withdrawal Processing & Wait Time
Withdrawals are done through the FXOpen portal. For Wire transfers, the processing time is from 1 to 3 days, local transfers are up to 3 days and Card withdrawals are made in 1 day. EWallets also require only 1 day to finish.
FXOpen issues a PIN code upon registration that needs to be entered every time a financial transaction is made. 2-step verification measure is applied so you will have to have your mobile device ready. You can check the status of your withdrawal at the Operation Summary page in My FXOpen personal area.
Bonuses & Promotions
FXOpen has several promotions ready at the moment of writing of this review.
No Deposit Bonus for STP accounts is a non-withdrawable bonus amount received once registration is verified to level 2 and an STP Account is opened. Any profits are withdrawable after the required volume of 2 lots. This bonus means you can start with $1 and trade like you have $11. For some, this opportunity has almost no downsides ($1) and a very open and positive upside.
The Welcome Bonus is a small addon bonus for Micro Accounts that is withdrawable after 100 traded micro-lots. After traders open a Micro Account and get level 1 verification level they will receive $1 on top of their Micro Account balance.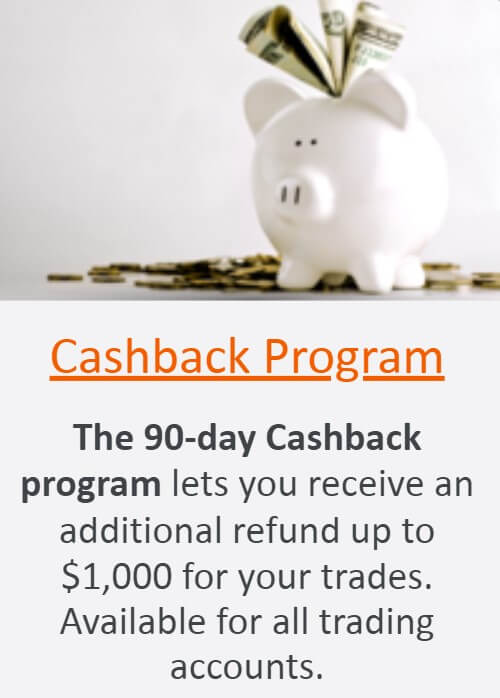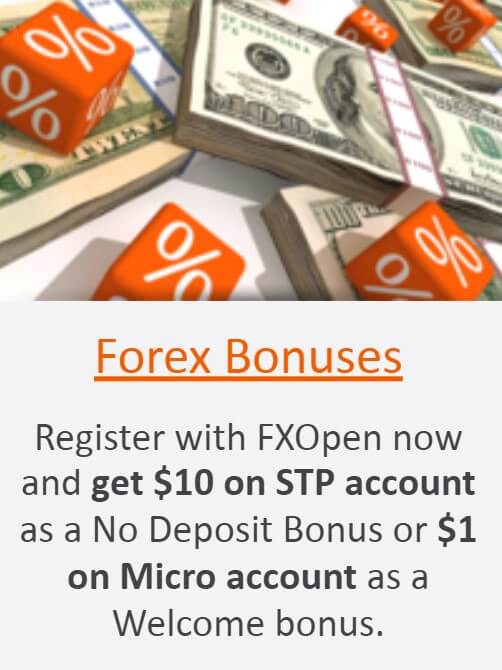 FXOpen also has a Cashback program. It is based on the used margin and is available for all account types, ECN, STP, Crypto, Micro, PAMM ECN, PAMM STP. The minimum cashback is $5, and the maximum is $1,000. Per trade $100 is the maximum. According to the broker formula the cashback is calculated, as the used margin increases, the cashback amount will decrease. Starting cashback up to 150% of the Standard commission per trade. Cashback is fully automated, the funds are credited to the client's Commission account and can be used immediately.
ForexCup Trading Contest Bonus is a reward for the contest FXOpen organizes for the STP demo accounts. The ranking is made according to the profit made for a certain period and the bonus is usually 1% of that amount. You can withdraw or transfer the bonus to another account. Limitations may apply depending on a particular ForexCup contest.
Educational & Trading Tools
Aside from the mentioned One Click Trading and Level2 Plugin, FXOpen offers a few less advanced tools. These are Margin and Pip Value Calculator, Currency Exchange Rates and Commission Calculator. The description of how to use one and why is very good. Note that these tools are only for live trading accounts.
FXOpen Economic Calendar is not packed with features. It is mostly presented as a list with event names, impact meter, and the figures related. There is no way to filter any criteria. Clicking on ht event name will open the fxstreet.com website.

The broker is friendly to Zulutrade and Myfxbook automated trading service as well as VPS. For those not familiar, these are the most popular mirror automated trading websites that can be linked with the FXOpen account.
The educational section of FXOpen is not as developed as with some other bigger brokers, but what is impressive is the FXOpen blog. The blog is not as easily visible or promoted on the FXOpen website. About Forex page is mostly basic and meant for beginners that need to understand how to trade. Some marketing is involved but the page is not designed to be a substitute for real education. Market News and Market Analysis sections are very good and the news is mostly from the FXstreet portal. It is updated and filled with solid fundamental information.
Although we would like to have more diversified sources. Market Analysis is connected to the FXOpen blog area. There is a lot of interesting analysis, regularly updated. Each analysis is structured with visuals but some popular technical indicators, Fibonacci levels, and practices used may not be appropriate for certain currency pairs or similar assets. Still, the articles are good enough to instill attention to these points.
At a glance, the FXOpen blog section is full of useful material in different areas, like Cryptocurrencies, Brokers, Strategies, General Trading and so on. It is a definitive source for knowledge and information other, large brokers do not have.
Customer Service
Customer service is available 24/7 and chat service is 24/5. There are several support branches across the world zones and languages. Clicking on the chat cloud button will show many channels FXOpne can be reached. There is a Facebook messenger, WhatsApp, Telegram, Twitter, Skype, Viber, Line, and WeChat. The customer service representatives are not oriented to sales pitches and a very neutral. There is almost no waiting time to reach them and most of the answers are direct unless there is a negative answer behind. Still, none of them are conflicting with the actual conditions.

Demo Account
The demo accounts are unlimited according to the broker. You can open a demo for Crypto, ECN and the STP Account. All of them have actual costs included and represent live trading conditions. To open a demo is easy and also can be done directly through the MT4 or MT5 platform.
Countries Accepted
According to the FXOpen published list in February 2019, these are the countries restricted to service (fxopen.com domain): Aland Islands, Austria, Belgium, Brazil, Bulgaria, Croatia, Cyprus, Czech Republic, Denmark, Estonia, Finland, France, French Guyana, Germany, Gibraltar, Greece, Guadeloupe, Guernsey, Hong Kong, Hungary, Ireland, Italy, Japan, Latvia, Liechtenstein, Lithuania, Luxembourg, Malaysia, Malta, Martinique, Mauritius, Mayotte, Netherlands, Norway, Poland, Portugal, Reunion, Romania, Slovakia, Slovenia, Spain, Svalbard and Jan Mayen, Sweden, United Kingdom, and United States.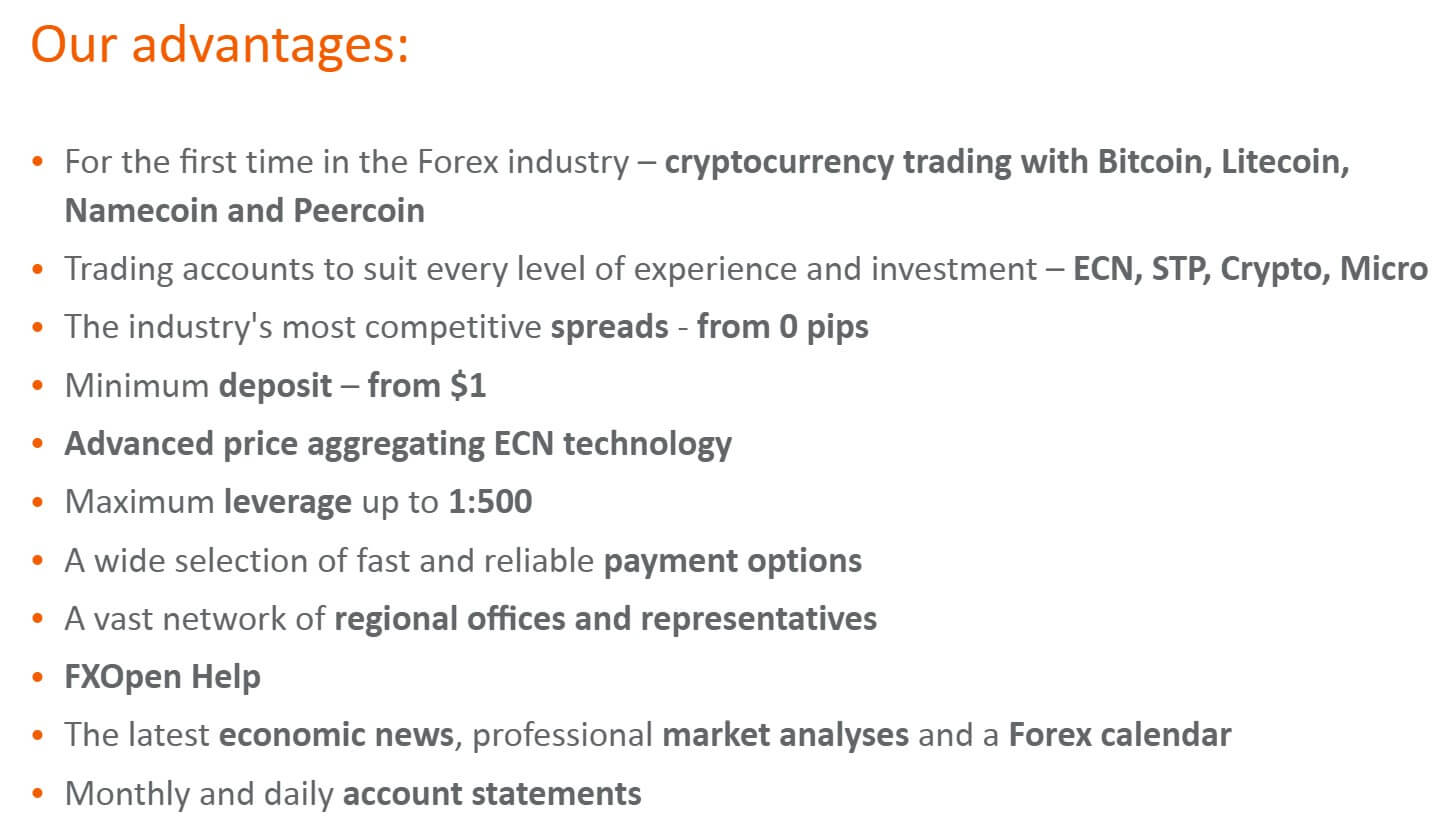 Conclusion
This section of the FXOpen review will address some issues that may be of concern to some traders. This broker does not have weak points except maybe the fees associated with the withdrawals. All other aspects are well developed. The broker is transparent and presents very good and useful information to traders in all aspects. Rating on some benchmark sites is mixed but they could be from traders that do not follow the ethical way of trading as many are attracted to no deposit bonuses and low entry barriers to start trading. Not to mention easy cryptocurrency transactions, one of FXOpen trademarks as a cryptocurrency-focused broker.
What traders should pay attention to are some reports that the broker can utilize measures to profitable traders where their profits are not justified and canceled, but this is unconfirmed. On some other popular review websites, FXOpen stands very positive, especially by Russian clients. FXOpen has not received any bad publicity or fines except for the $140,000 fine for offering services to US residents in 2012.