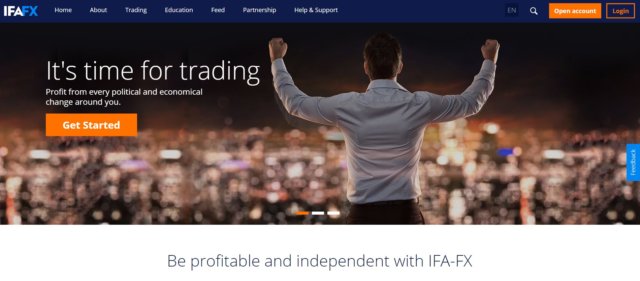 IFA-FX is a forex broker based in the Republic of the Marshall Islands. They state that they offer free training and education, access to the best information, essential trading tools, research and analysis, excellent customer service and the best trading environment. In this review, we will be looking at the services being offered to see if they live up to their statements.
Account Types
There are three accounts available from IFA-FX, these are the standard, the pro, and the VIP accounts, let's take a look at the requirements and features of these accounts.
Standard Account:
The standard account is the entry-level account from IFA-FX, it has a minimum deposit requirement of $300, this account gets you to leverage up to 1:200, spreads starting at 2.8 pips, access to the parentship program and newsletters. You are able to get a 20% deposit bonus and gain access to a few of the education and trading tools that we will look at later in this review.
Pro Account:
The pro account has a minimum deposit of $5,000, this account gets you the same leverage of 1:200 but the spreads have now been reduced down to a starting point of 1.7 pips. The start-up bonus has increased up to 30% now. This account has access to some additional training and tools.
VIP Account:
The VIP account doesn't have a set deposit requirement, instead, you are required to get in contact with the customer service team. This account gains access to all tools as well as additional out of hours support. It has similar leverage and spread to the pro account as well as all other perks previously mentioned.

Platforms
Just the single trading platform is available from IFA-FX, so let's take a look and see what it is.
MetaTrader 4 (MT4) is one of the world's most popular trading platforms and for good reason. Released in 2005 by MetaQuotes Software, it has been around a while, it is stable customizable and full of features to help with your trading and analysis. MT4 is compatible with hundreds and thousands of different indicators, expert advisors, signal providers and more. Millions of people use MT4 for its interactive charts, multiple timeframes, one-click trading, trade copying and more. In terms of accessibility, MT4 is second to none, available as a desktop download, an app for Android and iOS devices and as a WebTrader where you can trade from within your internet browser. MetaTrader 4 is a great trading solution to have.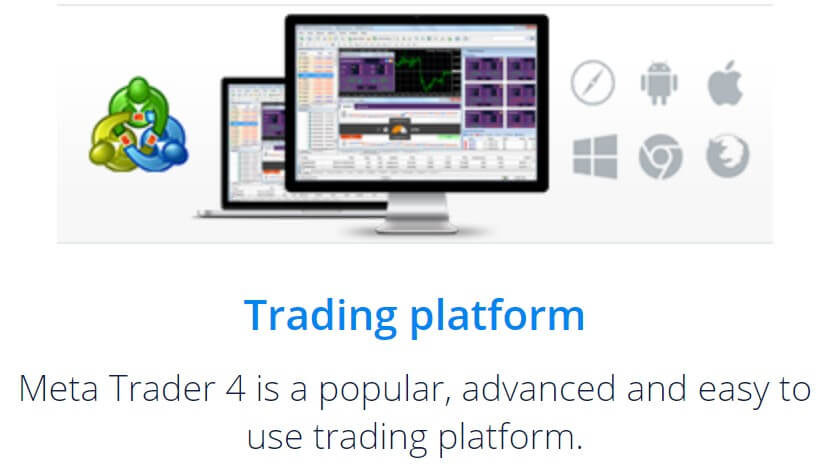 Leverage
The maximum leverage available for all accounts is 1:200, smaller amounts can be selected and leverage is selected in intervals. When setting up ana account you can select the initial leverage levels, if you wish to change it later then you will need to get in contact with the support team and ensure that there are no open trades at the time of the request. 1:200 is a decent level to trade at as it allows for good profit potential while still allowing you to manage risk effectively.
Trade Sizes
Trade sizes start at 0.01 lots which are also known as a micro lot, trades then go up in increments of 0.01 lots so the next trade would be 0.02lots and then 0.03 lots. We are unsure of what the maximum trade size is, however, whatever it is we would not recommend going over 50 lots in a single trade as it will become harder for liquidity providers and the market to execute trades quickly and without any slippage.
Trading Costs
IFA-FX does not implement any additional trading costs such as commission, instead, all their profits come from the spreads which we will look at later in this review.
It should be pointed out that swap fees are still present and are either charged or received when holding a trade overnight, these charges can be viewed within the MetaTrader trading platform.
If you do not log in or trade on your account for six months then a dormancy fee will be charged which is 10% of the account balance each month.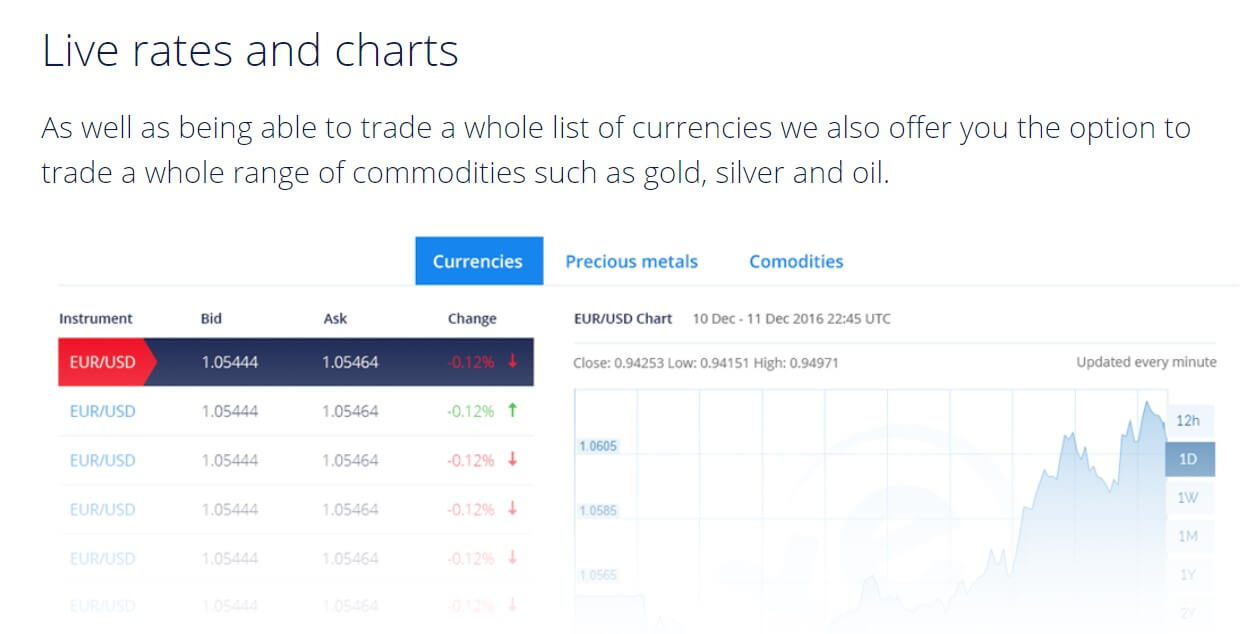 Assets
The IFA-FX website mentions a number of different times the number of assets that they have and how they abbe a whole range of currencies and commodities, nowhere do they actually indicate what they provide, the only ones mentioned are Gold, Silver, and Oil along with a few currencies such as EUR/USD. So while they may have a large number of tradable instruments, there isn't a definitive list for us to look at so we can not comment on much in this section.
Spreads
There isn't a full breakdown of spreads so we can only go on the limited information that we could find, looking at EUR/USD, if you have a standard account the spreads will start from 2.8 pips, if you have a pro or VIP account then the spreads will start from 1.7 pips.
The spreads are variable (also known as floating) which means that they move with the markets and when there is a lot of volatility they will often be seen much higher than the stated amount. It is also good to note that not all assets and instruments have the same spreads, for instance, while EUR/USD may be seen at 1.7 pips, other pairs such as AUD/NZD will have a higher starting spread.
Minimum Deposit
The minimum deposit to open an account is $300, this will get you a standard account, if you want a pro account then you will need to deposit a minimum of $5,000. Once an account is open, the minimum amount to top up reduces down to $100 for the majority of methods or $10 for e-vouchers.

Deposit Methods & Costs
You have a selection of 7 different deposit methods when trading with IF-FX, these methods are ecoVoucher, ecoPayz, Skrill, Neteller, CashU, Bank Wire Transfer and Credit / Debit card, both Visa and MasterCard. Looking through the deposit policy, there is no mention of any fees however it also does not state that there won't is any, you should also check with your own processor or bank to see f they will add any fees of their own.
Withdrawal Methods & Costs
You can use the following methods to withdraw: ecoPayz, Skrill, Neteller, CashU, Bank Wire Transfer and Credit / Debit card, both Visa and MasterCard. You get one free withdrawal per month, any additional withdrawals will have a processing fee of 30 USD, 25 EUR or 20 GBP.
Withdrawal Processing & Wait Time
The deposit and withdrawal policy states that IFA-FX will aim to process and withdrawal requests within 2 – 5 business days of receipt of the request (which is pretty long compared to the competition). Then there is additional processing of your own bank when using bank transfer withdrawals or credit/debit cards which can add a further 2 – 5 working days onto the withdrawal tie. Using e-wallets should mean that you receive your funds within 15 minutes of being processed by IFA-FX.
Bonuses & Promotions
There is mention of the deposit bonus, 20% for the standard account and 30% for the pro and VIP accounts, there is no mention of any details or terms of these bonuses. So we know that they are there and that they exist, we do not know how the bonus funds are converted to real funds and how good or bad the terms are.

Educational & Trading Tools
This is a section that it seems IFA-FX is focusing on, there is plenty here, in fact too much for us to go through so we will briefly outline what is available. Educational videos are present, these give a basic overview of the basics of trading and how different indicators and analysis work. Next are tutorials, similar to the videos but in written form, they can guide you on how to use tools and as introductions to different aspects of trading.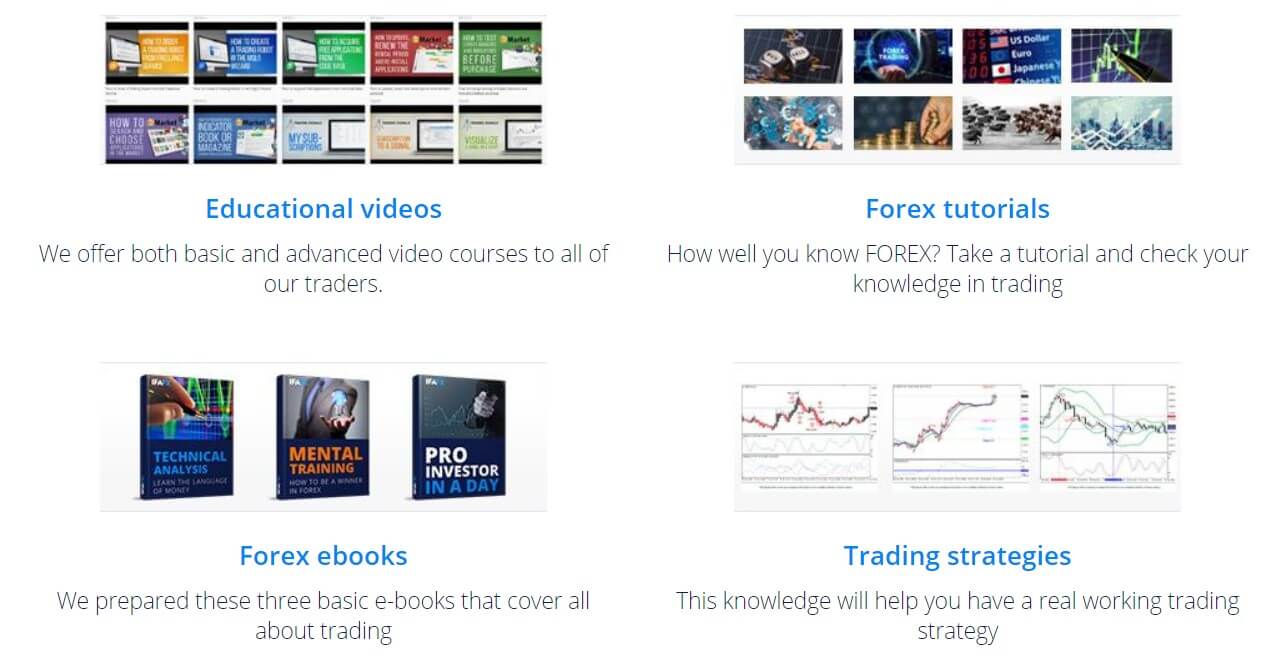 E-books are available to read online or download, featuring topics like mental training, technical analysis and many more. There are also guides on how to use different strategies such as scalping with CCI or Jarro trading strategies. Finally, there is a glossary of important terms just in case you did not understand or know a word that has been used.

There are also signals available to help guide you on potential trades but we are unsure how accurate or regular these signals are. In terms of tools, there are a number of different calculators such as a Fibonacci calculator and a pivot point calculator. There are a few other smaller tools too such as a historic volatility chart.
Customer Service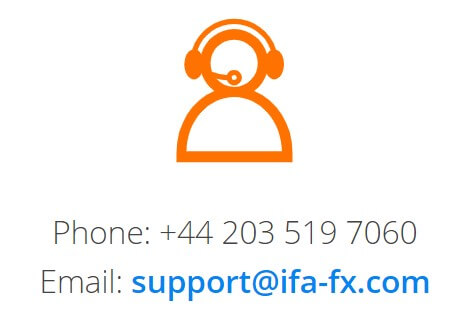 If you want to get in touch with IFA-FX you can in a few different ways, you can get in contact via email, phone, submit your query to receive an email response or request a callback. There is also an online chat that we tested and got through to someone after about 8 minutes of waiting, they responded quickly to questions but weren't able to answer a lot of our questions, simply pointing up to different sections of the site that either did or didn't answer the question, this was a little disappointing.
Demo Account
We did not see an option to open up a demo account and when signing up there was not an option either, so we do not think that there are any demo accounts available from IFA-FX, if there are, they are well hidden. It would be a shame if they aren't available as a lot of potential clients would like to test the conditions and test out strategies before going live.
Countries Accepted
Ther is no mention of which countries are accepted or not, we also asked the customer service team but they were not able to tell us, sop we would normally advise you to get in contact with them if you are unsure but that may not be very effective in this case.
Conclusion
The trading conditions offered by IFA-FX seem quite competitive, the spreads are a little high on the standard account but the pro account is much more in line with the competition. Leverage, trading costs, and trading sizes are all good and positive, unfortunately, IFA-FX is let down with the lack of information about the tradable assets which is often vital for potential clients to see, this along with a customer service team that failed to answer the basic questions and no demo account is making IFA-FX a difficult broker to recommend.
We hope you like this IFA-FX review. If you did, please be sure to check out some of the other reviews here at Forex Academy to help find the broker that is right for you.