UpForex is an online FX and CFD broker that is located in St. Vincent & the Grenadines. Since 2012, the broker's primary goal has been giving its clients the tools to profit in multiple financial markets, through an entirely transparent setting. We don't get much more information, such as who exactly owns the company, or how many clients UpForex actually services. If you check other reviews, you won't find much information about this broker, so stay with us if you're looking for the most detailed review of this particular broker.
Account Types
Upforex allegedly offers three real account types – Standard, Pro, and VIP. In addition, demo accounts are provided. The "Account Types" page for this broker is very vague and doesn't cover conditions for each account. Instead, the broker explains that the Standard account provides all of the necessary tools for trading, the Pro account is offered for those that demand more from their brokers, and the VIP account is an elite choice.
After registering an account, we noticed that the broker never even mentions different account types, even when logged into the portal, which suggests that there may actually be one account type after all. We did our best to research terms and to provide as much information as possible, so you'll want to continue reading through all the sections to find more detailed explanations. We've also provided a quick overview below, although it lacks a lot of the information we were looking for.
Standard Account
Minimum Deposit: $5 USD
Leverage: Up to 1:100
Spread: NA (See "Spreads")
Commission: NA
Pro Account
Minimum Deposit: NA
Leverage: Up to 1:100
Spread: NA (See "Spreads")
Commission: NA
VIP Account
Minimum Deposit: NA
Leverage: Up to 1:100
Spread: From 0.0 pips
Commission: NA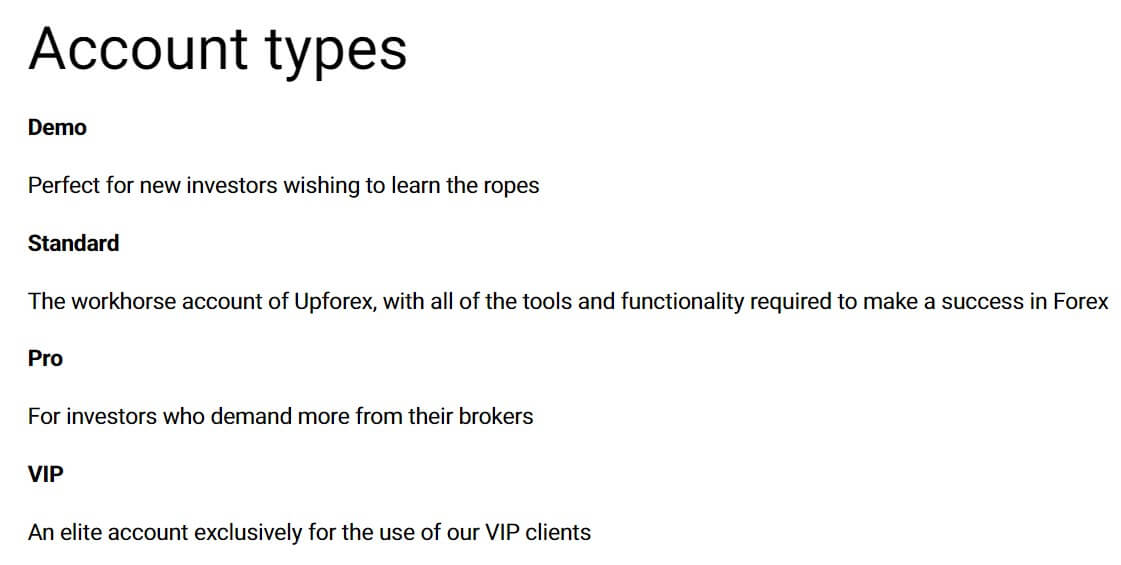 Although the account verification process has several steps, the broker claims that accounts can be set up in as little as 5 minutes. The broker will allow one to make a deposit and begin trading before the account has been completely verified; however, withdrawals are limited to verified accounts. Traders will need to provide proof of ID (government-issued ID card, driver's license, or passport) and a proof of residence document (bank statement, utility bill, or lease agreement).
Platform
UpForex exclusively supports a lesser-known trading platform, known as UTIP. The website describes the platform as being an intuitive, easy-to-use and customizable option, with state-of-the-art algorithmic trading support. Another mentioned advantage would be hundreds of trading indicators and powerful drawing tools.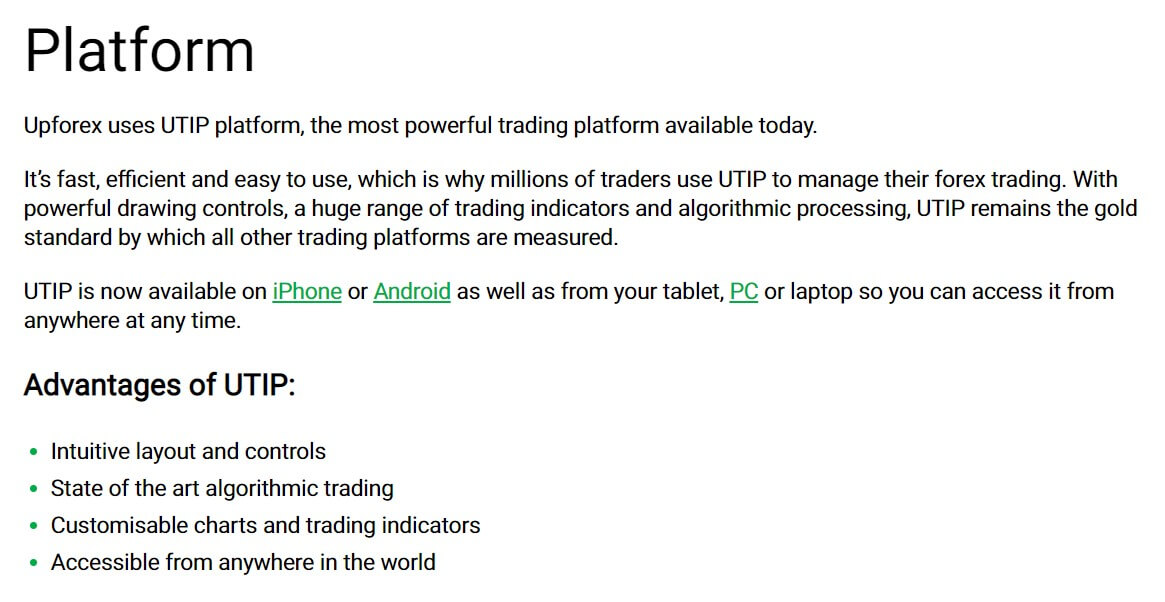 UTIP is used by millions of traders and the platform is highly accessible – available for download on PC, iPhone, and Android devices. The platform can also be accessed through WebTrader, via a link at the top of the broker's website. We did find more information on the platform's own website, including photos that prove that this is a worthy option that will definitely support the job it was designed to do. Still, we're a little disappointed that the broker doesn't offer one of our favorite platforms, MT4 or MT5.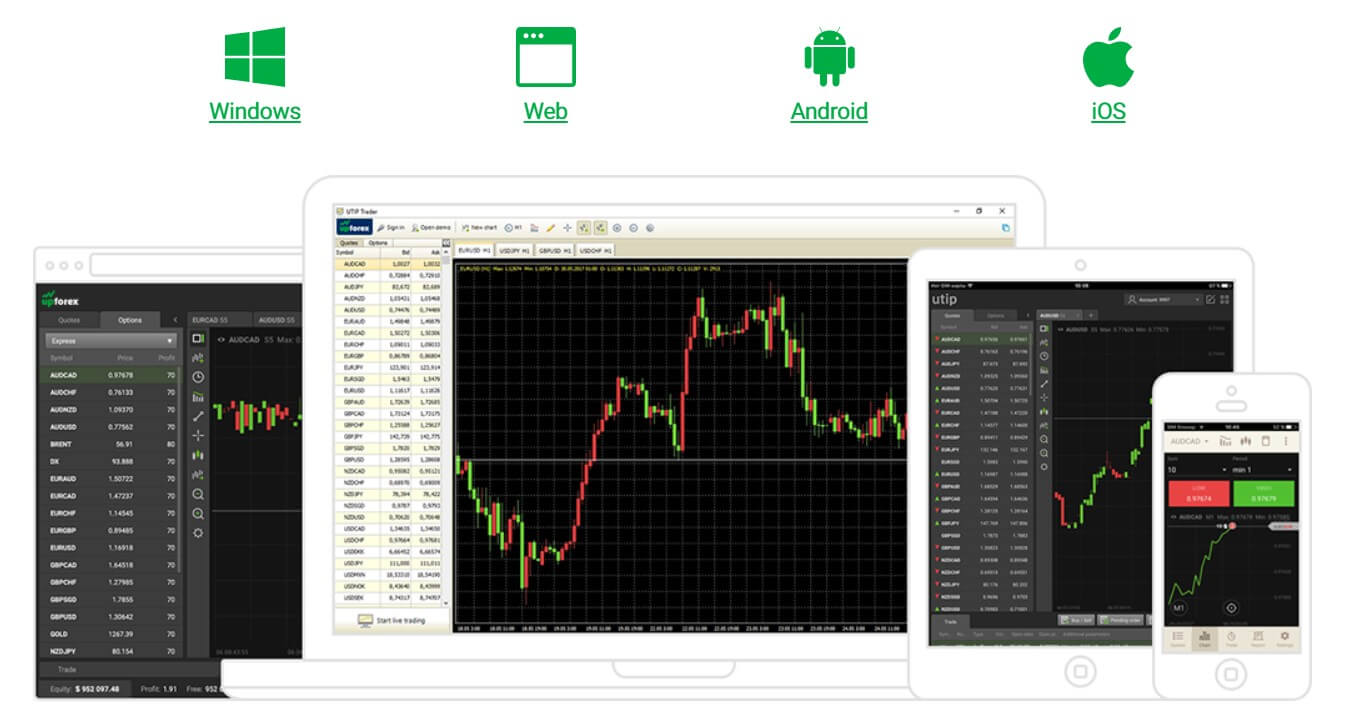 Leverage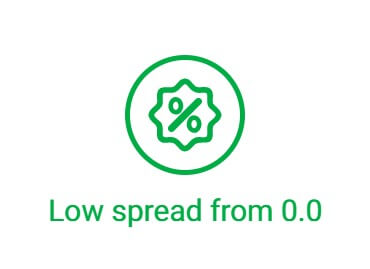 All accounts allow for maximum leverage of up to 1:100, without restrictions based on account equity or other means. Most will be satisfied with this option, especially considering that many professional traders prefer to trade with the cap that is offered by this company. Beginners may even want to stick with lower leverage, in an attempt to avoid the risks that are associated with trading with higher leverage. On the other side of things, it is possible to find brokers out there with higher leverage caps, if this is something you're definitely looking for.
Trade Sizes
We found an issue with the broker's website fairly quickly, in which the "Terms of Trade" page was not working. If one could access this page, then it would be possible to find more information for this category. This seems to be a common and frustrating theme on the website – one that the broker is likely aware of. We did point out to support that their website wasn't working here, although we have doubts that the support team will fix it anytime soon. Sadly, we cannot provide any details about minimum or maximum trade sizes, or stop-loss levels
Trading Costs
As for trading costs, we can't provide very accurate information. We would assume that spreads and commission charges will be applicable. This assumption is based on the fact that the broker doesn't mention commissions anywhere on their website. This often signifies that commissions are in fact charged – any broker that has done away with these costs would proudly boast about that advantage on their homepage. If we're correct, then it isn't necessarily a bad thing that the broker does charge commissions, although it is disappointing that we cannot provide the exact charge.
It's also possible that the broker could be hiding higher than average charges. Swaps, or rollover interest, would also be charged on positions that are held open past closing time. The broker doesn't detail any inactivity fees, but it would be wise to keep trading accounts active just in case these fees can be high if they are charged after a certain period of inactivity.
Assets
Upforex offers trading on FX, Precious Metals, Equities, and Indices. The broker also advertises CFDs on Cryptocurrencies, although we did not see these options available when we tested out a demo account. FX options are made up of more than 30 currency pairs, including exotic options like the Singapore Dollar, Mexican Peso, Danish Krone, Norwegian Krone, and Swedish Krona. As for the other categories, the website is once again limited in the information it provides, so we cannot give more detail.
Spreads
On their homepage, the broker advertises floating spreads from 0.0 pips. While this is certainly a low starting option, there's no evidence to suggest that one should expect to see spreads this low. If three account types are in fact available, then we would expect spreads to start from 0 pips on the best account, the VIP account. This is how conditions usually work with others – the highest spreads would be charged on the Standard account, while the Premium account would offer a middle option, and the VIP account would have the best starting spreads. However, we also mentioned earlier that there may only be one account type and if so, then the spreads from 0.0 pips would be applicable for everyone. The conflicting information makes it unclear exactly what one should expect to see.
Minimum Deposit
As we mentioned earlier, this broker markets three account types, although it seems that there may actually be one account after all. If the broker does actually allow clients to upgrade accounts, we would assume that the Pro and VIP accounts would require significantly larger deposits. Fortunately, we found that the broker would allow a deposit of $5 from their default account, so we're happy to see an affordable option here. If you are interested in a more expensive account, you'll want to reach out to support to find out if this is possible and how high the requirements are.
Deposit Methods & Costs
Accounts can be funded through Bank Transfer, Visa/MasterCard, or Bitcoin in USD, AUD, or EUR. All deposits are credited automatically and fees are applicable. There is a fee of 1% charged on Wire Transfers, 1.5% on card deposits, and a fee of 2.5% will be applied on Bitcoin deposits. The broker will allow clients to make a deposit before their account has been verified; however, the broker warns clients that it would be better to finish the verification process first, based on the fact that funds may be stuck if a client later realizes that they cannot provide documents that will be approved.

Withdrawal Methods & Costs
All deposit methods are also available for withdrawals. Third-party withdrawals can be accepted if the client gives explicit permission over the phone. The website doesn't detail any special conditions that would force withdrawals to be processed back in a specific order and it seems that profits can be withdrawn through any method of choice. The same fees that are applied on deposits through each method are also applied on withdrawals and have been listed below for convenience.
Wire Transfer: 1%
Visa/MasterCard: 1.5%
Bitcoin: 2.5%
Withdrawal Processing & Wait Time
According to the broker, withdrawals are automatically processed back to all methods. While processing times may or may not be instant, we can definitely assume that wait times will be longer, especially for Wire Transfer, since one would also have to wait for the bank to process the withdrawal back on their side. We would suggest being prepared for a slightly longer wait time than those advertised, just to avoid any frustration with unanticipated delays.

Bonuses & Promotions
Fortunately, we do see a category of the website dedicated to bonuses. Currently, we see two available options – a $100 Welcome Bonus, and a Double Your Deposit Bonus. As for the Welcome Bonus, it seems that this is available by opening a new Welcome Account and the $100 is then automatically added to the account for free. This could provide an excellent opportunity to test out the broker's conditions since one could ditch the account once funds were depleted if conditions seem unattractive.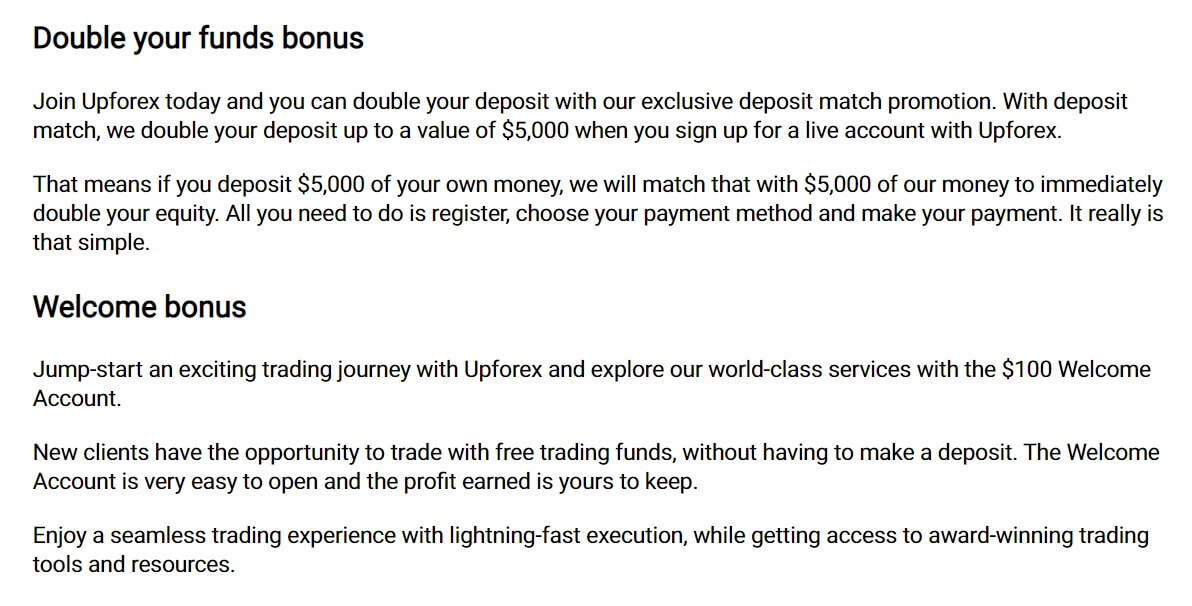 As for the Double Your Deposit Bonus, the name is fairly explanatory, and the broker is willing to match one's deposit amount up to $5,000. Sadly, the broker has failed to provide terms for these bonuses, so we can't note any conditions or restrictions for the bonus programs.
Educational & Trading Tools
One will not find any educational tools available on the broker's website, which is disappointing. Traders can always get that information elsewhere, although it is nice to see brokers doing their part to educate clients. There is also an added convenience in having those learning tools right at one's fingertips. We were also hoping to find some tools, like news, an economic calendar, or trading calculators. Sadly, the website just doesn't have anything to offer, which isn't surprising, considering how limited information on the website is overall.
Demo Account
One can open a demo account with this broker by simply selecting "Open Demo" from the website's homepage. A few details are required during registration, including name, email, country, phone number, city, and zip code. We don't see any additional options on the registration page, like the ability to choose how much virtual currency will be loaded onto the account. It is also unclear whether the broker provides demo accounts that mimic their live accounts, if leverage options can be changed, etc. Still, even though these demo accounts seem simple, there is no reason not to open one if you could use some extra practice.
Customer Service
If one should need to reach out to an agent, it is possible to do so through email, by phone, or by filling out a contact form on the website. Support hours are from 9 am – 5 pm Monday through Friday. Sadly, we do not see an instant online contact option like LiveChat available, and the broker does not seem to operate through any social media channels. We still wanted an idea of how long it can take to hear back from support, so we reached out via email to see if support would respond in a timely manner.
After more than 24 hours, we still didn't receive a response, so it seems that it is difficult to get in touch with a member of the customer service team. We've provided listed email addresses and the company's phone number below.
Email: Hello@upforex.com or info@upforex.com
Phone: +44 203 608 6100

Countries Accepted
We couldn't find any list of restrictions on the broker's website. This doesn't always mean that everyone is accepted, so we checked out the broker's registration page to double-check for any obvious restrictions. The broker does seem to accept clients from most countries, including Japan, Korea, the United States, etc., which are all commonly restricted countries with other brokers. We did find Iran to be missing from the list, so you'll want to check for your own country specifically and reach out to support if it is not listed.
Conclusion
UpForex offers leveraged trading of up to 1:100 on FX, Precious Metals, Equities, Indices, and possibly Cryptocurrency CFDs and supports a lesser-known trading platform, UTIP. As for funding, we see a few methods, with fees charged for depositing and withdrawing. Fortunately, the broker will allow one to make a deposit as low as $5, although it seems that there may only be one default account type.

Support is available through email, phone call, or by filling out a form on the website, with no instant contact options and wait times longer than 24 hours for email responses. UpForex is accepting clients from the US. The broker generously offers two bonus opportunities that would allow one to open an account with a free $100 no-deposit bonus, or to earn up to $5k back on their initial deposit.
Sadly, educational resources and trading tools are nonexistent, aside from simple demo accounts. Now, we will mention some of the terms that the website is vague about. Spreads supposedly start from 0.0 pips, commission fees are not listed, and minimum deposit fees for all account types are not available. Although this broker describes transparency as a goal, one can quickly see that the website is inconsistent, and this does not help to promote confidence for investors.