IFGM is an Australian based forex broker that was founded in 2012 and is authorized by the Australian Securities and Investments Commission (ASIC). Their values state that they aim to provide the best possible trading environment, offer truly great assets, ensure a polite and effective support service and to be a market leader in innovative trading. This review will be looking at different aspects of their site to see if they live up to these values.
Account Types
There are three account types on offer from IFGM, these are the Standard, Pro and Islamic accounts, let's take a little look at the requirements and features of the three accounts.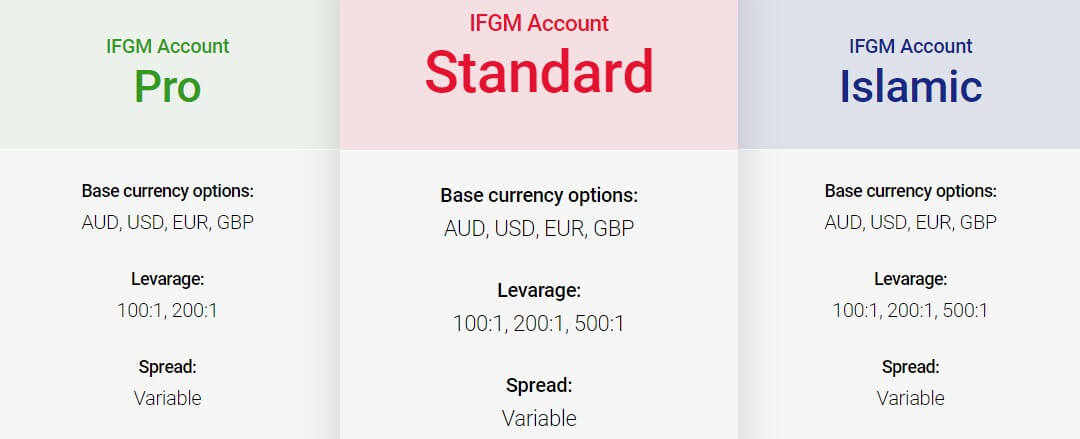 Standard Account:
The standard account requires a minimum deposit of $200 and can have a base currency of AUD, USD, EUR or GBP. The account gets you a choice of leverage between 1:100, 1:200 or 1:500 and has a variable spread (we will look at spreads later in this review). There are no added commissions except when trading on stocks, can use multiple trading platforms including MT4 and has access to the full range of tradable assets, there are swap charges on this account.
Pro Account:
The pro account moves the minimum deposit requirement up to $1,000, the account needs to be ain abase currency of AUD, USD, EUR or GBP. Leverage has been slightly restricted and now only 1:100 and 1:200 are available. Commissions are charged on this account and spreads remain variable (although lower). CFD Commodities and CFD Crypto instruments are not available on this account and swap charges still apply.
Islamic Account:
The Islamic account is for people who for whatever reason can not receive or pay interest such as swaps for holding trades overnight. The minimum deposit if $200 and leverage returns to a selection of 1:100, 1:200 or 1:500. The spread is variable and there is no commission charged on this account at all. The full range of instruments is available to trade including commodities and crypto and there are no swap charges on this account.
Platforms
There is only 1 main trading platform on offer from IFGM, we have outlined a few features of the platform down below.
MetaTrader 4 (MT4) is one of the world's most popular trading platforms and for good reason. Released in 2005 by MetaQuotes Software, it has been around a while, it is stable customizable and full of features to help with your trading and analysis. MT4 is compatible with hundreds and thousands of different indicators, expert advisors, signal providers and more. Millions of people use MT4 for its interactive charts, multiple timeframes, one-click trading, trade copying and more. In terms of accessibility, MT4 is second to none, available as a desktop download, an app for Android and iOS devices and as a WebTrader where you can trade from within your internet browser. MetaTrader 4 is a great trading solution to have.
Leverage
If you have a standard or Islamic account then you get a selection between 1:100, 1:200 and 1:500 however if you use the pro account you have the choice of only 1:100 and 1:200. Leverage can be selected when opening up an account, should you wish to change it you will need to get in contact with the customer support team, ensure there are no open trades at the time of the request.
Trade Sizes
The minimum trade size on all accounts is 0.01 lots which are known as micro-lots, the trades go up in increments of 0.01 lots so the next available trade is 0.02 lots and then 0.03 lots. The maximum trade size for forex pairs is currently set at 20 lots which is fine as you do not want to go too high due to it becoming harder for liquidity providers and the markets to execute larger trades quickly and without any slippage. Different instruments such as crypto or commodities may have different minimum and maximum trade sizes.
Trading Costs
The standard and Islamic accounts use a spread based payment structure so we will look at that in more detail later in this review. The pro account adds a commission to each trade, the commission is currently set at 0.003% per side of the trade which depending on the instrument you are trading can be around $6 per round lot traded which is in line with the industry average of $6.
For the pro and standard account, there are also swap charges which are either paid or received for holding trades overnight, the Islamic account does not have these charges, the values of the swap fees can be viewed from within the trading platform of choice.
Assets
The website states that there are over 40 different tradable assets, these are broken down into 28 forex currency pairs, 2 precious metals, 9 CFD Indices, 1 CFD Commodity, and 5 CFD Cryptocurrencies. Having just 45 different tradable assets is a little disappointing as it severely limits the possibilities for your trading and there could be periods of time where you can not find something to trade.
Spreads
The website states that all three accounts have variable spreads which means that they move with the markets when there is a lot of volatility in the markets the spreads will move higher and when the markets are stable they will move lower. There isn't actually any indication of what the starting spreads are which is a shame as this is an aspect that a lot of potential clients will look for before signing up with a broker. The pro account uses the raw spreads due to the added commission so they can be seen as low as 0 pips, the standard and Islamic accounts are currently unknown to us.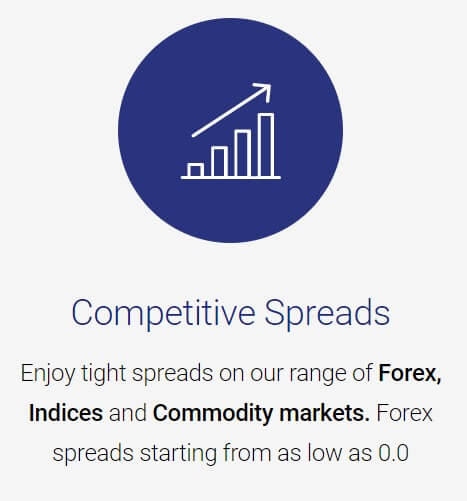 Minimum Deposit
The minimum amount required to open an account is $200 which will get you a standard or Islamic account, in order to open a pro account you will need an initial deposit of $1,000. Once an account has been opened the minimum deposit drops down to the processors minimum which is around $5 for future top-ups.
Deposit Methods & Costs
There are plenty of options when it comes to depositing, these include Visa credit and debit card, MasterCard credit and debit card, UnionPay, Skrill, Neteller and, Bank Wire Transfer. The good news is that any fees are covered by IFGM, although when using bank transfer, make sure to check with your own bank just in case they add any fees of their own.

Withdrawal Methods & Costs
There is a slightly reduced number of withdrawal methods, these are Visa credit and debit card, MasterCard credit and debit card, UnionPay, American Express, Skrill, Neteller, POLi and Bank Wire Transfer. The good news continues when looking at fees as IFGM will cover all feels, although just like when depositing, make sure to check with your bank when using bank transfers just in case they will charge any fees of their own.
Withdrawal Processing & Wait Time
IFGM seem to be processing withdrawal request quickly, the following are the expected processing times for each withdrawal method.
Processed in 24 hours: Visa credit and debit card, MasterCard credit and debit card, UnionPay, American Express, Skrill, Neteller and, POLi.
2 – 5 business days: Bank Wire Transfer.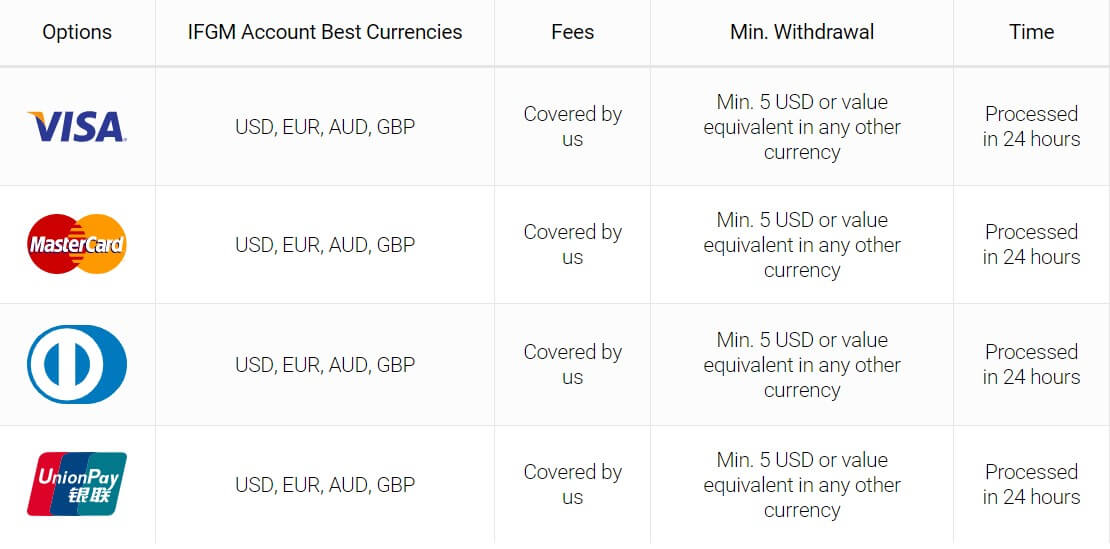 Bonuses & Promotions
Aside from the usual affiliate program that we won't go into, there does not appear to be any bonuses or promotions active at this time, this does not mean that there won't be in the future so if you are after promotions, make sure to check back regularly.
Educational & Trading Tools
There are a few educational offerings from IFGM, they have an economic calendar that tells you of any upcoming news events and what pairs they may have an effect on. There is also an educational section of the site, this section has a number of articles and support pages which can give you plenty of information about the markets and how the trading platforms work. It is more about learning about the markets rather than how to trade, so if you are looking for help with trading you may need to look elsewhere.
Customer Service
The contact page offers you the opportunity to get in contact with IFGM with your queries or concerns. There is an online contact form that you can fill in and then you can expect to have a reply via email. There is also a physical address and a phone number should you wish to speak to someone directly and finally there is an email address for you to email the support team. The support team is available 24/5 and is closed only when the markets do over the weekend.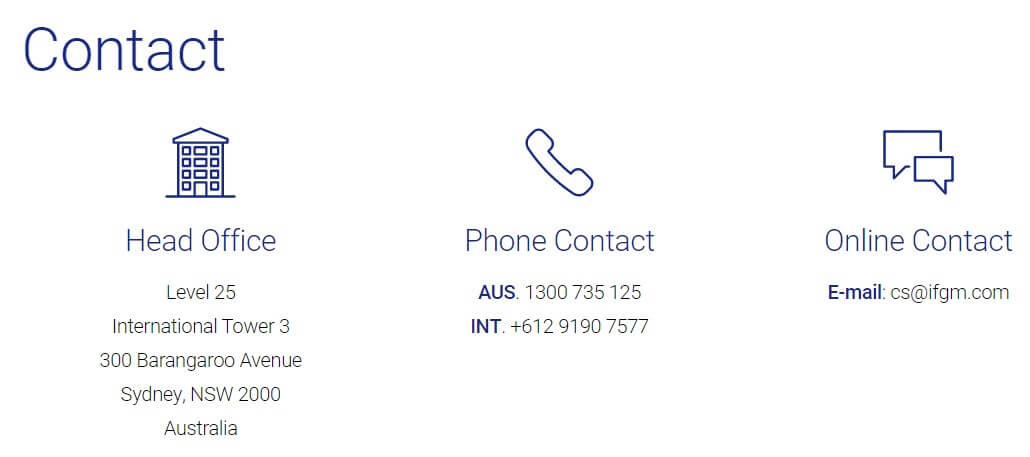 Demo Account
Simply click the "Try Demo" button and fill out the form to open up a demo account. Unfortunately, there isn't much information in regards to the trading conditions of the demo account apart from the fact that it uses MetaTrader 4. There is also no indication as to how long they last, as some brokers allow them to stay indefinitely, while others put a time limit such as 30 days so this information would have been good to know.
Countries Accepted
The following statement is present on the IFGM website: "IFGM does not accept applications from the residents of China, UK, Europe, USA, Japan or any particular country or jurisdiction outside of Australia. The information on IFGM website does not intend to be used by or distribution to any individuals outside of Australia where such distribution or use would be contrary to local law or regulation." If you are unsure, get in contact with the customer service team to help find out if you are eligible for an account or not.
Conclusion
The trading conditions being offered from IFGM are decent, they are on par with a lot of other brokers and their commission on the pro account is reasonable. There are enough ways to deposit and withdraw and it is good to see that IFGM will cover any fees, unfortunately, there is no information in regards to spreads which are a major factor for new traders and potential clients, so it is hard for anyone to truly understand what the trading conditions are if IFGM could add this information they would be a broker we could recommend, however without this information it is hard to make up a full picture of the broker.
We hope you like this IFGM review. If you did, be sure to check out some of our other reviews to help find the broker that is right for you.