RoboMarkets is an online forex broker established in 2012 and located in Cyprus. Regulated by the Cyprus Securities and Exchange Commission (CySEC) the website bears a lot of resemblances with Robo Forex, and for good reason, while they are separate companies, they work together in a number of ways however offer slightly altered services. In this review, we will look at what Robo Markets offer so you can decide if they are the right broker for you.
Account Types
There are 6 main accounts on offer, they have categorized them into different groups with there being 3 accounts in a section titles "Real Accounts" one in Prime and one in R Trader, let's take a little look at what is on offer.
Pro-Standard Account:
This is the entry-level and standard account offered by Robo MArkets, it requires a minimum deposit of $1000 and can have a base currency of USD, EUR, CHF, GBP or GOLD. It allows the trading of 36 currency pairs, metals, CFDs and Cryptocurrencies. There is no added commission for this account. Spreads are floating and start from around 1.3 pips. Stop out level is set at 50% and the minimum trade size is 0.01 lots while the maximum is 100 lots. This account can use both MT5 and MT4 as trading platforms along with the web trader.
Pro-Cent Account:
The cent account is similar to the standard account, however, instead of working in dollars it works in cents. This account also has a minimum deposit of $100 and has the same tradable assets except there is no access to CFDs. Spreads remain at a starting level of 1.3 pips but the minimum trade size os now 0.1 lots and the maximum is now set at 500 lots. Stop out remains at 50 % and this account can also use MT4, MT5 and the web trader.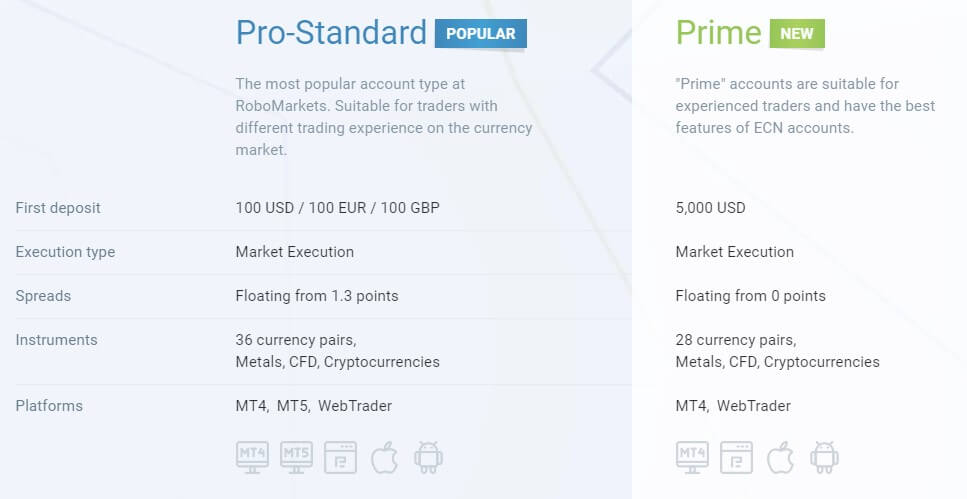 ECN-Pro NDD Account:
The ECN Pro account keeps a lot of the features of the standard account including deposit minimums, trading platforms, tradable assets. The main difference for this account is that there is now a commission added to each trade, we will look at them in more detail later in this review, due to the commission the spread reduces down and is now starting at 0 pips. The minimum order reverts back to 0.01 lots but the maximum trade size is now 50 lots. Stop our remains at 50%.
Prime Account:
The prime account is where things get a bit different, it requires a minimum deposit of $5,000 and its base currency can be in USD, EUR, CHF, GBP or GOLD. It has 28 tradable currency pairs along with metals, CFDs, and cryptocurrencies. It has a commission for each trade and so the spreads are starting low at around 0 pips. Stop out level increases up to 100% and the minimum trade value remains unchanged at 0.01 lots and the maximum at 50 lots.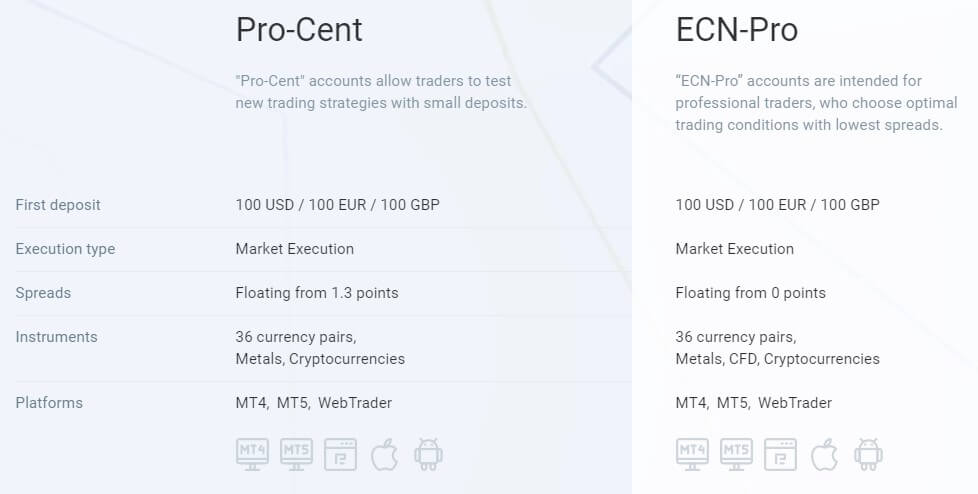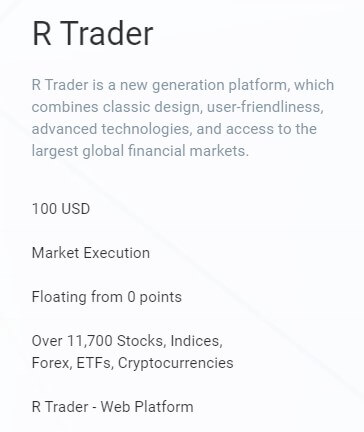 R Trader Account:
The R Trader account is a little different, it is more focused on stocks rather than trading, so if you are looking for a traditional trading experience then you would need to look at some of the other accounts. This account requires a minimum deposit of $100 and has commissions added to each trade. For the purpose of this review, we will not be looking into the finer details of this account so if you are interested in it, be sure to check out the Robo Markets website.
Platforms
Three platforms are available, we will add a little about each one below:
MetaTrader 4 (MT4):
MetaTrader 4 (MT4) is one of the world's most popular trading platforms and for good reason. Released in 2005 by MetaQuotes Software, it has been around a while, it is stable customizable and full of features to help with your trading and analysis. MT4 is compatible with hundreds and thousands of different indicators, expert advisors, signal providers and more. Millions of people use MT4 for its interactive charts, multiple timeframes, one-click trading, trade copying and more. In terms of accessibility, MT4 is second to none, available as a desktop download, an app for Android and iOS devices and as a WebTrader where you can trade from within your internet browser. MetaTrader 4 is a great trading solution to have.
MetaTrader 5 (MT5):
MetaTrader 5 (MT5) is the younger brother of MetaTrader 4 (MT4)m developed by MetaQuotes Software and released in 2010, MT5 is used by millions and for good reason. Offering plenty of trading and analysis features to ain in your trading. Additional services expand the functionality of the platform making its capabilities almost limitless. MetaTrader 5 offers the built-in Market of trading robots, the Freelance database of strategy developers, Copy Trading and the Virtual Hosting service (Forex VPS). Use all these services from one place, and access new trading opportunities. MetaTrader 5 is also highly accessible with it being available as a desktop download, application for iOS and Android devices and even as a WebTrader where you can trade from within your internet browser.

R Trader:
R Trader is RoboMarkets's (and RoboForex) own trading platform, it is a web-based application that you access directly within your internet browser. The main draw towards R Trader is the ability to create your strategies from within the terminal, test it and then execute it in real-time and without any programming knowledge. There are over 9,400 tradable instruments within R Trader, making it one of the platforms with the most tradable assets around.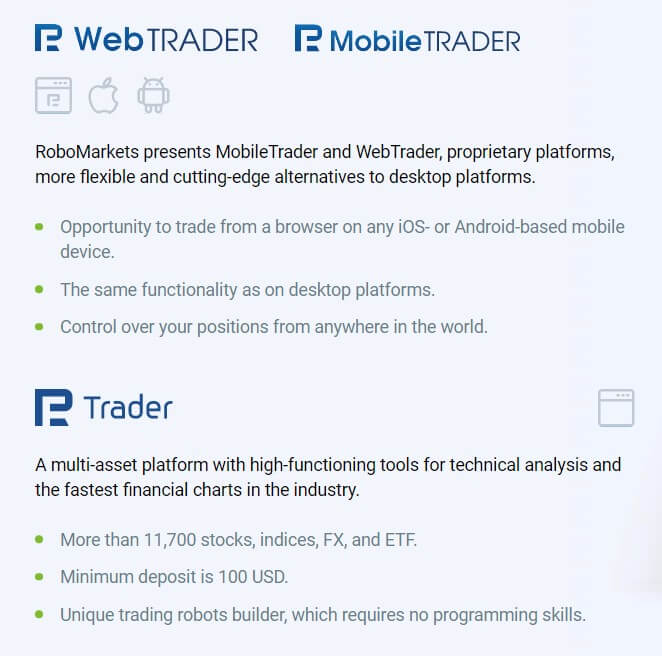 Leverage
The maximum leverage for an account is currently 1:500, when setting up ana account you can select the leverage that you desire and should you wish to change it, you will need to get in contact with the customer service team, but ensure that there are no open trades at the time of the request.
Robo Markets will ask some questions regarding experience and knowledge when creating an account, the answers that you give will mean that Robo Markets may give you different maximum leverage based on this as they may not deem you experienced enough to use such high leverages.

Trade Sizes
Trade sizes are dependant on the account that you use.
The Pro-Standard account has a minimum trade size of 0.01 lots which are also known as micro-lots, it then has a maximum trade size of 100 lots, it can also have unlimited open trades at one time.
The Pro-Cent account works on cents rather than dollars and so the minimum trade size is 0.1 lots which hare known as mini lots. The maximum trade size is 500 lots and you can have a maximum of 200 open trades at any one time.
ECN-Pro NDD account reverts back to the standard account settings with a minimum trade size of 0.1 lots however it has a lowered maximum trade size of 50 lots, it can also have an unlimited number of trades open at any time.
The Prime account has the same settings as the ECN-Pro account on all fronts from minimum, maximum and number of open trades allowed.
We would not recommend making trades larger than 50 lots as the larger a trade becomes hard it is for the markets and liquidity providers to execute the trades quickly without any slippage.
Trading Costs
Both the Pro-Cent account and the Pro-Standard account use a spread based system that we will look at later in this review. The ECN-Pro NDD account has an added commission of $20 per million traded, while the Prime account has a commission of $15 per million traded.
Swap fees are also present, these are either charged or paid when holding a trade overnight, these fees can be viewed either on the RoboMarkets website or within the trading platform that you have chosen.
Assets
There is plenty on offer when looking for something to trade, you should always be able to find something on RoboMarkets. In terms of currencies, there are 36 different ones spread over different major pairs, minor pairs, and exotic pairs including EUR/USD, GBP/CHF and USD/ZAR. There are just two metals available the usual suspects of Gold and Silver, it would have been nice for there to have been some other precious metals to trade though.
CFDs are also available when using the Standard, ECN or Prime account, there are 6 available including Brent Oil, US500Cash, and WTI Crude Oil. The good news is that Cryptocurrencies are making an appearance and are quickly becoming a very popular trading asset, the major coins are all present including Bitcoin, Ethereum and Ripple along with some less traded coins such as Dash and EOS. There are also thousands of stocks available for the R Trader account.
Spreads
Spreads are the main payment structure for the Pro-Standard and Pro-Cent accounts, on these two accounts, spreads start at a minimum of 1.3 pips, these spreads are variable which can also be known as floating which means that they move with the markets. When there is a lot of volatility, the spreads can often be seen as much higher than the stated minimum. The ECN and Prime account shave a spread starting at 0 pips due to the added commissions on those accounts.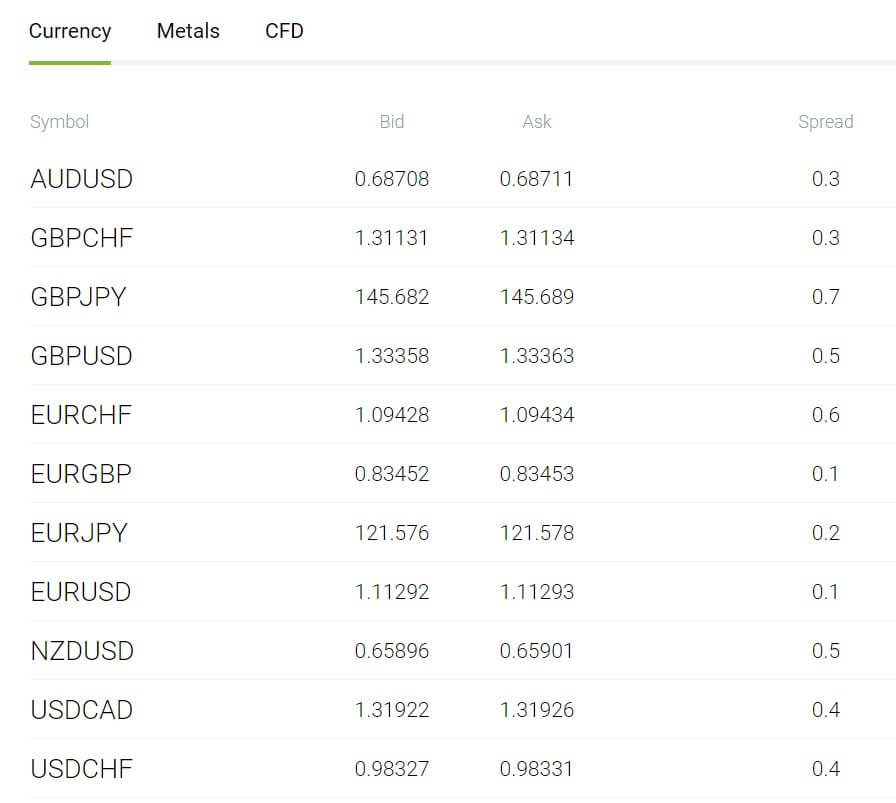 It should also be noted that not all instruments have the same natural spreads, for instance, which EUR/USD may have a starting spread of 1.3 pips, the AUD/CAD pair will have a starting spread around 3 pips.
Minimum Deposit
The minimum deposit amount for the Standard, Cent, and ECN accounts is set at $100, the minimum for the prime account is currently $5,000. Once an account is open the minimum amount to top up the account is lower to make it easier to top up your account, the top-up minimum is set at $10.

Deposit Methods & Costs
There are 20 different deposit methods available which are great as you should be able to easily find one that suits your needs. The further good news is that there are no added fees from Robo Markets, however, ensure that you check with the processor that you are using to make sure they do not add any fees of their own.
The current deposit methods are as follows:
Bank Payments:
BlueOrange Bank, Barclays Bank PLC, Deutsche Handelsbank, Fast Bank Transfer iDEAL, Sofort, Rapid Transfer, Trustly, Nordea Solo, Multibanco, GiroPay, Przelewy24, Bank Transfer.
Electronic Payments:
WebMoney, Skrill, Fasapay, Neteller, QIWI Wallet, Boleto/
Bank Cards:
Visa Credit and Debit, MasterCard Credit and Debit.
Withdrawal Methods & Costs
Only 8 of the 20 deposit methods are available to withdraw with, the unfortunate news is that there are withdrawal fees added to them, we have set out a little table below so you can see the fee charged with each account.
Rapid Transfer – 1%
Bank Transfer – 25 USD, 10 EUR, 20 GBP, 150 PLN, 75 CHF
WebMoney – 0.8%
Skrill – 1%
FasaPay – 0.5% (minimum $0.1, maximum $5)
Neteller – 1.9% (minimum $1)
QIWI Wallet – 0%
Visa / MasterCard – 2.4%
Withdrawal Processing & Wait Time
Robo MArkets state that they will process any withdrawal requests within 24 hours of the request (except weekends or holidays). After that, each withdrawal method will have its own processing time based on the processor used.
From 1 minute to 1 day: Rapid Transfer, WebMoney, Skrill, Fasapay, Neteller, QIWI Wallet.
Up to 5 Bank Days: Bank Transfer.
1 – 10 Bank Days: Visa / MasterCard.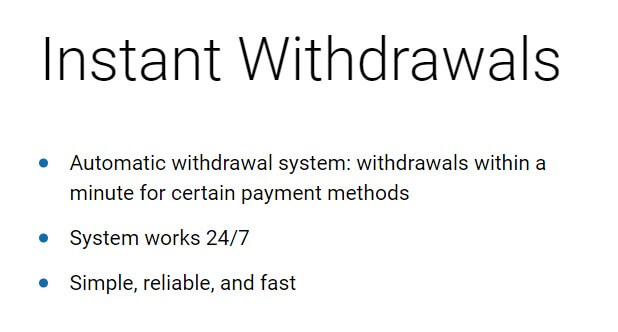 Bonuses & Promotions
There are a few different bonuses and promotions available from RoboMarkets, they have the standard affiliate program but we won't be looking into that in detail.
Classic Bonus:
This is the type of bonus you see more often, you receive a percentage of your deposit, up to 115% as bonus funds, these funds are tradable, but not withdrawable. Once you have fulfilled a certain amount of lots traded, the bonus funds are converted into withdrawable funds.
Profit Share Bonus:
This is a bonus that you get from depositing, it works as extra protection for your drawdown, so if you go into drawdown, the bonus funds are used to help protect your account. No profit from this bonus is withdrawable, but any money made from your own funds is, even if the real accounts drawdown was saved via the use of the bonus funds.
Cashback (Retabtes):
You can receive up to 15% of the companies revenue from your trades in cash depending on how many lots you trade. A large volume of trades is needed to make this promotion valuable.
10% Account Balance Bonus:
You are able to receive up to 10% of your funds as a cash bonus if you trade enough 1 – 10 lots gets you 2.5%, 10 – 1,000 lots get you 5% and over 1,000 lots gets you 10%. Bonus cash is awarded monthly.
Educational & Trading Tools
There are a few basic bits of information present on the site which can help you if you are a beginner in Forex trading, they won't make you an expert but can give you a push in the right direction.
There are forex analysis and forecasts which will give you basic information about things that have recently happened and also what any potential upcoming news there could be and the effect that it may have, along with this is the economic calendar that can give you a basic overview of upcoming news events.
In terms of tools and education that is about it, there are a few little tips but these are very simple and can be found all over the internet.
Customer Service
Plenty of ways to get in touch with Robo Markets should you have any questions or concerns and they have made their support team very accessible which is great to see. There are three different locations that you can contact and each has its own support numbers and teams, there is a team in Cyprus, Germany, and Lithuania, there are also a large number of different language based phone numbers to use should you wish to speak to someone in your own language.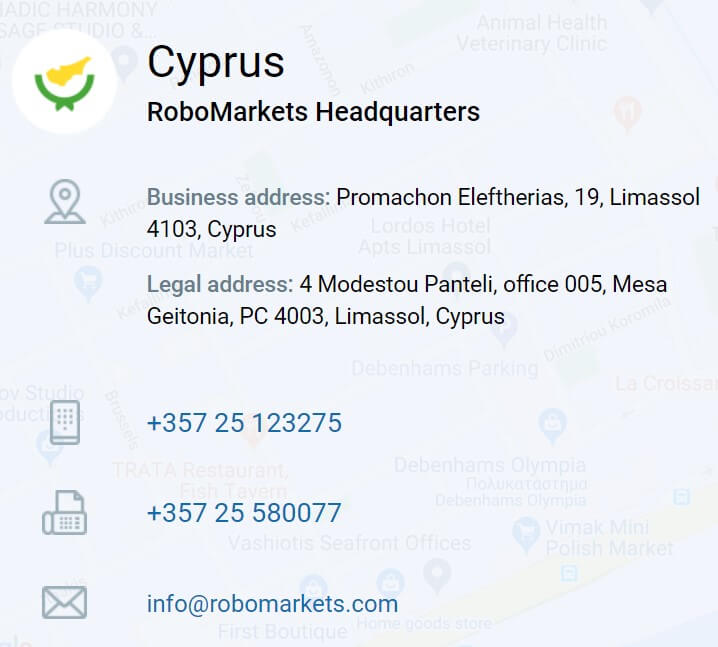 There is an online submission form where you can submit your query and should then get a reply via email, there is also an online chat function that we tried and got through pretty quickly to a helpful representative who answered all out questions in good time. You can also email each location via a separate support email address.
Demo Account
Demo accounts are available from RoboMarkets, they are completely free and can be used on any platform available. You can have a demo account for either the standard account, pro account or R Trader and get the same features as the main accounts do. The demo accounts expire after 90 days, so if you still want one after that time you will need to open up a new one.
Countries Accepted
RoboMarkets accepts clients from all regions except for the USA, Canada, Japan, and Australia, so if you are from any of those countries you will need to look out for another broker to use. If you are unsure if you are eligible, make sure to get in touch with the customer service team to check before signing up.

Conclusion
RoboMarkets offer a competitive and feature-rich service, they certainly seem like a competent broker. The trading conditions are competitive with decent spreads and leverage along with the very responsive support and the large range of tradable instruments can make Robo Markets and very compelling choice, the ultimate decision though is up toy ou.
We hope you like this RoboMarkets review. If you did, be sure to check out some of the other reviews to help try and find the broker that is right for you.