RoboForex is a well-known name in the Forex industry and has been around since 2009, boasting over 2.2 million trading accounts, it is a popular broker, in this RoboForex review, we will be looking at what makes them so popular, and whether or not we would recommend signing up with them.
Account Types
RoboForex offers a lot of accounts, and they cater to all kinds of traders from the newcomer to traders with years of experience. We will look through some of the accounts in more detail to see what is on offer from RoboForex.
Pro-Standard Account:
The Pro-Standard account is the basic account from RoboForex, it offers everything that you would expect from a standard account. In terms of use, this account is compatible with MT4, MT5, cTrader, WebTrader, iOS devices and Android devices (we will go into these in more detail later). The base currency for the account can be in USD, EUR, CNY, BTC, ETH and Gold (however the latter three are only for MT4 and MT5). There are 36 currency pairs, metals, CFD and cryptocurrencies available to trade and the minimum deposit for this account type is $10. There is a floating spread that starts at 1.3 pips with no commission, and the minimum trade size is 0.01 lots while the maximum is 100 lots. There is a ridiculous 1:2000 maximum leverage on this account which can make trading very risky, there are also Islamic swap-free versions of this account available.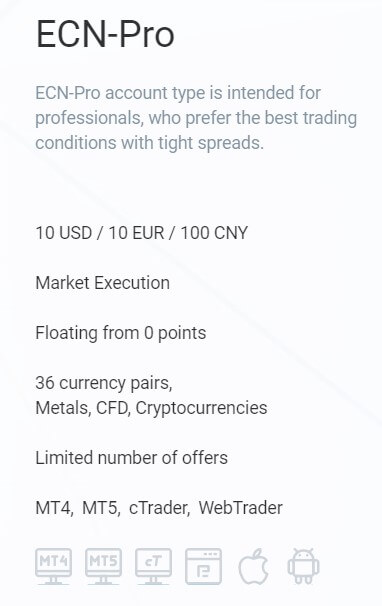 ECN-Pro Account:
The ECN-Pro account is relatively similar to the Pro-Standard account when it comes to things such as available platforms, base currency, however with the ECN-Pro, the CNY currency is only available with MT4, MT5 and cTrader versions of this account. The minimum deposit and minimum trade size also remain the same, but that is where the similarities end as the maximum trade size is now reduced to 50 lots. The is a floating 0 pip spread, which you can guess means that there is a commission being charged on each trade, this is currently charged as 20 / mio (million), the 20 represents the base currency. The maximum leverage for this account is reduced to a more respectable 1:300.
Prime Account:
The Prime account is slightly different from the others, it is only available with MT4, WebTrader, iOS devices, and Android devices. The same base currency pairs are available, however, BTC and ETH are only available with MT4. There is a slightly reduced number of tradable assets, down from 36 to 28. The minimum deposit for this account is $5,000 so has a higher entry price, spreads remain at a floating 0 pips and so the same commission is being charged on each trade. Leverage has been reduced down to 1:100 while the minimum trade size remains at 0.01 lots and the maximum at 50 lots. Swap-free accounts are not available for this account type.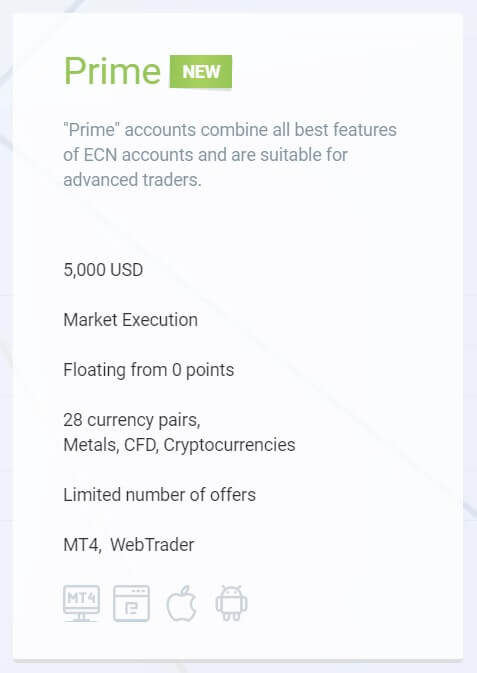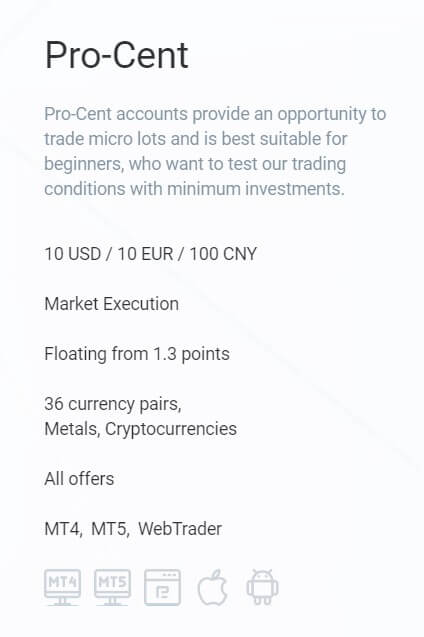 Pro-Cent Account:
The Pro-Cent account is for the trader with a lower starting capital, a cent account works in a very similar way to a standard account, except that the amount required is divided by 10, so a $10 deposit will look like a $1000 deposit when trading. Cent accounts are usable with all the trading platforms available and the base currency can be used for any platform, no restrictions this time. 36 assets are available to trade and the minimum deposit is $10. The minimum trade volume is now 0.1 lots while the maximum has increased to 500 lots. There is a minimum floating spread of 1.3 pips and no commission, the maximum leverage is 1:2000 and swap-free Islamic accounts are available.
R Trader Account:
R Trade accounts are specific to using the RoboForex WebTrader. The accounts can only be in USD or EUR and there are over 9,400 trading instruments to trade. The minimum deposit is $100 and there is a commission of 0.015 USD per stock with a minimum commission of 1.5 USD. Spread is from 0.01 USD and the maximum leverage during trading sessions is 1:200 (1:4 when not in trading sessions). This account seems to be focused more around stocks rather than Forex trading, so if you are after the standard trading experience, you will need to use one of the other accounts.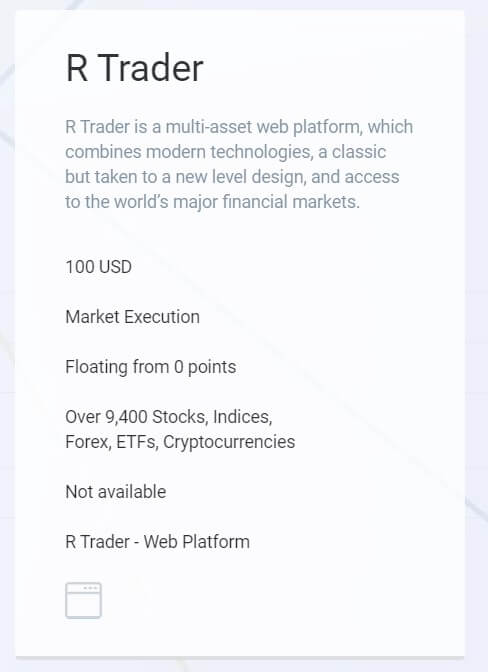 Platforms
There is no shortage of options when it comes to trading platforms with RoboForex, they offer a mix of all sorts of platforms, let's take a little look at what they are.
MetaTrader 4 (MT4): MT4 is one of the standards when it comes to retail trading and for good reason, it is secure, stable, customizable and compatible with thousands of indicators and expert advisors. Available as a desktop download, an app for iOS and Android and as a WebTrader in your internet browser.
MetaTrader 5 (MT5): MT5 is the little improved brother of MT4 and is quickly becoming one of the most used platforms, similar to it's younger brother, it is available as a desktop download, a Webtrader within your internet browser and as an app to download on iOS and Android devices. MT5 offers a fast and stable experience with unparalleled customization ability.

cTrader: cTrader is a platform that is available as a WebTrader or an app for iOS and Android devices. It is more intended for more experienced traders that are looking for execution speed and the ability to trade more unconventional instruments and assets. It comes preloaded with a number of indicators and additional timeframes to aid in your trading and analysis.
R Trader: R Trader is RoboForex's own trading platform, it is a web-based application that you access directly within your internet browser. The main draw towards R Trader is the ability to create your strategies from within the terminal, test it and then execute it in real-time and without any programming knowledge. There are over 9,400 tradable instruments within R Trader, making it one of the platforms with the most tradable assets around.
With plenty of fantastic options to choose from, RoboFores has surpassed the majority of the competition with its offerings of platforms.
Leverage
RoboForex offers an incredible 1:2000 on their Pro-Standard and Pro-Cent accounts, this is ridiculously high leverage and we would not recommend anyone go this high, in fact, we would not recommend going higher than 1:500. The ECN-Pro and Prime accounts bring this maximum down to 1:300 and 1:100 respectively. Leverage can be selected when opening the account and can be changed on the account as long as there are no open trades at the time of the request.
Trade Sizes
The minimum and maximum trade sizes are based on the account type that you are using, to help alleviate any confusion the breakdown is as follows:
Minimum 0.01 lots: Pro-Standard, ECN-Pro, Prime
Minimum 0.1 lots: Pro-Cent
Maximum 50 lots: ECN-Pro, Prime
Maximum 100 lots: Pro-Standard
Maximum 500 lots: Pro-Cent
1 Stock: R Trader
2,000 Stocks: R Trader
Trading Costs
Trading costs similarly to the trade sizes are dependant on the account that you are using, Pro-Standard and Pro-Cent use a spread based system and have a minimum floating spread of around 1.3 pips, there is no commission charged on these accounts. The ECN-Pro, Prime and R Trader accounts all have minimal spreads but charge a commission, with the ECN-Pro and Prime accounts having a commission of 20 / mio and the R Trader having a minimum fluctuating commission of around 0.03%.
Assets
The Pro-Standard and ECN-Pro account each has 36 currency pairs, metals, CFDs and Cryptocurrencies to trade while the Pro-Cent account has 28 currencies, metals, and Cryptocurrencies available to trade. The R Trader account has over 9,400 tradable assets.
In regards to metals, this included Silver and Gold, while CFDs include things like US dow Jones and Nasdaq. Cryptocurrencies include all the big names such as Bitcoin and Ethereum as well as some of the smaller yet popular coins such as EOS.
It is great to see crypto coins being featured as they are fast becoming one of the more traded assets, both new and experienced traders are moving into crypto trading, due to the volatility and profit potential, of course as a warning, with profit potential, also comes loss potential.
Spreads
Spreads on the Pro-Standard and Pro-Cent account sit at a minimum of 1.3 pips, however, they are floating so they may be seen quite a bit higher than this number. The Prime, ECN-Pro have a far lower spread which can be as low as 0 pips, however, it will often be slightly higher, these accounts charge a commission though. The R Trader account has a spread of 0.01 USD however these spreads work differently to normal forex trading spreads.

Minimum Deposit
The minimum deposit is $10 for the Pro-Standard, Pro-Cent and ECN-Pro accounts, the R Trader account requires a minimum of $100 while the Prime account requires a deposit of $5,000.
Even though the minimum deposit is a very low and welcoming $10, we always recommend starting with between $200 to $500 as this enables you to more effectively use account and trade management to help reduce risk.
Deposit Methods & Costs
RoboForex offers a whopping 37 different deposit methods, we will try to list them all, so here goes:
Bank Payments: Local bank transfer, bank transfer, Sofort, GiroPay, iDEAL, EPS, Rapid Transfer, Trustly, ePay.bg, Nordea SOLO, China UnionPay, POLi, Tinkoff.
Electronic Payments: WebMoney, Skrill, Neteller, Perfect Money, AdvCash, Fasapay, QIWI Wallet, Yandex.Money, Santander, HSBC, Caixa, Boleto, Santander Rio, Bancolombia, PSE, Mobile Money, Banco Do Brasil, Bradesco, ITAU, Webpay.
Bank Cards: Visa / MasterCard, China UnionPay.
Luckily, we don't need to list the fees for depositing individually, because they all stand at 0%.

Withdrawal Methods & Costs
Unfortunately for us, not all deposit methods are available for withdrawal, so we will need to list out the ones that are, we will also include the fee if any for each method listed, as well as the minimum and maximum withdrawal.
Bank Payments:
Local Bank Transfer – 1.6% fee
China UnionPay – 1.8% fee – 50 – 500,000 CNY
Electronic Payments:
WebMoney – 0.8% fee – from 0.02 USD
Skrill – 1% fee – 0.1 – 100,000 USD
Neteller – 1.9% fee – 5 – 10,000 USD
Perfect Money – 0.5% fee – from 0.1 USD
AdvCash – 1% fee – 0.1 – 10,000 USD
Fasapay 0 0.5% fee – 0.1 – 20,000 USD
QIWI Wallet – 0 % fee – 0.5-3,800 USD
Yandex Money – 2.8% fee – 1 – 60,000 RUB
Bank Cards:
Visa / Mastercard – 2.6% + 1.3 USD fee – up to 10,000 USD
Withdrawal Processing & Wait Time
The following withdrawal methods has a processing time from between 1 minute and 1 day: WebMoney, Skrill, Neteller, Perfect Money, AdvCash, Fasapay, QIQI Wallet, Yandex.Money.
Local Bank Transfer is from 1 bank day, China UnionPay is up to 2 bank days and VIA / Mastercard withdrawals can take anywhere between 1 – 10 bank days to process.
Bonuses & Promotions
There are a number of different bonuses and promotions from RoboForex and we will outline them down below for you.
30 USD Welcome Bonus: This is a bonus of 30 USD which is paid into your account as a top-up after you have signed up and verified your personal details. While this bonus is not withdrawable, any profit made from it is.
Profit Share Bonus: This is a bonus that you get from depositing, it works as extra protection for your drawdown, so if you go into drawdown, the bonus funds are used to help protect your account. No profit from this bonus is withdrawable, but any money made from your own funds is, even if the real accounts drawdown was saved via the use of the bonus funds.
Classic Bonus: This is the type of bonus you see more often, you receive a percentage of your deposit, up to 115% as bonus funds, these funds are tradable, but not withdrawable. Once you have fulfilled a certain amount of lots traded, the bonus funds are converted into withdrawable funds.

MT5 Signal Coupons: There are coupons available to get money off or free signals within MT5. Simply deposit a minimum of $300 to gain access to this bonus.
Rebates: You can receive up to 15% of the companies revenue from your trades in cash depending on how many lots you trade. A large volume of trades is needed to make this promotion valuable.
10% Extra Funds: You are able to receive up to 10% of your funds as a cash bonus if you trade enough 1 – 10 lots gets you 2.5%, 10 – 1,000 lots gets you 5% and over 1,000 lots gets you 10%. Bonus cash is awarded monthly.
Free VPS Server: In order to receive a free VPS server, you must have at least $300 in a trading account and have a monthly turnover of at least 3 standard lots.
Educational & Trading Tools
RoboForex offers some basic information in regards to getting started with Forex, there are also some educational videos that help to teach you the basics and fundamentals of trading Forex, helping you to get a grip on what is actually going on. There is also an online course teaching you how to trade NASDAQ and NYSE.
There are also a number of different tools available, including an R Trader strategy builder, a Trading Calculator, Chart, Trading Tips, Expert Advisors and a guide to market trading hours.
Customer Service
There is a whole range of ways to get in contact with RoboForex and they make each one incredibly simple, offering 24/7 support, there is always someone around to help you out or answer any questions.
There is the usual web form to fill in and send a message which will then receive a reply via the email address you input. There are also a number of different email addresses depending on the department you wish to contact including general inquiries, the marketing team, and the affiliate team.

There are also phone numbers to call in 12 different languages, so if you need help, it is more than likely that there will be someone around to talk to in your native language. Lastly, should you wish to post a physical letter, their physical postal address is also available.
Demo Account
Demo accounts are available for a number of different account types, they are available for Pro-Standard, ECN-Pro, Pro-Cent and R Trader accounts. They are easy to set up, just click the Try Demo button next to each account, fill in the details and it will be automatically set up for you. These accounts last indefinitely if they are being used, if they are left dormant for too long, then they will close, however, you can simply open up another demo account if you wish to continue testing or practicing.
Countries Accepted
RoboForex accepts clients from all regions except for the USA, Canada, Japan, and Australia, so if you are from any of those countries you will need to look out for another broker to use.

Conclusion
With longevity being on the top determining factors of broker reliability and client satisfaction, RoboForex passes the test. Do check to ensure that this broker is able to meet all of your trading needs, but if they do, there is no reason to not add them to the list of Forex brokers that you prefer to trade with.