Pepperstone is an FX and CFD, ECN broker with offices located in London and Australia. Their Australian office is regulated by the Australian Securities and Investments Commission. Since 2010, the company claims they set out with a commitment to improving the world of online trading, after dealing with slow execution speeds, poor customer support, and expensive prices. It seems that the company has been heading in the right direction since they've managed to earn several yearly awards for everything from Best Forex Broker to #1 Customer Service. All of this certainly helps make the company seem like a worthwhile option; however, we were determined to investigate further, just to see if this broker is hiding any disadvantages below the surface.
Account Types
This broker offers two account types; the Razor account and the Standard account. The broker quickly mentions that the Standard account type is meant for beginners, while the Razor account is aimed towards scalpers and/or algorithmic traders. Many clients see the Standard account type as a simpler version of a Razor account since all trading fees are included in the spread. Another difference would be that Standard account holders are excluded from participating in the company's Active Trader rebate program. Similarities come in the form of deposit requirements, leverage options, available instruments, and trade sizes. We've provided a quick overview of both account types below.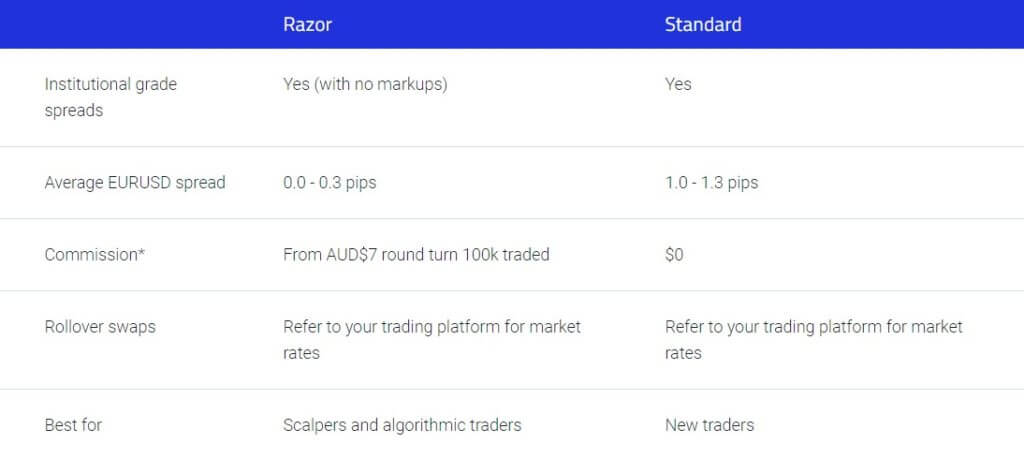 Razor Account
Minimum Deposit: $200 (or less)
Leverage: Up to 1:500
Spreads: 0.0 – 0.3 pips
Commissions: $7 AUD round turn (100k traded)
Standard Account
Minimum Deposit: $200 (or less)
Leverage: Up to 1:500
Spreads: 1.0 – 1.3 pips
Commissions: $0
It takes 5-10 minutes to complete the account application process, which includes an onboarding quiz and asks for personal ID documents. In order to verify identity, the company requires the client to submit 100 points worth of documentation. Primary photographic IDs, like passports or driver's licenses, are worth 70 points, while secondary forms, such as utility bills, are worth 30 points. Staff will review documents once they have been submitted and email clients with their trading account details upon approval.
Platform
This broker offers a selection of three different trading platforms; MetaTrader 4, MetaTrader 5, and cTrader. The well-known MT4 and MT5 platforms provide all of the tools and capabilities a trader could need and should suit everyone, from beginners to professionals. MT4 is the most popular of the two, although MT5 was designed to be a more powerful version of its predecessor. cTrader is a lesser-known platform that was designed to offer a more simplistic experience. The program is easy to use but still offers the ability for advanced customization and capabilities. If you're a beginner, this platform may be a better option due to its simplicity. All platforms are available on mobile, tablet, desktop, or through the web app.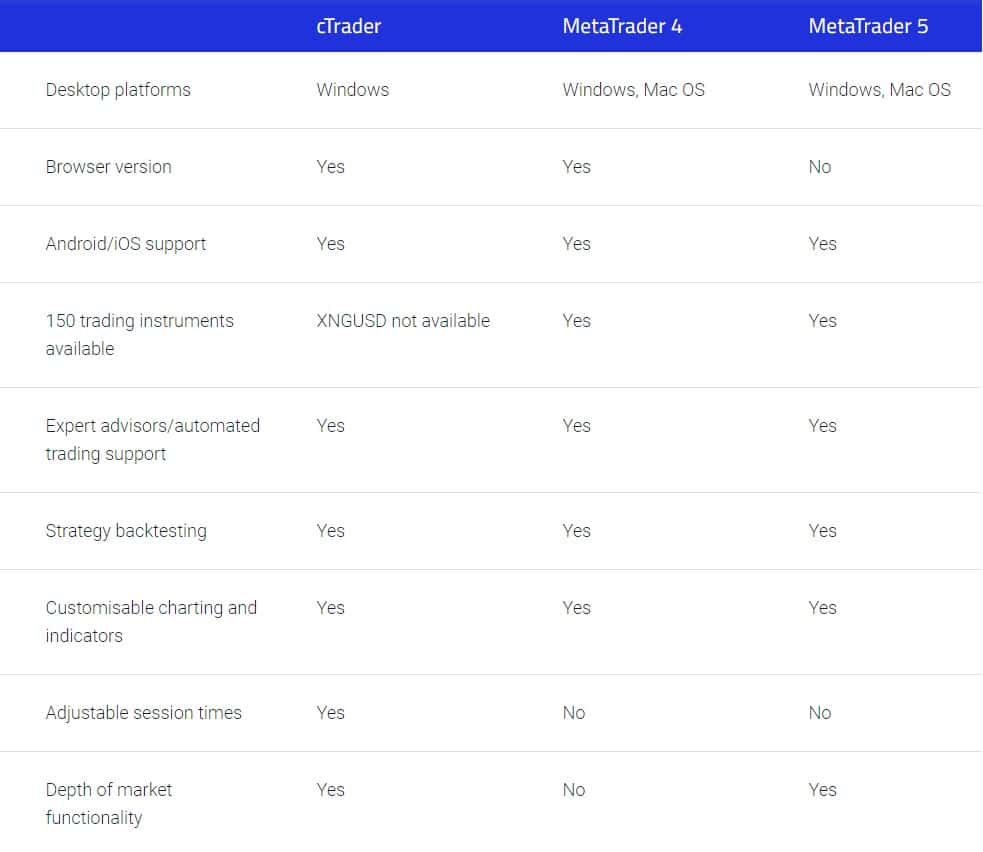 Leverage
Leverage options go as high as 500:1 on all account types, but there are some restrictions based on the type of instrument that is being traded. Currency pairs and commodities can be traded using the highest leverage offered by the company, while there is a limit of 200:1 on indices, 100:1 on currency index CFDs, 20:1 on share CFDs, and 5:1 on crypto. Leverage caps are often much lower for these types of assets, so we aren't surprised to see these limitations. Overall, it seems that this broker is offering higher than average leverages on certain products, although they have set more reasonable limits on others.
Trade Sizes
The smallest allowed trade size is one micro lot. The maximum lot size for one trade is 100 lots and clients can have 200 trades open at any time on live accounts. Demo accounts are capped at 50 trades at any one time.
Trading Costs
Costs are broken down into commissions, spreads, swaps, and administration charges.
Commissions: These charges are only applicable on Razor account types and are charged on standard lots traded, at a rate of $7 AUD round turn per 100k traded. There are zero commission fees on Standard accounts.

Spreads: All of the trading costs for the Standard accounts are built into the spreads, which are from 1.0-1.3 pips or higher. On the Razor account, spreads are from 0.0-0.3 pips or higher. More on spreads later.
Swaps: These fees are rollover interest charges that are either earned or paid for holding positions overnight. Factors that determine whether the traded will be charged or paid depending on the asset that is being traded, whether the position is long or short, and whether the trade was held over the rollover period. Triple swaps are charged on Wednesdays to account for the weekend. Pepperstone rollover occurs 23:59 – 00:01, MT4 server time, which is currently on GMT+3.
Admin Charges: Traders will be charged a fixed administration fee on any trade that is held open the past ten consecutive days. This fee is charged every ten days until the position has been closed.
Assets
Pepperstone offers 150 plus instruments across FX, indices, equities, crypto, energies, and commodities, and more. FX options include 61 currency pairs, including majors, minors, and exotics. Commission-free index CFDs are offered on 14 different major stock markets around the world. Share CFDs are offered from more than 60 of the most popular companies in the US. Commodities, such as coffee, cocoa, sugar, cotton, and orange juice are offered in addition to silver, gold, platinum, and palladium and oils. Cryptocurrency features some of the most popular options, including the ever-popular Bitcoin, Bitcoin Cash, Ethereum, Dash, and Litecoin. Finally, traders can trade currency index CFDs on the USDX.
Spreads
Spreads are advertised as being from 0.0-0.3 pips on Razor accounts and from 1.0-1.3 pips on Standard accounts. However, we found that the broker is actually advertising the minimum spread as the highest figure, rather than the average. For example., the minimum spread on AUDCAD on the Razor account is 0.3 pips, as advertised, but the average is actually 0.88 pips. The actual spreads can differ much more significantly once one starts looking at the average options, rather than the minimums. Under 'Trade with Us' > 'Spreads, Swaps, Commissions', traders can view the minimum and average spreads for both account types on all assets. It may be worth taking a look since spreads are so variable.
Minimum Deposit
The initial deposit minimum for the company is $200, although they explain that this requirement is not actively enforced, meaning clients are able to deposit any amount. It's odd that the company doesn't simply take down the old requirement and advertise their lack of deposit requirement as an advantage. Still, we're always happy to see such flexibility in this category, as it can be a real advantage to those that are apprehensive about making a deposit for any reason. Hopefully, the company will continue to allow traders to deposit any amount.
Deposit Methods & Costs
Deposits can be made via Visa, MasterCard, POLi, Bank Transfer, BPay, PayPal, Neteller, Skrill, and Union Pay. This broker does not accept third-party deposits, so always be sure to send funds from an account in your own name. Any international telegraphic transfer fees (TT) charged by the company's bank are passed on to the client. These fees are typically $20 AUD.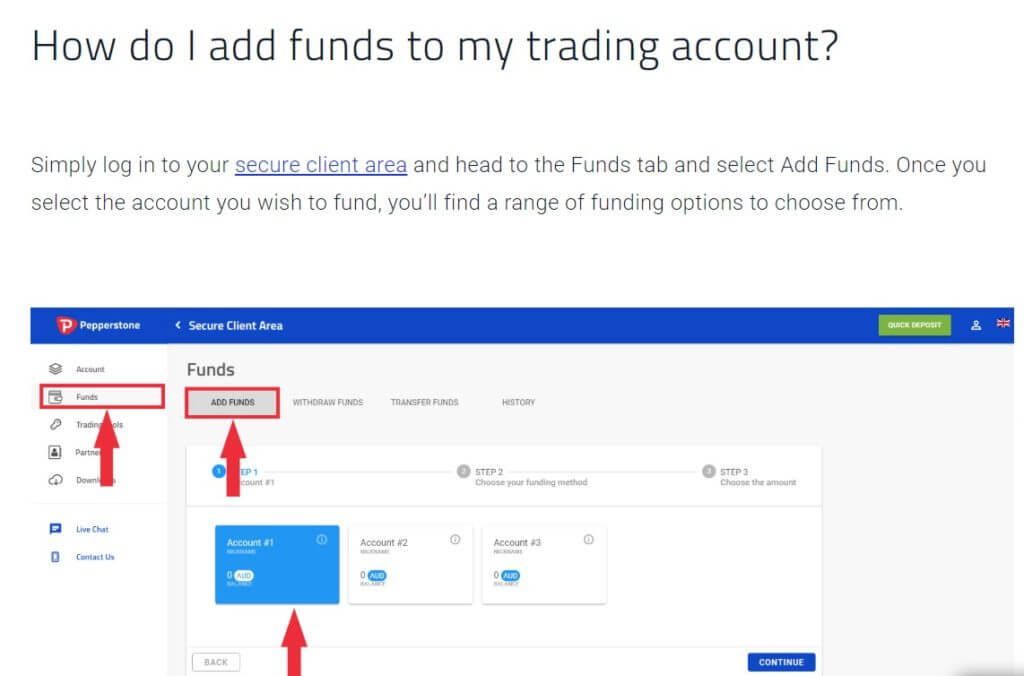 Withdrawal Methods & Costs
Withdrawals can be made through all of the available funding methods. The broker does not charge fees on withdrawals; however, those international telegraphic transfer fees we mentioned earlier may be applied. In order to make a withdrawal, clients will need to click on the 'Funds' tab from within their secure client area.
Withdrawal processing & Wait Time
Withdrawals received before 7:00 (AEST) will be processed the same business day, while withdrawals received after that time will not be processed until the following business day. Withdrawals via bank wire typically take 1-5 business days to reach the client's account, although unforeseen circumstances could cause the wait time to be longer. Once the withdrawal has been sent, it takes 2 business days to be received by PayPal, Neteller, and Skrill. Clients can check the status of their withdrawal on the 'Funds' tab while logged into their account.
Bonuses & Promotions
This broker is currently offering an Active Trader program as a means for high-volume traders to earn cash rebates and save on trading commission. The actual rebate amount would depend on how many standard lots are traded per month and rebates are paid to accounts the day after a position has been closed, so that they can be used immediately. The company has divided the reward level into three tiers; 100 lots, 200-500 lots, and 500 plus lots traded. There is a 10% rebate on 100 lots and a 15% rebate for anything that falls on the second tier. The broker recommends traders contact their account manager for information on the rewards for the third tier. This program is only available for those operating Razor accounts and tier one is only applicable to Pepperstone Pro clients.
Educational & Trading Tools
The company offers several different sections within the Education category: Learn to Trade Forex, Webinars, MetaTrader 4 Course, Trading Guides, and Forex Trading Course. The Learn to Trade Forex category contains several articles that are sorted and labeled based on skill level. Clients can register for live webinars and the company will send a reminder email one day and one hour before the live seminar begins. At this time, upcoming webinars are based on the three key times to trade Forex, a breakdown of price action strategy, and advanced price action scalping strategies. You'll notice that one would need some general knowledge in order to follow along with these webinars since they are more technical.

The MT4 course is designed to explain everything about operating the platform itself, while the Forex Trading Course is made up of YouTube videos from live presentations. The website also contains Market News, an Economic Calendar, news on Financial Events, and Trading Opportunities. All of these are helpful tools and provide information that would be relevant to all traders.
Demo Account
This broker provides the opportunity to open a free demo account to any trader that would like to do so. Demo accounts aim to mimic the trading conditions on a real account, but the broker does mention that there could be some execution differences. For example, you can have up to 200 live account trades open, whereas demo accounts are limited to 50 open trades at any one time. Despite that hang-up, these accounts are still excellent practice tools for traders that need to learn how to use platforms, practice strategies, further develop their skills, etc. Demo accounts expire after 30 days unless the client has set up a live account and requested a non-expiring version of a demo account. You can always create a new demo if your old one expires, but many may prefer to continue trading from the account they have already been using.
Customer Service
Multilingual customer support is available 24 hours a day, five days a week. Note that the website does provide a FAQ and explains some other details under their support page, so it may be worth taking a look at in case your question is already answered there. Otherwise, an agent can be reached through LiveChat, email, or phone. The company uses one email address, but there are two separate phone numbers for both office locations. The company is also active on Facebook, Twitter, LinkedIn, and YouTube. You'll find all of the listed contact information below.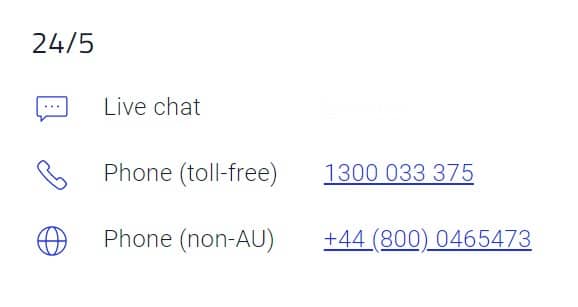 Email: support@pepperstone.com
Phone:
Australia: 1 300 033 375
London: +44 (800) 0465473
Address:
Level 16, Tower One, 727 Collins Street, Melbourne, VIC 3008, Australia
70 Gacechurch Street, London EC3V 0HR, United Kingdom
Countries Accepted
The Pepperstone website claims that information is not intended for residents of the United States, United Kingdom, Europe, or by any person in any country where it would be contrary to local law or regulation. However, you will find that the UK is an option on the sign-up menu. Sadly, the broker does not provide any US-based options and even excludes the Minor Outlying Islands and the Virgin Islands from the list. Europe also seems to be completely excluded from opening an account.
Conclusion
Pepperstone is an award-winning broker that offers two different account types and 150 plus instruments, including cryptocurrencies. The broker also provides three different trading platforms; MetaTrader 4, MetaTrader 5, and cTrader. The company does not enforce their minimum deposit requirement and invites clients to deposit any amount. Leverage options go up to 1:500 on some assets but are capped at more realistic levels on others. Both accounts offer different trading costs, with all costs being built into the spread on Standard accounts.
Spreads can also be higher than advertised, but still, seem to be advantageous. Several deposit methods are available but fees may be charged by the company's bank. There is an ongoing rebate program that could help save on some of the trading costs associated with the broker as well. Overall, this broker does seem to be offering several benefits, although it is up to the individual trader to determine whether to open an account.