TopForex is one of many brands of the Goldenburg Group Limited, a registered investment company based in Cyprus. CySEC is the authority body regulating this company and shows a valid license for other domains and brands such as www.toptrader.eu, www.fxglobal.com, www.tradecentrum.com, www.etrader.eu, and more.
This broker describes themselves as an STP type broker, although some issues could render all the advantages of this model useless. The website is clean with the dominant red color theme. There are no usual key selling points like low spreads or a great range of Cryptocurrencies that could distinguish TopForex from other brokers. Except for using now already typical marketing sentences such as innovation, technology, and regulation, Top Forex promotes physical shares trading and customer support in many languages. This offer has its pros and cons to CFD but it is not as popular as CFD retail trading.
TopForex's main target markets seem to be the Czech Republic, Slovenia, and Slovakia, judging by their tied partners' location. Goldenburg Group has very good legal documentation including the annual reports, Execution Quality Summary Statement (EQSS), which gives detailed insight into the company's business health. We will review TopForex according to common trader's preferences so you will know if TopForex is for you.
Account Types
TopForex mentioned account types in the legal documents, although we could not find any kind of selection. There is only one account type and according to the Trading Conditions page this account features "floating spreads, standard lots, wide range of instruments and the default leverage." The minimum deposit amount and some other information are not under the same page, so visitors would need to wander through the TopForex website. The search bar is present but does not work as intended.
Platforms
TopForex offered only one platform to us, the Metatrader 5. MT4 is mentioned under the platforms and also in the Clients Area. Whatsmore, the xStation platform is listed under the options. Still, the only platform TopForex has a license is the MetaTrader 5 and the other options could be leftovers from previous CRM. MT5 is available to download for Windows, Android, and iOS mobile. Interestingly, Mac is not listed as supported. Web MT5 version is available through the Clients Area, but only once you register for a live account. The Demo does not have an option to go straight to the Web MT5.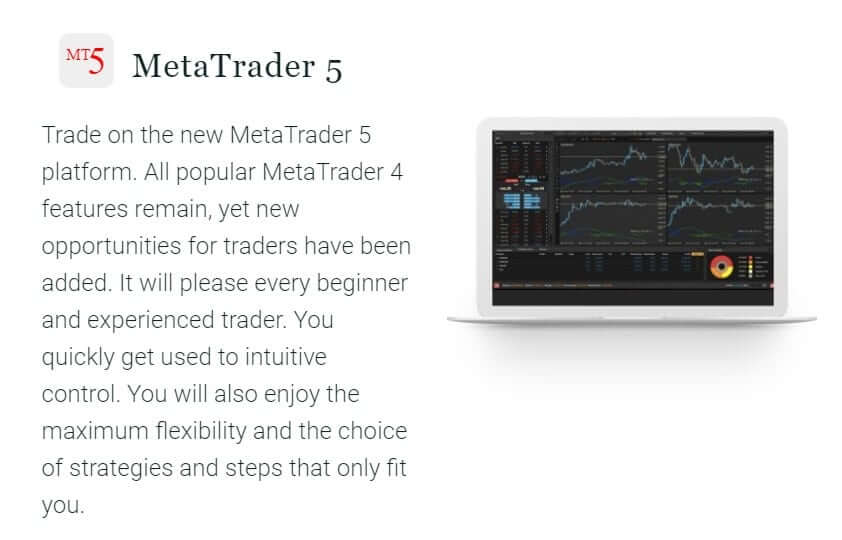 TopForex server is not a dedicated Demo, just a single Live server that has a ping of 59ms, which is great comparing to the industry average. The MT% is updated to the latest with default settings and One-click trading buttons enabled. The asset specification window has some information filled but for example, the Swap calculation method is missing. Judging by the figures, swaps are calculated in points. Note that the use of any software or AI for trading is not allowed without consent from TopForex. Order execution time is around 55ms which is great comparing to the industry average. This would be great trading conditions for EAs and fast strategies if not for wide spreads and connection drops that we have experienced.
Leverage
TopForex has to abide by the MiFID II directive and ESMA rules for leverage. The set default is at 1:30 with a possibility for higher if traders pass the questionnaire for professionals. Forex leverage is, therefore, 1:30 for majors, 1:20 for exotics. For indices, it is also 1:20 while for Oil is 1:1. Spot Gold has 1:20 leverage and Silver 1:10.
Trade Sizes
Trading sizes are casual in micro-lots or 0.01 lots. So the minimum trading size is 0.01 lots as well as additional volume steps. The maximum volume per trade is 50 lots. For Gold, the maximum is 100 lots. Oil follows the mini-lot structure or 0.1 lots for the minimum and step volume while the maximum is 100 lots. Interestingly, TopForex also offers different contract sizes for Oil so traders can select the standard 1000 barrels contract. Margin Call is set to 100% and an automatic alert will be triggered. Stop Out is at 50%. Stops level is at 0 meaning there is no required distance for pending orders.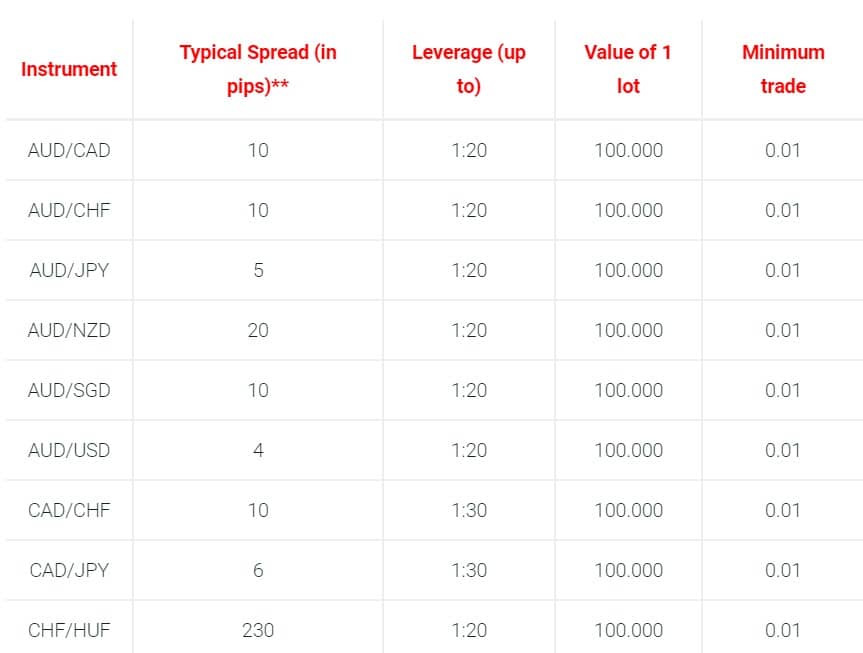 Trading Costs
This broker does not charge commissions except a fee for physical shares trading. This is called the Management Fee. This fee will be charged at the end of the business day for shares that are held. -2%/360 is charged for 1 lot on all types of shares per day. A triple Management fee is on Wednesdays. FTT is applicable for all Italian companies CFD stocks and Italy 40 Index. The tax is charged as a fixed fee scaled to the size of the trade. For example, up to EUR 2 500 – 0.25 EUR fee.
Swaps are an issue when trading with TopForex. The reason is unusually high swap rates for all assets. We had to make sure that swaps are calculated daily as stated in the documents. EUR/USD swap is -38 long and -23 for short position, USD/JPY –24 and -37, and similar levels for all of the Forex pairs, without any positive swaps. For the Gold this is even more extreme, XAU/USD has -611 long and -326 short swap, ten times than what could be expected. Oil follows this trend and has -40 on both positions.
Inactivity fee exists and is called the maintenance Fee. The fee is 40 EUR and charged monthly for accounts that were inactive for 6 months.
Dividends are contributed for all traders that hold long positions on CFD stocks while short positions have the same amount deducted overnight. Note that the swap rates for these instruments are -10% per annum on both positions.
Assets
TopForex offers Stocks as CFDs and regularly, Commodities on spot and futures, precious metals, Forex, Indices, and some ETFs. The forex range is great with some rare currency pairs. All the major currency pairs and crosses are present. Singapore dollar is commonly crossed with the majors extending the usual range. Some of the exotic pairs are USD/PLN, USD/HUF, GBP/PLN, GBP/SEK, EUR/CZK, CHF/HUF, TRY/JPY, USD/BRL and more. Forex traders will be very pleased with the options given.
Commodities range is also good and some are divided as futures contracts CFD. These are Cocoa, Coffee, Sugar, and Cotton. Special attention is given to metals as Copper, Zinc, Nickel, and Aluminium are listed. The Commodities range is further improved with Soybean, Corn, Wheat, and of course both Oil types, WTI and Brent in 100 and 1000 barrel versions. Spot Gold and Silver have one additional precious metal to choose – Platinum.

The index range is not bad with 11 total. All the majors are listed and from more exotic are Hong Kong, Spain 35, and CAC France 40. Interestingly the Italian 40 that is mentioned on the TopForex website is not listed.
Stocks range is truly above average covering many companies from Switzerland, the United States, and the EU. We have also noticed some not grouped properly from South America. Equity traders will appreciate this range although the negative swap hurts the eye.
ETFs are listed with a total of 16 diversified Fonds. One of the popular is The Cannabis ETF, SPDR Gold shares, TVIX, UGAZ and so on.
Spreads
TopForex promotes floating spreads from 3 pips. Since this is already not competitive, especially for an STP broker, TopForex does not rely on high trading volume but high income by expensive trading conditions. The EUR/USD spread was around 30 points, as well as for USD/JPY, GBP/USD, USD/CHF. The rest of the currency pairs had wider spreads. Aussie and CAD pairs like AUD/CAD, AUD/NZD, CAD/CHF had spreads above 90 points. The biggest spread was for EUR/RUB with an amazing 200 pip spread. XAU/USD spread was also similarly enormous at 160 pips and spot Silver 14 pips. Trading in these conditions is certainly not suitable for frequent strategies. On the other hand, it is also not attractive for longer considering the swaps.
Minimum Deposit
Depending on the deposit method rather than on any account type the minimum deposit is $250 for Bank Wire and $200 for Visa and MasterCard method.
Deposit Methods & Costs
There are only two methods of deposit. By Bank Wire (SWIFT) or using the Visa or MasterCard. TopForex will not charge any fee for deposits. Any fees that are charged by banks will not be covered by this broker.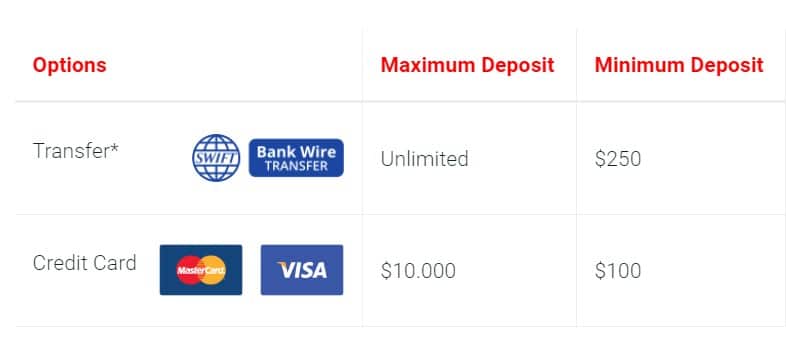 Withdrawal Methods & Costs
The withdrawal has a minimum of $250 – not a common practice in the industry to have this amount higher than $50 if such a policy exists in the first place. The same withdrawal method will be used as with deposits. Only two options are possible, Bank Transfer or Visa/MasterCard.
Withdrawal Processing & Wait Time
According to TopForex FAQ, the exact time is not disclosed except "as soon as possible". In the legal documents, though, it is stated that the withdrawal will take up to 1 business day.

Bonuses & Promotions
These terms are absent from the site and legal documents. Since the TopForex support did not inform us of any bonuses we conclude there is none.
Educational & Trading Tools
Immediately after Live Account creation, you will receive an e-book about the basics of trading. The book does not contain anything advanced and all the information could be easily obtained online.
TopForex has a dedicated News and Education section on the website. Education has a single article about elementary issues like Leverage, Pip, Lot and so on. In the News section, there are a lot of articles that describe global major events. The event articles had a pause and only 3 are fresh. These 3 are not in English but in the Czech language. Looking at the content, these news articles do not elaborate on the news, they are short and look like headlines that cannot be used for trading. Analysis articles are too old.
Whatsmore, they do not give anything of value to the trader. The content is very superficial with figures and a chart with averages and RSI indicators. TopForex has some social media coverage that also shows a lack of attention in 2019. No other tools or calendars are present. Social Account is optional to open under the Clients Area but we are unsure as to what service this is as it is not described anywhere.
Customer Service
TopFOrex has a nice Contac Us page full of each department's emails and phone numbers. Additionally, clients can select one of the languages dedicated phones if they want to speak in their native language. Languages available are Spanish, Slovakian, Slovenian, Czech, Italian, German, Polish, and English. The chat service is available but we have not received a reply during the few hours of waiting. The email response time is also longer than 24h.

Demo Account
The Demo account is available after registration. The web MT5 demo can be opened only through the Clients Area which requires registration for a Live account. The account will last for 30 days regardless if a trader is active or not. This practice shows intentional limitations on the trader's skill development.
Countries Accepted
There are no specific notes about any country not applicable to TopForex service. This broker has a "categorization" policy that is evaluated upon registration. Three types are used, Professional, Retail Client, and Eligible Parties. The third type does not have the rights as the first two. For more information, traders should check the documents within the Clients Area.
Conclusion
TopForex is obliged to report the percentage of losing clients and 82% lose with this broker. This percentage is higher than the average and considering the trading conditions, this is not a surprise. Note that the client's funds will be kept in banks relevant to the country of registration. So for example, clients from Czech and Slovakia republic will have UniCredit Bank, for German – Hypovereinsbank AG and so on. Investors should check the safety ratings of these banks first. TopForex or the Goldenburg Group also offers other services like Portfolio Management and even Investments Advice, services that require special licenses.

Finally to mention that the Goldenburg Group was fined by the CySEC in 2019 with a record €170.000. The fine structure follows the 50k penalty for failing to maintain adequate records of the services and transactions it provided to customers. 80k for failing to meet regulatory guidelines on honest dealings with clients, or more specific, misled clients via its marketing activities. The rest of the fine was related to tied agents with the company and opening new offices in different jurisdictions.