CPT Markets is held under the CPT Markets Limited, and the company's registered address is located in Belize. This company is officially and legally regulated by FCA and also 'regulated' by the Belize International Financial Services Commission, which adds some peace of mind for clients should any trade issues arise, and should they wish to file a formal complaint that could cause damage to the company's reputation. However, this broker appears to be relatively new, however well established enough in the industry since they also offer white label packages as well as trading services.
Account Types
CPT Markets offer 3 account types to choose from, and each has slightly different benefits:
-Standard
-PRO Bare Point
-Platinum
All accounts do however have access to MT4 trading platform, the same leverage allowance, no maximum limitation to the number of open trades, access to variable spreads, and all have the same access to the same tradable assets. In fact, all bar one feature is the same across all accounts. The only variation is that the floating spreads vary; the Standard account has spread from 1.8 while the Pro Account has spreads starting from 0.1 and finally the PLatinum account spreads start from 0.6 pips.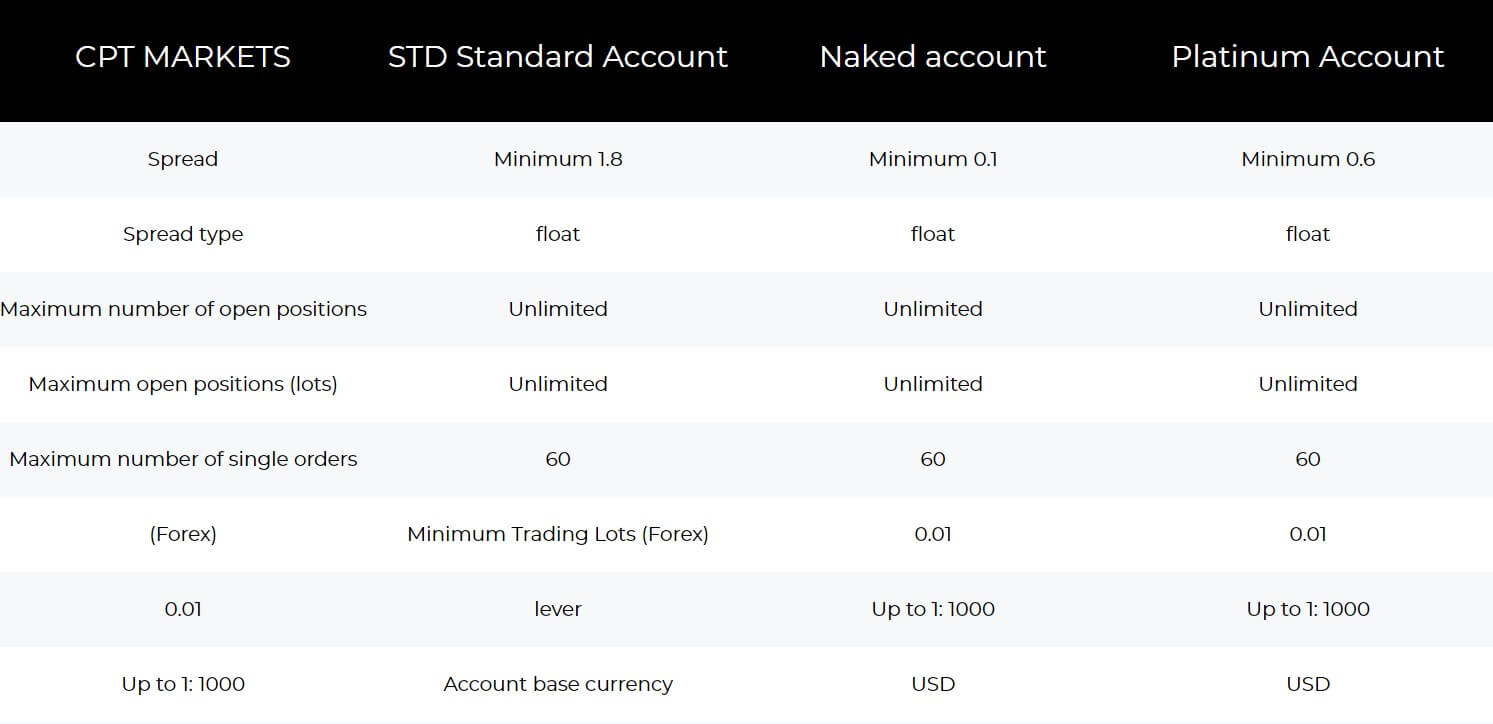 Platforms
CPT offers an MT4 trading platform, which to many is the preferred and most reliable trading platform to date. CPT Markets offer their services fully compatible with PC Desktop and Mobile versions. CPT Markets also offer their very own customized version of the perhaps slightly lesser-known, cTrader platform, should you prefer this one as an alternative.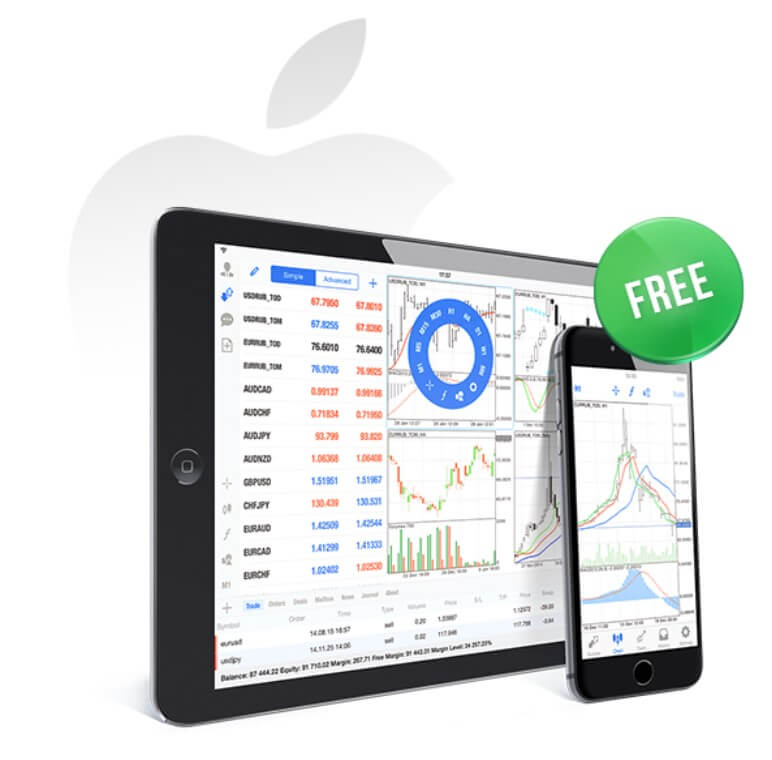 Leverage
All 3 account types have access to the same leverage allowance, which is 1:1000. Yes, you heard that right- 1:1000! That is incredibly generous and also not particularly common to find in a broker. While this leverage allowance may appear incredibly appealing, one must utilize this carefully as high leverage can also be a risky tool in one's trading; it is important to ensure you understand leverage and how it works before using such high leverage.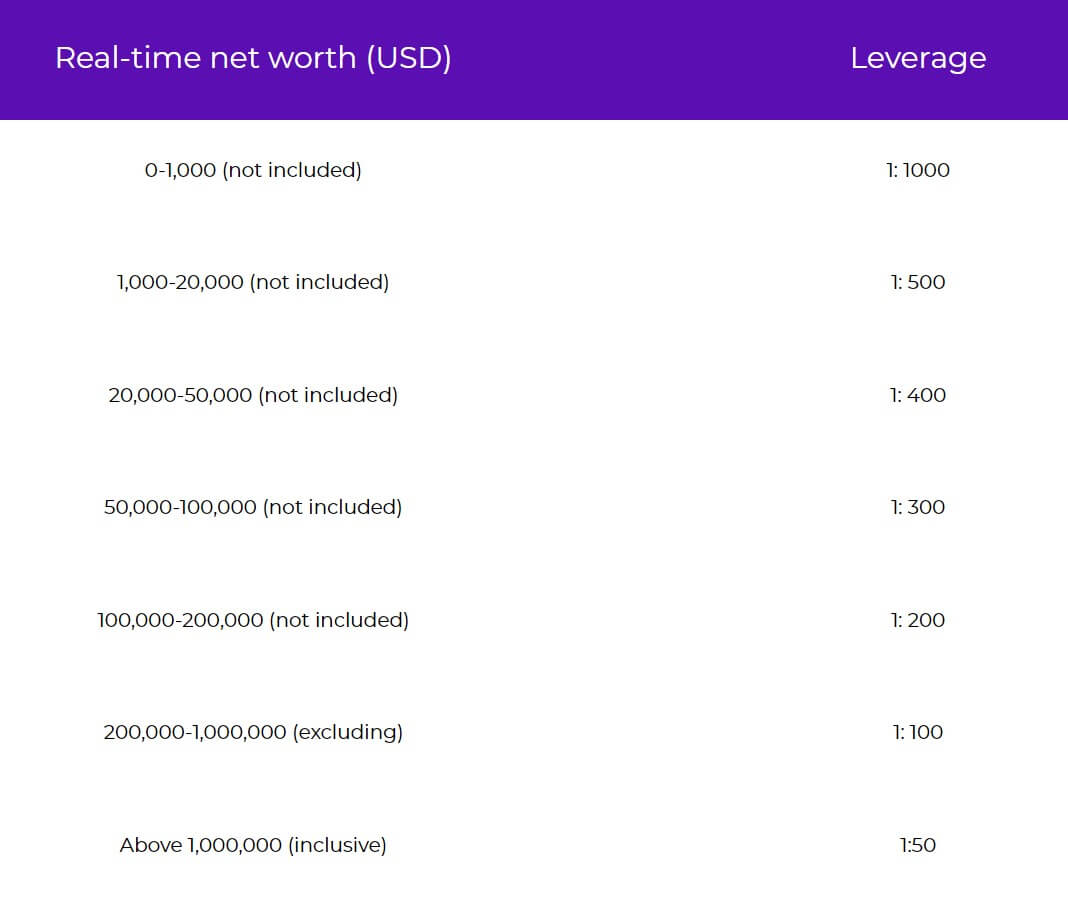 Trade Sizes
The minimum trade size required from clients of CPT Markets is 0.01 lot. Thi sis the same for all 3 account types. The maximum trade volume allowed (for all 3 accounts also) is 60 lots. CPT also allow their clients to have an unlimited threshold of open positions at once, providing collectively they do not go beyond the 60 lots.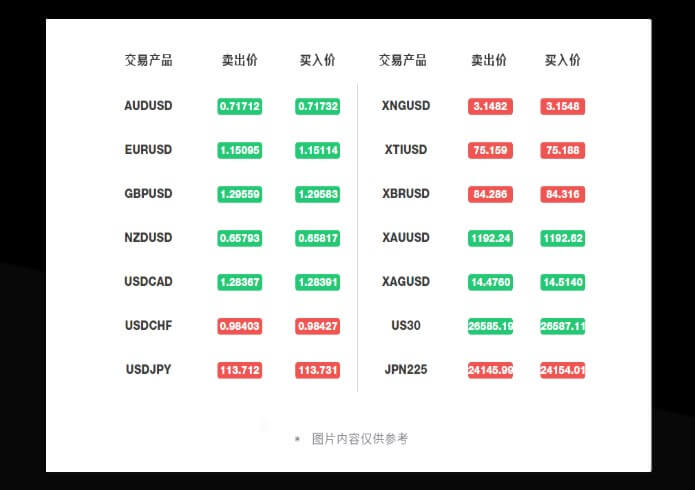 Trading Costs
It is odd that commission and swap fees are not actually mentioned on the website, so we asked the customer support (via Email) and received only an automated message assuring me someone would get in touch soon, but a reply was never received. As a result, we cannot confirm any trading costs in terms of commission and/or swap fees that CPT Markets may charge.
Assets
CPT Markets offer a small but also a fair range of tradable assets:
36 Forex
4 Commodities
9 Stock Indices
5 Cryptocurrencies
It is nice to see that this broker is staying ahead of the game by offering cryptos to satisfy the ever-increasing popularity of cryptos. unfortunately, the available assets are not displayed on the website, but of course, a demo is available to check these. Without doing so, there is no guarantee the above-mentioned number of tradable instruments are truly available. This is very poor conduct on the broker's part and a very sneaky way to lure clients into registering for an account right away.

Spreads
Although the CPT Markets website does not provide live spreads, one would naturally assume the next step is to open a demo and check out the spreads there, which is the best option anyway to see if these spreads coincide well with your trading style and meet your expectations. The only thing we know about the spreads offered by CPT Markets is that 1, they are variable, not fixed, and 2, the floating spreads start from different pip points, depending on which account type you choose. The website tells us the following:
Standard: from 1.8 pips
PRO Bare Point: from 0.1 pips
Platinum: from 0.6
Minimum Deposit
For all accounts (Standard, PRO, and Platinum) it is actually rather strange that the minimum deposit, according to the website, is the same for all, which is 500 USD. It seems odd that there are 3 account types, and they all have the same features with an exception of the spreads. It is, however, not a bad thing, that the minimum deposit requirement is the same across the board, for the client, which means there is one less deciding factor into which account type to opt for.
Deposit Methods & Costs
CPT Markets included the funding method available on their website: China UnionPay. This is just the one deposit method available, which some may find restricting or else not suitable for them individually.

Withdrawal Methods & Costs
The only withdrawal method that CPT Markets offer is China UnionPay which as mentioned above, may seem restricting to offer just one method as this could mean it is a likely factor that could deter many potential clients from registering as a result of not having banking services with this one provider.
In regards to depositing as well as withdrawal fees from the broker, no charges are mentioned but it is always good to check with your banking provider to see if you are individually liable for any applicable fees.
Withdrawal Processing & Wait Time
Withdrawal processing timescales is not something that is mentioned on the website, however, in this case, it is always advisable to check with the banking provider (if you have accounts held with China UnionPay) and asks them directly what timescale you should expect to receive your funds from a broker after processing. Unfortunately, even processing timescale for withdrawals is a question we asked the customer service email team but a response was never received, so we cannot confirm this at this time.
Bonuses & Promotions
The only bonus scheme that CPT Markets offers is now! This bonus scheme runs from the 1st Dec 2019- 29Th Feb 2020. This scheme is giving All CPT Markets first deposit customers up to $500 per account. If you are new to bonus schemes, ensure you fully read and understand the terms and conditions that apply with such promotions, as withdrawing profits is not as simple as it may appear on the surface.
Educational & Trading Tools
CPT Markets have a website tab titled 'Education' which provides some basic videos and small amounts of reading material on the basics of Forex Trading. However this tab is slightly misleading in the sense that yet again this broker seems keen to get clients to sign up before knowing too much about what they're getting into; on the education tab, yes, there is some info on the advantages of trading with this particular broker, however, this is then closely followed by a rather sly 'register now!' section to encourage people to sign up ASAP.
Customer Service
CPT Markets offer customer support on a 24/7 basis via telephone or email. However, for an FCA regulated company, you'd expect this status to reflect on the quality of customer service provided which was actually fairly disappointing; it took over 4 hours to receive an automated email response, and even after that, a comprehensive response to an email attached with basic queries, was never received.

Demo Account
It is not obviously set out on the website, but CPT Markets do offer a demo account to their potential clients. In this case, it makes it possible to see and confirm the advertised tradable assets offered, as well as testing the leverage and other trading conditions they claim to offer, to see if these fit well with your individual trading strategy.
Countries Accepted
Due to FCA regulation status of this broker, most countries, bar the USA are eligible to trade with CPT MArkets, however, it is of course down tot he individual to check if your jurisdiction or residency allows the use of such services.
Conclusion
When you are presented with an FCA regulated broker, especially one that appears to be reasonably well established, the expectation on the high quality of service is automatically there. CPT Markets for some reason seems to lack sophistication when it comes to the reality versus expectations of this broker. The reason for this conclusion starts with the fact this broker does not state all specific assets that are available to trade.
Moreover, there is no way for clients to know the withdrawal timescales, and even when they ask the customer support team (email/telephone- no live chat facility available), even after the standard 48-hour wait, a response was never even received! It all appears to be very poor conduct from a regulated company.