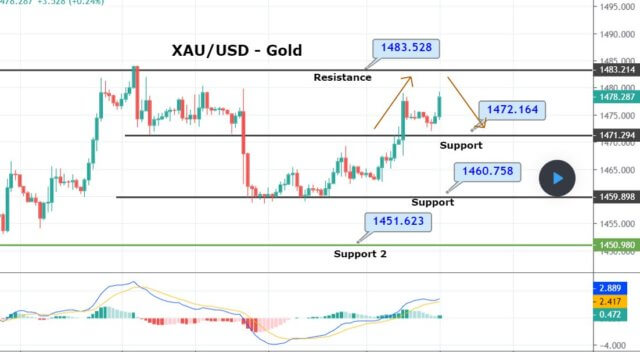 Gold continues to trade bullish around 1,478 as we enter in the U.S. session. Most of the buying came after the dovish reports from the FOMC, as investors' focus shifts to the trade war.
The Federal Reserve announced that it would proceed to watch the data to see if global developments and the muted inflationary pressure affect the U.S. economy. The fed statement of December meeting had no comments like it had in October's meeting statement in which it was mentioned that uncertainties about outlook remained.
The latest signals from the Fed in its summary of economic projections gave the sense that the Federal Reserve may not run at all in 2020. When asked whether a hike in interest rates would Fbe seen next year, Chairman Jerome Powell answered that a persistent increase in inflation would be required to withdraw the stimulus Fed added this year. And that was a fairly high bar which he does not think will be met in 2020.
Speaking about the U.S. China trade talks, the director of White House National Economic Council Larry Kudlow said the media that "the reality is those tariffs are still on table, the December 15 tariffs, and the President has intimated if the little strokes that are still prevailing in trade talks do not get sorted out as per Trump's wish, those tariffs could go back into place".
XAU/USD – Daily Technical Levels 


Support Resistance 
1465.37 1481.64
1455.92 1488.48
1439.64 1504.76
Pivot Point 1472.2
The technical side of the market remained bullish as the precious metal trades above the strong support level of 1,471. On the higher side, gold is likely to find resistance around 1,483. 
Speaking about the leading indicators, the RSI and MACD are suggesting buying trends. So, we should look for bullish trades today. We will prefer staying bullish over 1,474 levels to target 1,482 today. Good luck!