DTT Global is part of a larger company that services traders from all over the world. The broker offers 4 account types and generous funding bonuses, alongside minimal spreads. Their 1:400 leverage is just as lucrative. This article is about all the pros, cons, and other features that you should know about.
Account Types
There are 4 accounts for you to choose from, in addition to the demo. All of them offer the same leverage, lot sizes, and instruments. However, there are differences when it comes to commissions and the spread.
Mini Account:
Minimum Deposit: $500
Spreads: From 2 pips
Commission: $0
Standard Account:
Minimum Deposit: $2,000
Spreads: From 1.5 pips
Commission: $0
VIP Account:
Minimum Deposit: $10,000
Spreads: From 1 pip
Commission: $0
ECN Account:
Minimum Deposit: $15,000
Spreads: NA
Commission: $10 per lot
One of the best aspects of DTT Global is that they charge no commissions on 3 of their 4 account types. The ECN Account has a $10 per lot charge, but traders don't incur other fees because there is no spread. Each of the other 3 accounts has a spread, but you can decrease it by depositing more capital. If you start with the Mini Account, for example, you can always deposit more money and upgrade to the Standard, VIP, or ECN. You also have the option of opening more than one account with DTT. In this case, you can transfer funds between your different DTT accounts without any charges or fees.
Platforms
DTT Global uses the MetaTrader 4 (MT4) platform. You can download and install MT4 on your desktop (Mac and Windows), tablet (such as an iPad), and smartphone device (including both iOS and Android). MT4 allows you to access your account, manage trades, and open or close positions through any device or browser. MT4 is less advanced that the updated version, MetaTrader 5 (MT5). However, it still has a large variety of trade signals and chart graphs that technical analysts will benefit from. MT4's user-friendly and easy to navigate features make it perfect for beginners, as well.

Another plus is that DTT allows you to access Smart Social Trading. This platform has over 300 trading strategies that were developed by experts. You can follow and implement the strategies that suit your goals, whether you are a day trader or a long-term investor. Each of Smart Social Trading's approaches has its unique methods of allocating capital between different instruments and managing risk. When you register an account with the platform and choose a strategy, you can make certain modifications, such as choosing your preferred lot size and adjusting the maximum risk. Smart Social Trading can be accessed and used via desktop devices and smartphones.
Leverage
The standard leverage for all 4 DTT account types is 1:200. However, you can enjoy up to 1:400 in leverage when trading ForEx pairs. Cryptocurrencies have 5:1 leverage. DTT is more restrictive with the latter due to the more volatile nature of digital currencies and the risk associated with withholding them.

Trade Sizes
DTT's lot size is 100,000 currency units and the value of 1 pip (per lot) is $10. For example, if you buy 1 lot, a 1 pip movement in the FX pair you are trading will be $10 in profits or losses. The minimum price change is 1 tick (or a tenth of a pip). As far as cryptos are concerned, the maximum trade size is 10 contracts while the minimum is 0.01. In addition, you can't trade more than 10 crypto contracts in a single day.
Marin Call: 1% (FX pairs)
At the margin call, DTT informs traders that they need to deposit funds and bring the account back to being within the maintenance requirement. If traders are unable to make a deposit, DTT will close out their open positions. At any time, you can always adjust your margin by filling out a form through your trader account. DTT can make changes based on how risky your portfolio is and your level of experience.
Trading Costs
The ECN Account has a $10 commission per traded lot. Mini, Standard, and VIP traders do not pay any commissions, but they pay a markup fee on the spread. Crypto traders, regardless of their account type, are charged when they hold overnight positions. The fee is 1% of the cryptocurrency's price. So if you buy a BitCoin contract for $8,000 and hold it overnight, DTT will charge you $80 in rollover fees (1% of $8,000).
Assets
There are over 75 major currency pairs that are available through DTT. You can trade in the ForEX market for 24 hours a day from Monday to Friday. There are 4 cryptocurrencies that DTT offers: Bitcoin, Litecoin, Ethereum, and Ripple. Just as importantly, traders can buy the CFDs of commodities, market indices, and certain stocks.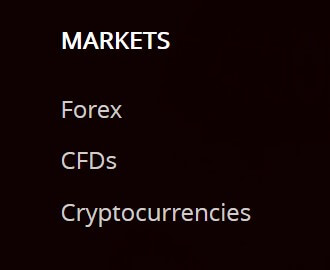 DTT Global allows you to trade spot gold, spot silver, and energy commodities (namely crude oil and natural gas). There are also CFDs of 12 market indices from around the world, including the Dow Jones Industrial Average, S&P 500, Nasdaq 100, Hong Kong's Hang Seng Index, Japan's Nikkei 225, the UK's FTSE 100, Germany's DAX, and others. You can trade 10 US company stocks that are listed on the Nasdaq.
Some of the main ones on DTT's equity list are Amazon, Apple, Facebook, and Bank of America. Whether you want to trade index CFDs or stocks, it is important to view their margin requirements, spreads, and trading hours, which are available on DTT's website. Each of those instruments has its unique requirements and features.
Spreads
The spread is 2 pips for Mini, 1.5 pips for Standard, 1 pip for VIP, and 0 pips for ECN. However, these are only the minimum values and some FX pairs have a higher spread.
Minimum Deposit
The minimum deposit is $500 for the Mini Account, $2,000 for Standard, $10,000 for VIP, and $15,000 for ECN. The Crypto Account has a $200 minimum deposit.
Deposit Methods & Costs
You can transfer funds into your DTT Global account for free via Visa, MasterCard, or Skrill. Under these methods, the deposit is processed on the day of the transfer and the minimum amount is $50 per transaction. If you want to wire funds from your bank account, there is a $35 fee and the transfer takes 2 to 5 business days to process. The minimum amount is $250 for each wire transfer. You can only deposit funds in US dollars.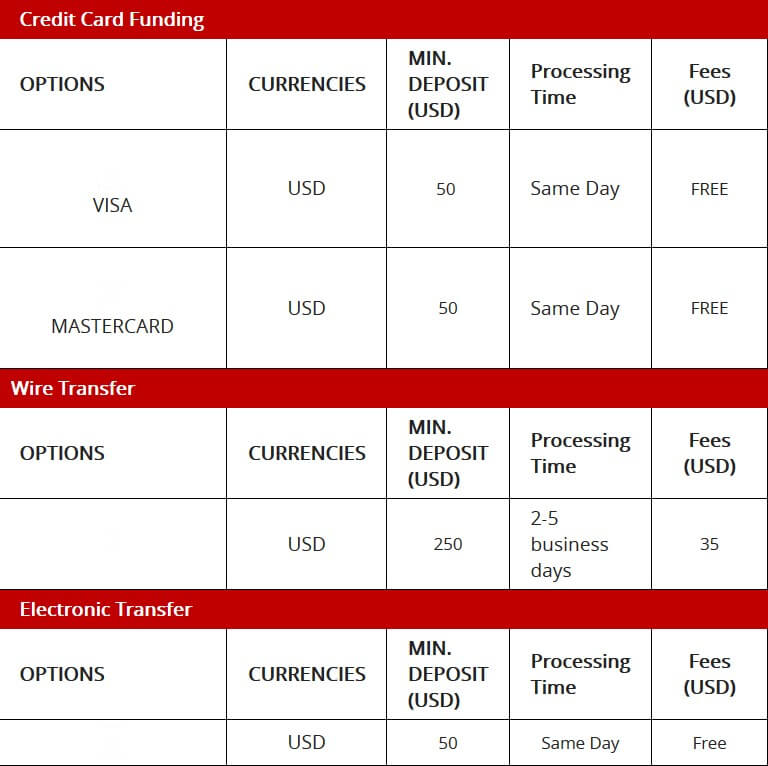 Withdrawal Methods & Costs
The same deposit methods are available when withdrawing funds: Debit or credit card, Skrill, or through a bank wire transfer. The minimum amount you can withdraw is $50 per transaction, regardless of the method you choose. DTT Global's website makes no mention of withdrawal fees, but their UK version charges no fees for neither withdrawals nor deposits. We can assume that the DTT Global broker doesn't charge for withdrawals, but it is definitely important to confirm this with their customer service team before opening an account.
Withdrawal Processing & Wait Time
Visa, MasterCard, and Skrill transfers are completed on the same day as the transaction. However, if additional information is required or any other delays get in the way, your withdrawal can take 2 days until it goes through. Wire transfers from your DTT account to your bank are processed within 2 to 5 business days.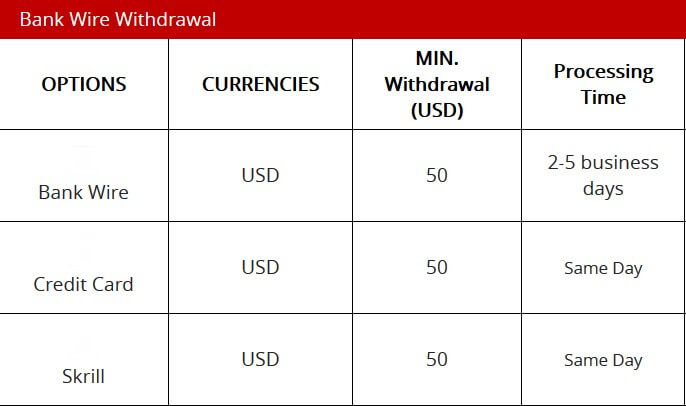 Bonuses & Promotions
DTT Global offers incredibly competitive and generous promotions. What makes them even better is that they have several promotional programs that many traders can benefit from. First of all, DTT Global's deposit bonuses are almost unmatched by any of its competitors. If your initial deposit is anywhere between $1 and $1,000, DTT will give you a 50% bonus in funds.
For example, if you deposit $500, you get a $250 bonus. Funding your account with $1,000 to $3,000 gets you a 25% bonus, $3,000 to $10,000 deposits get 10%, and those between $10,000 and $100,000 are awarded 5%. Accounts with more than $100,000 do not receive any bonuses and the maximum amount a trader can get is $10,000.
In order to be eligible for this, traders cannot withdraw their initial deposit for 90 days after they open the account. Doing so beforehand will lead to all or part of the bonus being taken out of your balance. For example, if you deposit $1,000 and get a $500 bonus, but withdraw $200 before the 90 day period is over, DTT will take out $100 (50% of $200). To get this bonus, you should contact the broker's support team, who will also tell you whether or not this program is available in your country.
DTT Global also has referral and affiliate promotions. If you convince a friend or family member to open an account with DTT, the broker will give you a portion of the commissions on every lot that your referral sells or buys. Similarly, DTT supplies traders who have an established social media presence or own a website with marketing material. The said trader receives a portion of the commissions for each person who creates a live account.
Educational & Trading Tools
You have access to plenty of tools that include position calculators, educational seminars, technical signals, and research reports. To use the deal size calculator, you have to input the pair you want to trade, the account balance, your personal risk limit, and how far the entry price is from your stop-loss. Afterward, the calculator tells you how much each lot will cost you if it hits the stop-loss and recommends a trade size. Other tools include the Fibonacci and correlation calculators, pivot point graphs, and historical charts that you can customize.

DTT conducts in-office training seminars about the ForEx markets, with courses available to both beginner and advanced traders. Online classes are also offered via video in 3 different languages (English, Arabic, and Spanish) about trading technical patterns. Moreover, DTT provides educational documents that define major ForEx terms and explains basic market concepts.

Account-holders have free access to technical trading tools, such as the trend catcher software and a list of the top patterns of the day, alongside a 'Buy' or 'Sell' recommendation for each symbol. This is on top of the strategies that are available on the Smart Social Trading platform. Lastly, DTT's research offerings are a live news stream, daily economic calendars, weekly video reviews, and in-depth analyses that tackles technical as well as fundamental developments.
Customer Service
There are several ways for you to contact DTT Global. The quickest one is their live chat feature, which is only available to account holders. Your other options are filling out an online call-back form or directly contacting one of their office locations via phone or email. Support is available in English, Arabic, and Spanish. Traders also work with their own account manager and can contact the broker's customer service team 24 hours a day.
Demo Account
DTT offers a demo account with $50,000 in paper currency and it is valid for 30 days. Their goal is to allow traders to familiarize themselves with MT4. You will trade live spreads in the demo account and the same instruments that live users holders can access.
Countries Accepted
DTT Global is part of the larger Direct Trading Technology company, which has subsidiaries across the globe. DTT Global has 3 offices in Saudi Arabia (the cities of Riyadh, Al Khobar, and Jeddah) as well as 1 location in each of Qatar (Doha), Kuwait (Kuwait City), Lebanon (Beirut), and Panama (Ciudad de Panama).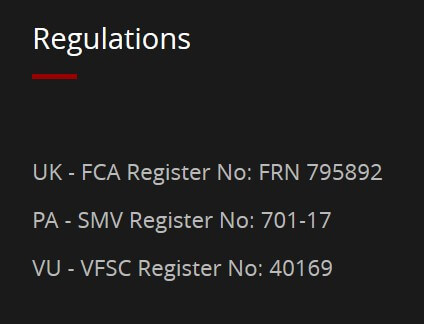 Conclusion
There are many things that we like about DTT, ranging from their low spreads to their usage of the MT4 platform. Having said that, certain elements on their website could be improved to encompass more trading tools. While their bonuses are hard to match, ECN account holders can easily find lower commissions elsewhere.