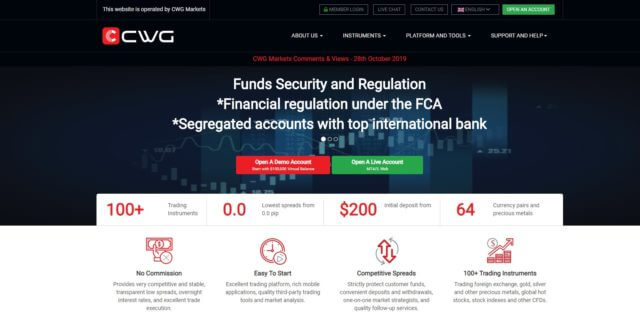 Traders who are looking for low trading costs and access to software will thoroughly enjoy what CWG Markets has to offer. The broker, based out of the United Kingdom, lets you trade through the MetaTrader 4 or MetaTrader 5 platform, whichever you prefer. Most competitors only offer one, with plenty who only provide traders with the less advanced MT4 version. However, not only does CWG give you access to both, but you can choose between paying no commissions or having a 0-pip spread. The 3 accounts types that are available through this broker let you trade a variety of instruments and products. Leverage, however, is limited. So are a few other services. Here is what you need to know about opening an account with CWG Markets.
Account Types
You can choose between a Classic, Advanced, and Institutional Account. All 3 allow traders to have either the US dollar, British pound, or Euro as the default currency.
Classic:
Minimum Deposit: $200
Spreads: From 1 pip
Commission: $0
Advanced:
Minimum Deposit: $200
Spreads: 0 pips
Commission: $3 per open/close ($6 per round trip trade)
Institutional:
Minimum Deposit: $50,000
Spreads: 0 pips
Commission: $1.5 per open/close ($3 per round trip trade)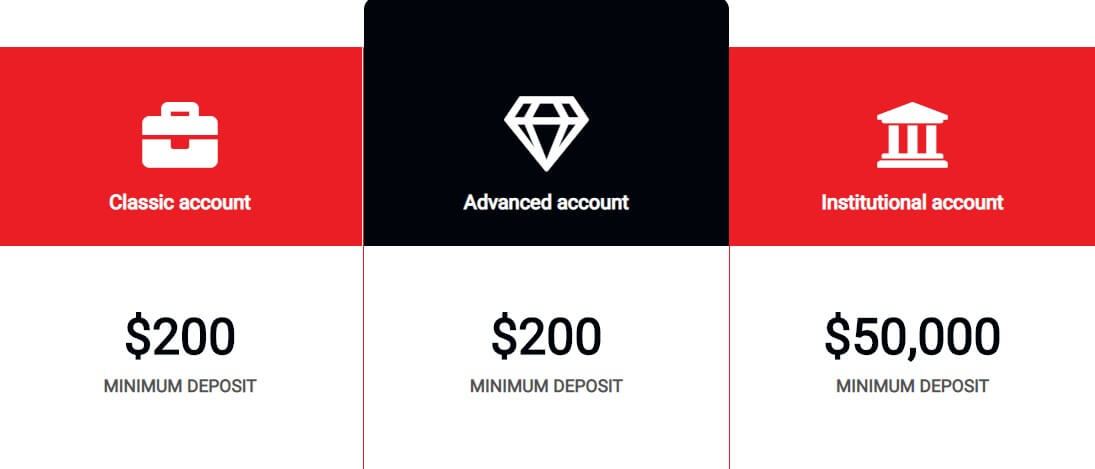 In certain ways, the Advanced and Institutional accounts may fall under one category. Even though both the Classic and Advanced require the same minimum deposit, there are differences between the two. First, the Advanced account seems to be more suitable for expert traders who value a low spread over higher commissions. Institutional is for seasoned traders who have over $50,000 capital. The Classic allows beginners to generate profits and take their time to grow without incurring commission costs.
The main difference between the Classic and Advanced accounts is that the latter has a $3.00 commission but no spread. Meanwhile, the Classic has 0 commissions but a 1 pip spread. Choosing between the 2 depends on your strategy. If you like to "scalp" or use leverage to profit from small price movements, then the advanced account is appropriate due to its minimal spread. The Classic is recommended for traders who want to avoid commissions.
Platforms
CWG Markets allow you to trade through both MetaTrader 4 (MT4) and, its more advanced version, MetaTrader 5 (MT5). Through these platforms, you can design a custom algorithm that automatically executes trades on your behalf (if conditions that you set are met). The tool is especially valuable to day traders, who, without an automated method, might struggle to compete with the speed of trading computers when opening and closing positions.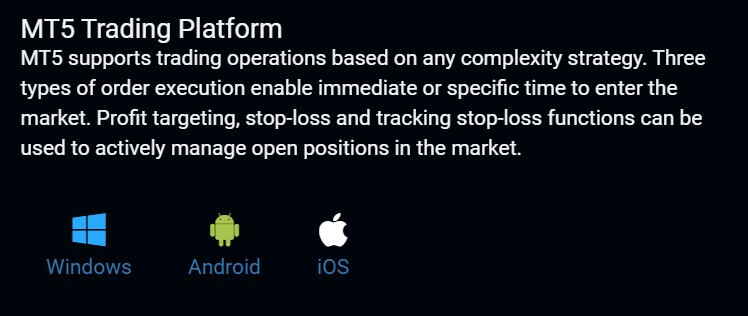 MT4 and MT5 are both available on MacBook, Windows, Android, and iOS. In addition, you can passively run your account through profit targeting, stop-loss, and tracking stop-loss orders.
Leverage
Classic, Advanced, and Institutional account holders all have a maximum 1:30 leverage. Experienced and professional clients, such as those trading on the behalf of other businesses or people, can have up to a 1:100 leverage. Again, this is the case regardless of whether a trader is a Classic, Advanced, or Institutional account holder.
Trade Sizes
The minimum trade size is 0.01 and there is no maximum. This applies to all account types.
Margin Call: 100%
CWG's margin call also acts as the stop-out level. It is designed to prevent your account from having a negative balance, where you would owe the broker money because your trades incurred significant losses. If you get a margin call, CWG will give you 2 business days to either deposit funds in the account (to bring it back to the maintenance requirement) or close some of your trades.
Otherwise, CWG will automatically close some or all of your positions, up until your invested funds meet the required margin level.
Margin requirements are also different from one ForEx pair to another. This is also the case for the different CFDs, commodities, and indexes that are available through CWG. You can check the margin levels for each instrument when you log in to your trading account.
Trading Costs
CWG charges Advanced account holders $3 every time they open or close a position. When you fully enter and exit a trade, the commission is $6. Institutional traders are charged half of what Advanced account holders pay in commission ($1.5 per entry or exit and $3 per fully closed trade).
Classic members pay $0 in commissions, but they do incur fees because of the spread. However, given that a 1 pip difference between the bid and ask prices is not significant, these charges are not hefty in comparison to the commissions. Advanced and Institutional traders only incur commission costs because they have a 0 pip spread. However, there are interest fees on overnight positions, which are different from one FX pair to another. Interest rate decisions, monetary policy, and economic factors impact the overnight swap fees.
Assets
You can trade over 60 currency pairs through CWG Markets, including major ones and exotics. Just as importantly, their website contains valuable and updated information on each FX symbol, such as live spreads, candle charts, and news feeds.
CWG also offers XAG.USD (spot silver) and XAU.USD (spot gold), alongside commodity futures (copper, natural, and oil). You can trade major market indices CFDs. The S&P 500, Dow 30, FTSE 100, Hang Sing, and Nikkei 225 are amongst the available index CFDs.
Spreads
The spread is 0 pips for Advanced and Institutional account holders. Classic traders have a 1 pip spread. Both of which are very low and desirable figures. Not many other brokers offer spreads that compete with any of CWG Markets's account types. However, it is important for you to keep in mind that these are the minimum spread amounts. Each currency and financial instrument has its own spread, which can vary based on market conditions. In addition, some FX pairs have a floating spread that changes on a regular basis.
Minimum Deposit
To get started with Classic or Advanced, you need to transfer no less than $200. An Institutional account requires a minimum $50,000 deposit. While you can choose between the US dollar, British Pound, and Euro as your account currency, you can't change that once you start trading.
Deposit Methods & Costs
Deposits can be done through your debit or credit card, Skrill, Neteller, China Union Pay, or as a wire transfer from your bank. CWG Markets don't charge for deposits, but they warn than an account holder's bank or financial institution may have fees that apply to international transfers.

The fastest way to fund your account is through a debit or credit card or an e-wallet (such as Skrill and Neteller). It takes only 1 to 2 hours to process the transaction. Deposits through bank wire transfers and credit cards can take 2 to 4 days and 3 to 5 days, respectively. While waiting on a deposit, you can track its status through the Members Area on CWG's website.
Withdrawal Methods & Costs
When you want to withdraw money, go to the Members Area and enter the amount you want to transfer. In addition, to request a withdrawal, you should briefly give them a reason as to why. Some might find this to be intrusive, but CWG does this to make it easy for you to track accounting items. Certain government regulations also require them to do so.
Withdrawal Processing & Wait Time
Withdrawals can take anywhere between 24 hours and 4 business days. Generally speaking, requests made before 2 pm GMT are processed that day. Otherwise, they will be taken care of during the next business day.
In most cases, you should expect withdrawals via debit or credit card, an e-wallet, PaySafe, or China Union Pay to take 24 hours. However, if the bank or CWG needs additional information from you, you might have to wait between 2 and 4 days. This is how long it normally takes for bank withdrawals to process, regardless of whether or not you needed to submit documents.
Educational & Trading Tools
CWG provides you with customizable charts, allowing you to choose a timeframe and chart type (such as candlesticks). This is complemented by tools that let you draw graphics and compare various technical indicators. Just as importantly, the broker has a daily economic calendar, which you can change to have it highlight weekly or monthly events. You can also use the calendar to review past data releases for up to one month.
Customer Service
As an account holder, you get trading support from CWG on an individualized, one-on-one basis. Their customer service team is available 24 hours a day during weekdays. You can contact them via phone, email, or through their online live chat tool.
Customer Service: +44(0)2039471777
Technical Support: +44(0)2039471777
Email: support@cwgmarkets.co.uk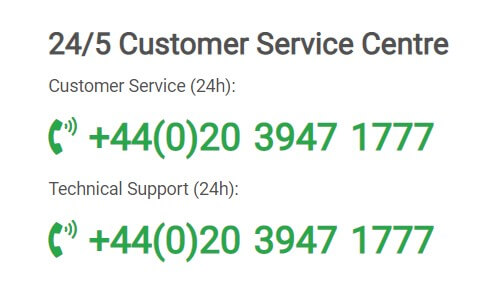 Demo Account
CWG's demo account gives you access to $50,000 in paper money. You will trade live quotes to test your strategy and become more comfortable with the platform's tools before you risk your actual money. Another advantage of the demo account is that you have access to different charts and graphs for free. With a live account, you have to pay for these tools. This gives you the chance to further look into CWG's offerings before depositing funds and opening a live account.
Having said that, there are certain disadvantages. While the demo account lets you trade live quotes, it doesn't charge you interest for overnight positions nor does it expose you to the risks associated with the spread price. Just as importantly, there are no margin calls with the demo account. Keep these factors in mind when you switch from the demo to the live account. Your returns on the former may not entirely match how you will perform when trading actual money.
Countries Accepted
The broker is registered in the UK and their accounts are backed by the Financial Services Compensation Scheme (FSCS). In case CWG becomes illiquid or goes bankrupt, the FSCS compensates every account holder with up to £50,000 (almost $65,000). Outside of the UK, clients from all over the world can open a CWG account and almost every country is listed in the new clients' application form. Having said that, CWG's website specifically notes that traders in the US and Belgium need to review their local laws that govern the financial markets. In other words, if you are in the US or Belgium, be sure that your trading strategies and the instruments you trade are in compliance with your country's regulations.
Conclusion
The flexibility that CWG offers is incredibly helpful. Through choosing between their different account types, you can opt for either a nonexistent spread or no commissions. Many other brokers will charge you both of these fees. Just as importantly, CWG is a safe firm to work with and your funds will be insured by the FSCS in case the broker is unable to pay you back. Technical analysts can access the MT4 and MT5 platforms' graphics, charting tools, and customizable features. If you prefer to focus on the fundamentals, economic calendars and live news feeds are also available through CWG.
Having said that, by opening an account with this broker, you are limited to their 1:30 leverage. Traders can, however, increase it to 1:100, but they have to provide CWG with a proven track record of profitability and effective risk management. If you are based out of the US or Belgium, you might have to do some extra homework on local regulations that govern the financial markets. CWG is based out of the UK and advises traders in the US and Belgium to bear the responsibility of compliance with their countries' laws.