The cryptocurrency market had yet another day of slight decline while consolidating at the same price levels. Major cryptocurrencies are losing volume each day, which also translates in slight drops in price. Most cryptocurrencies ended up being in the slight red. Bitcoin went down 0.01%, and it is now trading at $9,107. Ethereum lost 0.81%, while XRP lost 0.62%.
Out of the top100 cryptocurrencies by market cap, the biggest gainer is Thunder token, with 63.77% daily gain followed by Lambda's 27.32 and WINk's 20.72% gain. The biggest loser of the day was Noah Coin, which lost 55.43% of its value.
Bitcoin's dominance has increased slightly over the past 24 hours because many cryptocurrencies lost a bit more value than Bitcoin. Its dominance now sits at 67.4%, which represents a 0.2% gain when compared to its position 24 hours ago.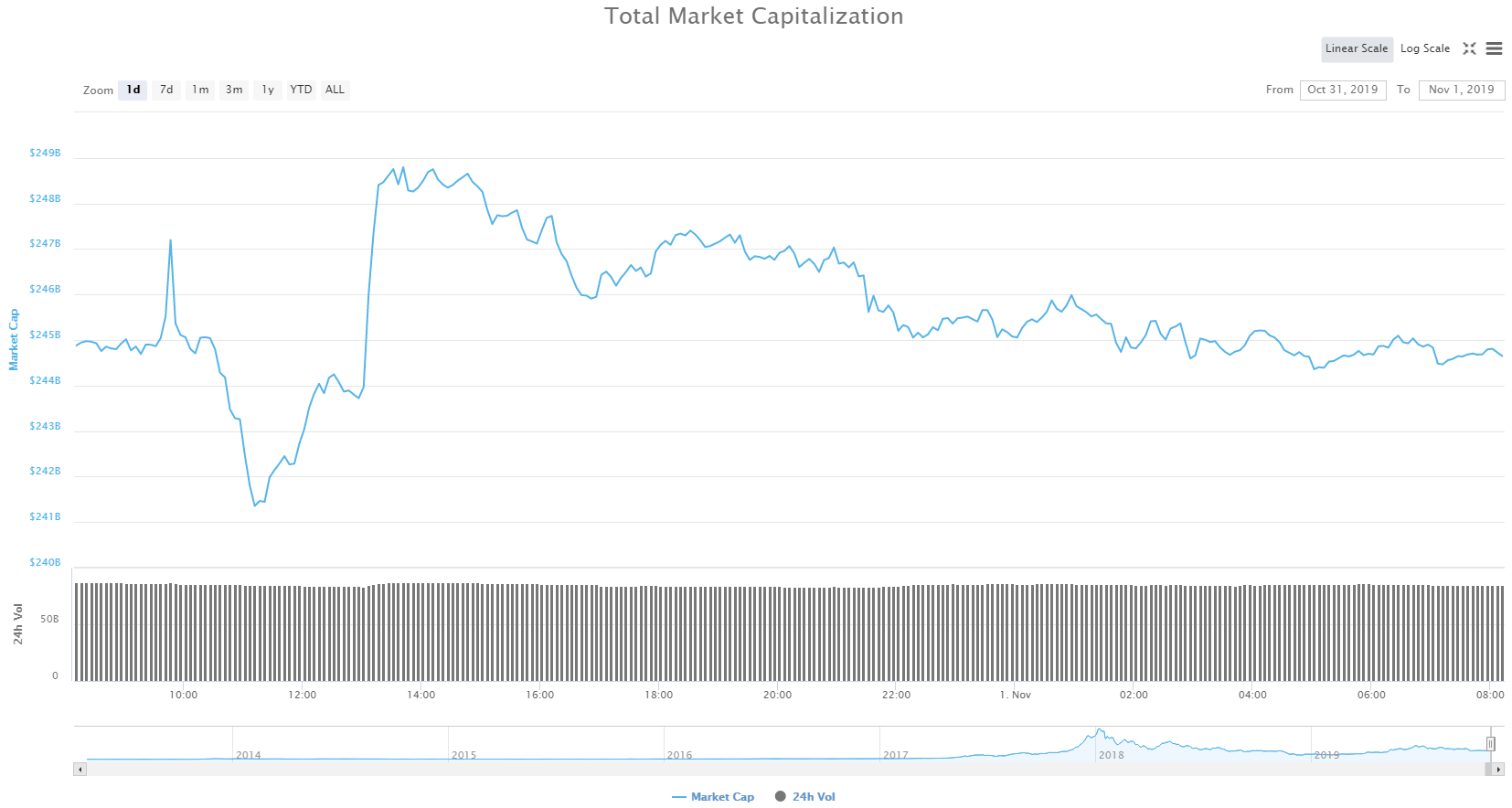 Cryptocurrencies ended up being mostly in the red in the past 24 hours. The industry's market capitalization fell slightly when compared to yesterday's value. It now has a market capitalization of $244.6 billion, which represents a $1.3 billion decrease when compared to the previous day.
What happened in the past 24 hours
Bitcoin has reached $1 billion in cumulative transaction fees right on the day of its "birthday" on Oct 31. It has been confirmed that more than 200,000 Bitcoin has now been paid in transaction fees since its launch in 2009.
After China announced that it is accepting cryptocurrencies as a technology worth looking at and deciding to even creating their own, they are calling for caution when it comes to crypto investments.  People's Daily, a newspaper controlled by the Communist Party of China, announced that:
"The rise of blockchain technology was accompanied by that of cryptocurrencies, but innovation in blockchain technology does not mean we should speculate in virtual currencies."
_______________________________________________________________________
Technical analysis
_______________________________________________________________________
Bitcoin
Bitcoin's price is exactly where it was 24 hours. It currently hovers around the 9,110 point and hanging on a thread which is line of support. Bitcoin is continuing to struggle with the reduced upward momentum and currently has higher percentage of dropping in price. With declining volume and dropping RSI, if Bitcoin falls too far under the area of support at which it stands now, we can expect a downward move to face $8,800 levels.
As mentioned before, Bitcoin's RSI is slowly dropping, but a bit slower than it did yesterday. It now stands at 45. Bitcoin's volume is also dropping day by day.
Key levels to the upside                   Key levels to the downside
1: $9,580                                          1: $8,820
2: $9,740                                          2: $8,640
---
Ethereum
Ethereum has spent another day in between its $178.6 support line and $185 resistance line. The past day went without any attempts of price movement to the upside or downside. Ethereum is in a much safer space than Bitcoin as it is not fighting a support line that could decide its short-term future. However, as these two cryptocurrencies are extremely correlated, Bitcoin's price drop could result in Ethereum's price drop without any fundamental or technical indicators suggesting that it should happen.
Key levels to the upside                   Key levels to the downside
1: $185                                             1: $178.6
2: $193.5                                          2: $167.8
3: $198                                             3: $163.5
---
XRP
XRP has finally given up on pushing its price up to follow the extremely steep upward-facing trend line. Lack of volume and therefore buying pressure made it impossible to follow the path of this line. XRP's price remained pretty stable over the past 24 hours, and it is now sitting at $0.292.
XRP's volume and RSI value seem to be dropping today, unlike yesterday, which was remarkably stable for XRP when it comes to these indicators.
Key levels to the upside                   Key levels to the downside
1: $0.31                                            1: $0.285
2: $0.325                                          2: $0.266 (major support)
3: $0.333                                          3: $0.245