After a green day yesterday, the cryptocurrency market has started to consolidate. There were no big movers if we look at the top10 cryptocurrencies. This consolidation is usually a healthy move after the price drops or surges. Bitcoin went down 0.17%, and it is now trading at $9,299. Ethereum lost 0.14%, while XRP gained 0.86%.
Out of the top100 cryptocurrencies by market cap, the biggest gainer is Tezos, with 28.30% daily gain followed by Swipe's 13.20% and Ren's 12.27% gain. The biggest loser of the day was Chiliz, which lost 14.84% of its value.
Bitcoin's dominance went slightly down when compared to the previous day as some cryptocurrencies outperformed its daily gain. Its dominance now sits at 66.59%, which represents a decrease of 0.5% when compared to yesterday's value.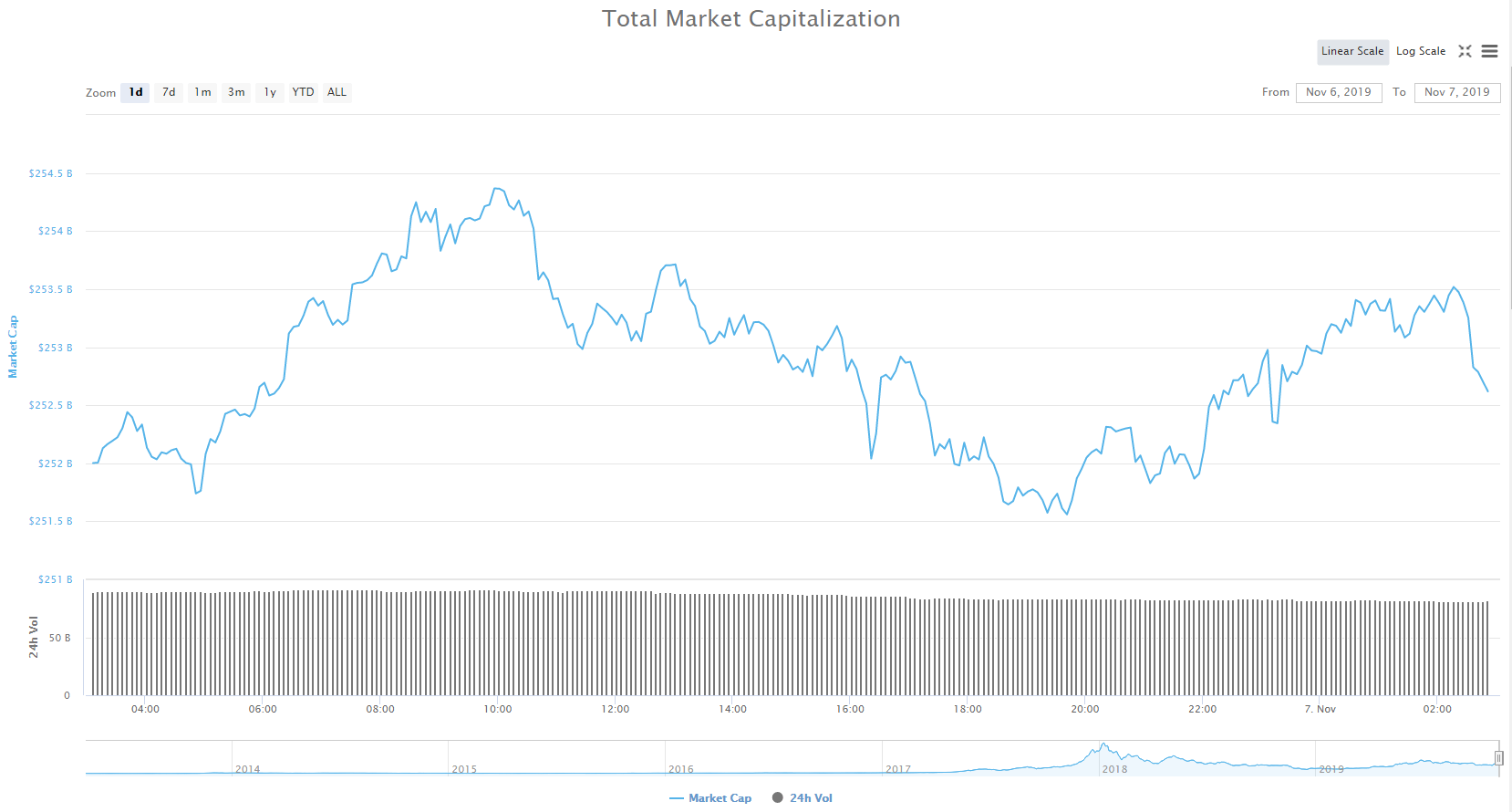 As the market was pretty stable in the past 24 hours, the market capitalization has not changed much. The slight decline in market capitalization could is just temporary and is a part of the daily crypto fluctuation. Cryptocurrencies as a whole now have a market capitalization of $252.6 billion, which represents an almost $1.1 billion decrease when compared to the previous day.
What happened in the past 24 hours
Most of today's news came from China. The biggest one would be that China is now outright bullish on cryptocurrencies and does not intend to shut down cryptocurrency mining whatsoever.
China officially stated that cryptocurrency mining is no longer featured on the list of industries it considers undesirable. On top of that, China's President Xi Jinping calling the country to accelerate blockchain adoption as well as people to invest into cryptocurrencies.
However, cryptocurrency trading is still officially banned in China as the new law comes takes effect on Jan 1, 2020.
_______________________________________________________________________
Technical analysis
_______________________________________________________________________
Bitcoin
After Bitcoin broke its triangle pattern and surged from $9,150 levels to $9,300 levels, it started to consolidate. The price seems to be contained within a range and any attempts of moving out of that range gets shut down. Bitcoin is now trading at $9,09, which is just slightly less than how much it was trading for at 24 hours ago.
Bitcoin's volume is approximately on the same level as it was for the past couple of days. As there were no new moves to the upside or downside, the key levels stay the same. One addition to the key levels could be the price where Bitcoin broke its triangle pattern, as that seems to be its immediate support at the moment.
Key levels to the upside                   Key levels to the downside
1: $9,580                                          1: $9,250
2: $9,740                                          2: $8,820
3: $10,350                                        3: $8,640
---
Ethereum
After breaking the $185 resistance line, which now became support, Ethereum seems to be in the hands of the bulls. While volume showed that there was no space for Ethereum's price to go up or down, the cryptocurrency platform proved otherwise. It tried to move above the $193.5 resistance line, which proved to be a valid bear-filled price point. As the upward-facing move failed, Ethereum is now consolidating close to the $193.5 resistance line.
Key levels to the upside                   Key levels to the downside
1: $193.5                                          1: $185
2: $198                                             2: $178.6
3: $163.5                                          3: $167.8
---
XRP
XRP has proven to be an almost-isolated market. While slightly affected by the price movements of the industry, XRP is more than capable of not mirroring Bitcoin. Not only that, but its price movements are almost completely different. While Bitcoin is trying to stabilize and consolidate, XRP tried to make a quick move up. The price surged from $0.03 all the way to $0.315 before crashing down to the same level it started at, creating two major candles, one green, and one red.
XRP's RSI touched the overbought indicator at the same time that bears started kicking in. Even though the price movement was quite wild, the key levels are remaining the same as the price did not move past any support or resistance levels.
Key levels to the upside                   Key levels to the downside
1: $0.31                                            1: $0.285
2: $0.325                                          2: $0.266 (major support)
3: $0.333                                          3: $0.245