The cryptocurrency market has had an astonishing weekend. The past couple of days have brought us one of the largest price surges in a single 24-hour candle. The last time we saw a 40%+ 24-hour candle from Bitcoin, it was trading at $0.40 and $5.65. This could indicate an influx of buyers that are here to stay. Precisely this happened, as most cryptocurrencies' price did not retrace, but instead stayed at their highs. As for the past 24 hours, Bitcoin went up 5.86%, and it is now trading at $9,698. Ethereum gained 4.59% of its value, while XRP gained 3.56%.
Bitcoin's dominance increased over the weekend even as cryptocurrencies rose in price. This is because Bitcoin's price itself gained more than the other cryptos did. Its dominance now sits at 68.2%, which represents a 2.1% increase from the beginning of the weekend.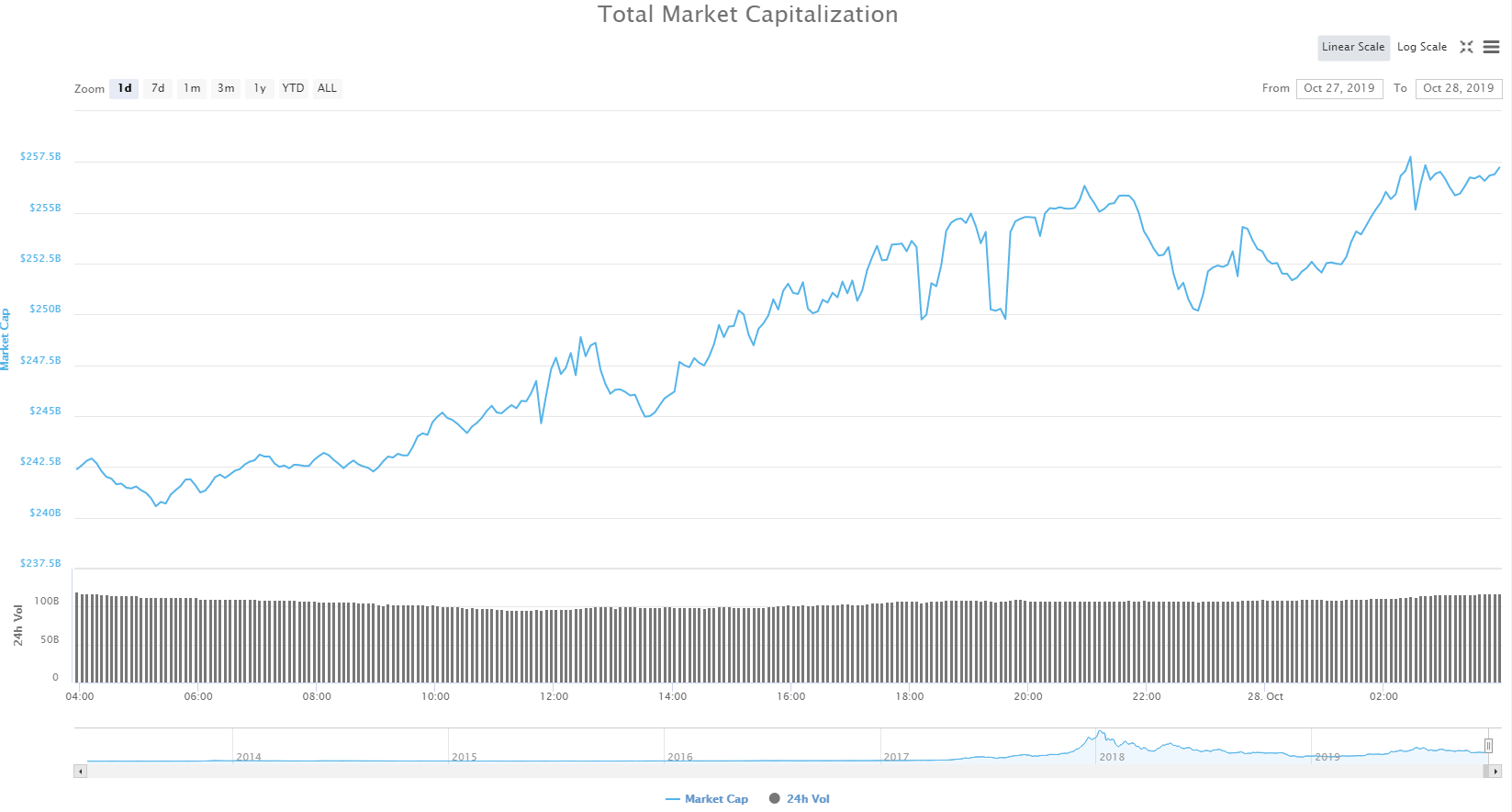 Most cryptocurrencies ended up being in the green in the past 24 hours, which reflected on the market cap of the cryptocurrency industry as a whole. The industry now has a market capitalization of $256.69 billion.
What happened in the past 24 hours
There was no significant news regarding cryptocurrencies in the past 24 hours. The price was keeping up its upward momentum from the news that came earlier during the weekend.
As far as the weekend goes, the big news was the Chinese president Xi says that China should "Seize Opportunity" to adopt blockchain. On top of that, China passed a cryptography law which will be effective on January 1, 2020. This law will try to tackle regulatory and legal challenges in commercial cryptography use-cases.
Technical analysis
Bitcoin
The past week was not especially good for Bitcoin until the weekend came. After failing to spike up from the bull flag that it formed, Bitcoin started dropping in value, managing to fall from $7,950 down to $7,300 in less than 30 minutes. The support line at $7,410 was quite a strong one, and Bitcoin manage to consolidate at that price point. However, the volume suddenly spiked up, and Bitcoin's price skyrocketed all the way to $10,360 before retracing a bit. Bitcoin is now trading around the $9,700 mark.
Bitcoin's volume is still quite high, while its RSI is indicating trading in overbought territory.
Ethereum
Ethereum has also had a great weekend, as its price skyrocketed as well. After reaching the big support area at $153, it went up and eventually gained upward momentum. Ethereum's price reached $199.6 before retracing. One important thing to note is that Ethereum's price did try to fall below the falling wedge line. However, it quickly declined, and the price shot up once again.
Ethereum is now trading at $186.6 with elevated levels of volume. Its RSI is approaching overbought territory but is not there yet.
XRP
XRP has also gained quite a bit over the weekend. After breaking its upward-facing trend at $0.29, it crashed down to $0.25. However, the price recovered as the bulls kicked in, establishing support at $0.266. This was a baseline for the big move upwards, which ended at $0.315. As the volume faded, XRP retraced a bit and fell under the aforementioned trend line, which it did manage to cross during the spike. It has tried to break it quite a few times since but failed every single time.
Even so, there is no need for attempts to break above the trend line to be successful as the line is too steep upwards. Even following it is a great indicator of strength. XRP is now trading for $0.30.