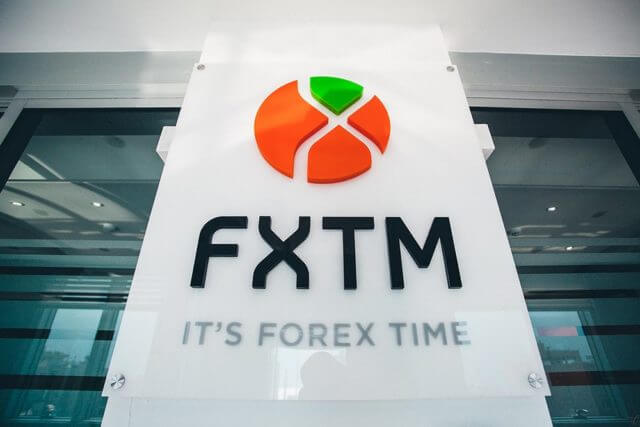 FXTM is an award-winning online forex and CFD broker with a client base that has grown to more than one million since its establishment back in 2011. This broker is a well-known and trustworthy option, due to their regulation by the Cyprus Securities and Exchange Commission and the Financial Sector Conduct Authority (FSCA). The company is located in Cyprus. Since this broker offers six different account types, there is a lot of information one would need to review before deciding whether to open an account. We will say that this broker offers several competitive advantages, but you'll want to keep reading to find out more.
Account Types
This broker offers six different account types, with the options being the Standard, Cent, Shares, ECN, ECN Zero, and FXTM Pro accounts. The Cent account is essentially a version of the Standard account with a lower deposit requirement, similar spreads, and smaller trade sizes. All of the accounts differ significantly when it comes to the deposit minimums, spreads, minimum and maximum trade sizes, number of products available for trading, platforms supported, and more. All accounts offer competitive trading costs, including spreads. There is so much to take into consideration, so we hope you'll continue reading to ensure that you choose the best account type for your own personal trading style. Below, you can view a quick overview of each account type.
Standard Account:
-Minimum Deposit: $100
-Leverage: up to 1:1000
-Spreads: from 1.3 pips
-Commission: None
Cent Account:
-Minimum Deposit: $10
-Leverage: up to 1:1000 (FX), 1:500 (Spot Metals)
-Spreads: from 1.5 pips
-Commission: None
Shares Account:
-Minimum Deposit: $100
-Leverage: 1:10 fixed
-Spreads: from 0.01 pips
-Commission: None
ECN Account:
-Minimum Deposit: $200
-Leverage: up to 1:1000
-Spreads: from 0.1
-Commission: $2 per lot
ECN Zero Account:
-Minimum Deposit: $500
-Leverage: up to 1:1000
-Spreads: from 0.01 pips
-Commission: None
FXTM Pro Account:
-Minimum Deposit: $25,000
-Leverage: up to 1:200
-Spreads: from 0 pips
-Commission: None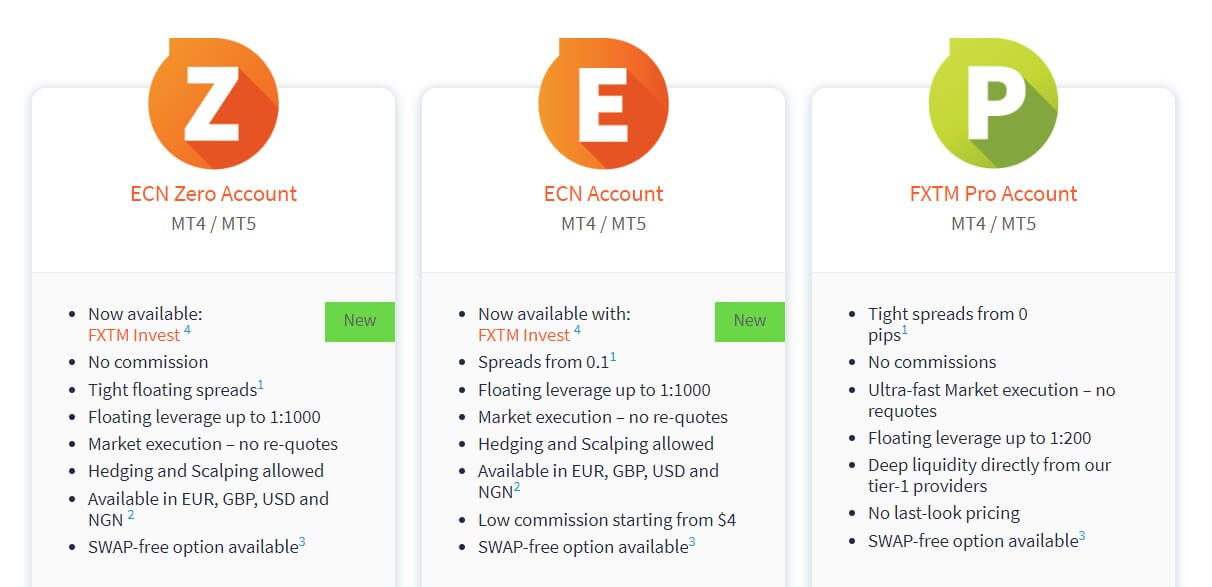 Keep in mind that you'll need to submit a few documents for personal verification with this broker. On their website, the company states that accounts are often approved within the same day. Make sure that you upload your personal ID and address document as early as possible to ensure that support has everything they need to review your account quickly.
Platform
Unlike many of their competitors, FXTM actually offers both the MetaTrader 4 and MetaTrader 5 trading platforms. Typically, we only see one option or the other, with MT4 being offered most commonly. Therefore, if you're a clear fan of the MT5 platform, you should be happy to see this option. If you're trying to decide which platform to use, you should know that both are available on desktop, web, or mobile, and links can be accessed from the broker's website. MT5 is the newer version of the platform, but many still prefer to use the classic MT4 platform. However, MT5 does offer more timeframes, pending order types, technical indicators, and more. Note that only the Standard, ECN, ECN Pro, and FXTM Pro accounts may opt to choose between the two platforms, while the Cent and Shares accounts will be trading with MT4.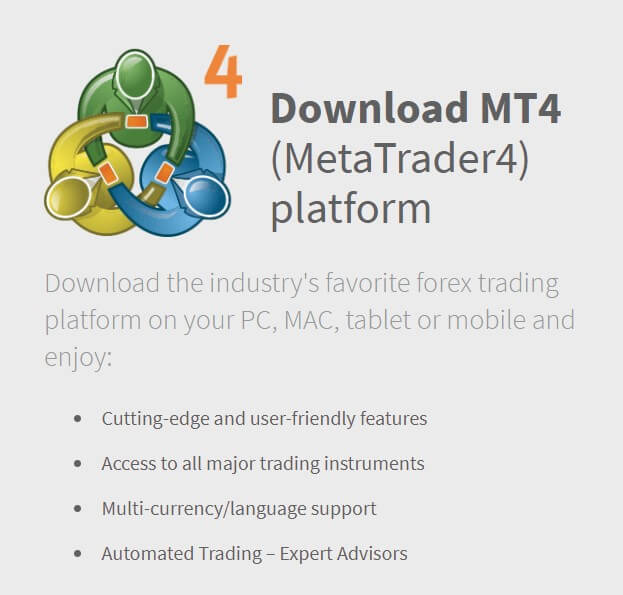 Leverage
FXTM offers floating leverage options from 1:1 up to 1000:1. Their outstanding leverage cap provides traders with the ability to trade with 1000 times their buying power and to trade a larger volume while only making smaller deposits. We must point out that trading with high leverages, especially with one as high as what this broker offers, can be risky. It is best left to more experienced traders that prefer a high-risk high-reward experience.
With that in mind, it is still a great advantage to have the option to select leverage this high and any beginner could start with a more realistic leverage and possibly work their way up in the future. Note that this option is available on the Standard, Cent, ECN, and ECN Zero accounts. The Cent account only allows for a leverage of up to 1:500 on spot metals. The Shares account offers a leverage that is fixed at 1:10, while the maximum leverage on the FXTM Pro account is set at 1:200. Still, options are higher than the industry average for all account types, aside from the Shares account.
Trade Sizes
The minimum allowed trade size is 0.01, or one micro lot, on all account types. Meanwhile, the maximum trade size differs much more significantly, based on which account you've chosen. The Cent account was designed to support a smaller trading volume, so the maximum trade size is set at just 1 lot on this account type. The maximum trade size is 10 lots on the Shares account and 30 lots on the Standard account type. From there, options climb much higher, with a 100-lot size on the ECN and ECN Zero account, and an impressive 250 lots being offered for the FXTM Pro account. Like the maximum trade sizes, the accounts also come with a varying margin call and stop-loss levels. Those levels can be viewed below.
Margin Call/Stop Out Levels:
-ECN, ECN Zero, FXTM Pro: 80%/50%
-Standard Account: 40%/20%
-Cent Account: 60%/40%
-Shares Account: 40%/20%

Trading Costs
Brokers typically make a profit through spreads, commission charges, and swap fees. Fortunately, FXTM does not charge commission fees on the majority of their account types, which can provide a financial advantage to choosing them as a broker. The only exception would be the ECN account, which charges a commission fee of $2 per lot, although this is made up for by the much lower than average spreads. Speaking of spreads, we will mention that the majority of the accounts with this broker offer lower than average options. More on that later.
There are also swap free versions of all of the account types available on the MT4 platform, although this isn't offered on the MT5 platform. Overall, trading with a bigger broker like this one can really provide an advantage when it comes to trading fees, since the broker is able to almost completely wipe out commission fees, offer lower than average spreads, and provide swap-free options.
Assets
FX, cryptocurrencies, precious metals, oil, indices, and stocks make up this broker's impressive asset portfolio. However, one should note that the number and variety of assets available actually depend on the chosen account type. Also, there are more options available within the MT4 platform. The Standard account is the only account that offers cryptocurrencies and seems to offer the largest variety, with 50 majors, minors, and exotics, 5 spot metals, 14 spot CFDs, and 4 cryptocurrencies being available within the MT4 platform.

The ECN and ECN Zero accounts come in second place when it comes to the number of offered products, with 48 majors, minors, and exotics, 3 spot metals, and 14 spot CFDs being available. Note that the only options for the Standard, ECN, and ECN Zero account on MT5 would be 33 majors, minors, and exotics and 2 spot metals. The Pro account offers 43 majors, minors, and exotics and 2 spot metals within MT4, but offers 33 majors, minors, and exotics, 2 spot metals, and 10 stock trading options within MT5. The Cent account has fewer options, with 25 majors and minors and 2 spot metals available. Finally, you'll find more than 180 plus shares available on the specialized Shares account.
Spreads
FXTM mentions on their website that spreads on EUR/USD start as low as 0.01. Spreads on this asset are typically the lowest you'll find, which is likely why the broker chose to use this particular pair in their example. Note that the FXTM Pro account actually offers spreads from 0 pips, so you won't be able to find a lower option elsewhere. Spreads start from the 0.01 pip example on the Shares, ECN, and ECN Zero accounts, while spreads are from 1.3 pips on the Standard account and from 1.5 pips on the Cent account. This means that all of the account types, aside from the Cent account, are offering less than the average 1.5 pips offered by their competition.
Another plus is the fact that the spreads are competitive on all of their account types, so you won't be missing out on the savings if you opt for one of the account types with a lower deposit minimum. Another thing to take into consideration would be the fact that these lower than average spreads are offered in addition to zero commission fees on the majority of account types. Usually, a lack of commission fees would mean that spreads would be higher than average.
Minimum Deposit
The minimum deposit requirements with this broker range from just $10 to $500 for all of their account types, except for the FXTM Pro account. If you open a Cent account, you'll only be required to deposit $10, while there is a $100 requirement for the Standard Account and Shares account. The ECN account requires a deposit of $200. None of the amounts so far are intimidating, so these could be great options for anyone that is apprehensive about making a deposit. Moving up, the ECN Zero account type requires a larger deposit of $500.
Overall, the largest deposit amount may be a little high for some traders, but it is nice to see more realistic deposit amounts for most of the account types with this broker. Elsewhere, you'll often need to make deposits in the thousands and upwards to open an account that mimics this broker's cheaper ECN Zero account. The most expensive account would be the FXTM Pro account, which requires a minimum deposit of $25,000. Obviously, this account type is meant for professional traders that have the means to make that type of deposit.

Deposit Methods & Costs
FXTM offers an amazing variety of deposit options, including Visa, MasterCard, Maestro, Bank Wire Transfer, FasaPay, South East Asia Online Banking, Dusupay, TC Payment, Latin American Solutions via Skrill, Online Banking Malaysia, Online Banking Indonesia, Nganluong, GlobePay, Online Banking Vietnam, Online Banking Thailand, and China Online Banking(P). E-wallet options include Neteller, Skrill, VLoad, Crypto (BTC, ETH, LTC, Dash), TC Pay Wallet, Alfa-Click, WebMoney, DixiPay, Cash U, Yandex.Money, QIWI, PerfectMoney, Bitcoin, and Konnexone.
There are also a variety of local transfer options, including Malaysian Local Transfer, Nigerian Local Bank Wire Transfer, Indonesian Local Transfer, Algerian Local Transfers, Kenyan Local Transfers, Local Transfer for India and Pakistan, Ghanan Local Transfers, Local Exchange House, Afghani Local Transfer, Laos Local Transfers, Egypt Local Transfer, Bangladeshi Local Transfer, Iraqi Local Transfer, Palestinian Local Transfer, Tanzanian Local Transfers(BRK), and Syria Local Agent(KD). All of the e-wallets and card options, excluding Crypto and Konnexone, are available instantly.
Almost all of the other deposit methods are available within 24 hours, aside from Latin American Solutions via Skrill, which can take 1-2 business days, and bank wire, which can take 3-5 business days. FXTM does not charge any commission fees on deposit methods, but some banks may charge fees from their side.
Withdrawal Methods & Costs
All of the deposit methods are also available for withdrawal. These methods charge varying fees, although many of them are commission-free. Commission Free options include all of the local transfer options, TC Payment, Latin American Solutions via Skrill, Syrian Local Agent (KD), Local Exchange House, GlobePay, Online Banking Thailand, China Online Banking, China UnionPay, Neteller, Skrill, VLoad, and TC Pay Wallet. Below, you can view the fees for each withdrawal method.
Visa/MasterCard/Maestro: 2EUR/3USD/2GBP
Bank Wire Transfer: 30 EUR
FasaPay, PerfectMoney, DixiPay: 0.5% (DixiPay max is $5 USD)
Dusupay: $1 USD
Crypto: 1%
Nganluong: 1.1% + 0.05 USD
South East Asia Online Banking: 1.4%
1.5% Fees: QIWI, Yandex.Money
2% Fees: Online Banking Malaysia, Online Banking Indonesia, Online Banking Vietnam, WebMoney, and Konnexone
Withdrawal Processing & Wait Time
The vast majority of withdrawals are available within 24 hours, including cards and Bank Wire Transfer. Exceptions would be Latin American Solutions via Skrill, which has a 3-4 business day withdrawal period, China Online Banking(P0), which can take up to 48 hours, and all of the Crypto options, which can take 24 to 48 hours.
Bonuses & Promotions
To start, FXTM is offering a 30% welcome bonus, which runs until November 30th, 2019. Time is running out, but hopefully, there's just enough time left for you to claim the bonus. This broker also offers loyalty rewards that payout in cash, so long as one trades for six months. There are five different rebate levels and one's level would depend on the amount that they have deposited. You can view the rebate levels and terms by clicking on 'Forex Trading Promotions' under the 'FXTM Promotions and Contests' section of the website.
It also seems as though this broker offers contests on demo and live accounts periodically, so be sure to check if there are any ongoing contests at the time of sign-up. Finally, FXTM is offering up to $10,000 to those that refer friends and family to the broker. You and the referred person will earn $50 each once conditions are met. Below, you can review the terms and conditions for the Welcome Bonus and Refer a Friend program.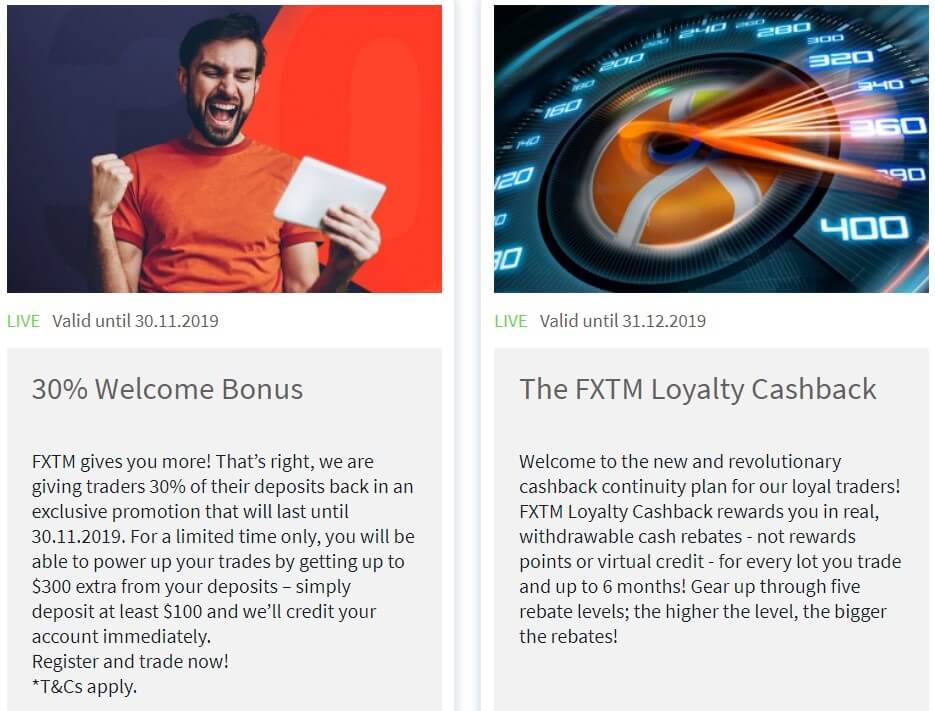 30% Welcome Bonus (Standard or ECN Zero accounts only)
-Must deposit at least $100/ Maximum amount bonus can reach is $300
-Number of lots traded must equal the benefit amount times 2
-Cannot make a withdrawal of part of the deposit that granted the bonus or bonus will be removed
-Can be withdrawn within 30 days of meeting minimum lot requirement
Refer a Friend
-Both participants must make the minimum deposit amount for the account type
-Must trade at least 5 standard lots before the bonus will be credited
Educational & Trading Tools
FXTM offers several helpful educational tools, many of which are much more interactive than what you'll typically find with other standard brokers. In fact, this broker offers enough to completely teach beginners everything they'll need to know through their webinars, online courses, and other resources. Be sure to subscribe to the broker's YouTube video to ensure that you don't miss out on any of their educational videos. The website also has a section devoted to Market Analysis, so remember to visit it to find even more helpful tools. Below, we've listed all of the educational opportunities and tools offered by this broker.
-Seminars and webinars with experts
-Online trading courses
-Download eBooks and market outlooks
-Infographics that explain how to manage time and money effectively
-Forex Glossary
-Periodic Table
-Economic Calendar
-Forex News Timeline
-Quarterly Market Outlook
-Market Analysis Videos
Demo Account
Many forex brokers have been offering demo accounts lately, but this broker's demo accounts stand out from most of the crowd. This is due to the fact that FXTM offers advanced demo accounts that mirror each of the real accounts they offer. This provides one with the ability to test out the features of each of these account types before making an actual commitment. For example, one could test out the demo version of the ECN Zero account before making the decision of whether they would want to make the $500 minimum deposit on its real account counterpart. It's free to open a demo through this broker, so anyone that could use some practice, or who would like to test out the available account types should take advantage of the opportunity.
Customer Service
Support is offered in more than 30 languages and is available 24 hours a day, 5 days a week. The support team at FXTM won awards in both 2016 and 2017 for providing top customer service, so one should have high expectations when it comes to receiving quality customer service with this broker. Getting in touch with an agent is available through three convenient methods – phone, email, or LiveChat. This broker is also active on several social media platforms, including Facebook, Twitter, Instagram, YouTube, and more. You can follow them by scrolling to the bottom of the website and clicking on the chosen social media platform. Below, you'll find all of the contact information. Note that there are several different phone and email options, based on your location, so be sure to choose the right one.
-China: china@fxtm.com
-Malaysia: +60-3-9212 5856/malaysia@fxtm.com
-South Korea: 003-0813-2643/support@fxtm.com
-India: 000800-100-4352/ India@fxtm.com
-Nigeria, Albuja: +234 803 153 4373/nigeria@fxtm.com
-Nigeria, Lagos: +234 1 460 1586, +234 908 735 2313, +234 803 457 3593/nigeria@fxtm.com
-Thailand: +66 60 003 5095/support@fxtm.com
Indonesia: 007 803 321 8183/indonesia@fxtm.com
Address: 35, Lamprou Konstantara, FXTM Tower, Kato Polemidia, 4156, Limassol, Cyprus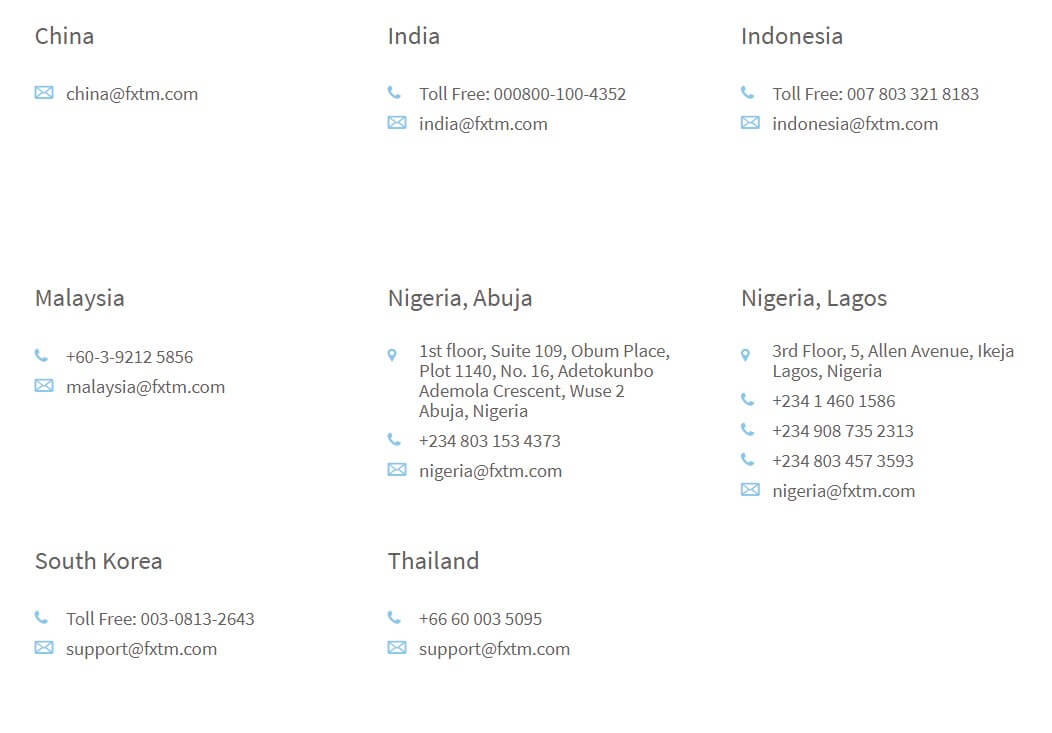 Countries Accepted
FXTM does not offer service to clients located in the USA, Mauritius, Japan, Alberta, British Columbia, Quebec, Saskatchewan, Haiti, Suriname, the Democratic Republic of Korea, Puerto Rico, and the Occupied Area of Cyprus. These strict regulations are likely due to the fact that the broker is regulated by more than one authority, which imposes stricter conditions on the locations that they are able to accept.
Conclusion
FXTM is an established and regulated broker that offers six specialized account types. The broker has won multiple awards for customer service, trading conditions, and most recently, in 2019, they were awarded Best Investment Broker. Choosing a more established broker such as this one grants one access to a much larger variety of deposit and withdrawal methods, lower than average trading costs, extremely flexible leverage options, and the ability to choose between the MT4 and MT5 platforms.

This broker also offers low deposit minimums on the majority of their accounts, although the impressive FXTM Pro account requires a deposit of $25,000. This broker's customer service team is also available instantly on LiveChat and has won a variety of awards for providing top-notch service. Educational opportunities are seemingly endless. There is honestly nothing to dislike about this broker and we would highly recommend signing up for an account with them. Of course, if you're on the list of restricted countries, which includes the United States, you'll have to look elsewhere.