Founded in 2017, Darico Ecosystem caters to ForEx and cryptocurrency traders alike. You deposit and withdraw funds through your e-wallet. Additionally, the broker provides traders with a debit card that can be used for fiat-currency transactions. There are certain pros and cons to using Darico. Their tools, diverse promotions, and access to a wide range of assets are unique and, in many ways, unmatched. However, if you aren't necessarily a crypto enthusiast, you will find many negative aspects of Darico.
Methods of transferring funds are limited to cryptos and e-wallets. Other features, too, mainly cater to cryptocurrency users. Nonetheless, whether you prefer fiat or digital currencies, this article will help you evaluate Darico as a broker and determine if it is the right one for you.
Account Types
Darico offers 1 account type that allows you to trade the ForEx markets and CFDs. The broker recently rolled out a cryptocurrency exchange system. Darico Ecosystem Coin (DEC) enables you to trade cryptocurrencies, FX pairs, and CFDs with discounted fees in a quick and reliable manner. Traders have to purchase DEC shares to enjoy these benefits.
Minimum Deposits: $0
Spreads: Vary
Commission: NA
One of the best features of Darico is that the broker has a video that shows you how to open your account. The footage goes over the process step-by-step, highlighting how you can fill out their forms, confirm your email, and access your dashboard. The website doesn't specify what the minimum deposit is, but it mentions that traders can deposit funds via paper currency or BitCoin. Similarly, their spreads vary from one instrument to another. Commissions are also different and will depend on your account size.
Platforms
MetraTrader 5 (MT5) gives you access to thousands of currency pairs, cryptos, and CFDs. You don't have to purchase the DEC to trade cryptocurrencies, especially since you can do so through MT5. In addition, the platform can be downloaded on Macs, Windows browsers, and smartphone devices (iOS and Androids alike). Darico's DEC is integrated with MT5, giving you a range of tools and instruments that you can invest in. This is on top of what is available on MT5.

In comparison to the older version, MetaTrader 4 (MT4), MT5 has expanded tools and more accurate charts, spreads, and technical analysis indicators. Moreover, you can code your own scripts through the MQL5 language to implement trades and buy/sell orders. Lastly, MT5 gives you access to an economic calendar that you can view on all devices.
Leverage
When you open an account, you can set your own leverage, up to 1:300 for ForEx pairs and 1:5 for cryptos. Having said that, DEC accounts get a 1:500 leverage on currencies, but the 1:5 crypto rate still applies. Spot metals, indices, and commodities have 1:300, 1:150, and 1:150 leverage rates, respectively. DEC accounts, meanwhile, get up to 1:500 on spot metals and 1:250 on both indices and commodities. Shares have the same leverage for all accounts, which vary from one market to another.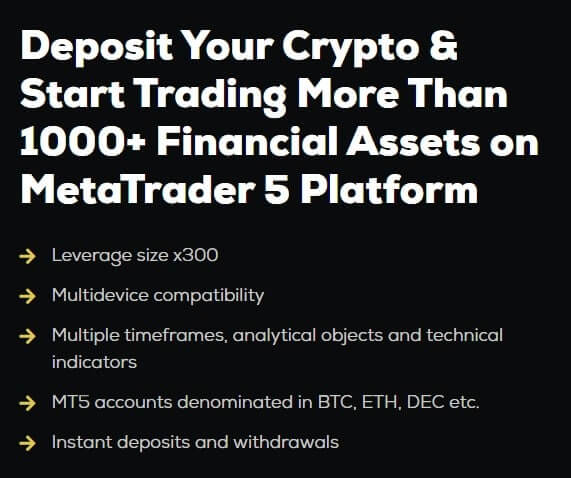 Trade Sizes
The standard contract size for ForEx is 100,000 of the base currency. The lot size for cryptos is 1 contract. There is no maximum volume mentioned on Darico's website, so you should expect that constraint to be tied to your maximum leverage and required margin levels.
Margin Call: 1% (ForEx) and 20% (cryptos)
You are expected to maintain a balance that is 1% the margin requirement when trading currency pairs. Cryptos have a larger maintenance margin (20%) because of their volatility. If you get a margin call, you will have to either deposit additional funds or close existing positions to bring your balance back to the required level.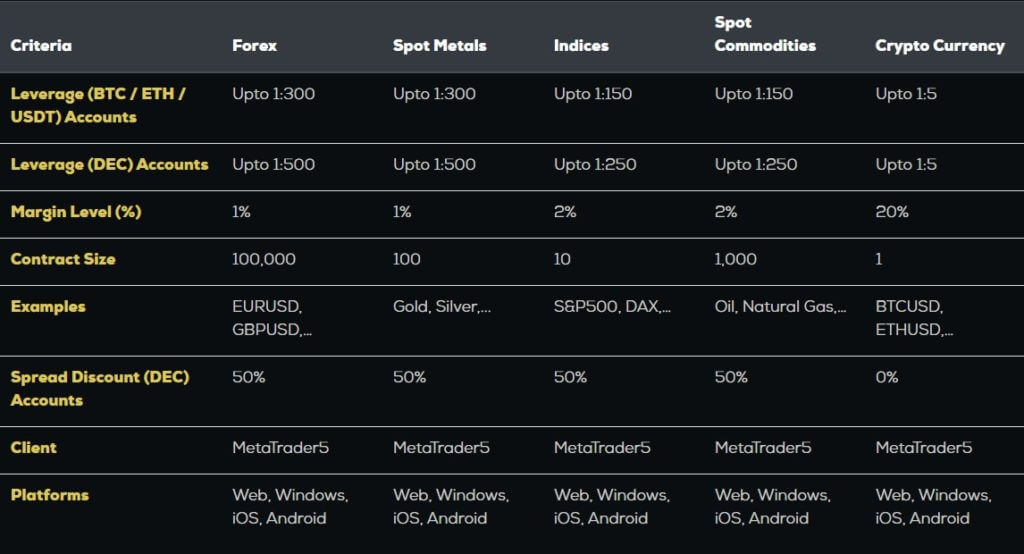 Trading Costs
As we previously mentioned, Darico's commissions vary based on your account size and the instruments you want to trade. However, the broker also charges you spread fees, which are different from one currency to another. In addition, market conditions impact the spreads. DEC account holders get a 70% discount on commissions and 50% off of spread costs.
Assets
You can trade all types of currency pairs (major and exotic), cryptos, CFDs, indices, spot commodities, spot metals, and stocks on MT5. Additionally, the DEC program allows you to access more cryptocurrencies than what is available on MT5. One of the most unique features that the DEC has, which also differentiates Darico from other brokers, is that you can trade tokens that are tied to real-life assets. These include real estate investments and artworks. You can also buy CFDs and tickets on stocks traded in the American, European, Russian, and Asian markets.

Spreads
The spreads are largely dependent on the asset you want to trade and macroeconomic conditions that impact bid/ask prices. During more volatile situations, the spread will be larger. DEC accounts get a 50% discount on spread fees. However, this doesn't apply to cryptos and shares in any of the available markets on Darico. DEC accounts get a 0% discount on the spreads of these instruments.
Deposit Methods & Costs
If you are a crypto trader and enthusiast, you will highly appreciate the transaction and deposit options that you have. However, we find this part to also be problematic for those who want to make a deposit via their bank or credit/debit card. The only way for you to transfer funds into your account is through a cryptocurrency wallet.
First, you have to choose your cryptocurrency (such as BitCoin, BitCoin Cash, Etherium, and others). Once you initiate the deposit, the funds are immediately available in your Darico wallet. From there, you want to transfer the capital from Darico to your MT5 wallet. This is done through a code or links that you will be provided with. If you prefer paper currency over cryptos, you can purchase the DEC platform and deposit funds there, which is also instantaneous. Once the money is available, you would transfer them again into your MT5 wallet that Darico provides.
On the positive side, this broker charges no fees for deposits. This is especially advantageous due to the fast and instant processing of transfers. The 'Knowledge Hub' page on Darico's website has videos that walk you through every step of the process.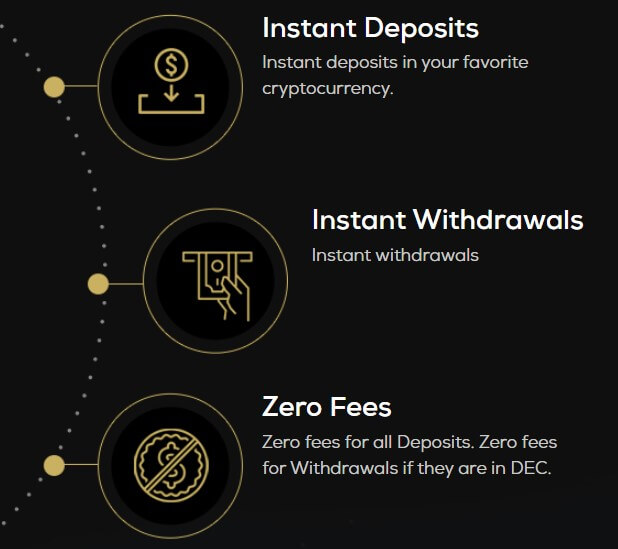 Withdrawal Methods & Costs
Just as with deposits, withdrawals are free and there are no transfer fees. The way to do this is also outlined in great detail on the 'Knowledge Hub' page. Initially, you want to pick the crypto or DEC wallet that you want to transfer funds out of. Afterward, you provide the link to your crypto wallet and Darico will withdraw the capital. However, you have to make sure that your wallet's URL/address is correct. Otherwise, the funds will be transferred to the wrong account and, if this happens, you can't reverse the transaction. Darico also states that they are not responsible for these types of errors nor will they reimburse you.
Bonuses & Promotions
As we previously explained, DEC accounts get a 50% discount on MT5's spreads and 70% off on commissions. When you participate in the DEC program, you are more or less buying shares. Darico is a community-owned broker that pays DEC account holders dividends. On top of that, you have the option of selling your DEC shares at a higher price. If that doesn't happen, the broker will give you a 1.5% return on your deposit per month by the end of 2019. For each DEC that you purchase, you will get a $1 bonus. This is deposited into a separate wallet that contains US dollars (just as the others have a cryptocurrency balance).
Darico's has an affiliate program for bloggers and traders with an established presence on social media. After friends, family members, and affiliates create an account through clicking on your custom URL, you will receive up to a 70% discount on commissions. Once your referral closes a trade, Darico will immediately pay you and deposit the funds (in cryptocurrency) into your account.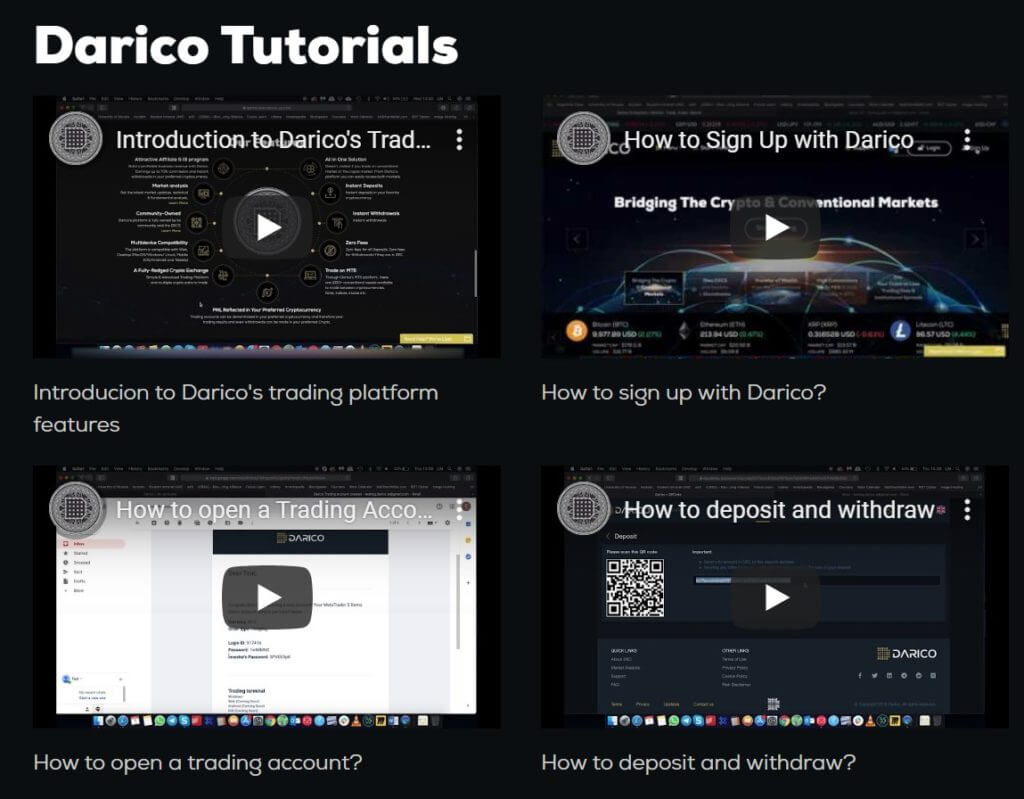 Educational & Trading Tools
Darico has a series of detailed and incredibly useful educational videos. All of them can be found on the 'Knowledge Hub' page. The first set contains step-by-step guides on how to open an account, transfer funds, install MT5, use the different available trading tools, and other basic information. The other 2 categories of videos explain technical analyst's concepts, how to read candlestick charts and the implementation of different trading strategies.
For more advanced and experienced traders, you can find a large range of resources on MT5. These include unlimited charts with 21 timeframes and up to 38 technical indicators. You can also execute 6 different order types and program a custom trading algorithm through the MQL5 coding language. Moreover, Darico's website has a news feed that discusses topics related to the DEC program, available broker features, and more. You can get the latest updates by following Darico on social media.
Customer Service
The Customer Support department is available 24 hours a day and 7 days a week. To get in touch with them, you can either fill out the form on their website or send an email to support@darico.io. Darico doesn't have a phone number listed on their website or social media pages, but the broker has a live chat feature.

Demo Account
You can open a demo account through the MT5 platform and immediately start trading. All currencies and financial instruments that are available on the live account can also be traded on the demo. Even if you are an experienced trader who is familiar with MT5, the demo allows you to add the DEC features and get accustomed to them before investing real funds.
Countries Accepted
Traders in the US cannot open an account with Darico because of regulatory restrictions on cryptocurrencies. Similarly, the broker is not available in any other country that prohibits or limits the usage of cryptos.
Conclusion
Darico Ecosystems is a great broker because it allows you to access an endless amount of assets, ForEx pairs, and cryptocurrencies. The fact that they are a community-owned broker also means that you benefit from the successes of your own trades and Dirco's at-large performance as a company. Moreover, traders will use the MT5 platform, which is one of the best in the market. The process of transferring funds is easy and customer support is available 24 hours a day.

Yet, you might want to think twice if you don't have an e-wallet or feel uncomfortable in holding your funds in cryptocurrencies. This is because withdrawal and deposit options are limited. Just as importantly, if you live in a country that heavily regulates trading cryptos (such as the US), you can't open an account with Darico. All of these aspects don't necessarily mean that this broker is a bad option. However, you might want to carefully weigh the pros and cons (especially if you are unfamiliar with cryptocurrencies) before signing up.