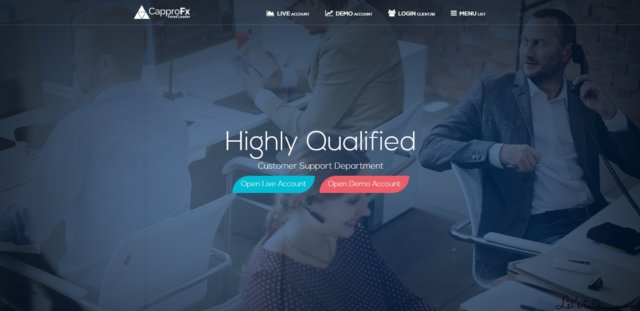 Cappro FX is a brand established in 2013 with the offices in India, Hong Kong, and London. This broker offers ECN trading environment, it is not regulated and the presented license or confirmation that they are a private company called Cappro Capital Limited, does not mean much to traders. Cappro FX describes themselves as a Forex leader, the best choice for traders with positive results, using cutting-edge, innovative technology to provide quality service and some more praises. None of these are backed up or relative to other parties where traders can confirm the statements, proving all of the About Us page content to be just the usual promotional, inconclusive and false statement.
Interestingly, the broker also mentioned the FSCS fund for the FCA licensed brokers, with a link to the FSCS (Financial Services Compensation Scheme) website, but does not disclose their FCA license since they do not have it. Therefore, FSCS protection is another false statement. This practice of having unethical manipulation with false promotion raises suspicion on anything else Cappro Fx offers. The website is designed with a modern, wide-margin page with styling animations and a whole page scroll movement that can give an impression of a quality-made website, pleasant to the eye. It is positive to see some educational and other material in the Tools section, and also a demo account where you can peek on the trading conditions. Transparency about the trading conditions is better than about the company.
The broker image is not good among the users, from what little attention the brand has received, thus confirming that Cappro is not a leader in any category. There is an interesting connection to IC Markets, a well-known broker, on some benchmark sites and the broker name mention in the Cappro Fx FAQ page, but none of the brokers confirm any connection between the two. This Cappro FX review will reveal all the important information for your decision to trade with them.
Account Types
The broker is using the ECN model but it looks like there is only one ECN account. Pro Trader Account is the affordable account of the two with a very low minimum deposit requirement. Other differences are noticeable with the trading volume sizes and instruments offer but both account types are the same on all other points. ECN Trader Account requires a higher deposit but offers the ECN trading environment and more asset categories. Both accounts are available in USD and EUR currency according to the comparison table. Whatsmore, 5 digit pricing, Swap-free accounts, scalping, Expert Advisors and hedging is available and allowed.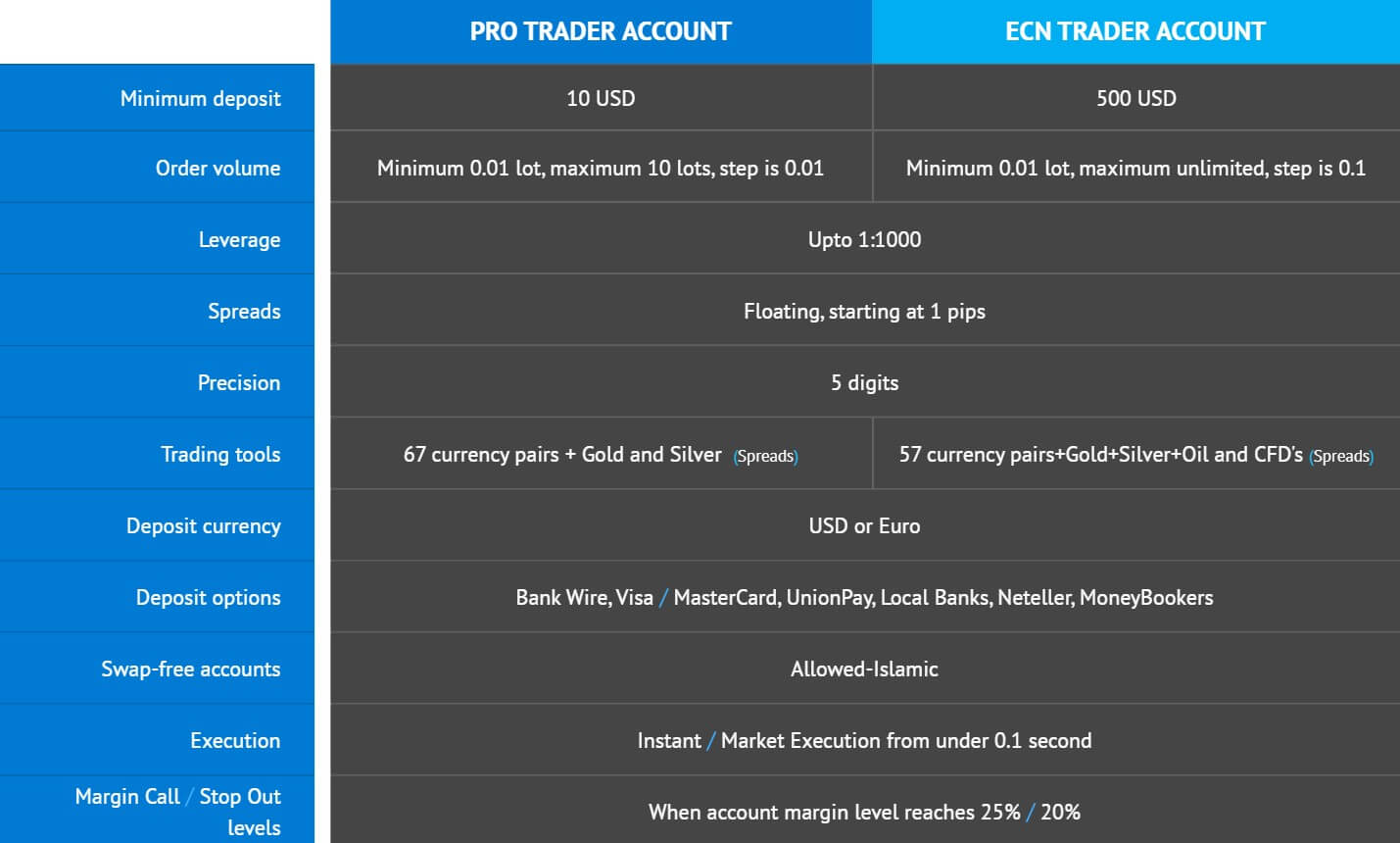 Margin Call is set to 25% and Stop Out is at 20%. PAMM/MAM accounts are available. Scalpers and EA are allowed but we have read a very short Terms and Conditions pop up with a statement that scalping techniques less than two minutes are prohibited, all trades are required to be held at least two minutes or longer. Penalty may cause profits and rebates to be forfeited.
Platforms

Cappro FX is a MetaTrader 4 platform broker only. It is offered as a downloadable installer for Windows, and for mobile devices running on iOS and Android. Web-accessible MT4 is not available and also the Mac operating system is not supported. Some users use emulators to run Windows designed programs in Mac. Upon installation of the platform, we have noticed some irregularities. The platform is not registered to Cappro FX but to Hermes Market, an alternative broker offering dubious services. The severs also bear the same name on the Live and Demo versions with a 31ms ping rate.
Everything is inline with the MT4 defaults, with 4 usual forex charts set on the H4 timeframe. The client is updated to the latest version without any added indicators or templates. In the symbols listing many groups may be confusing at first. Indexes and Commodities are placed into one group which has 3 parts. It may look like the instrument range is very broad because of this but it is not that extensive. One-click trading buttons are visible and ready. The specification window is providing enough information about the trading conditions. Trade terminal is showing associated trading costs for each trade, swaps, and commission.
We were surprised to see a very good execution time of 95ms on average but sometimes with bigger deviations extending a trade execution up to 1 second. This environment is very good for scalping and similar EAs. Yet we have noticed some inconsistencies with the broker statements and what users reported. Scalping is considered as trades that are left open for less than 4 minutes per Cappro Fx. In one user report, the broker denied the trades because they are left open for less than 5 minutes. Therefore, this FX broker may not support scalpers. We have not noticed any liquidity problems even on the exotics.
Leverage
According to the Cappro comparison table, all accounts feature 1:1000 leverage. We will check If this is true in the MT4 platform directly. The leverage we observed is not 1:1000 but 1:100 for forex currency pairs, including the exotics. For Precious metals, there is no leverage, 1:1, against the USD. Bitcoin versus the USD has a leverage of 1:100 but for the BTC against the EUR, it is 1:20. Ethereum Classic is even more interesting where the leverage is negative, for one coin you would need twice the margin. This may be some kind of error since we have never experienced negative leverage. For indexes, it is variable from 1:20 to 1:66.
Trade Sizes
Trade sizes have a small difference. The Pro Trader Account utilizes micro-lots minimum trading volume size or 0.01 lots. Additional steps are also in micro-lots while the ECN Trader Account the minimum trade size is the same but the additional step volume is 0.1 lots. In the MT4 Forex currency pairs, all have 0.01 lot minimum trade size and 0.01 lot volume steps but we cannot confirm what the trade sizes will be like this since the platform and the feed is from the Hermes Market broker. The maximum trade size is set to 1000 lots.

Precious metals, XAU/USD follow the same sizing policy as Forex. The only asset category that does not follow micro lot sizes is the cryptocurrency where the minimum trade size is set to 1 lot as well as additional steps. This is true even for Bitcoin meaning trading high values coins may be out of risk management limits for some traders. Stops levels are not applied on any instrument offered, giving complete freedom where traders put their pending orders.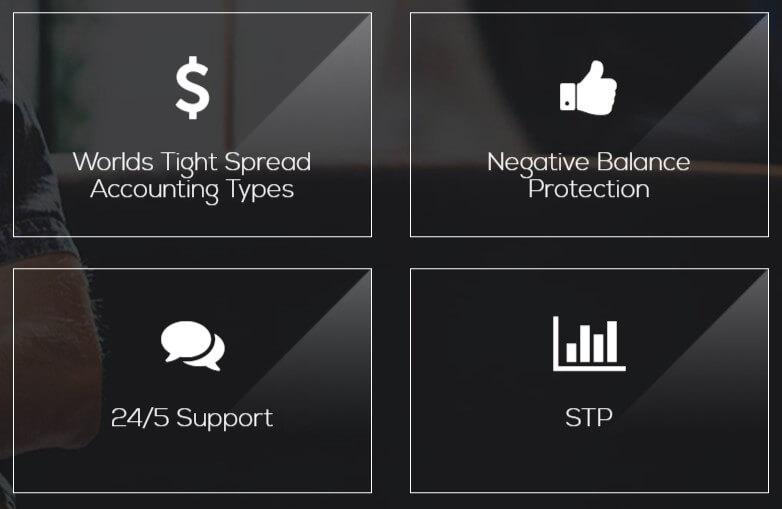 Trading Costs
Cappro FX does not charge any commissions and the platform confirms no costs. Still, we have noticed the FAQ page where the broker state $7 commission per lot traded for the ECN Account. Swaps are displayed and are calculated in points for all instruments, tripled on Fridays. The swaps rates are not always negative on both trade sides but positive ones are not as common as with other brokers. Still, the EUR/USD swap is -9.5 points on the long side and a positive 3.39 points on the long, GBP/USD has -6.8 on the long and 0.289 on the short, USD/JPY 1.9 points long and -8.01 points on the short, USD/CHF 3.6 points on the long and -9.04 points short swap.
So, most of the major pairs have one positive but as we go to minors and crosses they are mostly negative on both sides. AUD/NZD has -2.5 points on the long and -1.5 on the short, GBP/JPY -0.874 on the long and -6.22 on the short, NZD/CAD has -2.98 points long swap and a 0 on the short side, and NZD/USD -2.26 points on the long and -0.86 on the short. Exotic pairs have a dramatically increased swap so USD/MXN has -33.4 points on the long side swap and 24.249 points on the short, USD/RUB has -12.6 on the long and 2.6 on the short side, and the largest swaps is for the USD/TRY with -227.4 points on the long and a positive 49.4 points on the short trade position.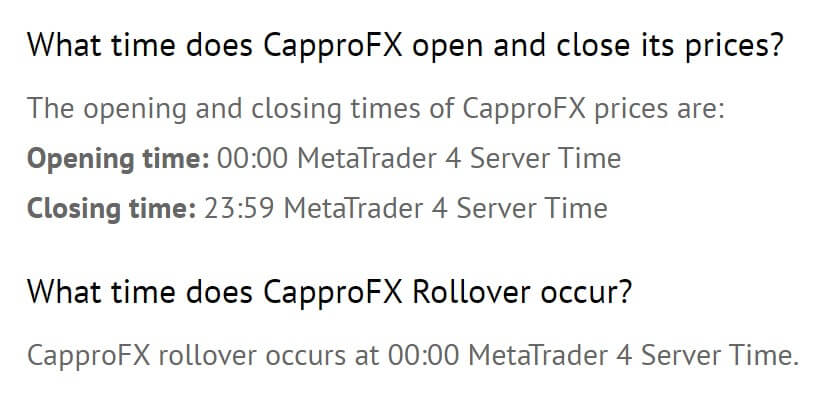 Spot Gold against the USD swap is -8.192 points on the long and 0.555 points on the short. Cryptocurrency swaps are also calculated in points and tripled on Fridays. Bitcoin against the USD swap is -511.69 on both sides, ETH/USD is -103 points and XRP/USD -1.375 points.
The broker states that they do not charge any inactivity fees.
Assets
Cappro FX offers Forex, Commodities, Cryptocurrency, Indexes, and Stocks. This is shared with the Hermes Market brand as the platform receives feedback from its servers. From the Forex range, we have counted a total of 45 currency pairs, not counting the micro contract counterparts. All the majors are present with a good selection of other combinations. From the exotics, we have found Scandinavian currencies combined with the USD, USD/RUB, EUR/HUF, USD/HUF, USD/TRY, EUR/TRY, EUR/PLN, EUR/CZK, USD/INR, USD/PLN, USD/MXN, USD/ZAR, and USD/HKD.
Precious metals are limited to spot Gold and Silver quoted in the USD. Other commodity metals may be of use for metal traders. Commodities offer is very good with good variety. From the energies, we have noticed both Oil types, Brent and WTI, and Natural Gas. From the metals, there is Zinc, Copper, and Aluminium and from the rest of the commodities Coffee, Sugar, Corn, Cotton, Soybean, Cocoa and Wheat. The Indexes range is great with a total of 23, mixing with the non-equity ones. Notable Indexes are Nifty 50, VIX, Germany 30, Spain 35, US 2000, KOSPI 200, Hang Seng and Hang Seng China Futures, IBrX 50, RTS 50, IPC futures, Swiss 20, WIG 20, Italia 40 and US Dollar Index.
The stocks offer is very limited considering the fact that only US major listed companies are offered, a total of 24. These are the most popular ones like Ferrari, Amazon, Alibaba, Tesla, Pepsi and so on. As for cryptocurrencies, the broker has a very good selection out of 15 crypto instruments. Majors are extended with more rare coins such as Dash, Ethereum Classic, Monero, Zcash and Bitcoin Cash. Some of these are combined with BTC as a quote currency.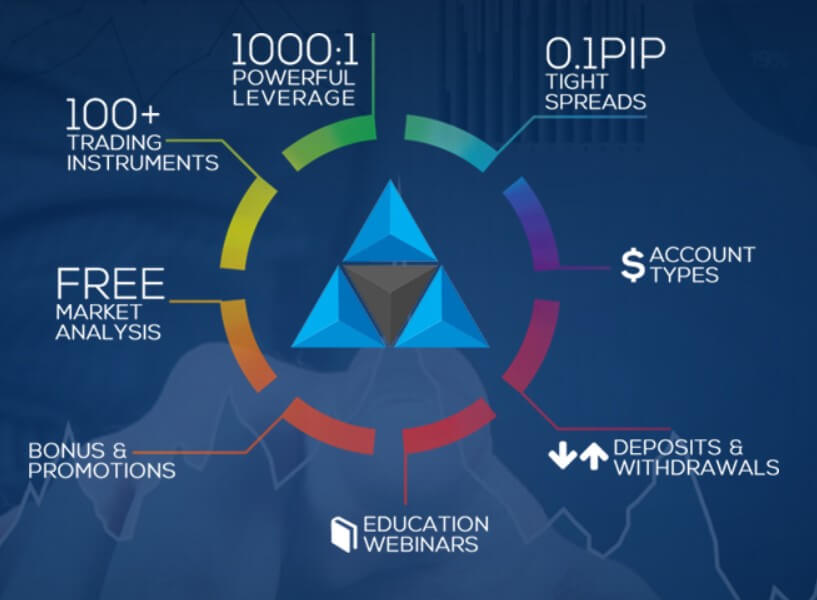 Spreads
The spreads are a floating type and are very competitive, in line with the ECN environment with direct market access. EUR/USD has only 1 point spread, like the rest of the majors, GBP/USD being an exception with 5 points spread. USD/CHF has 3 points, USD/CAD has 1 point, EUR/JPY 1, and none of the minors do not go over 1 pip. There are a few exceptions involving the GBP and the NZD, like GBP/NZD with 21 points, GBP/AUD with 17 points, EUR/NZD with 15, and GBP/CAD with 12 points.
Exotics spreads are very competitive, for example, USD/MXN has just 8 points, USD/RUB 57 points, USD/TRY 64, USD/PLN 4 points, USD/CZK also a low 5 points, USD/ZAR 23 points, and the widest spread is for the USD/INR with 490 points. Spot Gold against the USD has a very good spread of 11 pips and Siver with 5 pips. WTI and Brent are also low with 3 points and for Indexes, they are mostly under 20 points except for some rare ones. The Bitcoin spread is around $17.
Minimum Deposit
Cappro FX has a minimum deposit requirement of $10 for the Pro Trader account and $500 for the ECN Trader Account. We are not sure if these accounts matter when registering as the conditions form the Hermes Market broker.
Deposit Methods & Costs
We will directly describe what we see from the Login Area and disregard any Cappro Fx website claims. There are 7 deposit channels. Wire Transfer does not seem to work as no information is displayed about the broker's bank receiving account, meaning there are no bank card options too. Therefore, you will not be in position for a chargeback as the rest of the methods involve, Bitcoin, Skrill, Neteller, GPay, Paytm, and Razorpay. Note that the broker has given several "tips" for each method.
According to the website table under the Payment System page, the broker charges only 0.9% for the bank transfer method that is unavailable, and for the GPay and Paytm both with a 3% fee. All of the deposit methods have almost no waiting time as stated.
Withdrawal Methods & Costs
As for the withdrawals, there is only the form with several inputs for the bank account info, MT4 account number and so on. There are also options to withdraw to Skrill, Paypal and Neteller account. Bank transfer fees are 2.5% and $1000 minimum withdrawal amount. MasterCard and VISA are also stated but these are not available. BTC withdrawals do not have any fees but the minimum amount is 0.03 BTC. Skrill and Neteller have a $3 fee and $50 minimum amount while GPay and Paytm seems like to be restricted only to INR with 3500 INR minimum withdrawal amount and no fees.
Withdrawal Processing & Wait Time
Withdrawals received before 03:00 GMT (14:00 AEST) are processed on the day the form is received. According to the table, the Wire transfer will need 24h to 72 h to complete. Other e-wallet methods are instant once the processing is complete. Note that the BTC will take some time for confirmation. $5000 is the maximum bonus amount that can be received on one trading account. The bonus can be realized to real funds once a certain trading volume is reached.
Bonuses & Promotions
Cappro FX offers a few promotions but we are uncertain if they are still ongoing since the reward is an old iPhone 6. Anyways Trade & Get iPhone is a bonus based on the initial deposit and trading volume accordingly.
The Margin Bonus is an on-deposit bonus in values of 10%, 25%, 50%, 75% or 100% on every deposit from 500 USD and more, or 10% or 25% on every deposit from 100 USD to 500 USD. According to the trading volume formula, the bonus is released. The 'Virtual to Real' Demo Contest is Cappro Fx kind of a weekly promotional tournament called Lucky Friday where the prizes are given for the best performance. 1 place reward is $1000 2nd – $500 and 3rd – $250.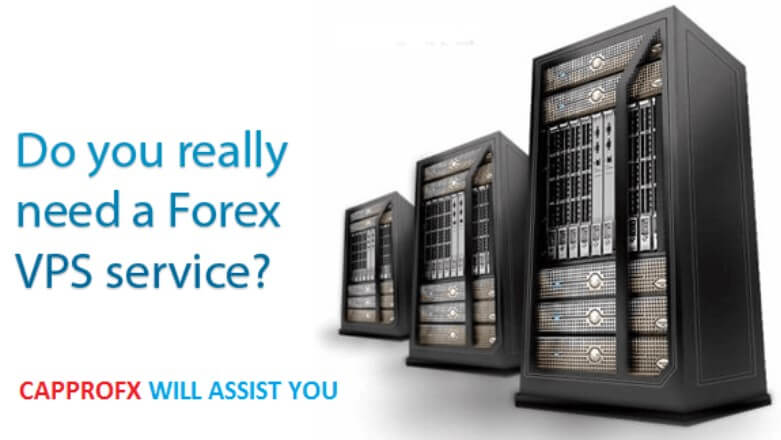 According to the broker, there is a free EA promotion and free VPS service (for those who deposit $1,000 or more). This promotion involves a customized EA Builder to new and existing clients who deposited the amount of $2000. There is no information about this builder nor what indicators are included. Free VPS service is available for the "Standard and ECN" live trading account with a deposit of $1000.
Educational & Trading Tools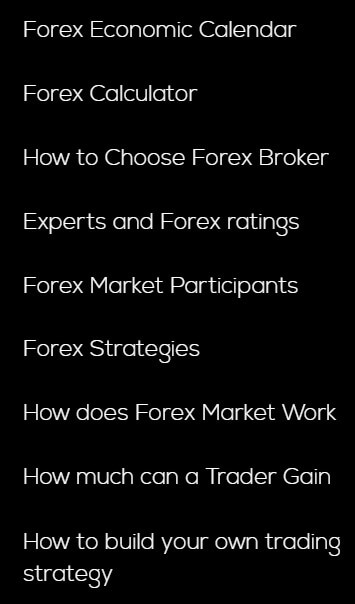 Educational and tools are mixed in the Tools section of the Cappro FX website. An Economic Calendar is available and it is from fxstreet.com. This calendar is basic, without any filtering or sorting options, search field or graphs. It shows the impact level, forecasts and previous levels and the link to the fxstreet.com website about the event. The calculator is also under the tools but it is not working as intended on our browser. It is intended for calculating the pip value, margin, Profit/Loss, and contract size.
The rest of the content is written with topics on how to choose a broker, such as Experts and Forex ratings: What are the advantages of CapproFX?, Forex Strategies, How Much a Trader Can Gain, and so on. There are a total of 9 such articles. Much of this content is not deep enough and does not give anything substantial. It is also mixed with the Cappro FX promotional content. A short Forex Glossary is included. Under the Forex tips and forecast section, we have expected to see some daily analysis or similar service but this is just another educational article with very low value.
Customer Service
Cappro support is reachable by email, chat, and phone. We have tested the chat service as it is the easiest, and cost-free way of communication without the need to wait too long on the response. The chat service has a good response time, we did not have to wait for more than 5 minutes. We have noticed that the support staff is not answering the questions fully and they are geared towards promotional phrases. When we asked about the FCSC fund and the FCA, the representative that we were speaking with stopped responding. This is obviously not a good sign.

Demo Account
Demo Account opening from the website seems impossible. The email with the details was never received but works for live account registration. This is common for brokers that do not have honest intentions and just want your deposit as fast as possible. Still, the demo can be opened within the MetaTrader 4 platform, with the selection for leverage and virtual funds amount. The leverage was not 1:1000 as promoted on the Cappro FX website.
Countries Accepted
Since the broker accepts Bitcoin as a deposit accepted countries list is probably very long. Yet since the broker has several red flags, there are very few obstacles for deposits.
Conclusion
This section of Cappro FX review will contain some information that is paramount for the deposit decision making and also concludes on the above testing and opinion. Starting with the address registered, the broker is using an address in London that is shared among many companies. This virtual address is enough to register a company, and the firm proudly promotes it as a regulation, which is manipulative. The website hides many out of date data, empty promotional content and fake forms that pose another sign of a sloppy broker without honest intention.
Aside from the fact that the broker is using another brokers platform, meaning this may as well be a network of off-shore unregulated (and dubious) brokers hunting for completely unaware victims. The deposit options "tips", or Cappro Fx comments below them, contain instruction not to add any other words such as "deposit", "forex", "capprofx", etc. in the transfer description. This is likely done to obscure their identity and high-risk business to the payment processor. Bank cards or accounts involve chargeback protection and therefore are not available, while Bitcoin transactions are irreversible. All this points to a high-risk broker.