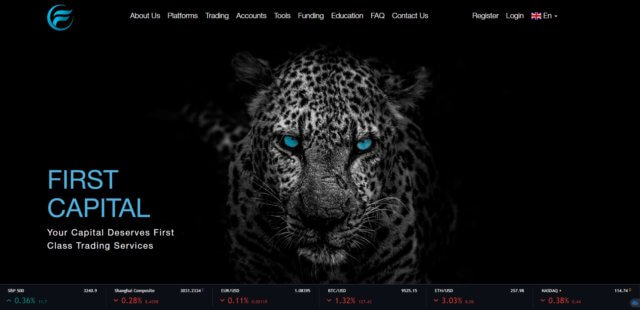 First Capital is an offshore, Bulgaria based broker led by Israeli infamous group. It is not known when this brand went online and not much is known about it. What is certain is that at first check, Frist Capital is failing to provide a legit location, background, information, and any legit trading service. First Capital website is full of the usual promotional, ambiguous, pretentious and meaningless content such as being the market leader, having superior technology, experience and similar.
By looking at the structure and design one can feel and see unprofessionalism, bad taste, and gimmick animations. Even though the website contains some forms and a functional login dashboard, it is clear we are dealing with a grey area broker with an extreme number of red flags in every aspect. This First Capital review will reveal what is hiding behind every section of a brokerage service and what makes it a likely element of a fraud system.
Account Types
First Capital Accounts page contains a bad presenting slider with 4 pages for each account type. The most affordable account is the Bronze Account with features that has less to do with the trading conditions but more about the benefits, some of which should be essential for trading in the first place. Traders of this Account has access to the trading platforms, Daily market Briefing, Video tutorials, eBooks, 24h trading assistance, Webinars, Account Manager, tools, fast withdrawals and payments, a trading course with an account executive, real-time remote assistance, and leverage of 1:500.
Silver Accounts offer all that the Bronze Account does with the addition of SMS and news signals, daily research and analysis, fixed spreads, tools (again), live coverage of the market, direct access to the brokers trading room and research and panel of experts. The Gold Account offers a few more benefits, including premium personal customer care and 1-on-1 market strategy sessions. The VIP Account is a tailor-made solution that has Gold Account benefits adapted for an Advanced Trader along with premium tools and benefits.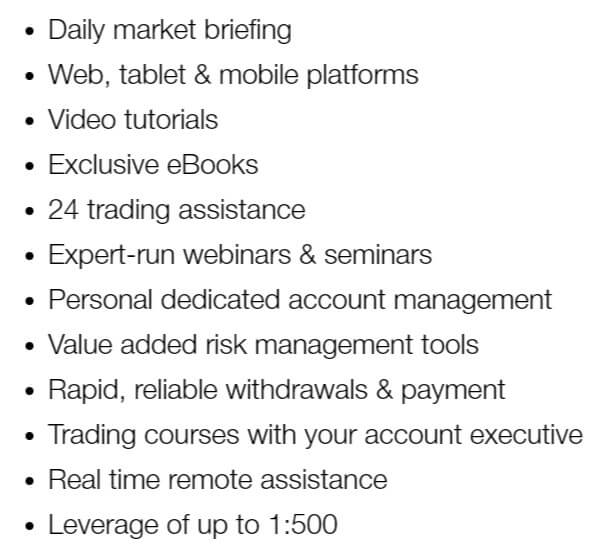 One can easily notice the benefits descriptions without any tangible argument. Brokers which have something good to promote will be precise and explain their product or service. Unethical brokers will hide behind expressions that sound good and professional but leave you without any idea what is delivered to the table. The 'Accounts' page is also filled with what appears to be fake testimonials.
Platforms
First Capital offers a "multi-interface" platform, along with WebTrader. In practice, the MT4 web-accessible version that is connected to when registering is linked to another broker with several risky connection warnings. You will have a choice to set to one server only called ECNPool Real. The symbols list has several groups that are repeating and feels like they are organized in a hurry. The specification window shows most of the trading conditions. The central trading chart window will show only the EUR/USD set on the Daily timeframe with the ADX indicator attached. The Trade terminal has the commission column disabled.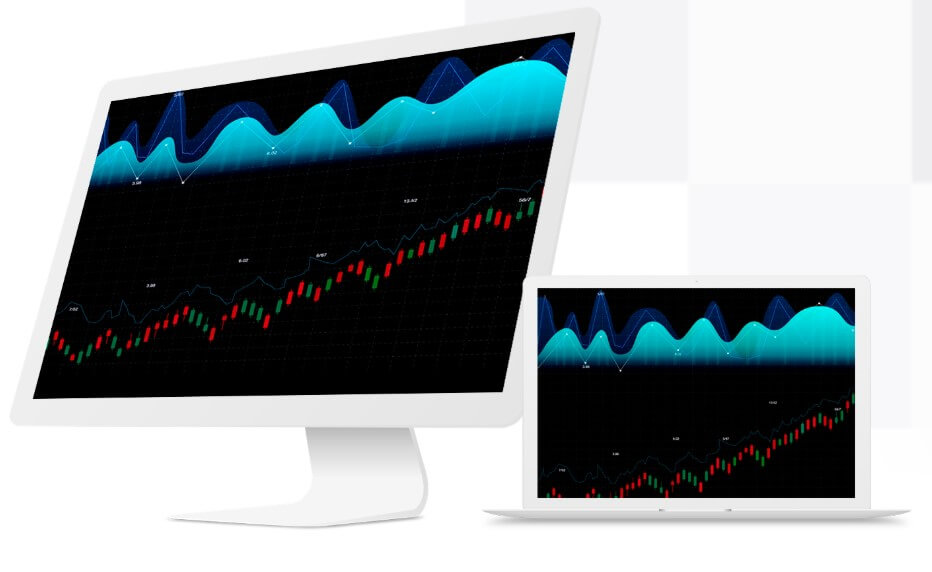 Leverage
The Leverage is stated to be up to 1:500. Based on the MT4 platform instrument specification, For the cryptocurrency is set to 1:10, Forex has 1:500, Indices have 1:100, the same as precious metals.
Trade Sizes
If we take the instrument specification form the MT4 web seriously, First Capital uses micro-lot minimum trade volume or 0.01 lots. The maximum is set to 30 lots. Additional step volume is also set to 0.01 lots. The same is for other assets with a bit different maximum, including the crypto. Stops level for Forex goes from 20 to 50 points. For Gold future against the USD Stops levels is 50 but other precious metals have a very low level of just 4 points. There is no set Stops level for crypto assets. For those not introduced to the Stops level, this trading parameter defined the range in points from the current price where traders cannot put their Stop Loss or Take Profit orders. Margin Call and Stop Out levels are not disclosed.

Trading Costs
First Capital states no commissions are charged. There are no other fees are mentioned meaning negative swaps are the only other, non-spread trading costs. Forex swaps are tripled on Wednesdays and calculated in points. They do not show any extreme figures and have positive values on certain trade sides. For the EUR/USD the swap is -11.44 points for long position and 0.73 on the short, USD/JPY has 0.55 on the long and -12.14 on the short, GBP/USD -8.36 long and 0.43 short, AUD/USD 0.43 long and -2.72 on short and NZD/USD with 0.72 points long and -4.92 points on the short side.

Exotics swaps are mostly triple-digit, USD/RUB has -218.1 points on the long but a very small 0.78 positive on the short, similarly with the USD/MXN -482 points on the long and just 2.11 points for the short side overnight swap credit. The biggest swap is attributed to the USD/TRY with -1611 points on the long and just 75.8 points on the short side. Gold and Silver are only traded as futures CFD with percentage-based swaps. On both sides, the swap is negative with -3% per annum, tripled on Wednesdays. Bitcoin and other crypto instruments have all negative percentage-based swap of -18% per annum and tripled on Wednesdays.
Assets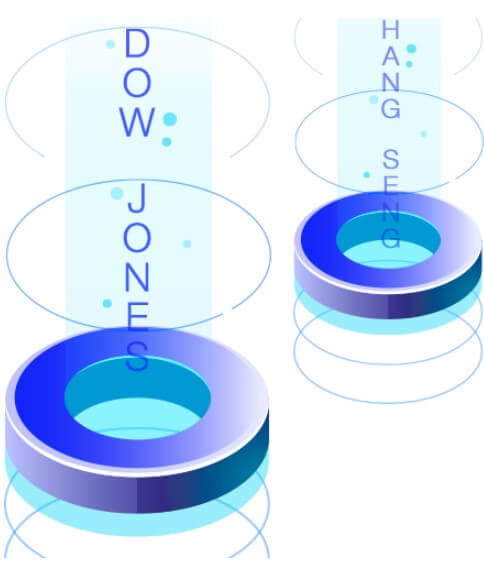 Based on what we see in the MT4 platform, there are 5 tradeable instrument categories. From the Forex range, the most interesting are USD/TRY, USD/RUB, Eur/PLN, EUR/ZAR, USD/CNH, USD/HKD, EUR/HUF, USD/MZN, and Scandinavian currencies. Precious metals range is very good except that Gold and Silver are futures CFDs with mentioned unfavorable swap rates. Aside from these two metals, traders will find Palladium and Platinum against the USD on spot. Commodities are mostly futures except for the Crude Oil which is on spot CFD. Both Oil types can be found with the addition of Natural Gas futures CFD.
Indexes are also futures CFDs with a total of 9. These are mostly major Indexes without any special indexes except for the Italy 40. Stocks are numerous but not as extended to hold unfamiliar companies. Most of these are US and EU magnates Such as Google, Nike, Boeing, Tesla, Facebook, Apple, etc. The cryptocurrency range is very good with a total of 25 tradeable instruments. Bitcoin is offered in several quoted currencies so you can find BTC against the EUR, JPY, RUB, GBP, CNH, and USD. Other notable coins are NEO, Dash, Emercoin, EOS, IOTA, milliBitcoin, OmiseGO, Namecoin, Peer Coin, and Monero.
Spreads
First Capital offers fixed spreads according to the accounts page except for the Bronze Account. We do not have any information on the values of these fixed spreads but form what we can see in the MT4 web platform, floating spreads are not high but not very competitive either. EUR/USD has 16 points spread, GBP/USD 18, USD/JPY 17 and AUD/USD 43 points. Actually, there are only 3 currency pairs below 2 pip spread. Minors have around 5 pip spreads and exotics spreads climb to about 450 points on average. Gold Future against the USD has 35 pips. Bitcoin against the USD has an enormous spread of $140 but against the EUR has a much lower €11. Spot Bitcoin against the USD has a fixed like spread to $25.
Minimum Deposit
According to the FAQ on the First Capital website, the minimum deposit amount for opening a Bronze account is 200 ($, € or £). Other account types do not have disclosed minimum deposit requirements. The packages or account types are presented just for the sense of having a product offering.
Deposit Methods & Costs
From the login Dashboard, we see the Credit Card method with VISA and MasterCard method. This method is not working as the VoguePay processor canceled First Capital membership due to fraudulent activity. The second option is using the Bitcoin or Ethereum. The processor company behind the BTC traffic is Nostro Technology Limited, a known company to have been connected with other gray area brokers.

Withdrawal Methods & Costs
First Capital states there are no costs related to withdrawals, and the methods are unknown since the withdrawal is done by filling the form.
Withdrawal Processing & Wait Time
Withdrawal requests will generally be processed within two business days of receipt according to the broker.

Bonuses & Promotions
No bonuses or promotions are stated. Of course, this could change in the future, so check back if you're interested in special offers.
Educational & Trading Tools
First Capital has an education section with 5 short videos about trading The videos are adequate to beginners and do not have any particular value. Topics covered are "What is Cryptocurrency", "What are the top 5 stocks in the world", "What is a CFD", What are Indices", and "What are Commodities". Videos contain a lot of marketing, manipulation, and call to action phrases.
Tools page on the First Capital website mentions a Pip Calculator, Daily Market Reviews and the Economic Calendar. Everything except the Economic Calendar is just for the stage as these tools are not found. The Economic Calendar is a Travingview module with good design and functionality. You can use filtering to select a region or country or set to show only important events. Clicking on the event name will slide open the description and you can also see the past, actual and forecast data.
Customer Service
The broker only has an IP phone line with UK code but the broker can be located anywhere. Email is also available. No chat service is provided.

Demo Account
It is typical for unethical brokers not to allow any demo accounts. It is also possible that this broker does not even have his own servers and connects to another networked brand. More information about this in the Conclusion.
Countries Accepted
The United States and Japan are mentioned countries that are not accepted. Since First Capital accepts only Bitcoin and Ethereum as a deposit, all other countries may be at risk.
Conclusion
To conclude this First Capital review we will disclose all the data that raises numerous red flags about this broker. Starting with the interesting, but also fake website presentation about "The EPSFACE Arbitration Commission". A link to this company is in the First Capital website footer and it is probably used for manipulation by the broker staff, or "Account Managers" to present a "regulatory body" supervising the broker. Of course, this website is full of fake content and claims, made by a group of con artists using a network of other fraudulent broker brands to hunt for deposits and credit cards.
First Capital does not accept bank cards through any payment processor but instead asks for your credit card details PCI (Payment Card Industry) has certain security protocols where middle card numbers are hidden on a transaction with every third party processor, showing just the first 4 and last 4 digits. First Capital explicitly asks you for the middle 8 digits on the card, thus making the whole 16 digit number visible. These brokers know to hide behind so-called consulting companies who refer clients to the broker as unrelated. This relation complicates legal action.

First Capital is stated to be owned by Sigma Consulting limited in Bulgaria, a well-known nest for former Israeli banned Binary options brokers. It is common to employ and train outsourced call centers in other countries with cheap labor force but solid English, German and other language skills. This way, legal prosecution is even more complicated.
Upon further research, the link to upload the KYC documents in the email First Capital sent to us is pointing to the MRT Markets broker. This broker is a known scam gate belonging to the infamous Greymountain Management group who organized an industrial-scale fraud measured in millions of dollars. Multiple sources are writing about this company and the Israeli owners. It is also very possible that First Capital also is just one of the brands under this still active network.
Finally, an interesting detail can be read on the First Capital website footer, the last sentence states that the "products described on this (website?) are not offered." All things considered, we strongly recommend that you proceed with caution should be thinking of trading Forex with First Capital.