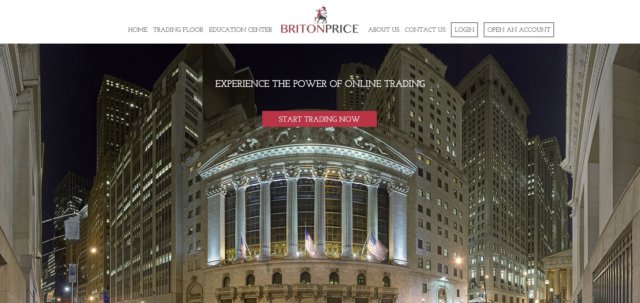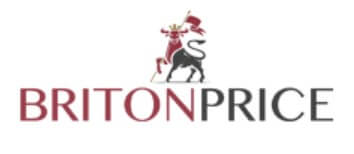 Britonprice is one of the brands belonging to the SolutionsCM Ltd group and also related to Media Group Ltd, and other participants in what seems to be an organized network for many brokers allegedly based in Bulgaria. Few other brands are belonging to these groups and not much is known about them for a reason. Britonprice is an unregulated broker, offering CFD trading as well as Binary Options but visitors to their website will not know anything about their services nor what kind of trading conditions is offered. The whole website is designed to look like a high-class serious business with zero transparency on the company or trading.
There are a few pages and the structure is simple, meaning little effort is made into sections that do not directly lead to account opening or deposit. Most of the visitors will be in disbelief when they see the minimum deposit requirements but this practice is common for gray area brokers. The ratings about this company are all negative but are rare, most of the users report aggressive phone sales and withdrawal frauds. This Britonprice review will reveal if there are red flags or anything related to your investment decision.
Account Types
You will easily find the Account packages offer on the homepage of Britonprice's website. 5 account types do not have different trading conditions but the increasing number of additional services as the minimum deposit goes up. Starting with the Micro Account, according to the broker, you will receive only Market Reviews and a 10% margin loan. Now, by margin loan, it is probably meant as a form of a non-withdrawable bonus that acts as margin support.
The second in tier account is the Mini Account, offering up to 25% margin loan and additional live stream trading webinar. Interestingly, as the minimum deposit requirement gets higher, so does the margin loan. The Silver Account is already having a serious minimum deposit requirement most traders will never even consider. Silver Account benefits are a Personal Account manager and up to 35% margin loan.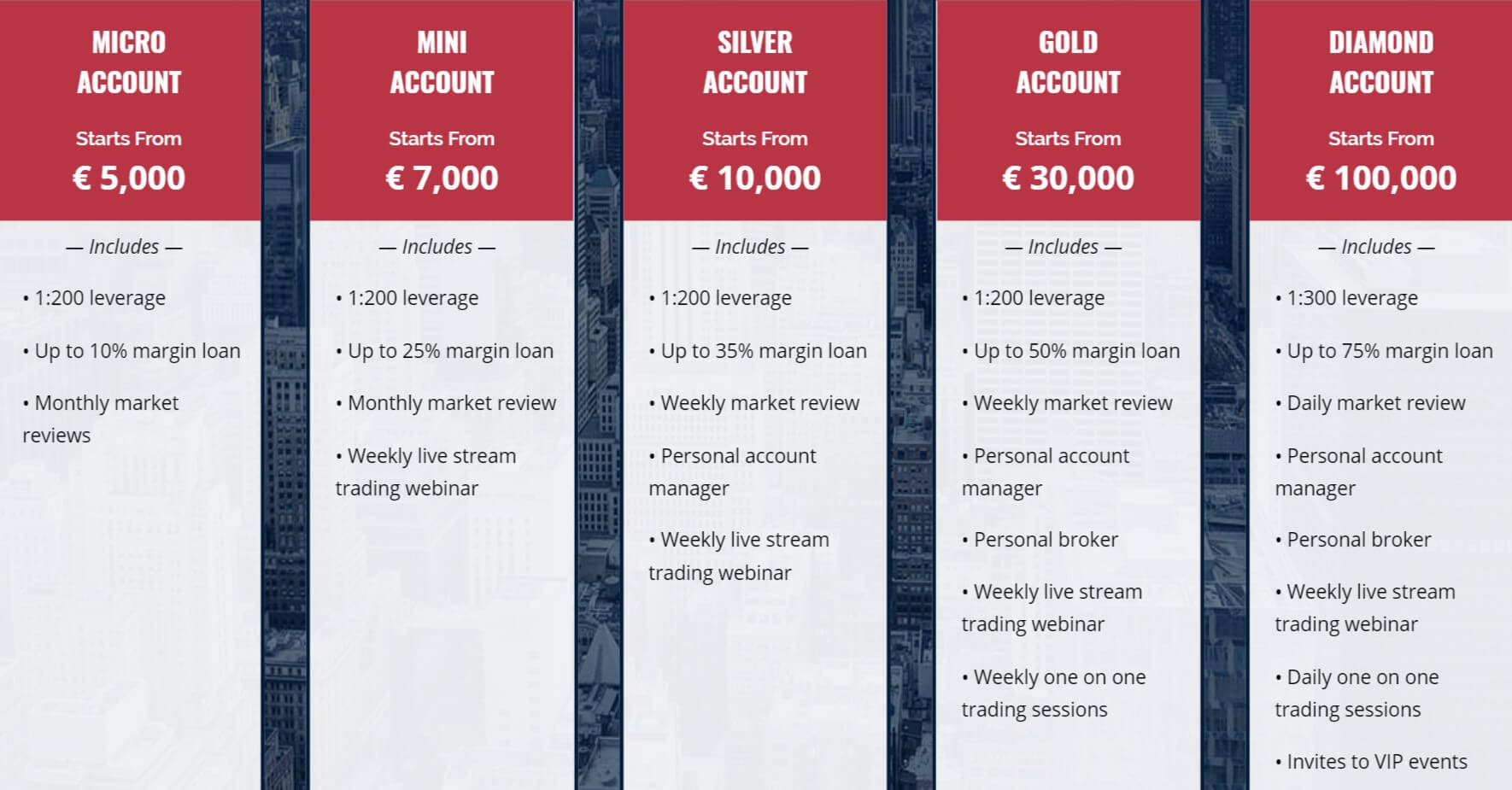 The Gold Account features even more benefits as promoted by Britonprice. These are weekly one on one trading sessions, personal broker and margin loan increased to 50%.
Diamond Account is the ultimate offer that includes the highest leverage, up to 75% loan margin and an additional VIP invites to events in addition to the Gold Account benefits. The minimum deposit requirement for this account is one of the highest in the industry, but the truth is a bit different. More on this topic in the Minimum Deposit section of this review.
Note that Britonprice does not disclose any information about the spreads, swaps, assets, and other specifics about trading. This is not enough information for a sale, there is a possibility that the first step marketing is done via email or other landing pages and that the Britonprice website just acts as a portal.
Platforms
Britonprice does not hold any MetaTrader licenses. They have a web-accessible platform only available by logging through their website. This platform can be described as basic and will not satisfy advanced traders. It is integrated with your profile management that includes deposit/withdrawals, ID documents upload, position history, and balance. A completely black theme is used with a dominant chart on top and an asset list on the bottom half of the screen. Chart style can be set as a line, area (line with a shadow), candlestick, and OHLC. Timeframes are the same as with the MetaTrader platforms but with the addition of a Tick timeframe, capturing every price movement in a stamp.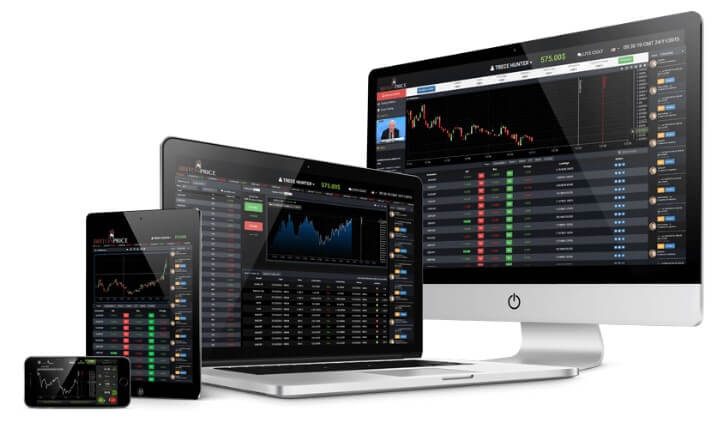 Users will have the ability to change the background to white but no other coloring is possible. The top right corner will also have a button for the indicator insertion, and there are 20 in total to choose from. The indicators can be adjusted but there are no advanced settings, mostly it comes down to just setting the periods and the coloring All of the indicators are well known such as ATR, Billinger Bands, CCI, Parabolic SAR, and others. The chart can be set to fullscreen but then you will be redirected to the TradingView charting, with all the options and tools TradingView has. So, in a way, this is a more professional option for those that need more functionality.
On top, you will see your financial status, the Balance, margin, Equity, Profit/Loss and Margin level. On the left side, there is a menu with some integrated features like the News, Live TV, Biggest Gainers and Losers, Trades, and Favorite assets list. Live TV is set to broadcast the Ruptly Today channel from Russia and the News section will open the news feed from Yahoo Finance. As for trading orders options, there are pending orders and alerts that can be set to notify on price level triggers. Notifications can be sent by SMS, email and on the platform. In the bottom part of the platform is the watch window with an asset category selection bar and a search field.
The information about the instrument is very limited. There is no info on swaps, Stops level or trading sessions like the broker does not have them. Certainly, the instrument selection range is very extended and competitive with the biggest brokers in the industry. More on instruments range in the Asset section. We could not check for the execution times or if there is enough liquidity due to platform and account restrictions. This platform does not support any kind of automated trading scripts.
Leverage
The leverage is published as 1:200 for all account types except for the Diamond, where the leverage is 1:300. Interestingly, the leverage is usually lower as the balance is higher, but it seems the broker does not care about the risks, it is more likely that the Account packages are just a ruse. Since there is no information about the trading conditions on the website, we will disclose what we see in the web trader. The leverage for Forex majors and other currency pairs is 1:200. For Indexes, it is 1:20 and for Cryptocurrencies, it is 1:5. Bitcoin has a future CFD option where the leverage is 1:20. Precious metals have 1:20 both on spot and as futures CFDs. The same leverage is for Stocks, ETFs, and Bonds.

Trade Sizes
Britonprice does not have any published information on the trade sizes. The platform displays only unit sizes, not lots or contract sizes. For the Forex, the minimum amount to open a trade is 1000 units and it is in line with the 0.01 lots or micro-lots for 100,000 units contract size. For Bitcoin, it is set as one, which is a very large amount considering the price of Bitcoin nowadays (around $9000). For Ethereum it is also 1 so some coins are more affordable to open. Precious metals are also set to 1 and this could be related to one ounce. In that case, the minimum amount is 0.01 lots. This trade size setting is also true for Stocks and ETFs. There is no information on Stop Outs or Margin Calls.
Trading Costs
Britonprice does not disclose any information about the costs, including the platform. What we have noticed is that there is no swap information or rollover and for the commission, it is set at 0%. It is possible that Britonprice is a no commission broker but remains unclear on their other trading costs. In the case of inactivity, the broker Terms & Conditions state a $25 annual fee charged if there is no activity for 12 months.

Assets
Britonprice instrument range is impressive. Few brokers can be this competitive by offering Forex, Precious Metals, Commodities, Indexes, Stocks, ETFs, Crypto, and also Bonds. All of these categories are extended, not just offering a minimal number of trading assets. Starting with the Forex, there are a total of 52 currency pairs. All majors and minors are present with the addition of a good number of exotics. Still, some of them are not open for trading. The ones that are available include Scandinavian currencies, USD/MXN, USD/PLN, USD/ZAR, USD/HKD, GBP/CNH, EUR/PLN, and EUR/MXN.
The Precious metals range is full and some more. Ther are spot Silver and Gold and their futures CFD optional instruments. Platinum and Palladium are present as futures as well, and also Copper which is considered as commodity metal. If we could add Zinc, Aluminium and other metals, this range could attract even the most demanding metal traders.
Indexes are also very extended with some rare Indexes that relate to classics. A total of 18 out of 22 instruments are tradeable. What is uncommon to see is the MSCI Emerging Markets Index, Russell 2000, Swiss Index, S&P Canada 60, S&P 500 Volatility Index, US Dollar Index, CNX India Index, China A50, and Euro STOXX Banks Index.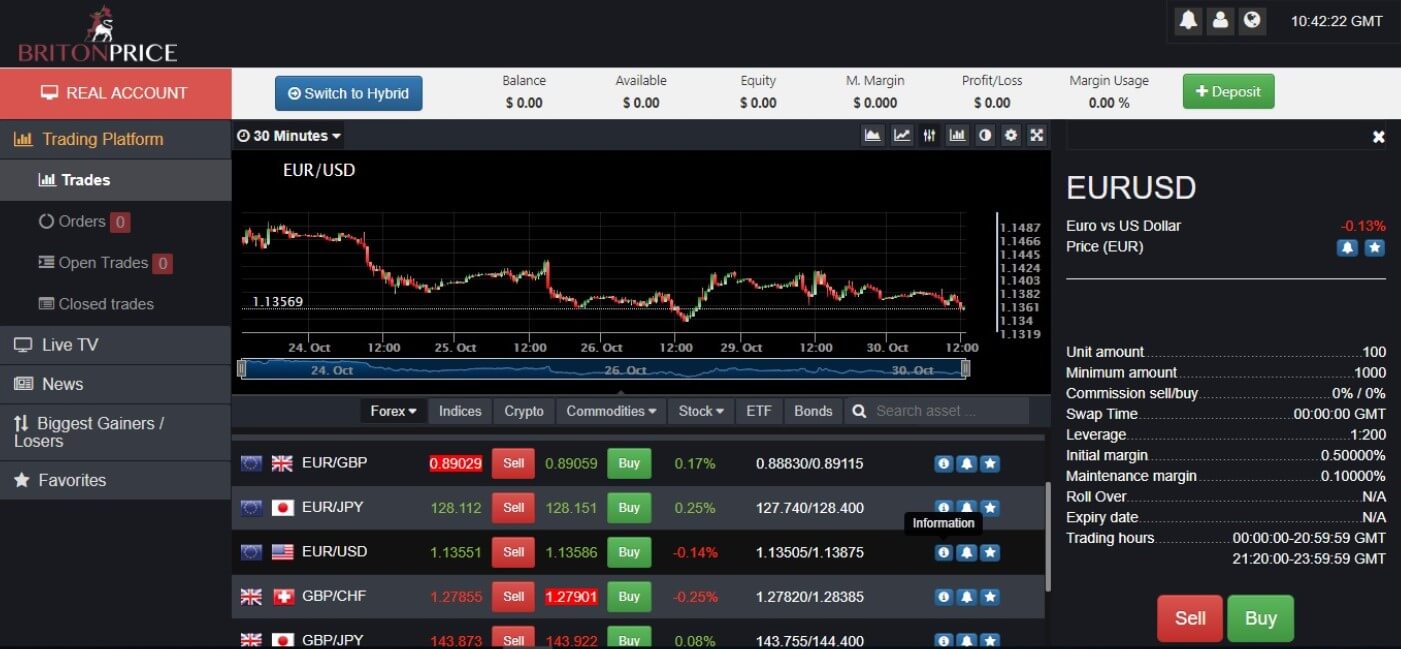 Commodities offer is great. All of them are traded as futures CFDs. There are 8 different agricultural commodities and 6 energy commodities. You can trade Brent and Crude Oil, Heating Oil, Natural Gas, Gasoline, and EU Gasoil. From agriculture products, we see Soybeans, Wheat, Sugar, Soybean meal, Orange Juice, Cotton no.2, Corn, Coffee, and Cocoa.
Stocks range is very extensive and they are categorized by company founding countries, Canada, Australia, US, UK, Swiss, Spain, Russia, Italy, Germany, and France. There is no info on any kind of dividends payments or credits. The ETF range is also extreme, and one of the most extensive we have seen. There are over 50 ETFs to select from, and the diversity is a hedging trader's heaven. You can find Biotechnology ETFs, Country Index ETFs, Gold mining, Emerging markets, Bull ETFs, Volatility VIX, SpreadsMSCI Countries ETFs, Insurance, Banks, Real Estate, and so many more.
The Bonds range is not limited to the US Treasury Bonds but also other countries making a total of 9 tradeable and a few closed for trading. Interesting options are Canada Bonds, Euro Bobl, Euro Bund, Euro Buxl, and Euro Schatz. The Cryptocurrency range is good but not as some specialized brokers can offer. Still, a total of 17 instruments is not that easy to find. Rare to see coins are Cardano, Bitcoin Gold, Dash, EOS, IOTA, Ethereum Classic, NEO, Qtum, TRON, Stellar, Zcash, and Monero. They are all quoted against the USD.
Spreads
There is no information on the spreads, even on the platform. The platform shows Bid and Ask prices so the spreads can be calculated. From what we notice, the spreads are a floating type. For the EUR/USD the spread is 36 points, but note that we consider this to be true for all account types. By the somewhat wider spreads, this broker is unfit for scalpers and fast trading strategies. GBP/USD spread is 42 points, AUD/USD has 22 points and USD/JPY 53 points. Minors spread is mildly wider, for example, AUD/CAD has 30 points, CHF/JPY 41 points, GBP/NZD has 71 points, NZD/USD 22 points. Exotics spread is higher but very competitive for exotics. For some insight, USD/MXN has only 71 points spread, USD/PLN 158 points, and USD/ZAR 575 points.
Minimum Deposit
One of the highlights of the Britonprice is their minimum deposit requirements that start from €5000 for the Micro Account. Upon further inspection of the deposit process once logged in, we have noticed that the minimum amount is actually $50. This means that the information on the website is probably false and acts to lure high deposit amounts. For reference, mini Account requires €7000, Silver 10,000, Gold 30,000 and Diamond 100,000 EUR.
Deposit Methods & Costs
Deposit methods only involve VISA or MasterCards form what we see on the platform. Deposit channels are not disclosed on the website. You have two options to select a payment processor. One is Wirecapital from Russia and the other one is the Certus Finance that has terminated the Britonprice merchant account. Note that it is possible that by using this card processor you might void your right on the chargeback. As for the costs, no information is available.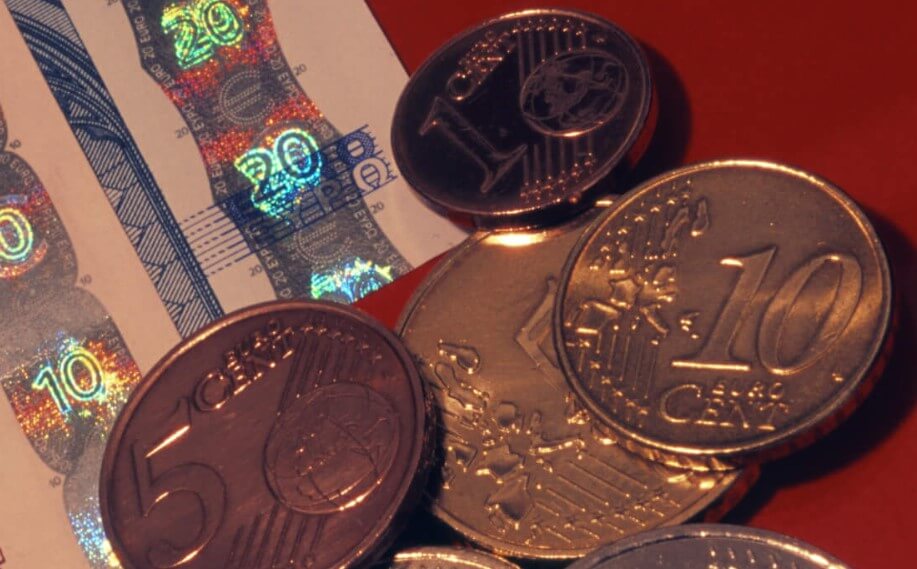 Withdrawal Methods & Costs
There is a minimum os $50 required for a withdrawal to be processed. It is not known what methods are available and this is very concerning. The only method is filling out a form and submit to the broker. Based on the information required for this form, we are certain that it is not the final step as no bank account info is required, if the form is not just a fake stage.
Withdrawal Processing & Wait Time
According to the legal document info, Britonprice will process the withdrawal request within 5 business days.
Bonuses & Promotions
There are no bonuses offered. Note that the margin loan mentioned for every account type could be a form of a margin support bonus. There are no IB or other referral programs.
Educational & Trading Tools
Britonprice has an educational section on the website. This is written content that covers the basics of trading. The topics are Forex Basics, Risk Management, Fundamental and Technical Analysis, Trading Plan and Trading Volatility. The Forex Basics content is very short and rudimentary, mentioning a few scenarios when to buy and sell and other terms such as leverage, pip, etc. The Fundamental Analysis states several factors on the market such as Geopolitical tensions, Central Banks, Economic Reports, Weather, and Seasons. Nothing is said on how to interpret and some examples.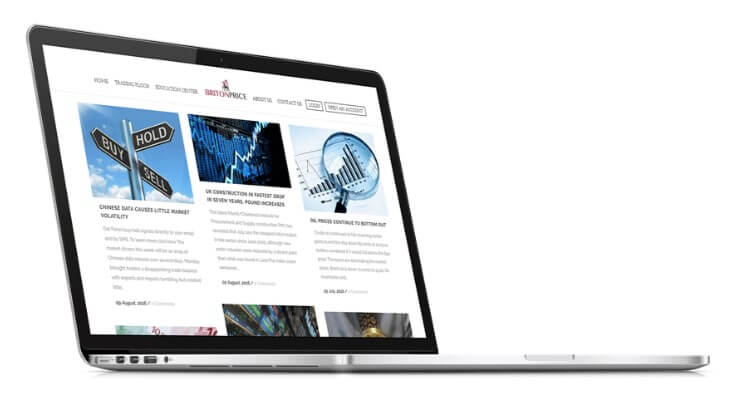 Technical Analysis is the least developed page with a few bulleting and pictures. The quality and the level does not have much value for beginners. No strategies or indicators are mentioned. The Trading Plan is a much longer page with solid tips and topics. This includes how to build a plan, key components, motivation, goals, trading style, etc.
Trading Volatility sounds like the most interesting content with pictures and some ideas. But, the content is mixed with the NFP event, support, and resistance and tips on trading the news. Note that this material low quality and on some points even misleading.
Customer Service
The broker has a few classic contact channels but they are all slow. The phone used is an IP number not set to receive calls. The chat service does not exist and the email response is longer than 24 hours as we did not receive a response.

Demo Account
The lack of the Demo account is another confirmation that the broker does not invest in non-deposit services.
Countries Accepted
There is no list of countries not accepted. Please contact the support team should you have any issues with opening an account or wish to know if clients from your location are or are not welcome.
Conclusion
This section of the Britonprice review will disclose some more information not directly related to the services but important for decision making. There is an interesting point in the Terms and Conditions document (9.2). It is stated that the trader will not attempt to make a chargeback, deny or reverse any payment made and to reimburse the broker if such an attempt is made. This is an almost comical statement that confirms another red flag about the legitimacy of Britonprice.
The broker entitled itself also to withhold any deposits by clients with certain credit cards. There are many more issues that further paints this broker with fraud paint. Transparency is non-existent, the platform even with so many assets may be a fake feed using the TradingView, deposit, and withdrawal channels are suspicious at best and there is no verifiable location, regulation or support. The minimum deposits may be fortunately high enough to turn away most visitors, but the broker utilizes a high-deposit low-frequency model to avoid payment processor blacklisting (one already canceled). Payment processors will block the merchant with a high percentage rate of chargebacks.
To finalize, using the card may give you a possibility to pursue a chargeback but the risk is too high to even consider a deposit for reasons above.