This is a Chinese capital brand that is established in London in 2013. Not much is know about this broker except that the company behind the brand is obscured. There are no regulation about and no physical address in Londo for the company IMS FX. The website does not hold all the certificates so the connection will be classified as "not secure". The broker received some rewards and is present in exhibitions in China. Furthermore, the IMS FX name is absent on many benchmark sites meaning the broker is not popular at all.
This aside, we can see a well-designed website with a good structure and solid information on trading conditions. There is a lot of "empty" content without any backup with proven data or facts. Most of it is commonly used phrases among brokers that do not have a lot to show. Awards are listed but are not from any reputable organization. Under the "Regulation and License" there is no mention of any authority just funds segregation and safety. MetaTrader 4 license is preserved meaning is was obtained before MetaQuotes decision to discontinue new MT4 licenses in 2018. This IMS FX review will bring you closer to what this broker has to offer and if the quality of service matches your requirements.
Account Types
IMS FX offers 3 account types that are scaled by the minimum deposit requirement. The most affordable Standard Account has a reduced asset range and the least favorable spreads. It is described as a comprehensive trading experience for an experienced trader. There are no "special services" for this account but we have noticed the highest allowed leverage. Interestingly, the broker states over 100 currency pairs available and precious metals. We will check this statement in the Assets section. There is a comparison table for the account types although some information could be added for better transparency.
Premium Account is next in a tier requiring a very steep deposit requirement. Traders will enjoy better spreads, more tradeable assets and "Professional account manager service 24/7". Finally, the GTS Account requires an even bigger minimum deposit and features the lowest spreads among the accounts. It is described as the loyalty account and as thanks to supporters of IMS FX. Profits made will be partly shared for charity in China. Additional instruments are available such as CFD stocks for this Account.
There is a downloadable Excel table for more details about the accounts that will show the margin calls, leverage, trade sizes, minimum deposit requirements and more. USD, GBP, and EUR can be set as an account currency. EAs and other trading tools and strategies are not prohibited.
Platforms
IMS FX is MetaTrader 4 platform broker only. MT4 is available for Windows, Mac and smart devices running on Android or iOS. Web MT4 is also supported without the need to download or install any packages. The installer will show the IMS FX Ltd company and will download the files form the MetaQuotes server. We had two servers available, IMSFX Demo and Live. The Demo server is slower than the Live with 212ms and 40ms respectively. Everything is by default settings, the classic 4 charts are set to major forex currency pairs on the H1 timeframe with default indicators on them.

One-click trading buttons are visible and the about window shows IMS FX Ltd company and the latest version of MT4 client. There are no additional indicators available in the package and no other templates than default ones. Symbols list is organized neatly for each asset category and dividing the forex family into majors, minors, and exotics. Upon further inspection, we have found only GBP/CHF under the Exotics group which is not logical. Under the Gold group are also other precious metals meaning the broker did not pay attention to categorization.

The instrument specifications show enough trading information. The Terminal window is showing the swaps correctly and 0 commissions since IMS FX is not charging them. We went on with the order execution and found that some assets in the exotics range are having liquidity problems, off quotes warning was constant. The execution time where liquidity allowed is 279ms on average, with great consistency, rarely going above 286ms. EAs and other trading methods are not restricted but know that the total amount of open trades are limited to 100.
Leverage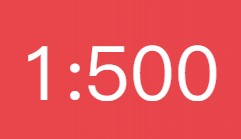 The Leverage is adjusted to balance and certain assets. IMS FX excel table states leverage up to 1:500 for the Standard Account and Precious metals at 1:100 fixed. We have confirmed this in the MT4 platform, even the exotic currency pairs have 1:500 and the spot Gold and the rest of precious metals are at 1:100. For Indexes, it is not stated but our reading shows the leverage is 1:20. This leverage is also correct in the instrument specification window in MT4.
Premium Account leverage is reduced to 1:200 fo Forex, 1:50 for Precious metals and 1:20 for Indexes. The best GTS Account has further reduced leverage to 1:100, Precious metals also 1:100 and 1:20 for other CFD assets.
Trade Sizes
Trade sizes are in micro-lots for the Standard Account even though the specification table mentions 0.1 lot minimum trade size. All Forex assets have 0.01 minimum, 0.01 lots step size and 100 lots maximum trade size. Notably, the Stops Level size is not marginal, especially for selected currency pairs. For EUR/USD and other majors, it is set to 5 pips. For some reason, EUR/AUD has a lower Stops level – 2 pips. GBP/CHF, for example, has 8 pips, but AUD/NZD has a very unfavorable 20 pips Stop level. Exotics can have 80 pips like for the GBP/DKK up to 800.

Precious metals do not have extreme values like this and are set to 5 pips. Indexes are set to 2 pips Stops level. For those not familiar with the Stop Level, it is a spread zone around the bid/ask price that denies placement of pending orders like Stop Loss and Take Profit. Trade sizes for Premium and GTS Accounts are increased to 0.1 lots minimum trade size. As for the Margin call and Stop out levels they are set to 100% and 40% for all accounts.
Trading Costs
IMS FX does not charge any commissions, swaps and spreads are the only trading costs. Swaps are calculated in points and tripled on Wednesdays. They are under normal levels for the industry and with frequent positive figures on one trading side. Such is for the most traded currency pair, EUR/USD at -5.07 points on the long side and a positive 0.8 points on the short. GBP/USD swap is even more neutral with -0.52 on the long and 0 on the short. USD/JPY has 0.62 points on the long and -4.43 for short. In the range of the minor pairs, the AUD/NZD swap is very friendly with -3.81 for long and 0.29 for short, EUR/CAD -4.09 points on long and 1.86 points for short.
Moving to the exotics range, a notable swap is with the USD/RUB, just -6.49 points for long and a positive 2.94 on the short, this is one of the lowest swaps in the industry. USD/ZAR has -15.56 points on the long and 6.51 points for shorting this pair. We have expected the biggest swap to be with the USD/MXN with just-23.2 on the long side and 8.58 on the short, but it was for the GBP/SEK with -43.03 points on the long and a positive 22.89 on the short. For spot Gold the swap is again very low with -2.15 on the long and -0.81 on short, both sides have negative swaps but are still attractive for longer-term strategies. Palladium also has a very low swap, -2.15 on the long and -0.81 for short, a marginal amount considering how much this metal price moves. No other trading costs exist.
Assets
IMS FX does not have extensive instruments range overall but one particular category is one of the best offers in the industry. The Forex category is promoted as having over 100 currency pairs. In the MT4 platform, we have counted a total of 66. Now even this number is higher than what we see normally. All majors, minors, and crosses are listed, while the exotics range is showing some hard to find currency pairs. These are, for example, ZAR/JPY, SEK/JPY, and CHF/SGD. Other more common exotics include EUR, GBP, USD/TRY, EUR, USD/ZAR, EUR, USD/CNH, USD/HKD, USD, EUR/HUF, USD/RUB, EUR, USD/PLN, many Scandinavian currencies combinations with the GBP, EUR, and USD, and more. This range has some assets that are not liquid enough for trading, giving off-quotes warning but it is still great for any Forex enthusiast.

The precious metals trading range is extended. It does not only comprises all of the 4 main trading metals such as Gold, Silver, Palladium, and Platinum but IMS FX also has some quoted in EUR. You can find XAU/USD, EUR and Silver XAG/USD, EUR. XPT and XPD are against the USD only. Like with the forex range, precious metals go a step more than just having all four metals. Unfortunately, Palladium and Platinum are showing the off-quotes warning. Indexes range is also very good but it is limited to Platinum and GTS Account. A total of 13 Indexes are listed, less common ones are AUS 200, Swiss 20, Spain 30, Hong Kong 50, and Russ 200. Commodities range is limited to energies only, and it closes up the instruments range IMS FX offers. Traders will find both Oil types listed, Brent and WTI with the addition of Natural Gas. Liquidity problems are present with these assets too.
Spreads
All spreads with IMS FX are a floating type and scaled with the accounts offer. The most affordable Standard Account is advertised as having 1.7 pips average spread for the EUR/USD. Our reading from the MT4 showed 14 points. GBP/USD has 2.8 pips according to the spread table and MT4 has 23 points, while USD/JPY is 1.9 pips and 16 points from MT4. We can confirm that the broker downloadable spreads table comparison for all assets is not exaggerating any spreads and holds. The wides spread among the non-exotics is for the GBP/NZD pair with 4 pips per table and from our reading, it was 34 points in the MT4.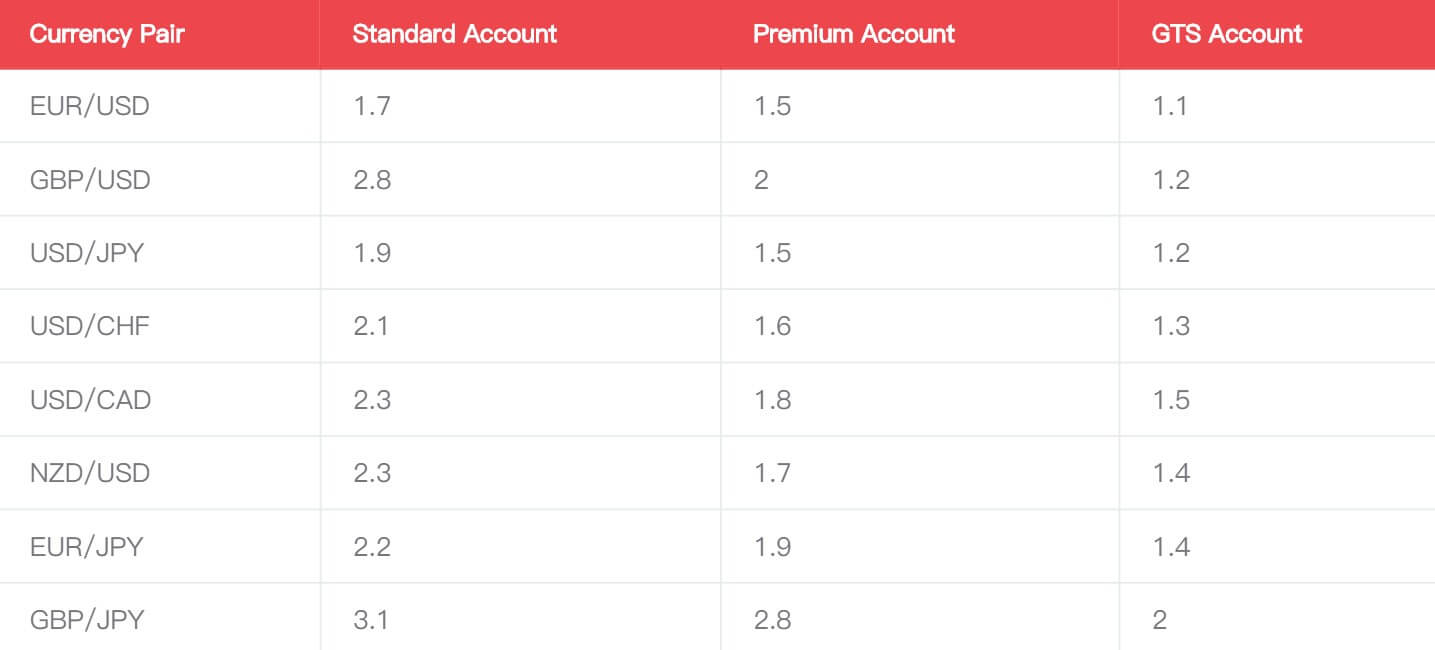 In the exotics range the spread is very tight. USD/MXN has an amazing 34 points spread, USD/TRY with 255 points, USD/HUF 16 points but off-quotes warning (much lower than the table 164.1 pips), EUR/CZK also with 16 points but off-quotes, and the widest spread is for the USD/RUB with 33500 points (this currency pair is not present in IMS FX table). Spot Gold spread is very competitive with 3.9 pips in the table and 36 points in MT4 while Palladium and Platinum are off quotes and do not represent real value spreads.
By looking at the spread, we can say that the Premium Account features 10 to 30% tighter spreads and the GTS Account 30 to 50% then the Standard Account.
Minimum Deposit
The minimum deposit is set in such a way that the Standard Account would be the only choice for the majority of traders, at least for the beginning. Standard Account requires $200 or currency equivalent minimum deposit. Premium Account sets this barrier to $10,000 and the GTS requires no less than $20,000.
Deposit Methods & Costs
IMS FX offers only two deposit channels, Bank Cards and Bank Transfer. The broker will not charge any fees for deposits but clients should be aware of the fees charged by third parties. Credit/Debit Card processing time is completed in one hour during the broker working time. For Bank transfers, once the transaction is completed and received into the broker's bank, a trader should see the funds in the trading account within one hour.
Outside business hours, it is possible that funds are not reflected until the next working day.

Withdrawal Methods & Costs
There are no fees charged by IMS FX. Withdrawal methods are the same as with deposits, Credit/Debit Cards, and Bank Transfers.
Withdrawal Processing & Wait Time
Processing is done during the broker working time, from 9 am to 6 pm. Bank Transfers will require 3 to 5 working days to complete. Credit/Debit Card reflection time takes longer, 5 to 7 days.

Bonuses & Promotions
The broker does not offer any bonuses or promotions program. Introducing Brokers and White Label programs are present.
Educational & Trading Tools
IMS FX has two sections under the Academy tab on their website. Analysis and Educational center. The analysis section is not updated since May 2019. The content is in the Chinese language. The content is easy to read with basic information on the markets around the world across different categories. It has some visuals with commonly used indicators like the RSI and Moving Averages.

The broker states that they provide multiple education materials including basic courses and educational videos to meet different needs. The Educational Center contains several important elementals about trading organized as quick questions. There are a total of 15 questions, covering some trading terminology and trading basics, for example, "Risk Management", "What is a pip", "What is Margin", "Stop-Loss types" and so on. Material quality is good but not enough for serious engagement.
Customer Service
The broker can be contacted by phone line, email, and chat. We have not been able to find anyone on chat for more than 48 hours, therefore, we assume it is out of service. The phone line is not working and the actual number belongs to another company.
Demo Account
The demo can be opened directly through the MT4 platform. The maximum virtual funds amount is limited to 10,000. If you want to open a demo vie the IMS FX website you will need to receive a code to your phone. This method is usually used to have a real client's phone and it can be used for sales and can be shared with other parties. This can be avoided with online SMS services if you want to protect your privacy. The demo account will reflect actual trading conditions although the server response rate is faster with Live account.
Countries Accepted
IMS FX does not publish this information. Based on the country selection list, the broker does not look like to filter any country. The phone is required and a verification code will be sent as an SMS. Based on the country list for the phone number, we can say the broker accepts clients from Hong Kong, Macao, Taiwan, UK, UAE, New Zealand, Germany, France, Russia, Thailand, Canada, Australia, Nepal, Mexico, Saudi Arabia, Singapore, Malaysia, and mainland China.
Conclusion
This section of the IMS FX review will conclude the overall impression and add some more information not mentioned above. It is evident that the broker is not fully developed and focused mostly on the Chinese market. The Forex range is great but the lack of support and other supportive tools is a major drawback. Even the extensive, empty marketing and good transparency about trading conditions cannot cover the lack of regulation, ambiguity, location, safety, or liquidity.

Some of the off-quote assets are the reason alone for serious traders to forget about this broker if they pass the webpage presentation. The website tries to use features as an advantage where it is considered a standard in the industry. For example, a "POSITIVE BALANCE" GUARANTEE" is just negative balance protection or under "Funds Safety" the negative balance protection is promoted again just using other words. Upon further inspection of the physical address in London, we have found another Chinese company not related to the brokerage industry.
IMS FX is on the road to offer good trading conditions but as of right now the main issues are the support, image/popularity, regulation, better company transparency, and better overall presentation.