UBFX is the trading name of Finance Managers Co. Limited, which was incorporated back in 2016. UBFX is an offshore broker registered in Vanuatu, which has recently tightened retail broker regulations and raised companies' deposits to $50,000. With that being said, one cannot compare the type of regulations that Vanuatu implements to that of the FSA in the United Kingdom, CySEC in Cyprus and ASIC in Australia.
UBFX partners with banks, prime brokers, liquidity providers, and global financial institutions to provide its clients with a trustworthy, fair trading environment. On their website UBFX claim to have excellent technological efficiency by offering a two-way trading system for all their available assets. Their clients can also open positions for 5 days per week and 24 hours a day which encourages traders to make the most of the technological solutions that this broker has to offer. This broker offers 4 types of accounts with quite a variety of assets to choose from whilst making use of one of the world's most popular Trading Platforms.
If you're interested in learning more about UBFX read through this review where we go into detail about what they have to offer.
Account Types
This broker offers 4 account types to choose from, namely; the Standard account, the Islam account, the Raw Spread account, and the Corporate account. Interestingly 2 of these accounts, the Standard and the Islam can be opened quite literally for nothing, as there is no deposit requirement. The leverage offered is quite high for all accounts at 1:400 and it is nice to note that whatever account clients choose to open, they can make use of all the available assets offered by the broker, namely Forex, Metals, Energies, and Indices. All accounts allow hedging, locking positions and scalping. We will go into more detail about these specifications later on in this review.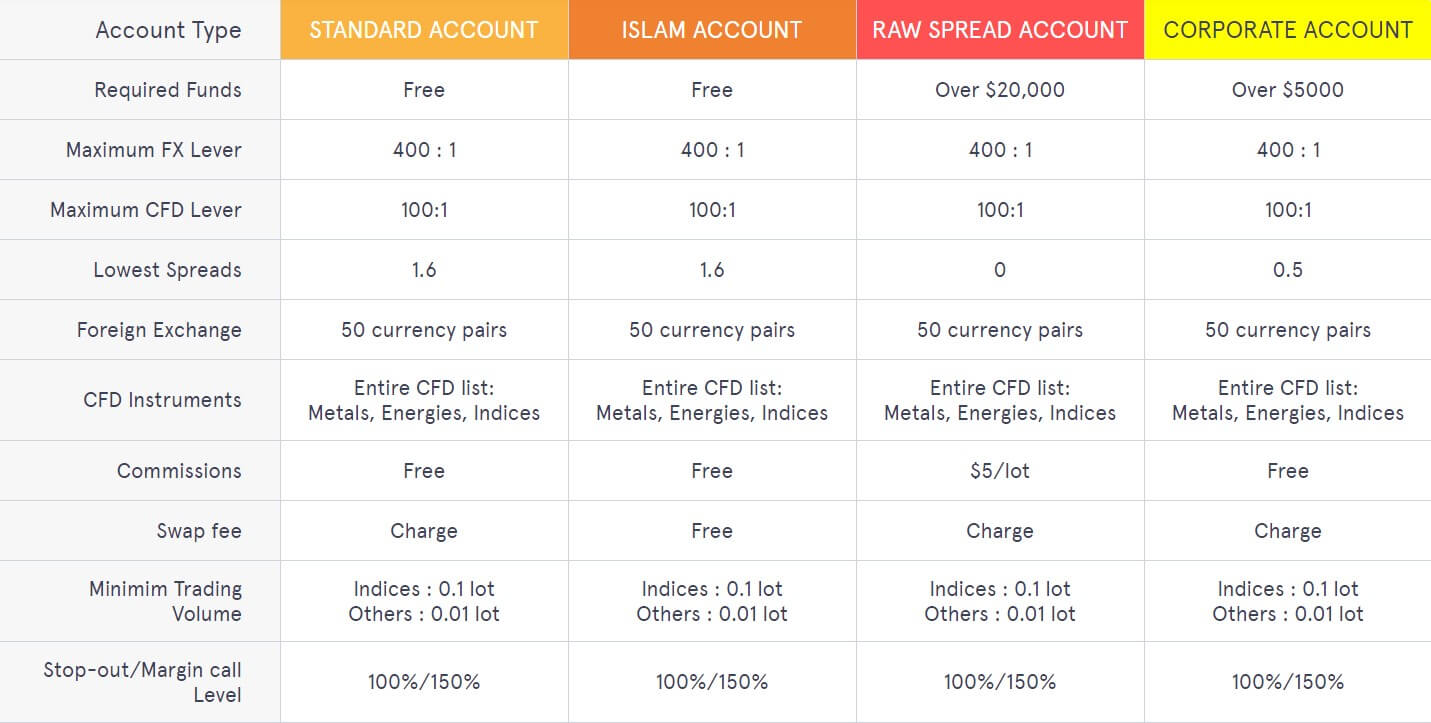 Here we have outlined the main characteristics of all four accounts.
Standard Account
Minimum Deposit Requirement: Free
Leverage: 1:400
Spreads starting from: 1.6Pips
Commissions: Free
Stop-out/ Margin Call Level: 100% / 150%
Islamic Account
Minimum Deposit Requirement: Free
Leverage: 1:400
Spreads starting from: 1.6Pips
Commissions: Free
Stop-out/ Margin Call Level: 100% / 150%
Raw Spread Account
Minimum Deposit Requirement: Over $20,000
Leverage: 1:400
Spreads starting from: 0 Pips
Commissions: $5 Per lot
Stop-out/ Margin Call Level: 100% / 150%
Corporate Account
Minimum Deposit Requirement: Over $50,000
Leverage: 1:400
Spreads starting from: 0.5 Pips
Commissions: Free
Stop-out/ Margin Call Level: 100% / 150%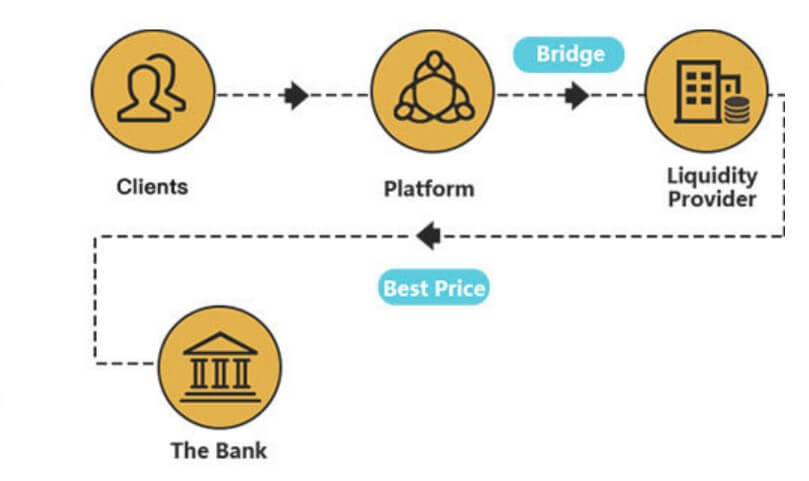 Platforms
Clients of UBFX can trade using one of the world's most popular trading platforms the MT4. This user-friendly and multilingual platform enables new and experienced traders to trade this constantly changing market with ease. Apart from advanced charts and expert advisors, the MT4 allows traders to fully customize and automate their trading. Clients can also rest assured that the MT4 is a highly secure platform that encrypts the data between the trader and the server with a 129-bit key. Through the UBFX website, clients can download the MT4 for their PC, MAC, Ios, Google Play and Android.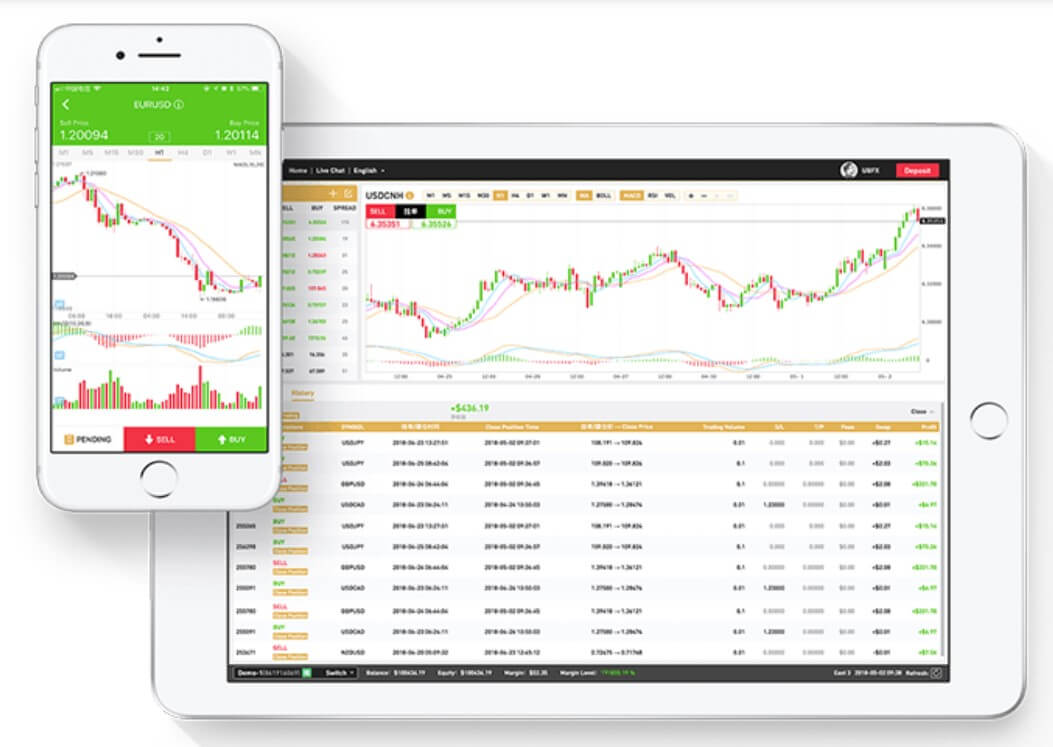 Leverage
The leverage set by UBFX is quite high for all their accounts as it set to 1:400. With recent restrictions and regulations, many brokers have had to decrease their leverage to 1:100 and lower, so seeing that this broker still offers such a high one makes it quite a one-off. We always advise traders to be cautious when dealing with high leverages as these can bring about a detrimental loss to their funds.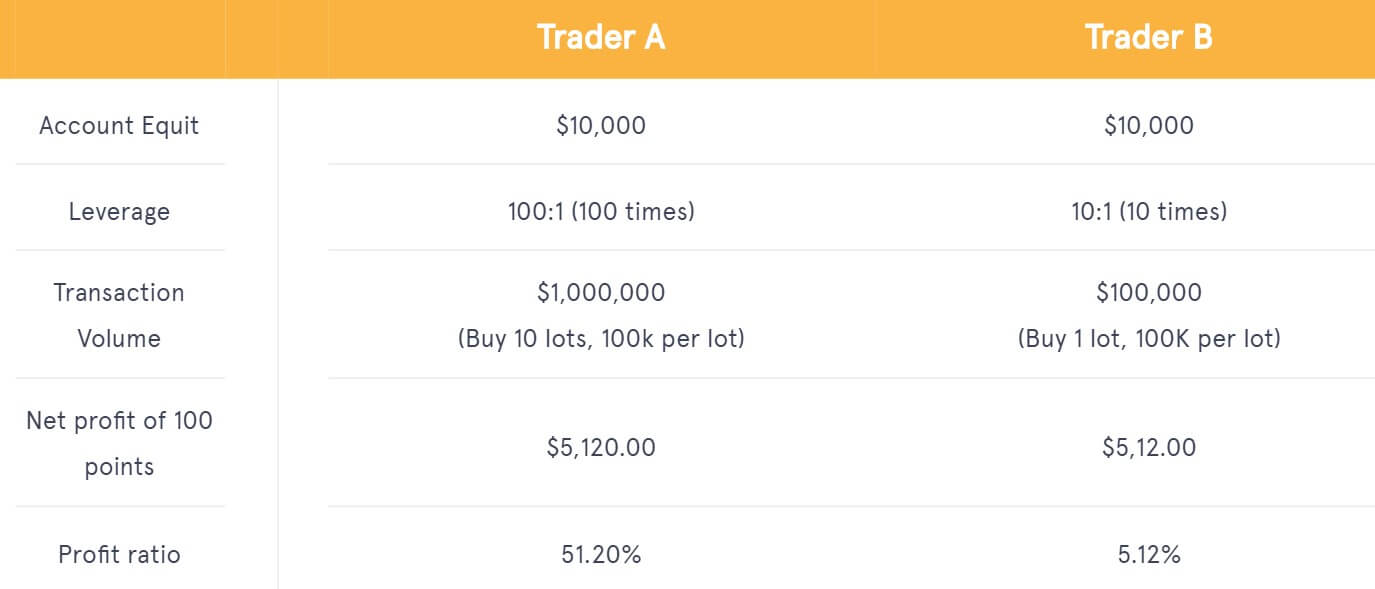 Trade Sizes
The minimum trading size for indices on all the markets offered by UBFX is that of 0.1 lots whereas the other assets available have a minimum trading size of 0.01 lots. The maximum lots for FOREX currencies is 50 Lots.
Trading Costs
This broker makes its profit through spreads, commissions and SWAP fees. The lowest spreads are found on the RAW SPREAD ACCOUNT which has spreads starting from zero whereas the Corporate Account has spreads starting from 0.5 pips. Both the Standard and the Islam account have spreads as low as 1.6 which is quite standard. These figures are explained on their Account comparison tables which means one would have to see the spreads in a real-life scenario when dealing with this broker rather than take these numbers as facts.

The Standard, Islam and Corporate accounts are commission-free, whereas the RAW SPREAD account has a commission of $5 per lot traded. All accounts, apart from the Islamic account charge swap fees.
Assets
UBFX offer over 60 currency pairs available for trading including Major, Minor, and Exotic pairs. This broker also enables their clients to trade the most popular CFDs on Indices including AUD200, GER30, JPN225, UK100 and SPN 25 amongst others. Clients can also trade precious metals including Gold and Silver as well as Energy CFDs including USOIL and UKOIL. You can find a detailed list of all available assets including the average spread, the value per lot, minimum price fluctuation, margin rate and trading hours for all their assets on their Trading page.

Spreads
UBFX use floating spreads and they also offer quotations to 5 decimal places. Instead of the typical 4 digit quoting prices, UBFX clients can benefit from the tiniest price movement by taking into consideration this 5th digit. Popular currency pairs such as the EUR/USD have a minimum spread of 1.6 Pips, whereas the currency pair GBP/AUD currently has a minimum spread of 2.3 Pips. You can find a full list of the currency pairs available and their spreads on UBFX's Forex-Spreads/Conditions page.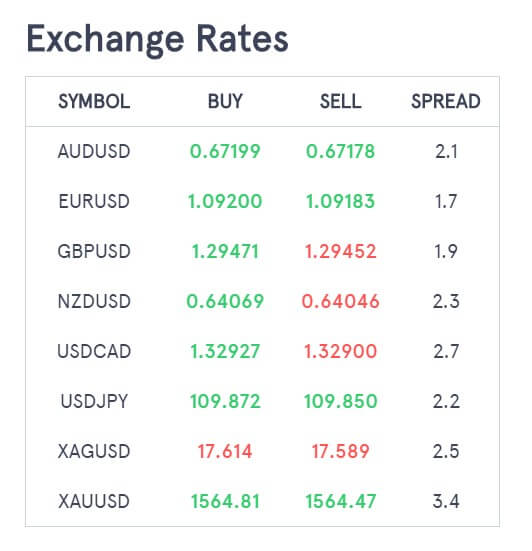 Minimum Deposit
Clients can open up a Standard or Islamic account for literally $1 as these accounts have no minimum deposit requirement which makes them ideal for beginner traders that do not want to invest a lot of money from the get-go. On the other hand, the other two accounts, the Raw Spread, and the Corporate Account have high minimum deposits of $20,000 and $50,000 respectively which make them more attainable for professional traders that have been in the trading business for a long period of time.
Deposit Methods & Costs
On the UBFX website, we did not find a clear list of what deposit methods they accept, however they do have outlined a number of important points one should note. This broker does not charge fees for deposits, but small additional commissions may be charged by payment gateways. Clients' deposited funds usually arrive in their account within 2 hours after the transfer is made. Clients can deposit funds once they have registered to any of the 4 available accounts, logged on to their account and follow the simple steps under the Deposit button.

When funding accounts via UnionPay, only the originally used bank card can be used for withdrawal. Since UBFX does not accept any funding from third parties, clients should make sure that their trading account name is identical to that on their bank account as this might make them encounter issues when trying to deposit funds. UBFX also takes measures to avoid account overstocking by making sure that the payment ratio of their clients' accounts is more than 200% after withdrawal. Otherwise, they will not be able to withdraw their funds.
Withdrawal Methods & Costs
On their website, UBFX list 4 withdrawal options namely, Wiretransfer which comes with a $10 fee, Coin gate which has a $15 fee and Skrill and Neteller which enable customers to withdraw without any charges. The minimum withdrawal via any of the above-mentioned methods is $50. Although UBFX does not charge hidden fees for withdrawing apart from those mentioned above, clients may encounter additional fees that are imposed by banks.

Withdrawal Processing & Wait Time
Coingate, Skrill, and Neteller all have a real-time transfer after verification. Remittances will be triggered between 9:00 and 18:00 (New Zealand time) from Monday to Friday. Clients should expect their funds to reach them on the same or the next day after the withdrawal is confirmed. You can find more details regarding withdrawal methods and costs on the 'Withdrawals' page on UBFX's website.
Bonuses & Promotions
It seems like at this moment this broker does not offer any promotions or bonuses to new or already existing clients so we cannot comment any further regarding this.
Educational & Trading Tools
On their Education page, UBFX has a number of articles that cover the basics of trading including how forex works, history of the forex market as well as Fundamental and Technical analysis. Clients can also find a glossary outlining the commonly used terms and phrases within the trading industry as well as a number of documents on all the available assets that UBFX has to offer.
They also have a frequently updated News and Announcements page that outlines the key factors affecting the market almost on a daily basis and like most brokers, UBFX also has an economic calendar on their website which keeps their clients up to date with any events which might affect the trading market.
Customer Service
Customers can contact UBFX via Live chat, email, phone or through an online feedback form. Their live chat response is very quick and we were met with a knowledgeable and friendly customer service agent that answered all our questions without any hesitation.
Demo Account
Once clients download their UBFX APP they can open up a demo account which will have $3000 in virtual money for them to test out their trading. The demo account does not expire and it mimics the real-life scenario of trading with UBFX which is a great way to learn whether this broker is the ideal one for you.
Countries Accepted
Since we did not find any information regarding restricted countries on their website, we turned to their live chat to see whether there are any restricted countries, and it seems like UBFX accept clients from all over the globe.
Conclusion
UBFX is an offshore broker that offers its clients a choice of 4 accounts that range drastically in their minimum deposit requirements and enables all clients to trade all their available assets on any of their accounts. Important information is clearly outlined on their website and their live chat response is extremely quick and informative.
Although Vanuatu has recently tightened its regulations for traders, any clients considering opening up an account with any offshore broker should be aware of the risks this brings with it.
If you like what UBFX has to offer, head on to their website to discover more about their account types and decide whether trading with them would be a good choice for you.