Binary.com is a well-known broker primarily offering Binary Options products and platforms. CFD trading is also offered with the MetaTrader 5 platform. Formerly it was under the brands BetOnMarkets.com. and Deriv.com. The company carries multiple licenses and regulations but none are reputable. These are the Malta Financial Services Authority, Vanuatu Financial Services Commission, British Virgin Islands Financial Services Commission and Labuan Financial Services Authority.
Binary.com is proud of its achievements on the market with more than $1 billion turnover, 1 million registered accounts, and more impressive figures. Since 1999, is has slowly transformed into one of the marketing giants with evident use of promotion phrases without any substance. The website is full of easy to read interest attractors such as steps to profitable trading with Binary Options.

Apart from overpraising their history, the company does not show the trading conditions transparently. The list of assets and trading times are published but no other information, at least not until you open an account. This practice is a typical step for KYC gathering. The structure is more oriented towards indulging into trading Binary Options than presenting actual trading conditions. This is often the case with big, popular brokers with huge marketing investments.
By looking at the ratings from other users, Binary.com does not have a good reputation. Most of the reviews are about the difficulties withdrawing, irregular trading experience, manipulation, aggressive marketing, and personal data sharing with other parties (phone number). This Binary Options review will show you what to expect by trading their CFD products as we will not cover the Binary Options platforms and products. In the next sections, traders will have more information on each category than what is published by Binary.com.
Account Types
Binary.com will not offer you accounts or any kind of packages until you register. Once you register you will be given the option to upgrade to the Real Account, Virtual Account will be automatically opened upon registration. The broker will offer MetaTrader 5 platform Accounts where CFDs and other assets are offered. There are 3 account types, Standard, Advanced and Synthetic Indicies. All Accounts are available in USD currency only, but we have also found guides and availability to open accounts in BTC, BCH, ETH, and LTC, also in EUR, GBP, and AUD. We are not sure if this is available for all countries.No commission exists except for crypto and no minimum deposit required. The exact commission for Crypto assets is not disclosed.
Standard Account has variable spreads, and according to the broker, more than 50 assets to trade, including 24/7 Cryptocurrencies trading. Advanced Account is separated as a 100% A-book STP account where you can trade major, minor, and exotic currency pairs. It is also stated that spreads are tighter and that the volume size is higher, in other words, not in micro-lots. This means that the Standard account is not STP and does not allow better conditions for fast trading strategies or EAs. The leverage is also 10 times lower than with the Standard Account.
The Synthetic Indices Account is interesting, it features company made up indices that mimic real-world movements. They are available 24/7 for trading and "and audited for fairness by an independent third party." What party is auditing this kind of service is not disclosed. This account does not represent real Forex and is more of a casino-like gambling product than trading. The features of this account will not be reviewed.
Platforms
Binary.com offers MetaTrader 5 platform for CFD trading. For Binary Options and LookBack contracts the broker offers Deriv proprietary platform, SmartTrader, Tick Trade Android App and Binary.com desktop app. Binary.com charting is powered by TradingView and SmartCharts. MetaTrader 5 platform installation does look a bit different than by default like it is modified by Binary.com. We are allocated to the German access server with a 47ms ping rate. The About window shows us a Binary Limited company registered in the Channel Islands. The 4 main chart windows are all set to H1 and represent major Forex currency pairs. The default template is not modified.
One-click trading is enabled on all and there are also new trading session time flags signaling when world trading sessions begin. The instruments Symbols are grouped into a few groups that neatly represent each asset category. Forex has three groups although they are not logical minor and exotics groups, it looks random. Advanced Account will have 4 Forex groups categorized by their liquidity, crosses, minors, exotics, and majors. The instrument specification window shows enough information about the trading conditions.

Toolbox window has a Company tab that opens the Binary.com website without any special access or pages dedicated to the MT5. Next to it is the classic MetaQuotes integrated Economic Calendar tab that does not feature any filtering or sorting. There are no additional indicators or EAs included in the package. Swaps are the only trading costs and they are represented. Cryptocurrency commission is not shown is the specification window or in the Toolbox.
As for the execution times, they have extreme deviations. In best cases, the execution time is just above 47ms while often it could go up to 500ms. Even higher to 20 seconds for minor forex currency pairs such as GBP/NZD. This inconsistent behavior can cause slippage and is certainly not favorable for fast trading strategies and EAs. The case with the XAU/USD (Gold) instrument showed us off-quotes warning. This could be a sign of low liquidity as we could not have our order executed multiple times during normal trading periods. The same is for all other precious metals.

Leverage
Standard Account features leverage of up to 1:1000 and Advanced up to 1:100. We went in to check what assets are open for this leverage and which ones are limited, as often is the case for volatile assets. MT5 platform calculation showed us 1:5 leverage for cryptocurrencies. For Forex it is 1:1000 for all pairs. Commodities leverage is 1:50, the same is for Indices. Advanced Account has the same leverage except for the Forex where every asset is limited to 1:100 leverage. Note that the EU registration under the Malta Financial Services Authority has a leverage cap to 1:30 as per ESMA and restriction for Binary Options.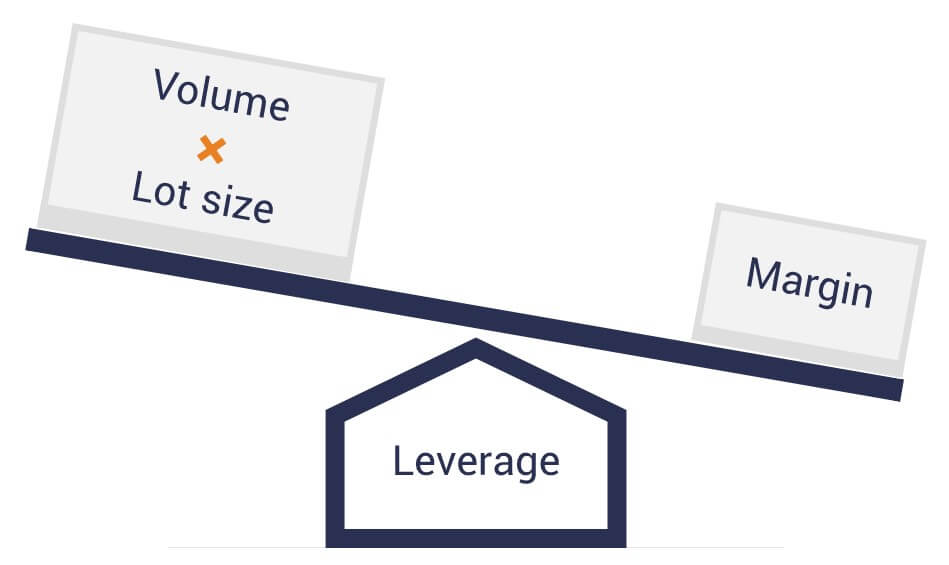 Trade Sizes
Binary.com offers micro-lot trade sizes for all accounts, even though it is stated Advanced Account is set for "high-value tickets". Forex instruments have 0.01 lots minimum trade size, also additional trades can be opened in micro-lots. The maximum trade size will depend on the currency pair liquidity level, so exotics will have 5 lots maximum, minor 10 lots and 20 lots maximum for major pairs. For most this level will be enough and micro-lot sizing allows for precise scaling. Stops Level is 3 points for all instruments in the Advanced Account allowing almost complete freedom where traders can put their Stop Loss and Take Profit orders.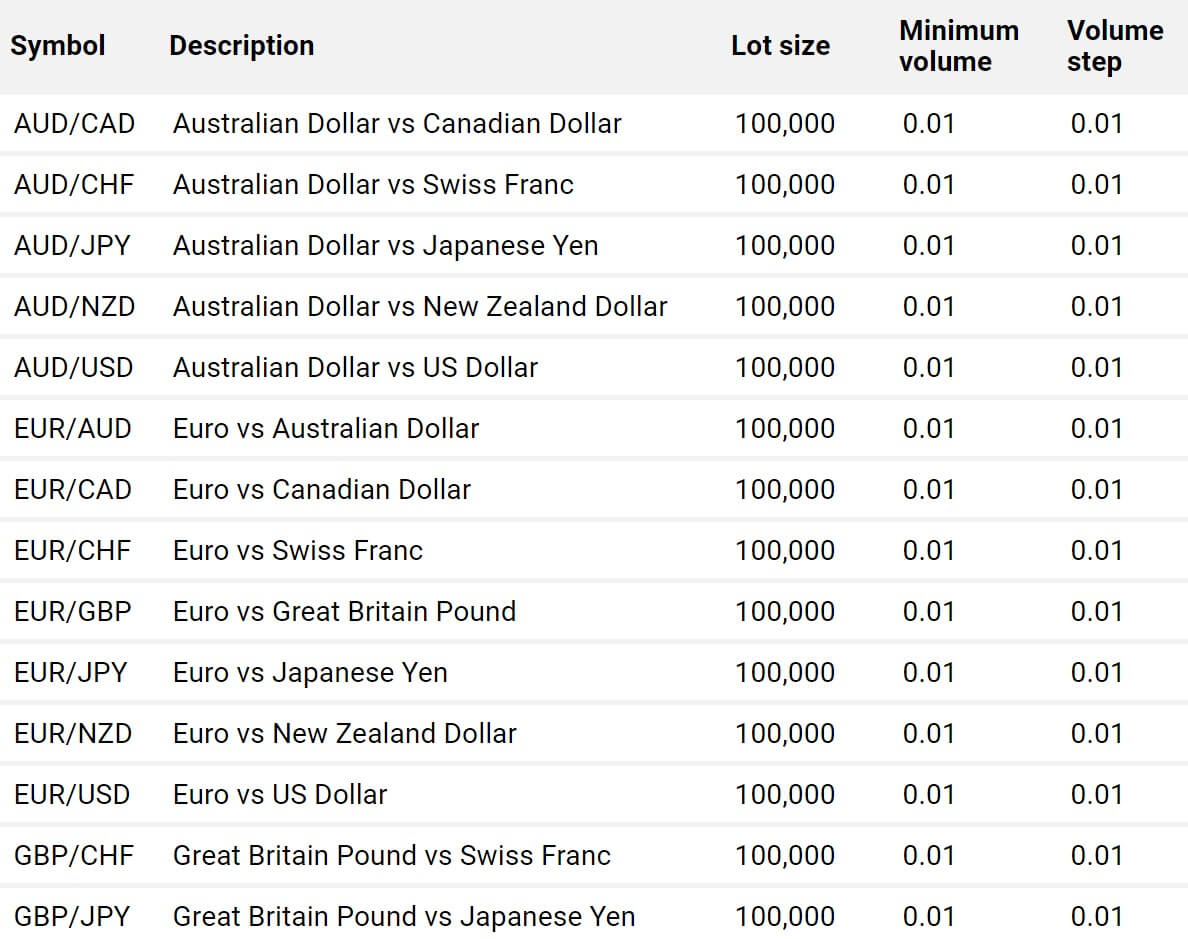 Standard Account has the same minimum trade volume sizing for Forex except the maximum trade size is limited to 10 lots for majors and 5 lots for minors. Stops level is the same, at 3 points. As the Standard Account features other assets than just Forex, trade sizes are different for Oil, Indexes, and Cryptocurrencies. Both Oil types, Brent and WTI have 1 lot minimum trade size and 1000 maximum. Note that the contract size for these instruments is 1 unit (barrel) which is not the standard (1000 barrels). Stops level is 5 points. Precious metals have 0.01 lots minimum trade size and Step size while the maximum is 10 lots. Gold has a standard contract size of 100 oz. The Standard Account also has micro assets where the contract size for forex is 1000 units (100,000 units is the standard) allowing better conditions for lower capital accounts.
Index minimum trade size is 0.1 lots and maximum 10 while for Bitcoin the minimum is 0.01 and the maximum 10 lots. Other low-value cryptos have different sizing, so Litecoin has 1 lot minimum, 0.1 lots step size and 100 lots maximum trade size. Stops levels for crypto is 5 points. Total trade volume limit for Forex is 100 lots, for less liquid pairs it is 10 and 5 lots, while for BTC it is 10 lots. All accounts have 150% Margin Call and Stop Out at 75%.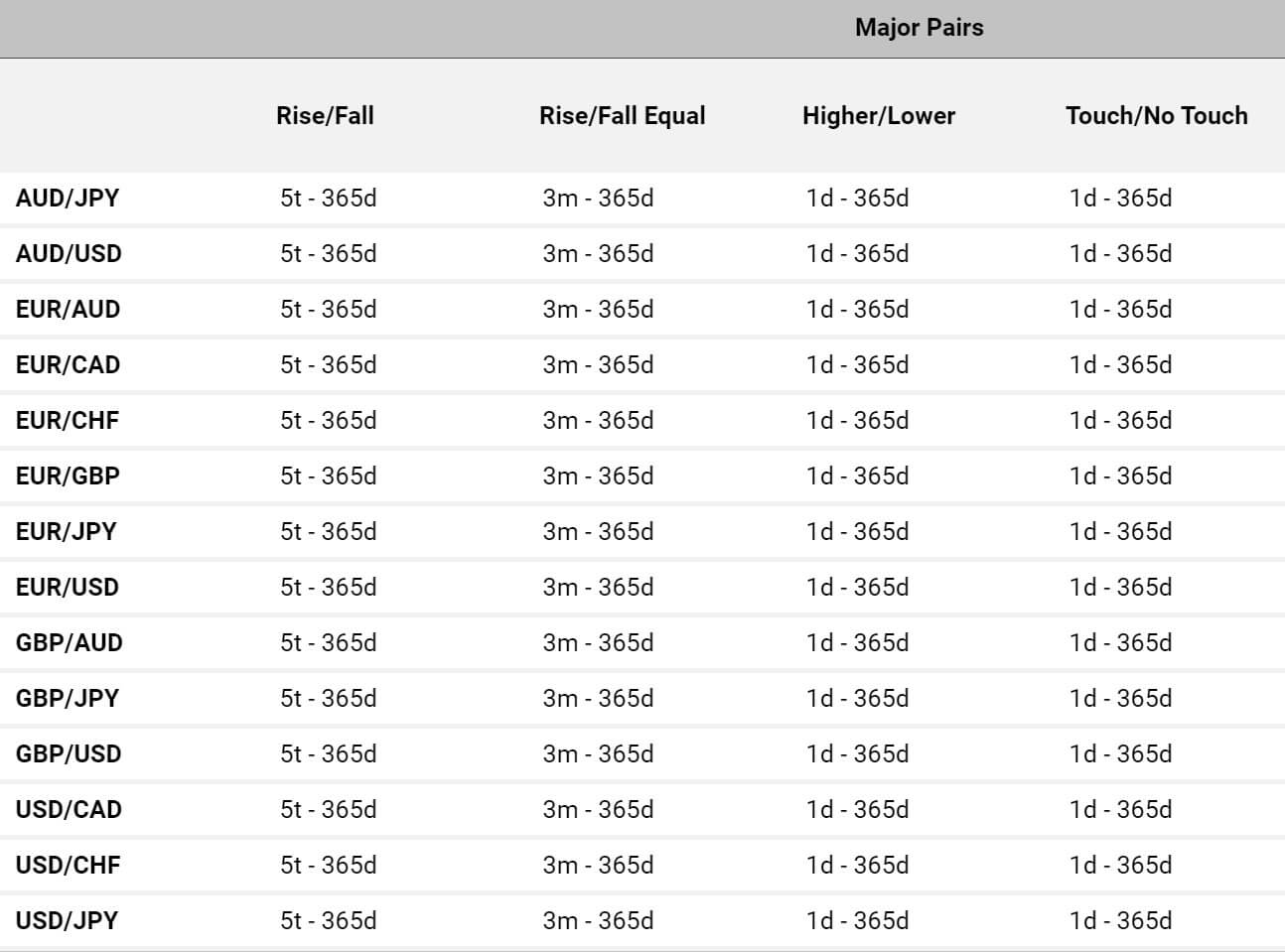 Trading Costs
According to the broker, the commission exists only for cryptocurrencies but we are unable to find any published information about the amount. From the MT5 platform, no commission is charged or presented. Swaps are calculated in points, tripled on Wednesdays and somewhat higher than with other brokers. Positive swaps are frequent but much smaller than the negative. For example, EUR/USD -10.65 points on the long and 4.2 points on the short, USD/JPY 3.21 long and -8.09 short, AUD/USD -3.09 long and 0.02 short, and GBP/USD -5.5 long and 1.01 short.
In the minor category, the highest swap is with the GBP/NZD with -10.759 on the long side and a positive 5.693 on the short and with the CHF/JPY with -17.53 on the long and -3.53 on the short side. Cryptocurrency swaps are calculated in percentage terms per annum using the current price. They are -20% for all crypto assets and tripled on Mondays.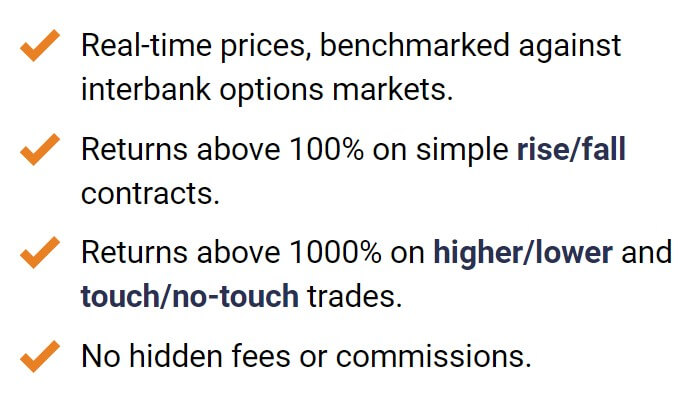 Advanced Account has the same swaps for shared Forex pairs. The exotics featured in the account have swaps under normal levels. For USD/ILS it is -12.8 points on the long side and -45.4 on the short, USD/MXN has -400 long and 15 points short, USD/CNH a bit extreme -528 points long and -485 short, USD/ZAR -286 long and 176 for short, for the EUR/ZAR is -350 long and the biggest positive at 220 points on the short side.
Binary.com has inactivity fees charged for inactive accounts. The fee is $25 or equivalent every 6 months it there is no activity for a year.
Assets
Binary.com offers different assets range depending on the account type. Standard Account has the wides offer with 4 asset categories, Cryptocurrencies, Forex, Indexes, Precious metals, and Commodities. As Binary.com is primarily offering Binary Options, the overall range is modest and some assets simply do not have liquidity and are off quotes.
Standard Account Forex range offers a total of 27 currency pairs counting from the MT5 platform. All majors are present with the addition of other minors and cross pairs like GBP/NZD, CAD/CHF, NZD/JPY, CHF/JPY, and others. No exotics are present.
This range may satisfy an average trader that limits their opportunities to the 8 major currencies combinations. Advanced Account features a better Forex offer and nothing else is on the watchlist. Still, there are 56 forex instruments on the list, which is better than what most brokers can offer. There are all the currency pairs like in the StandardAccount plus some exotics and other combinations. Some of these are EUR/TRY, USD/TRY, USD/CHN, USD/ZAR, GBP/SGD, HKD/JPY, AUD/SGD, NZD/SGD, USD/RUB, USD/HKD, EUR/ILS, EUR/MXN, EUR/HKD, USD/ILS, and USD/THB. Note that the Standard Account also features micro contracts for 19 currency pairs.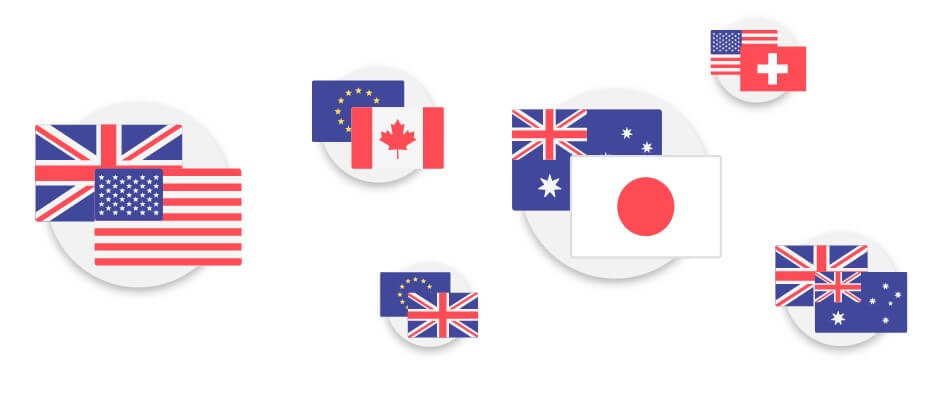 Standard Account Index range is the smallest possible with only one Index listed, the DAX 30. Other popular Indexes like the NASDAQ or S&P 500 are not listed instead is unclear.
Commodities range is also limited but this time there are two Oil types, Brent and WTI with their non-standard contract sizes of 1 unit.
Precious metals range is very good with 4 metals listed. Gold, Silver, Platinum, and Palladium. This would be a nice surprise if not for the fact that they cannot be traded effectively due to liquidity problems. Common off quotes warnings or a long wait for the order to be executed are red flags for serious traders.
Cryptocurrencies that are listed only on the Standard Account are not limited as some other categories and there are Dash, Ripple, EOS, Bitcoin Cash, Bitcoin, Litecoin and Ethereum. All of them are quoted in USD only.
Spreads
Spreads are floating type and the Advanced Account features slightly tighter spreads than the Standard Account. As it is Forex only account giving traders a better range, and also allegedly using the STP model, it is expected to have better spreads. At a glance, the spreads are even for most major currencies crosses. Starting with the EUR/USD the spread is 12 points, USD/JPY 10 points, GBP/USD 14 points, AUD/USD 8 points, and USD/CHF 15 points. Minors and crosses have slightly higher spreads, only a few of them going above 3 pips. The highest spreads among this tier are for the GBP/NZD with 38 points, GBP/CAD and GBP/AUD at 30 points, GBP/JPY at 23 points, EUR/NZD at 21 points and EUR/CAD at 20. All others have below 2 pips spread.
Exotics also have a good spread comparing to other brokers. The biggest is for the USD/THB at 1900 points and USD/RUB at 1400. The rest have under 1000 points like USD/MXN at 300 points, USD/ZAR at 350 points, EUR/TRY 121 points, GBP/NOK at 233 points, and HKD/JPY at 183 points.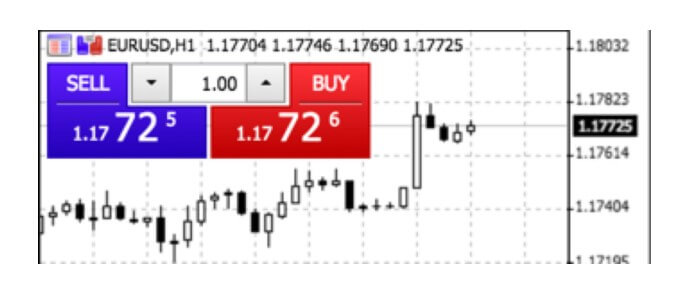 Standard Account spreads behave similarly, and are uniform across currency pairs. Starting with the most liquid pair, EUR/USD has 13 points, USD/JPY 14, GBP/USD 19, USD/CHF 15, and AUD/USD 10 points, the lowest of them all. Other pairs do not have spreads over 30 points except for the GBP/NZD at 39 points, GBP/CAD at 34 points and GBP/AUD at 37 points. Only 5 or 6 currency pairs have the spreads over 20 points, confirming that the spreads do not have a high deviation.
Precious metals also have a very good spread. XAU/USD has around 25 pips, XAG/USD 16 pips, XPT/USD 242 and XPD/USD 3392 pips. Cryptocurrencies spreads are also competitive. BTC/USD has around 6000 points ($6 per coin), XRP/USD 24 points, ETH/USD $0.94, and LTC/USD 30 cents.
Minimum Deposit
The minimum deposit is 5 USD/EUR/GBP/AUD e-wallets. Other deposit methods have different minimums so the exact minimum is not defined. Bank Wire deposits minimum is 500 USD//EUR/GBP/AUD, Internet Bank Transfer is 25. Credit Cards minimum deposit is 10 while e-wallets require usually 5, except Yandex which requires 25 and Skrill with 10. Cryptocurrency deposits do not have a minimum.
Deposit Methods & Costs
Binary.com offers a very good range of deposit methods that include 4 types of cryptocurrencies too. Available methods are Bank Transfers, Credit Cards, E-wallets, and Crypto. E-wallets supported are FasaPay, Perfect Money, Skrill, Netter, WebMoney, QIWI, Yandex, Paysafe, Jeton, Sticpay, iwallet, Paytrust88, and Airtm. If you decide to deposit with crypto, you can do it by using Bitcoin, Litecoin, Ethereum, and Tether. The broker does not charge any fees for deposits.
Withdrawal Methods & Costs
Withdrawal methods are the same as with the deposits. There are no fees charged by Binary.com. There are minimum withdrawal amounts that depend on the method used. Bank Transfers require at least $500 or equivalent. Most other methods require 0, 5, 10 or 25. For Bitcoin withdrawals, the minimum is 0.00288997 BTC, Litecoin – 0.08697316, Tether – 25, and Ethereum – 0.02971733. Mastercard and Maestro withdrawals are only available for UK Clients.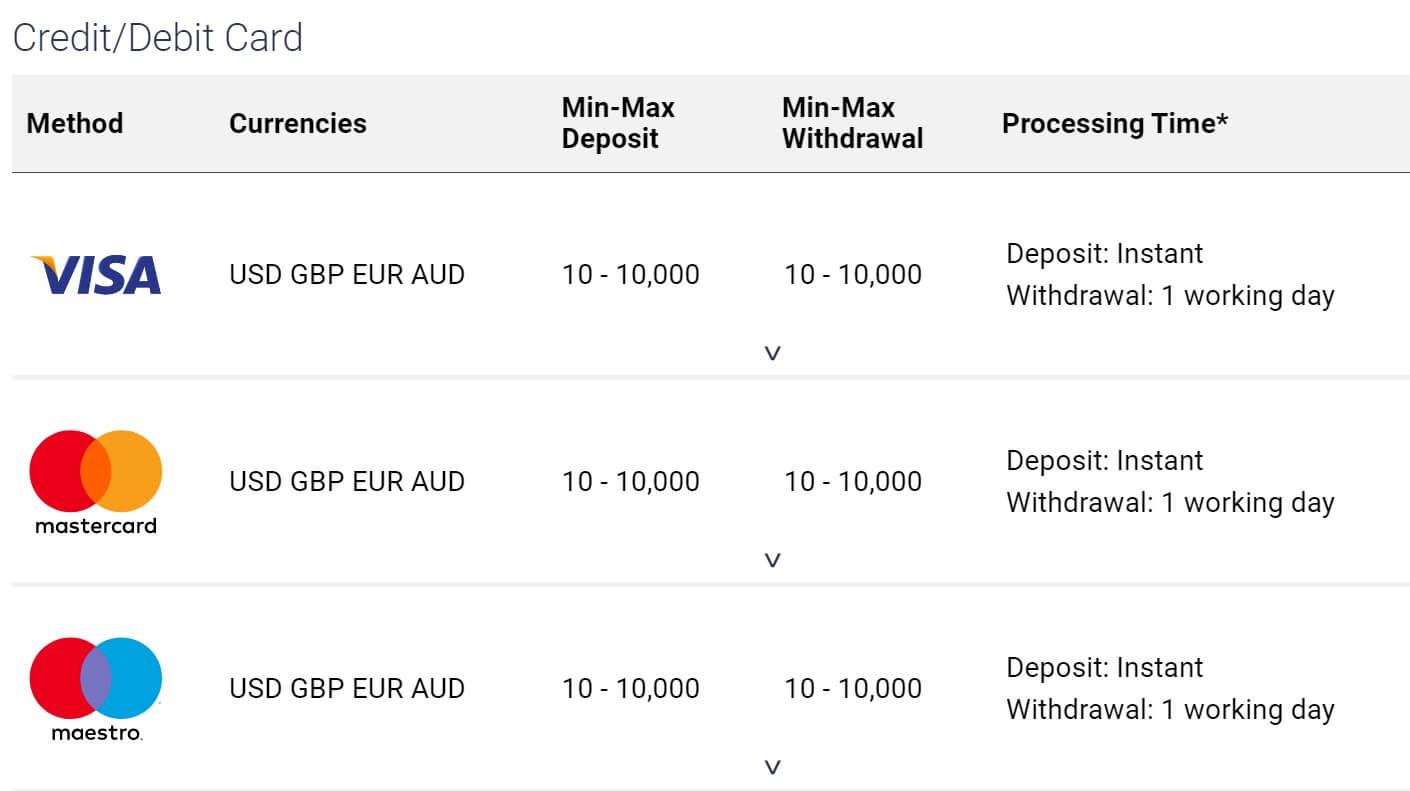 Withdrawal Processing & Wait Time
For all withdrawal methods, the broker states 1 working day processing maximum. Additional processing time may be required by bank or money transfer services.
Bonuses & Promotions
Binary.com offers a $20 "Special Bonus", a no deposit kind of bonus once you upgrade to the real account. This offer is not applied to UK & EU clients. The conditions for this bonus are not disclosed. Traders who want to know if they are eligible for this bonus will need to contact Binary.com via email.
Educational & Trading Tools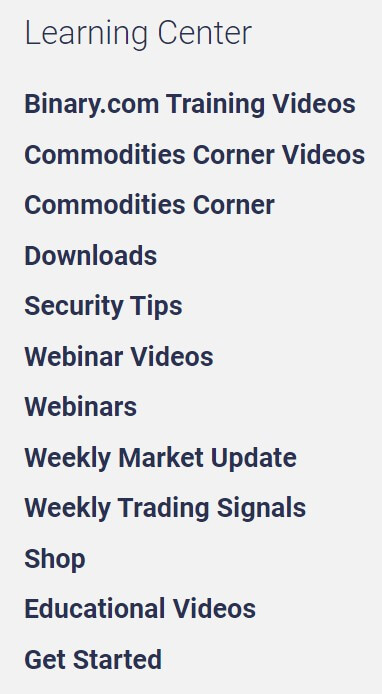 The Educational section of Binary.com contains 5 pages and 2 of them are educational. Why Us page is mostly self-promotion targeted to beginner and first-time visitors to this industry. Therefore, a limited amount of useful facts about trading is published. The Tour page is just an extension of Why Us with the easy-to-do approach. Getting Started contains some solid explanations on the trading basics involved with Binary Options, lookback contracts, and MetaTrader 5 platform trading.
Academy is a dedicated section that contains multiple types of education material, some of which are good quality and some are more marketing based. The learning center contains several videos (webinars) and written content with a high-quality approach to the markets and trading. Most of the webinars are longer than 20 minutes and cover interesting topics like "How to trade cryptocurrencies", "How to trade gold", "How to trade commodity-linked currencies", "Pivot points and candlestick patterns".
What we did not like is the fact that the subjects are repeating every month, so you will not find enough variety. The latest video is from June 2019, so there is a possibility that this service is discontinued. The same case is for Weekly Market Update and other video sections that seem to be the same page with a different title. Educational videos are bout the MT5 platform and how to purchase an EA from the market. The final Webinars page on in the Education list just links to the mentioned webinars.

The resources section will be visible once you log in. Here, tools worth mentioning are the Economic Calendar and charting tools by TradingView and SmartCharts. The Economic Calendar is a classic MetaQuotes calendar plugin with all of its limitations and features. Charts are connected to the feed from Binary.com and are useful with all the tools, drawings and indicators as an alternative to the offered platforms.
Customer Service
Customer service is very hard to get. Response time is greater than 24 for the ticket system Binary.com has, and there is only a phone line as an alternative. Chat service does not exist. It is not clear how can a popular broker with more than 1 million clients cope with just a few phone lines and a ticket system that is not responsive.

Demo Account
The demo account is available for all account types but there is a limit on how much virtual money can be on balance – $10,000.00. Opening a demo is not possible through the MT5 platform, only after the registration and email confirmation.

Countries Accepted
According to the Binary.com Terms & Conditions, restricted countries are Canada, Hong Kong, Israel, Jersey, Malaysia, Malta, Paraguay, the United Arab Emirates, and the USA.
Conclusion
This part of the Binary.com review will tackle other information that may be important for the overall image of the broker. The primary concern is the negative reviews on benchmark sites and unusual positive ratings among the classic house review sites. This disproportion shows signs of heavy marketing that is influencing the media but not independent user review sites. Whatsmore, the regulation is almost non-existant (very mild) for a major part of the world. Another concern is the liquidity for certain assets stated in the Platform section and the execution time. This points out that Binary.com is not serious enough for CFD trading and probably the best for Binary Options betting alone. The minimum deposit barrier is low enough to try this service but one should be aware of the reports of phone number sharing with other related parties.